This Christmas was always going to be a crafty one and I had been searching for the right gift to give to members of my family for a while. Inspired by Pinterest, I merged several of my favourite festive ideas into one to create these DIY Christmas Jars in Mulled Wine and Hot Chocolate varieties. They were so much fun to put together, super cute to look at (I mean, just look at the micro Reindeer) and made for fun, memorable presents that left the recipient with a seasonal jar that could be used for many a festive period to come.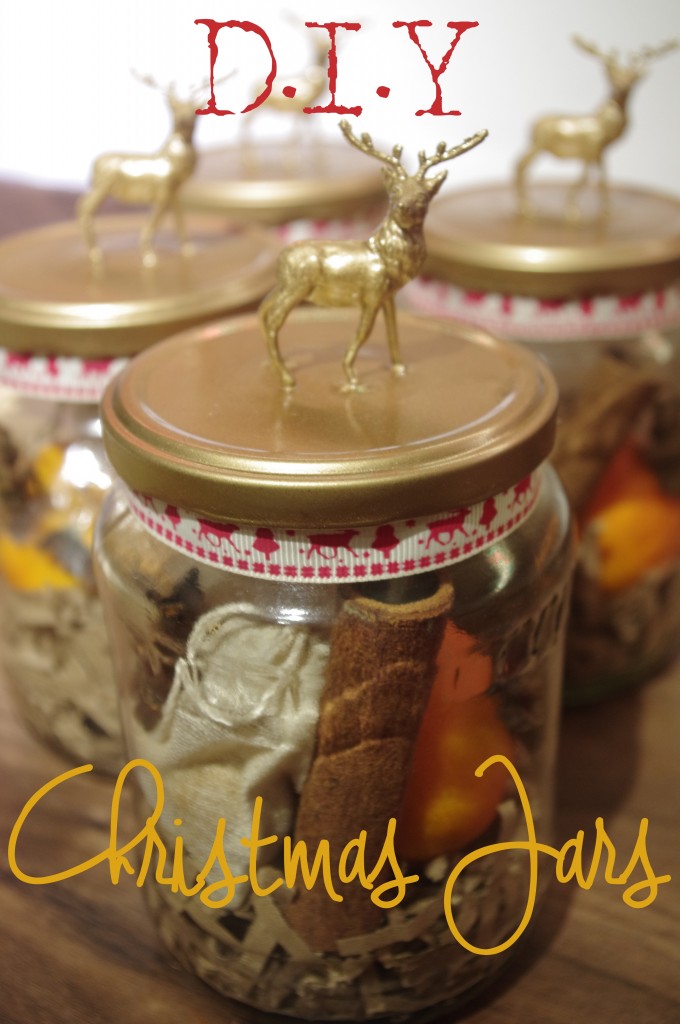 I started by raiding my local Sainsbury's to find suitable jars. As much as I would have loved to spend £5 a go on a mason jar this would have defeated the thrifty objective and, as it turned out, it's pretty difficult to source mason jars in the UK. Armed with my jar quality assessing companion (Tom) we found some suitable victims in own brand cheap mayonnaise and some special offer gherkins. What? I did say it was going to get crafty.
After these had been thoroughly washed and the contents re distributed (frozen gherkin, anyone?) I turned my attention to the lids. I spray painted them gold and left to dry.  It is worth noting you should only spray the top of the lid rather than the under side and leave them to dry for as long as possible before jar assembling/wrapping; several weeks would probably be ideal as mine were still a bit too potent with spray paint after a few days of drying time. Oops. I had seen another craft on making animal jars by attaching plastic toys to the tops of jar lids and loved it so much I decided to create a Christmas alternative. I found some deer cake toppers from the Craft Company which worked perfectly. Once the lids had a couple of coats of paint  you can superglue the deer to the centre and spray them too.
Once the lids are complete you can get stuffing! For the mulled wine I shredded some brown paper to line the jars with giving a nice rustic feel. I then placed my pouch (bought from Amazon in a pack of 4) filled with sugar and spices and all the loose ingredients such as star anise, cinnamon sticks an orange and some cloves (separately wrapped in cellophane) inside.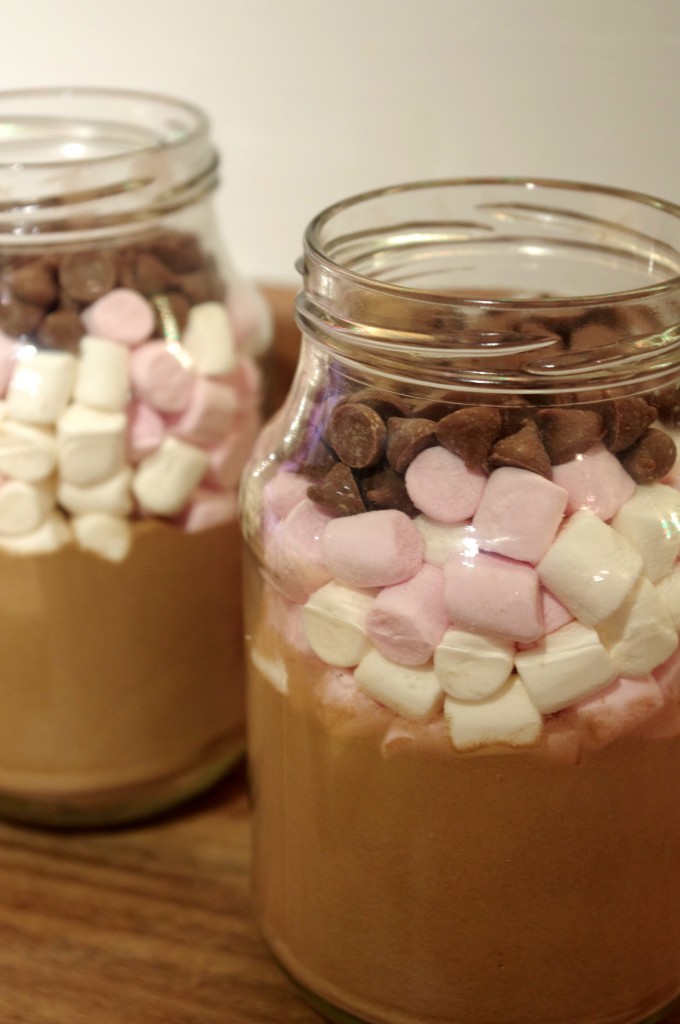 For the Hot Chocolate I simply layered Hot Chocolate powder (Cadbury's, in this instance) marshmallows and chocolate chips until the jars were full to the brim. I then attached my pre made chocolate peppermint stick stirrers (dip a peppermint stick into melted milk chocolate, leave to set et voila- one homemade stirrer) to the sides of the jar by wrapping in cellophane and fastening with string.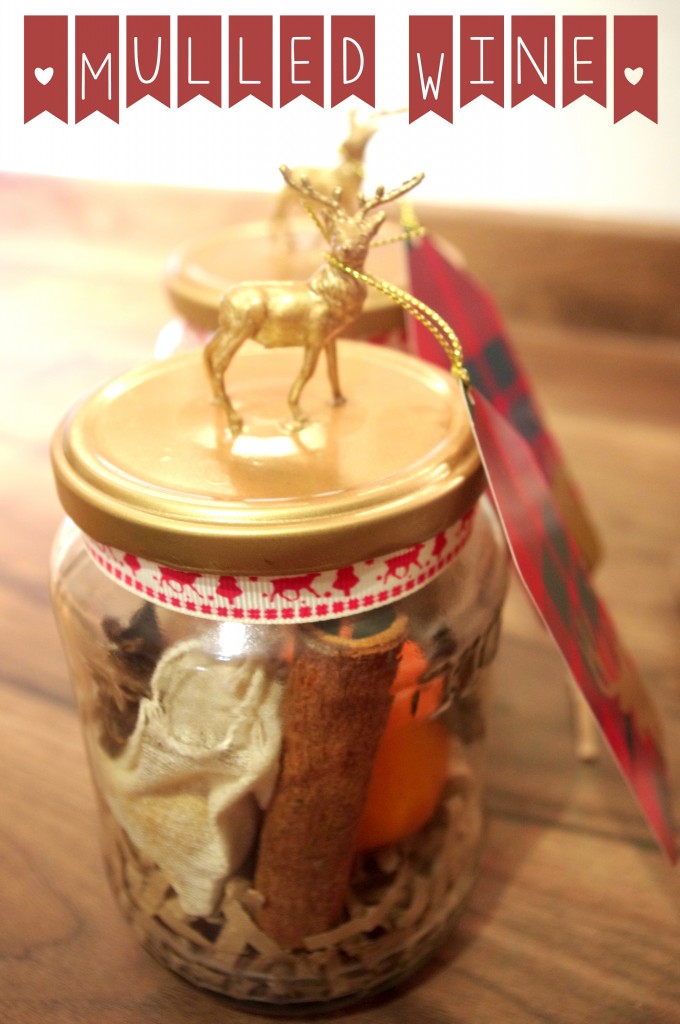 I had bought some cute reindeer print ribbon from eBay several weeks before hand and used this to tie around the tops of the jars to finish off the Christmas look. I then attached gift tags with instructions on the back along the lines of-
Pour a bottle of red wine into a saucepan and infuse with pouch, clove-spiked orange, star anise and cinnamon. Warm through and add additional sugar to taste.
Mix several spoonfuls of chocolate powder with warm milk and top with marshmallows and chocolate chips. Enjoy!
The only thing left to do then was wrap. I opted for red/gold tissue paper covered in cellophane and tied with string. This was an incredibly cost effective/pretty way of gift wrapping and looked great when completed. I had previously bought gold wine bags (2 for £1) from Ikea and placed the red wine accompaniments in those, ready to give to all the adult mulled wine recipients.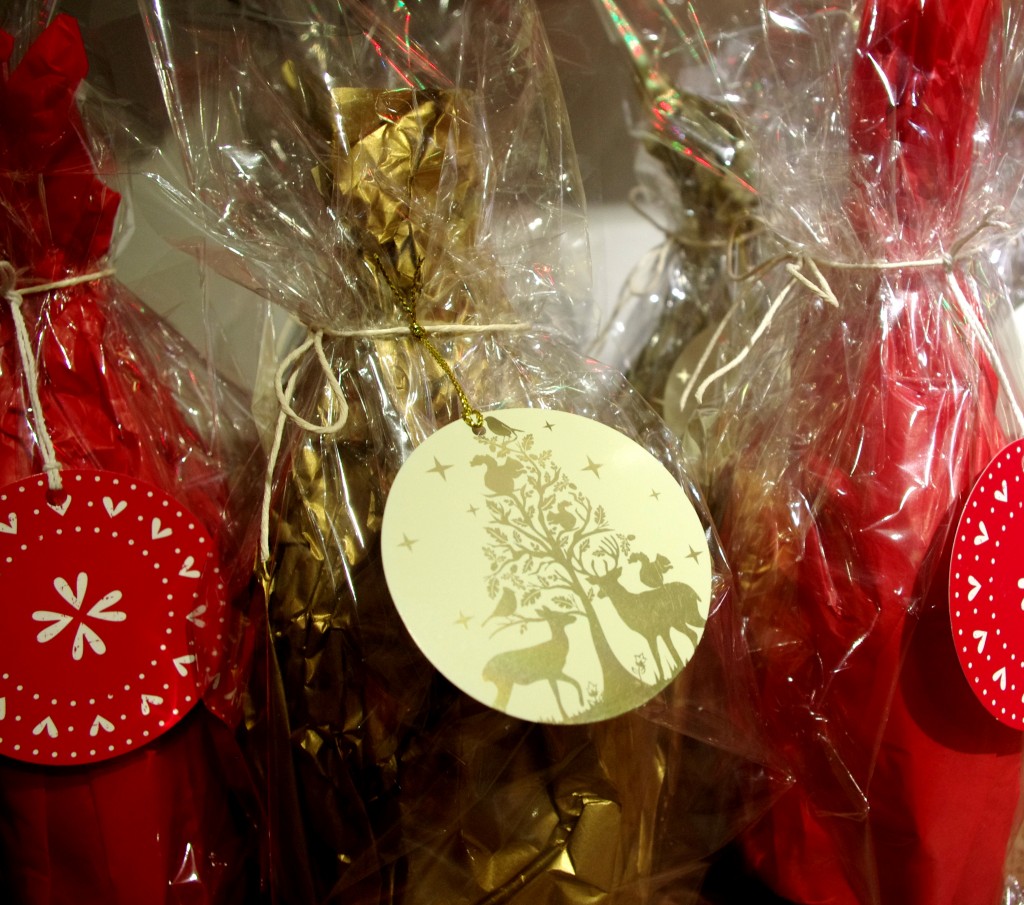 I was so happy with this simple yet effective present and my family were equally thrilled with their new Reindeer jar friends. I'll be on the lookout for the next year for ideas on how to top it come Christmas 2014!