This weekend saw celebrations a plenty for my family as we marked not one but two golden occasions- my Grandparents' 50th wedding anniversary and my Uncle's 50th Birthday. True to form the team was assembled, a lunch setting was chosen and champagne was left to chill for the evening. We ventured to Crazy Eights at No.131 – a relatively new restaurant in Cheltenham which proved to be a wonderful choice. Now because I knew this would be picture worthy I did what any good blogger would do and ensured my camera was fully charged and packed ready for the day ahead. Upon arrival I took the opportunity to get some (beautifully lit) ambience pictures which I could already foresee following this intro and setting the scene for all. Camera out of clutch, swiftly turned on and what? What is happening? Why won't my camera turn on? The realisation sinks in and your self worth disappears at a rate comparable to that which occurs every time a shopping trip to Oxford Street is made. Like all great bloggers I left that one essential camera accessory safely nestled away in its charger at home- the battery. But it's ok! Because we have mobile phones that take photos of an equally great quality with the same depth of field and that are just as great at showing off fancy decor as any real camera…said no one ever.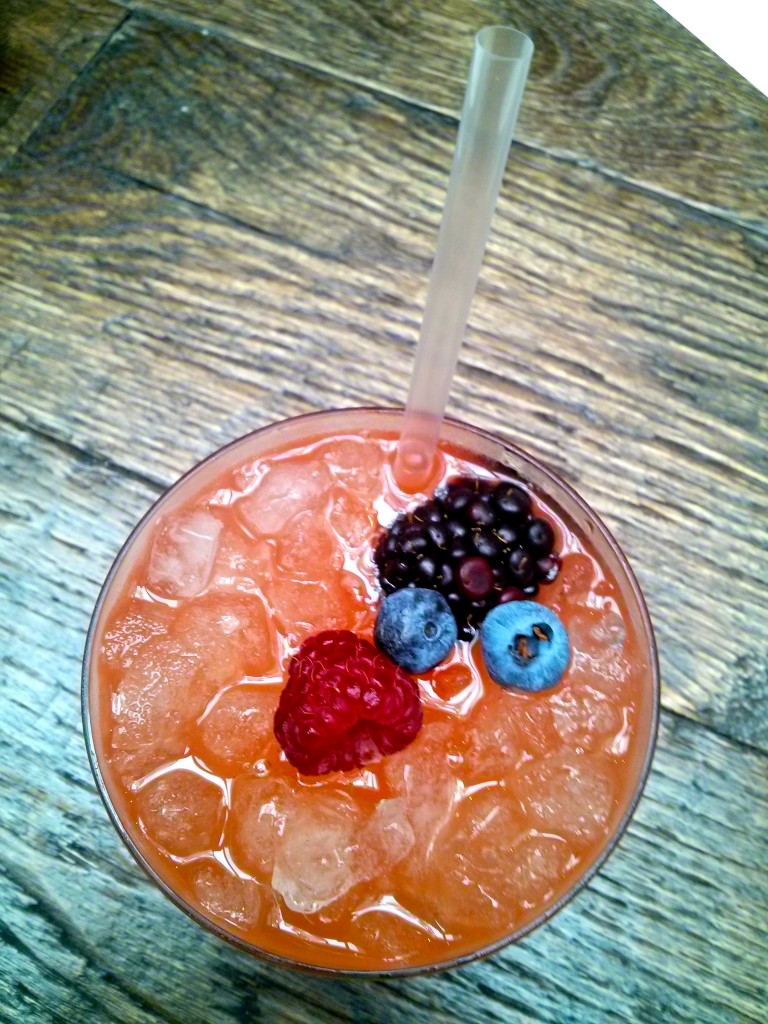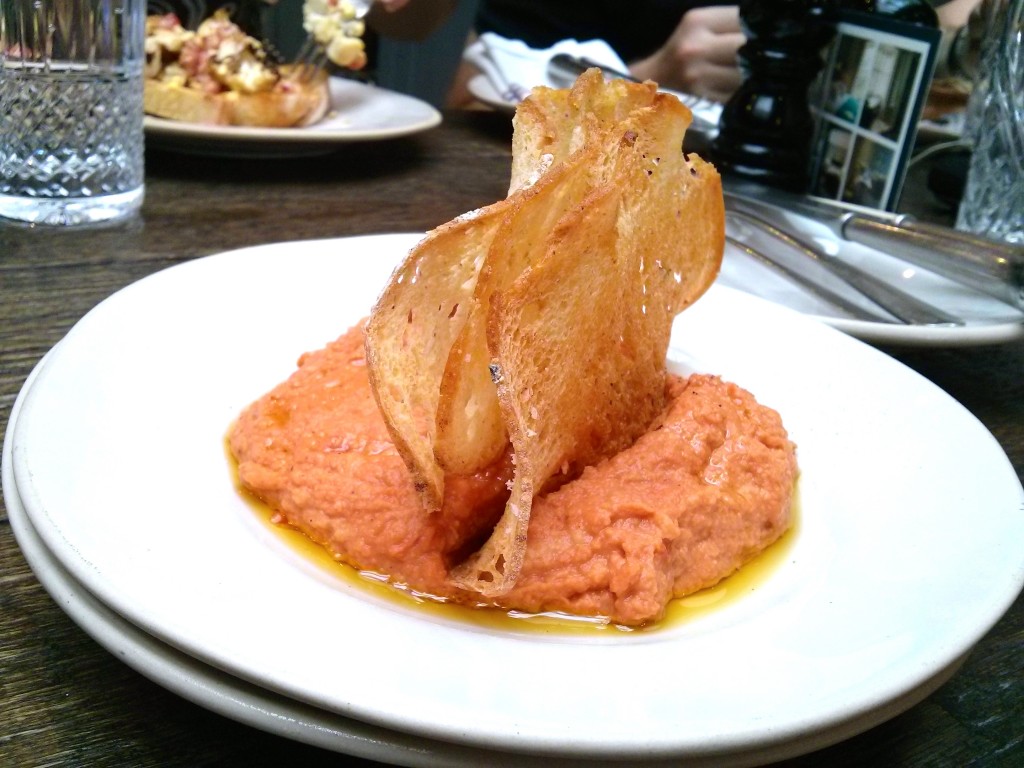 Get past the pixels (or, lack of) and you can no doubt appreciate the menu is a work of art in itself. By not eating red meat or cream I often make restaurant food choices impossibly easy for myself but in this instance they won by offering too many a tempting option. In addition to a wide variety of choices you could also essentially turn your starter into a main or a side or maybe even a dessert if you're that way inclined. I couldn't decide what I wanted let alone how big I wanted it to be but eventually opted for the roasted tomato hummus (because, hummus) followed by the artichoke pappardelle. We've already established I was on blogger form this day so it will come as no surprise that it was only when the cutlery hit the plates that I realised none of the main courses had been even slightly documented. However for your visual delight I have included images of the Autumn Punch cocktail that greeted us, the beetroot and walnut salad as a starter and my tomato hummus delight. It really was delightful. Other popular options round the table were the steak (which came with the best tomatoes), Kale Caesar Salad and Linguine Vongole to name but a few.
We ate in a private dining room next to the bar and adjacent to this were more rooms homing a pool table and the absolute dream of a space dedicated to cheese and wine. We explored the floor above which was equally impressively furnished with sumptuous armchairs, glossy magazines and coffee table books. It's the kind of place you'd be at home spending a Sunday afternoon, as well as a Saturday breakfast or Friday night. I'm sure next time we're back in Cheltenham we'll be paying another visit- the bar upstairs was hosting a pretty special looking cupcake display and if that's not enough to to tempt a girl back I don't know is. Crazy Eights at No.131 – definitely one to visit for all the West Country dwellers amongst you.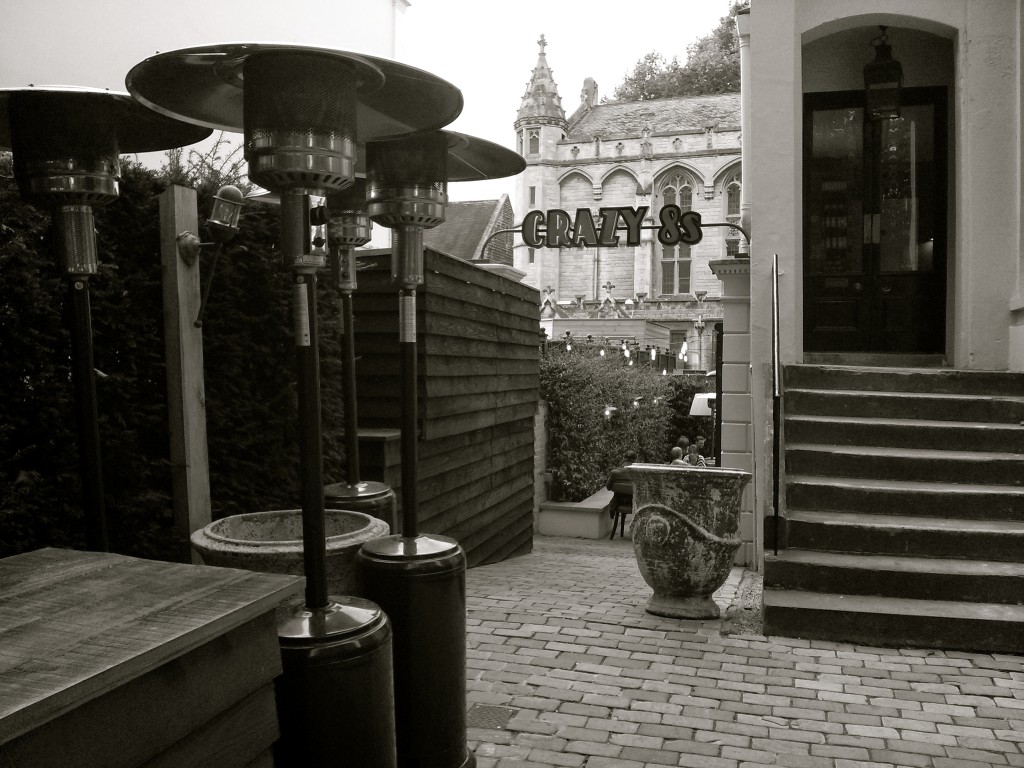 The latter part of the evening transcended into the usual family affair of eating cake, drinking champagne, taking self timer photos and dancing in the kitchen. The quantities of which at least two of these activities occurred in is probably deemed questionable by most sane people. To those people I raise my glass and proudly confirm that there's very little dancing to S Club 7's "Reach" can't cure.
Cheers!
<a href="http://www.bloglovin.com/blog/12721239/?claim=xq6fgmcfqmj">Follow my blog with Bloglovin</a>