As we had hoped, we were greeted in the morning by uninterrupted blue skies and temperatures set to reach well into the 20s for the whole day. Hooray! Cue the shorts.
Actually, no. Wrong. If you're anything other than British. Happily attired in outfits screaming of summer we set out only to be met immediately by the locals/southern Europeans dressed in winter coats. Not just any winter coats- that particularly breed of super padded weather resistant coat that comes in every colour of the rainbow were particularly prevalent and I can't help but wonder exactly what temperature the wearers deem fit to shed them at. Not our measly 20+ degrees, clearly. I was probably on my third round of St Moritz trying to get to half of the colour they were concealing under their winter worthy layers. Oh to be used to be basking in Mediterranean heat. Now we are British and we refuse to be discouraged- yes we may have been lacking in padding but we certainly weren't short of stuff(ing) to do and so we ventured to our first stop of the day- the ever under construction yet impressive all the same La Segrada Familia.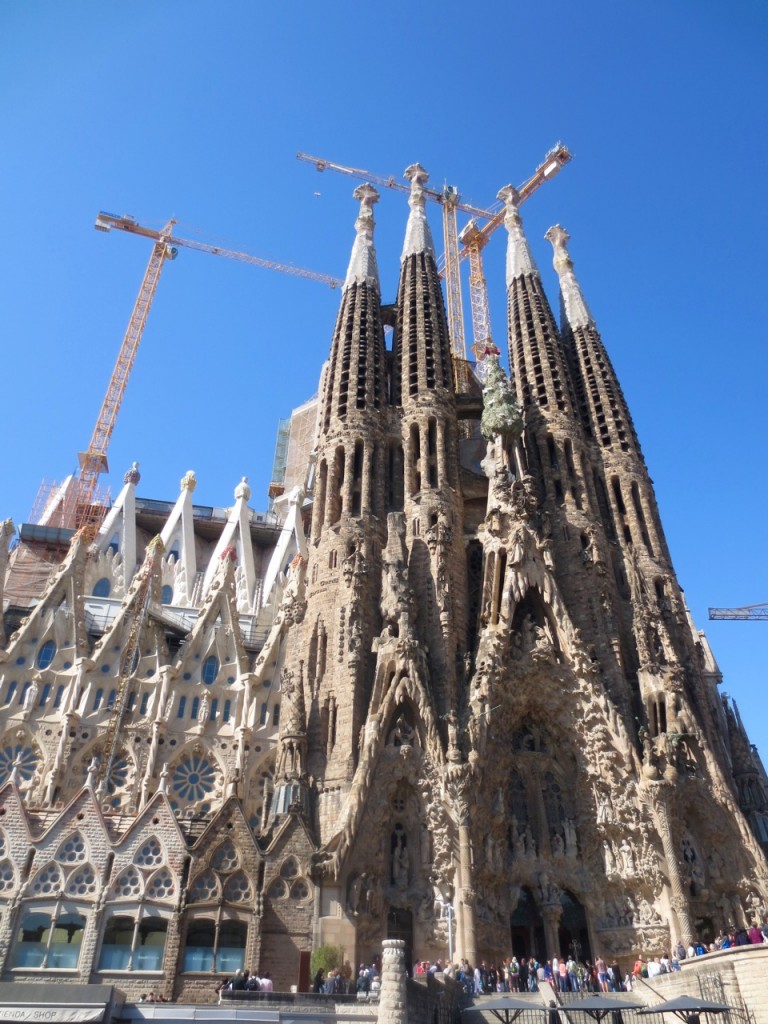 I last visited Barcelona 10 years ago and I'm pleased to report the scaffolding is diminishing however full completion isn't expected until 2026…so maybe I'll make it a once decade thing and head back again then. From here it was a walk along the quiet streets (Mondays are often a very much "closed day" in  Spain) to Ciutadella Park which was beautiful; full of tourists and toddler groups alike and home to this iconic fountain.
Our eventual aim was to end up at Boqueria Market for lunch so we walked the streets of the Gothic District stopping to take in the Cathedral Of Barcelona which loomed over the square below, piercing the azure skies with its jagged spires. The Gothic District, other than having some stunning architecture, is like one big Instagram walking tour- with so many coloured doorways it would be positively rude not to stop and pose. "Candidly", of course.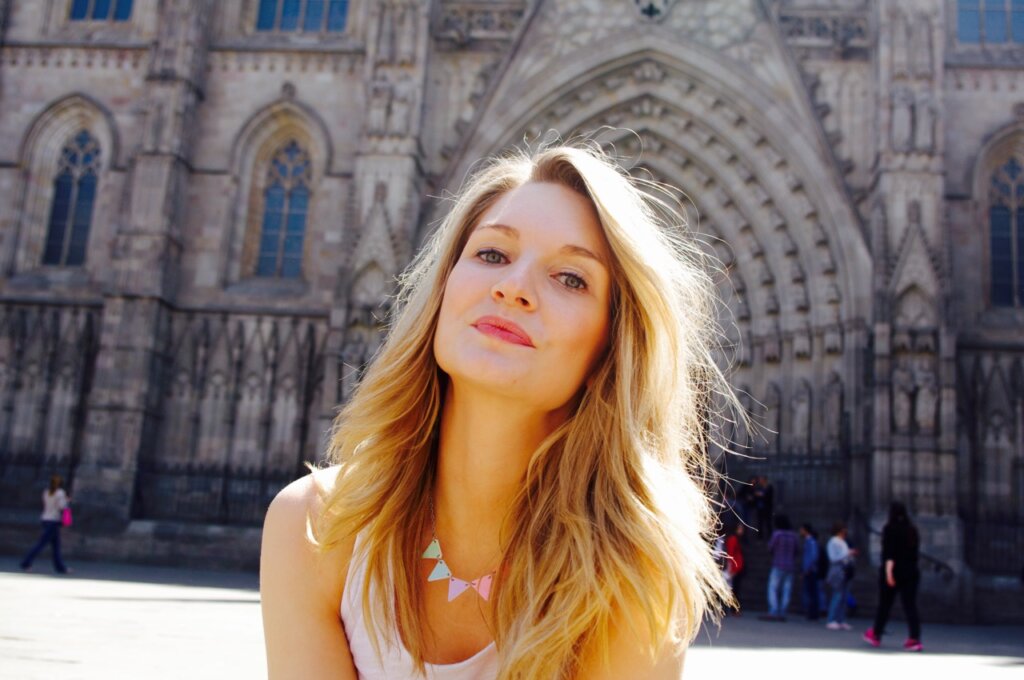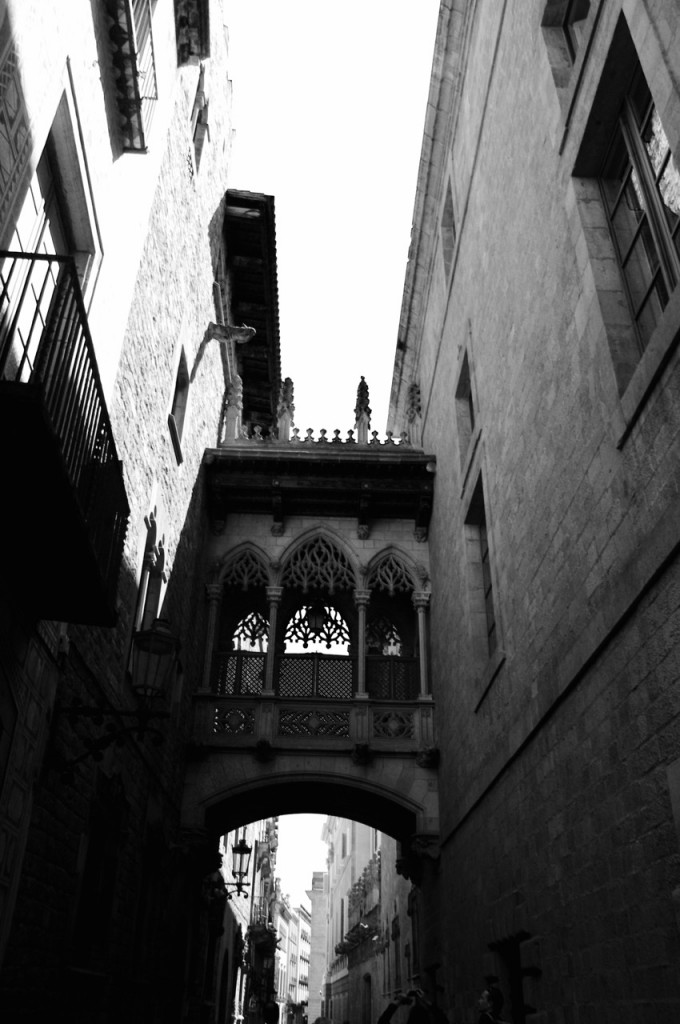 It will come as a surprise to precisely no-one that Boqueria market had been cited as a highlight of the trip from the offset and by the time we arrived we were more than ready to "research" the infamous food on offer. The whole experience is a sensory explosion and I would recommend it to everyone.
The plan was to buy picnic worthy food to take up to the Olympic Park, our next port of call, but we were too hungry (shocknotshocked) and so pitched up on a bench just outside brimming with other lunch dwellers filling the square with accents and food scents a plenty. After considerable deliberation we decided on a stall on the right hand side of the market selling a variety of amazing looking wraps that also came with "orgasmic" (their words, not mine) paella, a selection of salads and other edible wonders as well a glass of fresh orange juice all for the bargain price of €10. We shared the box and picked up a couple of other tempting savoury tarts/salads from another stall for a belated picnic later in the day.
Refuelled and ready to go it was off to Montjuic and the Olympic Park. From the top there are incredible views of the city and the most beautiful art museum to gaze at. The Olympic park was quiet but made for a lovely walk around (as well as one big old London 2012 reminisce) and we wondered the trails, almost got on the wrong cable car and eventually made it to our desired mode of cable transport down- a one way ticket straight to the beach.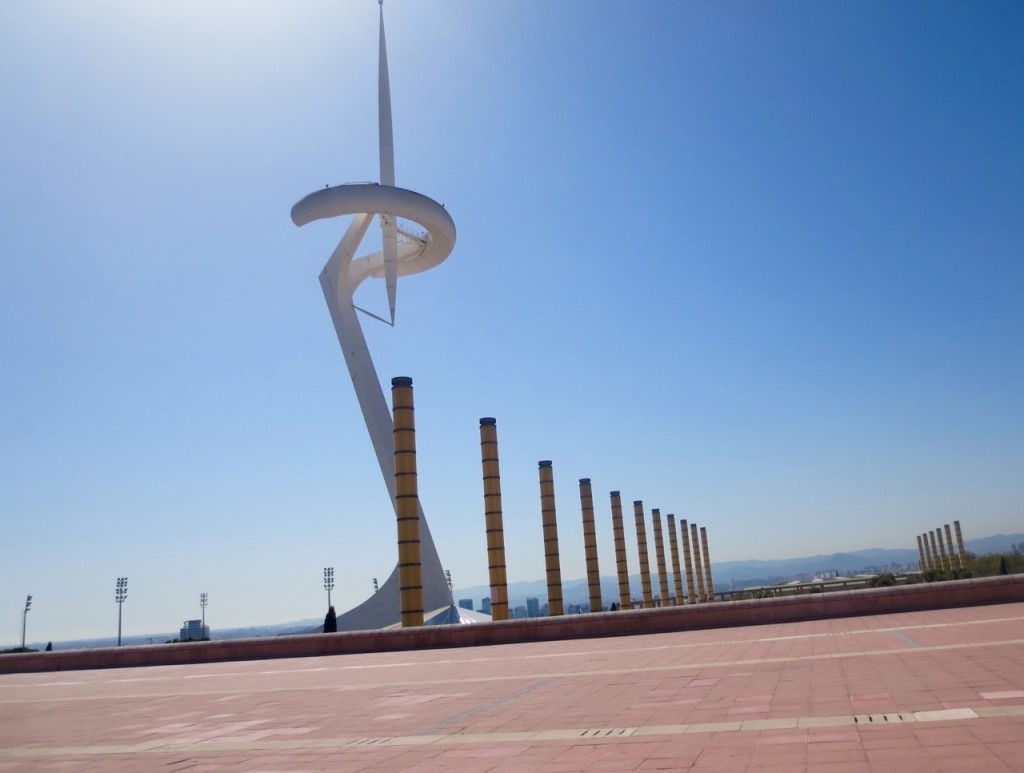 This also provided me with a great view of my dream hotel for next time- the W Barcelona. Sigh.
By this point the beach was calling and one quick stop at the super positioned super mercat later we were armed with some Spanish delicacies (read- beer and oreos) and ready for, well, nothing. It was wonderful.
A sunset walk along the harbour followed before heading back to change for the evening's meal. As an aside, I am SO on board with the Spanish allocation of waking hours. I'm much happier when everything happens later- going out, eating, drinking…I think it's the years of theatre lifestyle in me.
The restaurant and bar from this day were so good I'm going to do a separate blog about them. I also think any more photos on one post might be overkill.
Have a very happy Friday everyone- may your weekend be as happy as that lemon beer on the beach made me!