Salzburg- a magical place where raindrops on roses and whiskers on kittens amalgamate together to form imagery worth singing about. The hills were alive and so was I- and there absolutely no stopping my inner Maria Von Trapp for our two days of Austrian alpine bliss. (For the remainder of your reading pleasure, I Have Confidence the Sound Of Music puns will be soon be over….)
A short train trip from Vienna on our favourite RailJet friend lies Salzburg. A city nestled on the banks of the Salzach river with mountain views to die for. Upon arrival we enlist a taxi to take us to our accommodation- Schoene Aussicht which is up one of said mountains in Heuberg- a hilltop settlement surrounded by meadows that houses some of the most impressive grand designs-esque architecture I've come across. Our hotel was a more traditional affair which is exactly what we were after. To our delight, our room certainly came with a view and the Salzburg panoramas were every bit as wonderful as the website photos made them out to be. After several weeks of predominantly city based dwellings, it was a much-needed chance to have some countryside relaxation and an afternoon of poolside sun.
After several hours of fighting away the wasps of Europe sunbathing and taking /glaring at the sole poolside umbrella that was adamant to ruin all my photos, it was off to to wander the streets of Heuberg which is full of hiking trails (that we didn't follow) and positively oozes Alpine charm. After the snakecident of Skopje  I was on full reptile watch. Luckily the only one to be seen this time round had met an, erm, "unfortunate" early fate with a car.
Back at the hotel it was dinner at the restaurant (average) followed by a spectacular sunset- the perfect way to round off a much needed chilled out day prior to a full day of exploration the next morning.
We chose to walk the route from the hotel into Salzburg which was a really pleasant 40 or so minute walk. It would have been quicker but there were mountains. And where there are Austrian mountains there is a photo shoot waiting to happen. I'm sad I couldn't quite achieve the iconic sweeping opening shot a la Julie Andrews but we (I) had fun snake dodging/trying.
Our first stop of the day was Mirabell Palace and gardens which we did our own self guided tour around. Let it be known that, as much of a musical fan I am, I just couldn't ask Tom to spend 5 hours on a Sound Of Music tour (although he did offer, because he's a very nice person.) I was more than content standing on the steps of the Palace (literally) and occasionally retracing the steps of films scenes gone by. Mirabell itself makes for a lovely walk with gorgeous gardens a plenty as well as ample people/dog watching opportunities.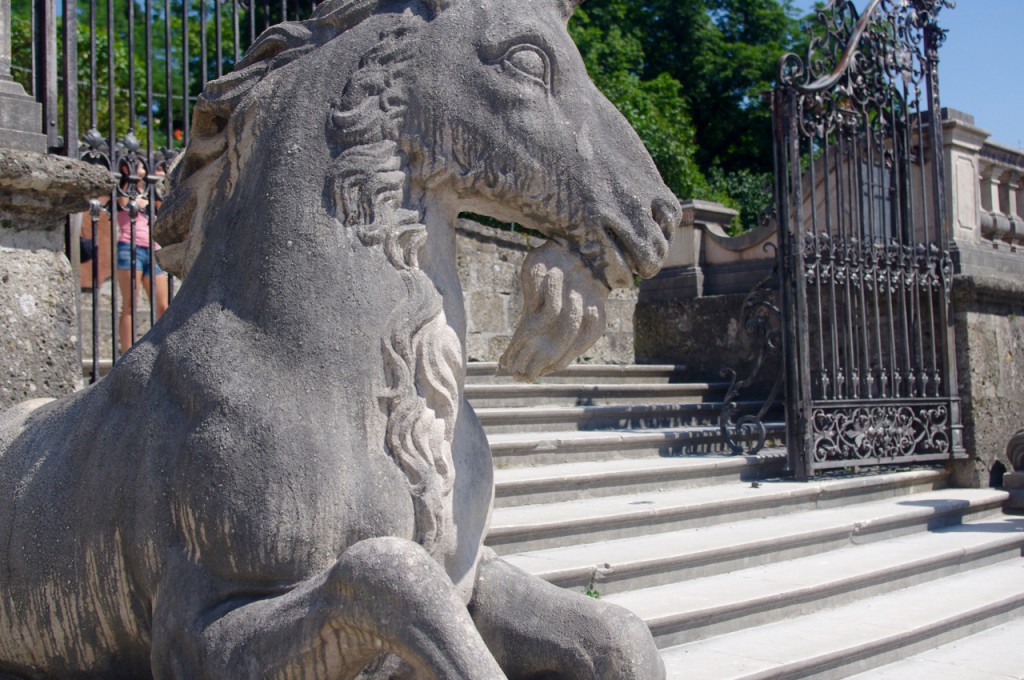 Salzburg's high street is an affluent affair with designer shops and cute nooks adorning the narrow walkways. We saw many an homage to Mozart (including perfume, for anyone who's always wanted to emulate his scent) and discovered my favourite shop of the whole trip- Christmas in Salzburg. It's a sight that has to be seen to be believed and you absolutely better believe that I came out with several Christmas painted egg decorations in mid July ready to backpack with me back to England. It was glorious.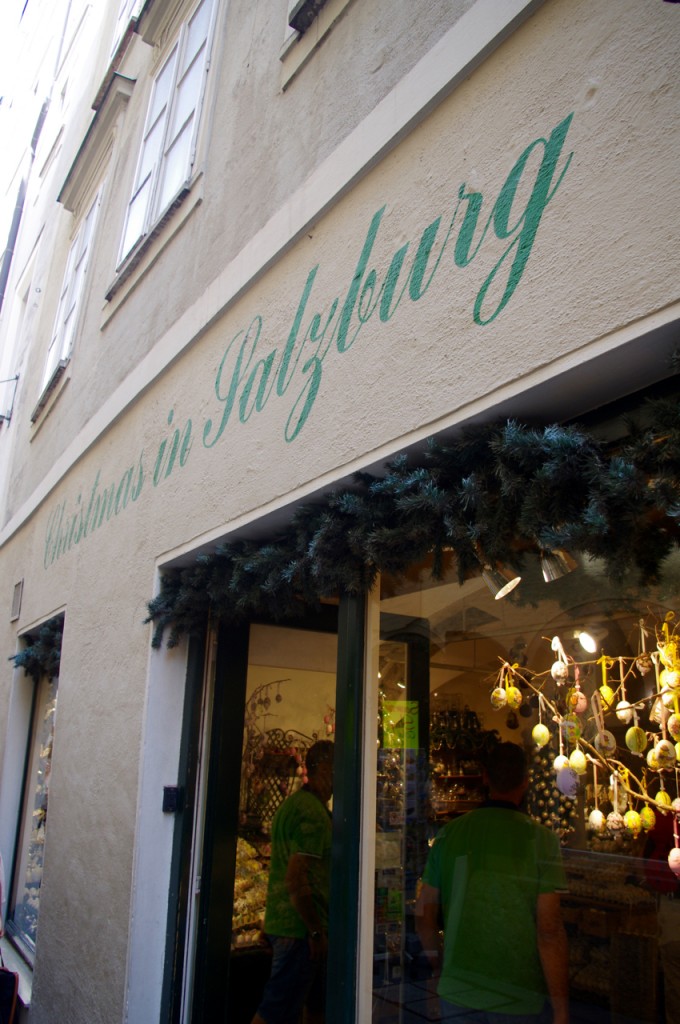 After a picnic lunch by the river and exploring more of the city centre we headed for a coffee that soon turned into a cocktail at 220 Grad– a spot I had sought out after reading good things. The coffee was excellent and we soon spilled out onto the street side seating to enjoy something stronger. As well as just being an all round super cool place, they also have excellent toilets with chalk board walls and really nice soap. So there's that. A side note on Salzburg's gastro scene is that, considering the quaintness of the city, it is hugely impressive. Innovative, creative bars and restaurants seem to be in abundance and it really adds another dimension to the traditional Austrian conception. I was really pleasantly surprised and I know next time I visit I'll be sure to seek out more food based gems.
From here we contemplated different ways of getting to the Castle and eventually ended up walking up Mönchsberg, skipping the castle and instead discovering a beautiful walk along the mountain that ended at the best possible place- a beer garden. The walk itself was really easy with clear signage along the way offering several options route wise. We walked for an hour or so and finished off with some amazing elderflower drinks at Die Stadtalm looking down at Salzburg's Old Town below us and spotting our hotel as a tiny brown dot on the opposite mountain. That made for a satisfying reflection of the day's walking. If you don't fancy the hike but want to get the views there's also a lift situated in the Museum Of Modern Art  and the street below which takes you straight to the top and down again for a few euros.
We weren't planning on eating out as we'd already made plans to go to my favourite European supermarket (yes, I absolutely have one) Billa to pick up an evening picnic. However, after coming right out of the lift and walking a few meters we spotted Hans W– a gourmet hot dog restaurant. The decor was copper and they did vegan hotdogs. It would have been an absolute crime to miss out and so instead we indulged in some well earned "Wurst Deluxe." I can't recommend this place enough for a classy yet fast food stop. It was really affordable and definitely somewhere I'd go back to for a modern take on an Austrian classic.
After some evening Grapefruit Radler (please everyone actively seek these out- they are the best beers) on the river bank it was a taxi back to the hotel as enough miles had been covered for one day. To our delight, our evening entertainment came in the form of the most spectacular storm I have ever seen. From the comfort of our cosy room we watched the skies darken over Salzburg before the thunder descended transforming the view into explosions of orange illuminating the black silhouettes of the mountains. If there was ever a time to justifiably recite some of my favourite things this was it.
As it happens, trying to capture storms on camera is no mean feat. Obviously this didn't stop us from trying all night.
It was truly a memorable end to our penultimate InterRailing 2015 destination. As we travelled back to the station to board a very early train to Fussen the next morning, the only sign of the night before was the occasional fallen tree. The sun shone on Salzburg as fondly as the memories of our two days there were already embedded into our minds.
Climb Every Mountain and ford every stream until you find yourself in this perfect part of Austrian life.