Northern Italy may not seem like an obvious destination for a winter weekend break. In fact, until we were invited to visit the alleged culinary capital of Emilia-Romagna, Bologna, it had not even been remotely on my radar to visit during the cold days of January. Thanks to the last weekend you can colour me converted. After all, is there really a better way to be fighting the chill than with the freshest of pasta, smoothest hot chocolate and the most warming of wine? Not in my books.
We were kindly invited to experience the above and much more by Hotel Touring Bologna. The family run, contemporary hotel is situated in a prime Bolognese position- a mere 10 minute walk into the central Piazza Maggiore and all its surrounding sights- and made for the perfect base to explore the city by foot.
The flight to Bologna from London was a pleasingly short one (circa 90 minutes) and we were greeted at the airport by Giacomo who swiftly and efficiently aided us with our bags and chauffeured us to the hotel. Usually we'd be attempting to navigate trains from the airport (success rate currently at questionable) but the ease of having someone waiting to whisk you away is certainly worth looking into for a hassle free transfer. If you're in need of such a service upon arrival be sure to look at Columbo NCC as an option.
Arriving at Hotel Touring was a friendly affair and reminiscent of visiting an old family friend. There's no pretence; just classic Italian comfort and charm. As an added bonus they also have two small dogs who you may catch a glimpse of at reception if you're lucky. The rooms are contemporary, there's WiFi throughout the hotel and a continental breakfast is offered in the morning. As well as a flat screen TV and tea making facilities in our room we also had a gorgeous balcony that offered a perfect panorama of the city in all its ancient terracotta glory.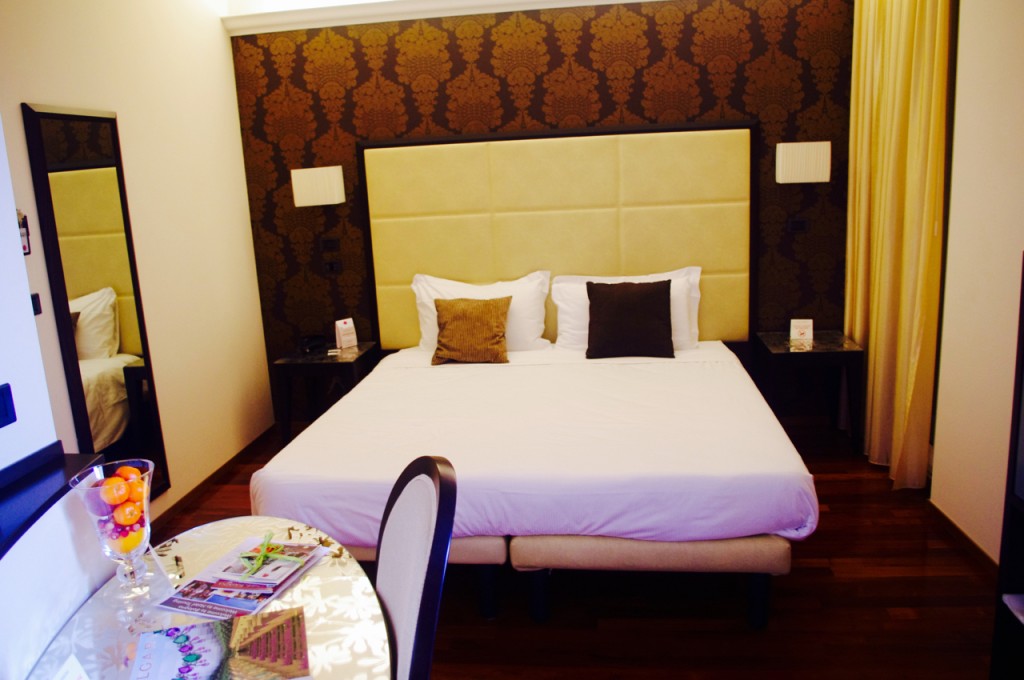 After excitedly exploring the room we decided to equip ourselves with coffee from the bar and head up to the pièce de résistance of Hotel Touring- the roof terrace.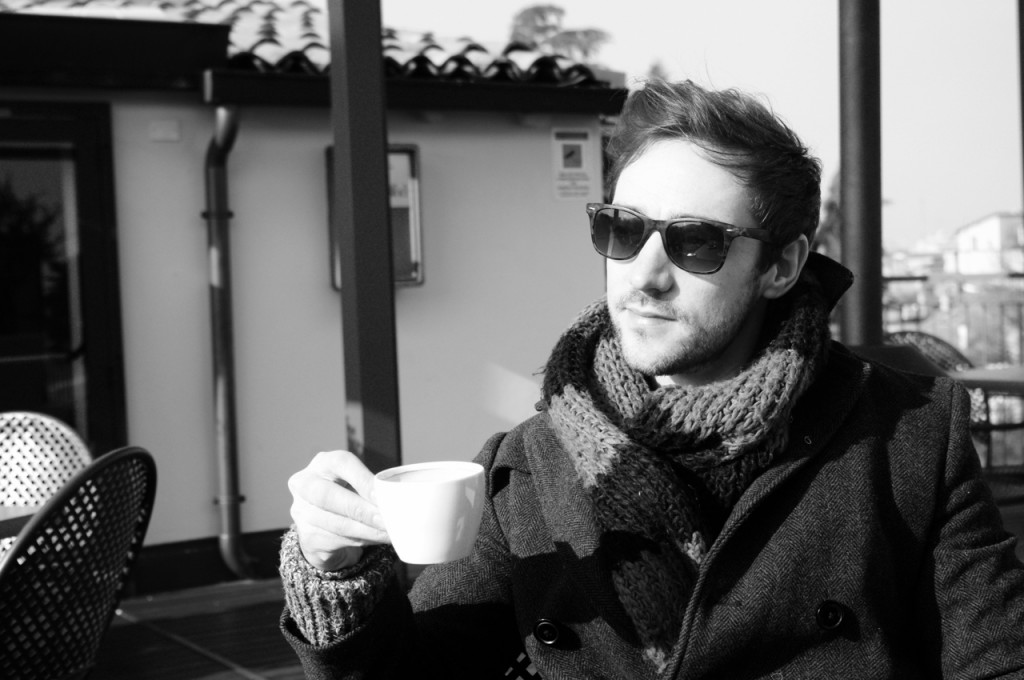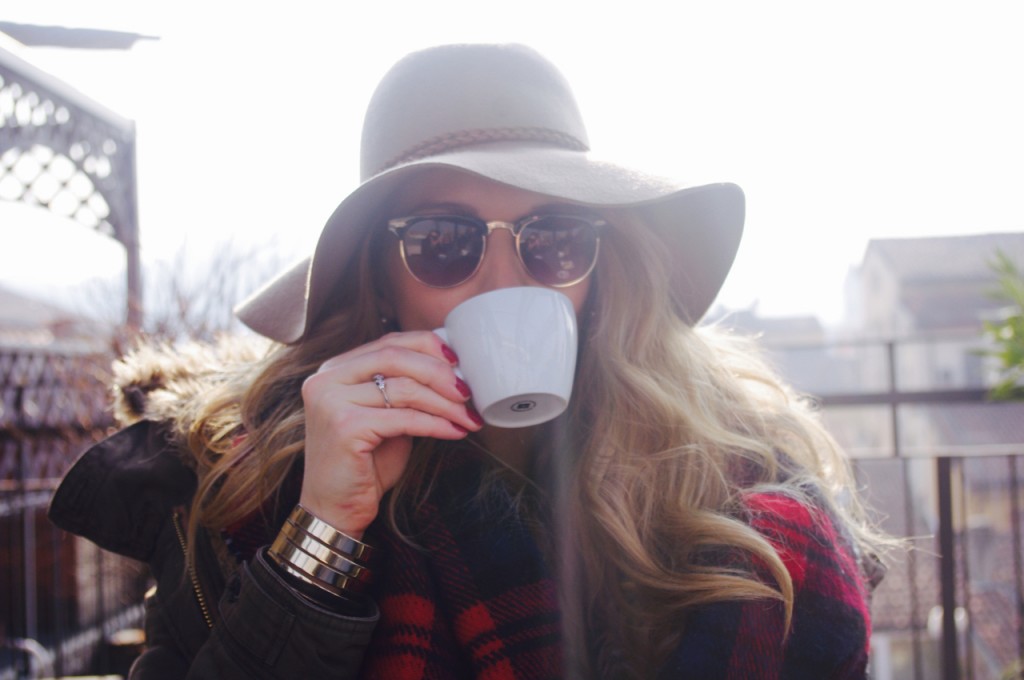 In the summer months there's a hot tub to lounge in as well as the ample year round seating. From the Bologna Hills to the Asinelli Tower, the views are truly spectacular and it makes for the perfect place for an afternoon coffee break or evening Lambrusco before heading back out into the streets below. Time your visit with the sunset on a clear day for a truly memorable moment/photo opportunity.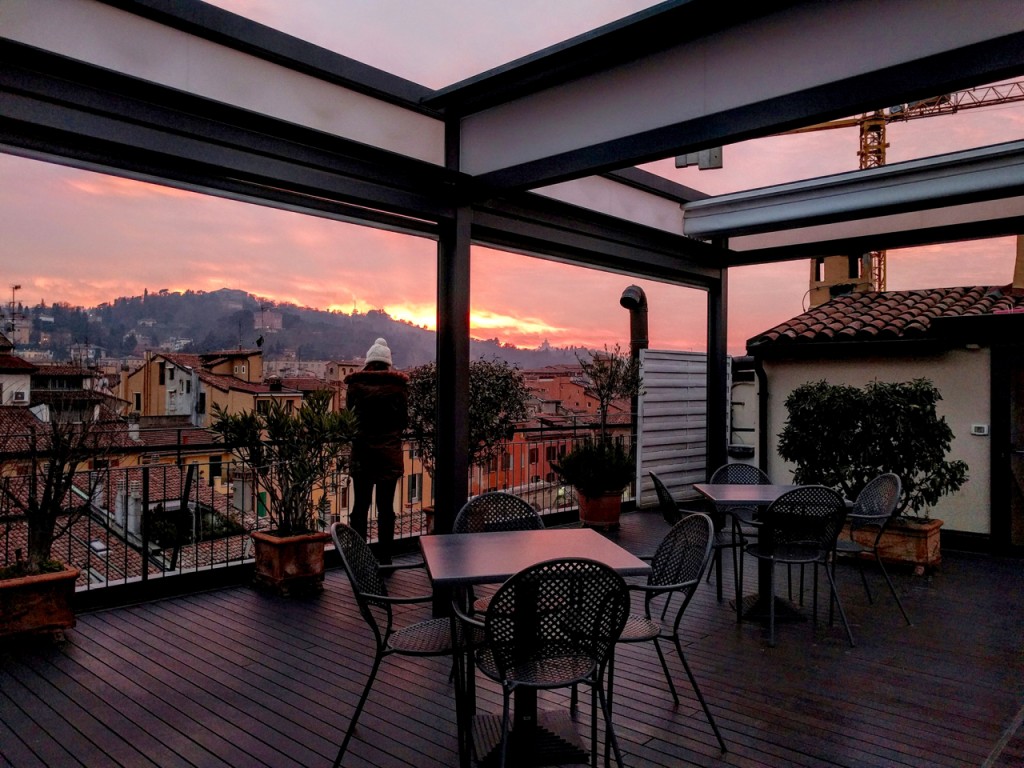 Hotel touring offer an array of room options and we were allowed to have a sneak peak at a couple of them. The newly renovated rooms on the second floor felt very spacious and modern and the one we saw had a Great British theme for that real home away from home experience.
The Diamond Suite was, as you may expect from the name, a real hotel highlight. Complete with a sofa for lounging, bath for relaxing and private balcony for taking in the sunset it's the ultimate option for a special break away. It's opulent while remaining cosy and is definitely somewhere I'd be happy to spend a night…or five.
For a charming hotel in a central location Hotel Touring Bologna is an excellent find. Their rates online start at €79 but Adventures Of A Nice Girl readers can get 15% off any room by emailing the hotel directly-  hoteltouring@hoteltouring.it  With return flights on offer from £35 it's an ideal location for a weekend break, regardless of the time of year.
I'll be writing more about our time in Bologna over the coming weeks. In the mean time, let me assure you that in the name of accurate research I ate pasta for four consecutive meals. It's the ultimate place for food fans who enjoy making great life choices.
*We stayed for two nights as guests of Hotel Touring Bologna. A huge thank you to Manuela for helping us to so wonderfully arrange our trip and giving us the warmest welcome to your beautiful city.