Hearing about family members getting separated is always sad. Unfortunately, not everyone who gets estranged from an early age from a parent or sibling find their family when they grow up. That's why it's always refreshing to hear reunion stories of family members who were separated from each other for a long time.
Take the case of these two brothers who have been reunited through Facebook after not seeing each other for 25 years.
David Horner, 53 and Stuart, 49, lost contact with each other after their father died. David joined the RAF and went travelling, and Stuart travelled a lot as well. The problem is, they didn't keep in touch and after their father died, which was their point of contact, they didn't see each other again.
Despite the separation, however, David never missed writing birthday cards to Stuart. Even if he didn't know where to send them, he kept on writing them with the hope that he could one day give them to his brother.
"All these years I never forgot his birthday, said David. "I bought him a card every year and used to write him emotional messages. It helped when I was ill and had two strokes – it gave me someone to turn to."
David was starting to lose hope of ever getting in contact with Stuart again, until one day the former began doing some research and found Stuart's daughter, Tiffany, on Facebook. David asked Tiffany if Stuart was her father and she said yes. Tiffany gave David her dad's phone number and the two were finally able to talk to each other again. Then, Stuart flew 11,000 miles from their home in Wellington to Britain to visit David. When the two met, after all the tears and hugs, David gave his younger brother the 25 birthday cards he wasn't able to send him before.
"Sitting down to read the birthday cards together made us both very emotional," David said
There's another story about siblings who were reunited after being separated for so long, and it's as famous as the story of brothers David and Stuart. Both didn't realise that they were siblings until someone did a little bit of research on Facebook, and realised that her long-lost sister has actually been a long-time bingo buddy of hers.
The experience gained from travelling is a perk of its own but there's probably nothing better than traveling a long distance just to see a family member that you've been separated from for a long time.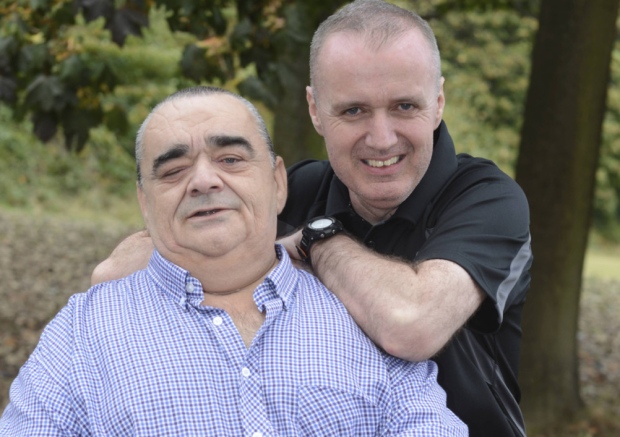 Image credit: thestar.co.uk
***
Guest post by Maria Taylor.
Maria is a Journalism graduate of the University of Washington. She currently works as an English teacher in Japan by day, and a freelance writer by night. On weekends, she likes baking pies with her two kids, Sandra and Kim.