Glastonbury Festival: the iconic 3 day long celebration of contemporary performing arts that sees hundreds of thousands of people flock to the idyllic countryside village of Pilton, Somerset armed with tents too heavy to carry, wellies that won't stay mud free for long and high expectations just waiting to be met. It may have taken 27 years, but for the first time I finally got a ticket and this year Tom and I joined the other revellers in the annual pilgrimage. Glastonbury Festival 2016: it was time to see what all the fuss was about.
Having missed out on coach tickets we arrived by car which in retrospect was probably a much better option. We spent Wednesday fixated by the horrifying tales of #Glastonburytraffic only to sail into the site Thursday morning without so much as seeing another vehicle. So far so good. I had already researched where to camp based on zero knowledge other than the basic map published by the festival and other people's probably biased write ups. The decision was based solely on the fact that I knew we would actually want to sleep at some point over the weekend and no I did not want to be shoulder to shoulder (guy rope to guy rope?) with a field of a thousand people. Haters gonna hate. Etc. Now this could have gone either way but luckily my planned Rivermead campsite prevailed as I hoped it would. Tranquil river side location with plenty of space left for Thursday arrivals. Just lovely.
To celebrate our arrival we boiled water on our borrowed camping stove to make our novel dried snacks and embrace camping life. The sun was (almost) shining and as I marvelled at how exciting it would be to awake in the festival atmosphere, sitting around with tea in hand making friends with the neighbours Tom promptly pierced the cooking gas canister to the point of no return/potential suffocation. In a slow motion bid to get the thing out of the tent, look like seasoned campers and not cause a scene we inevitably caused a scene and couldn't look any more like city amateurs as our neighbours in their perfectly Boden style floral tipi looked pitifully on. As the gases and our street (/field) cred dissolved into the air so did my tea based dreams and the promise of a convenient snack. Camping: it's in tents.
Now if like us your knowledge of Glastonbury has been based solely on the fairy lit, bunting filled BBC coverage and lucky friends' filtered Facebook posts you may be interested to know the first piece of harsh reality: the sheer size of the thing. We walked, on average, 23km a day which may or may not be bearable to most people however here comes fun fact number two: no photos will do the mud from this year justice. None of them. I'm thrilled Mr Eavis has proclaimed it the muddiest year ever because this gives me the right to briefly sulk about how hard it is to walk, in wellies, through calf deep, sticky mud for four days. The festival is of course filled with joy but lest us forget the true pain that can only be felt from your worst ever leg day x4 with oh so few places to sit and recover.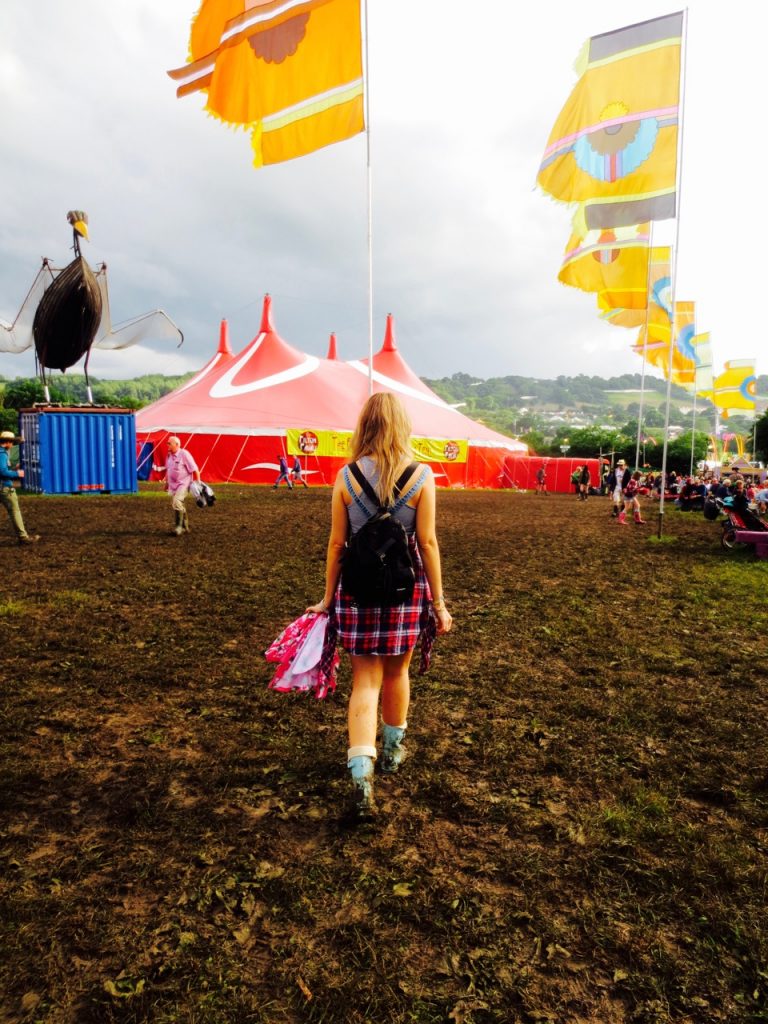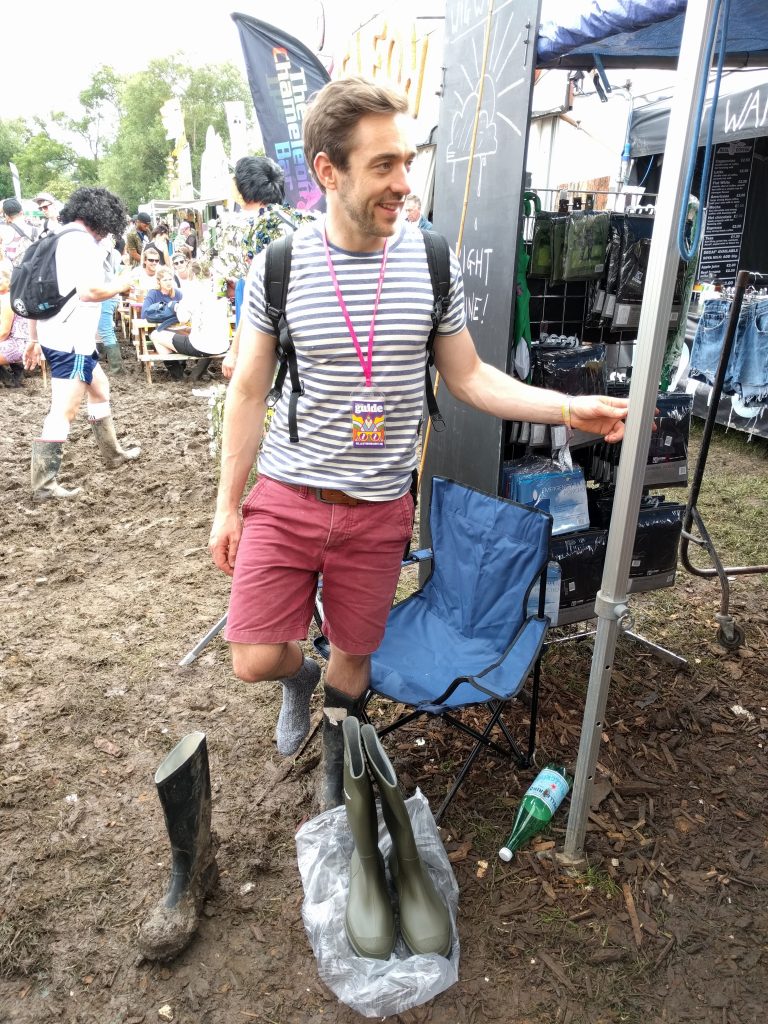 While we're on the darker side of Glastonbury let's touch on the toilet situation. They don't lie when they say it's scent that truly never leaves you. Luckily most of the time we visited the compost loos which were, largely, a much more enjoyable (total wrong word) experience.  This is namely because they have a roof which, and call me old fashioned, is much preferred when it's already pouring down with rain and also because the compost helps mask the odours. Unless you're visiting late night and absolutely no-one remembers to take compost in with them. Then there's no hope. A genuine highlight was stepping in just after they had been cleaned. I'm not sure if it was angels singing or the faint dulcet tones of some upcoming acoustic singer on the introducing stage. It was a glorious moment.
Thursday was predominantly for getting our bearings (hahaha) and feeling largely overwhelmed by being a very tiny blade of grass in a very big field. This feeling didn't subside until Saturday when our French boxed wine had probably had enough time to work its magic. Although the bands don't start until Friday there was plenty in the way of exploration to be done and events going on. Highlights include finding the actual printing press that gave out free actual papers, Tom immediately having to buy new wellies upon realisation his ones taken from the streets of London didn't actually fit and the incredible silent disco that took us through until 2am.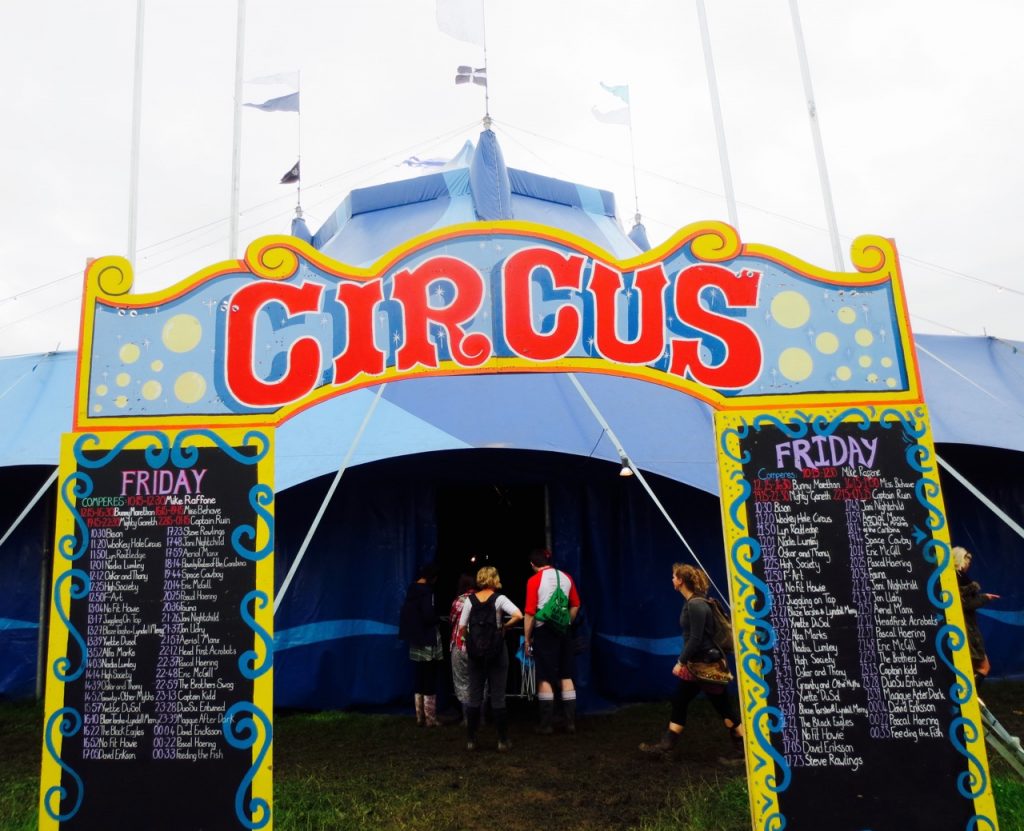 The next three days blurred into one continuous trudge of mud, consumption of incredible food and experience of amazing live entertainment.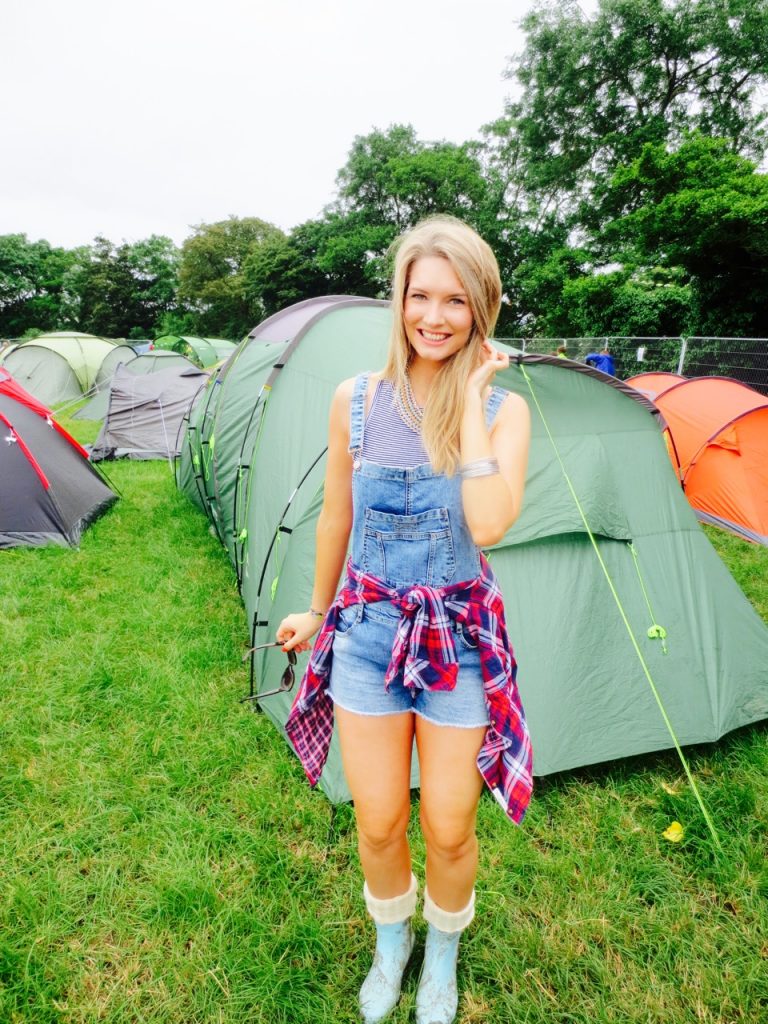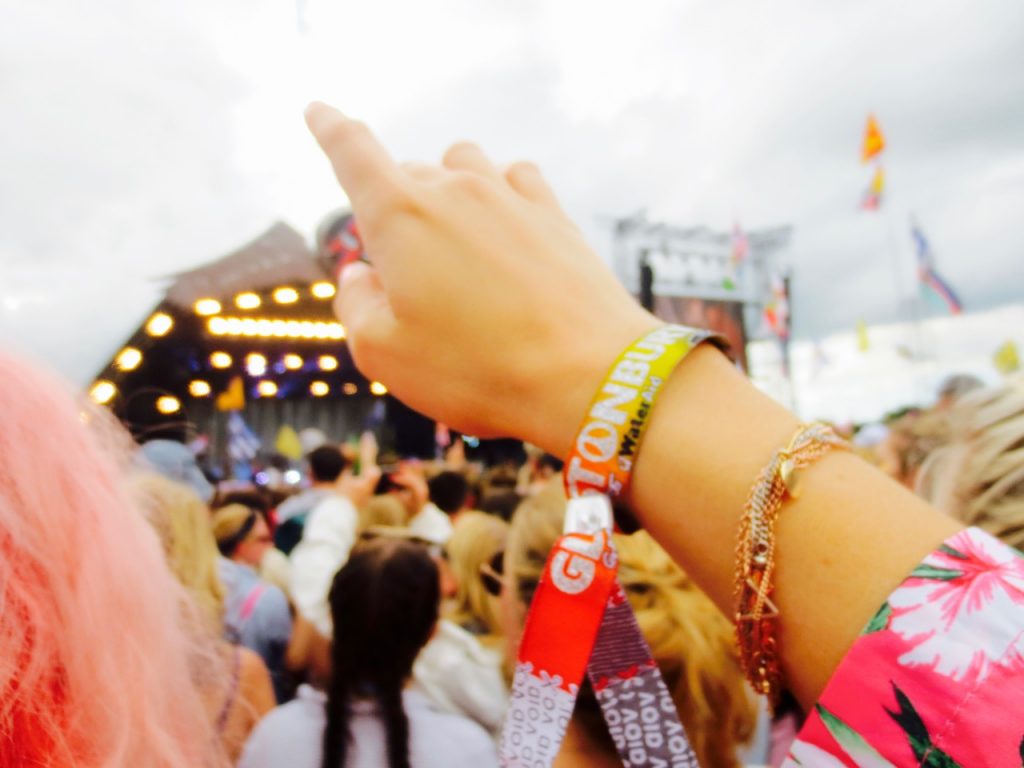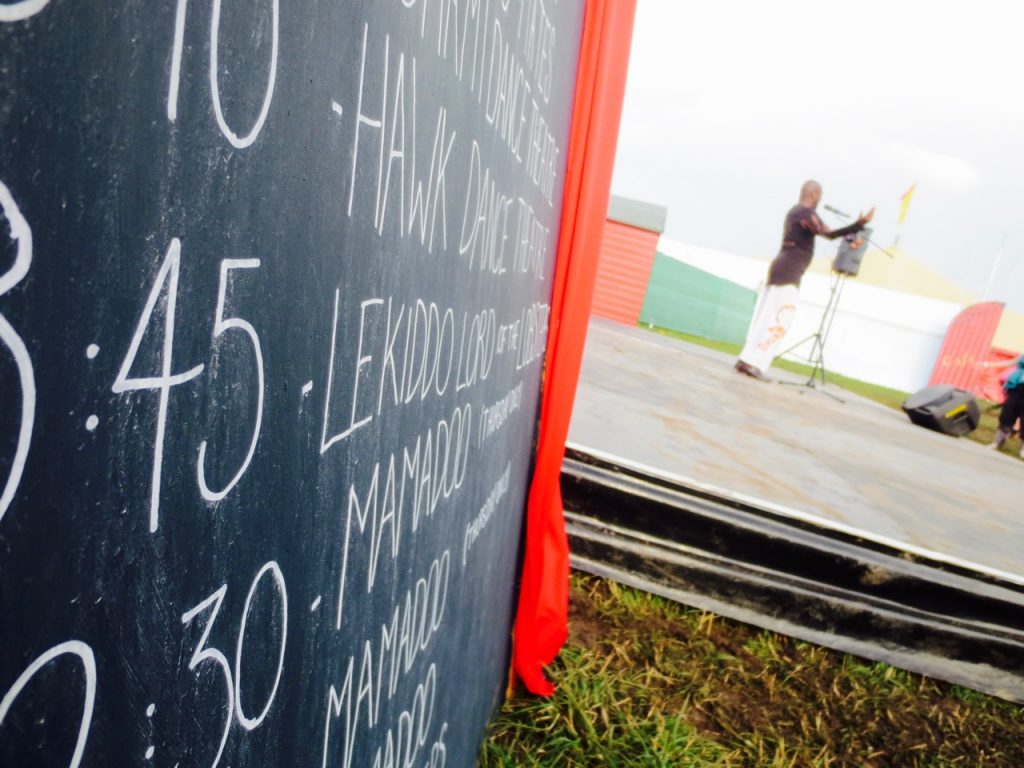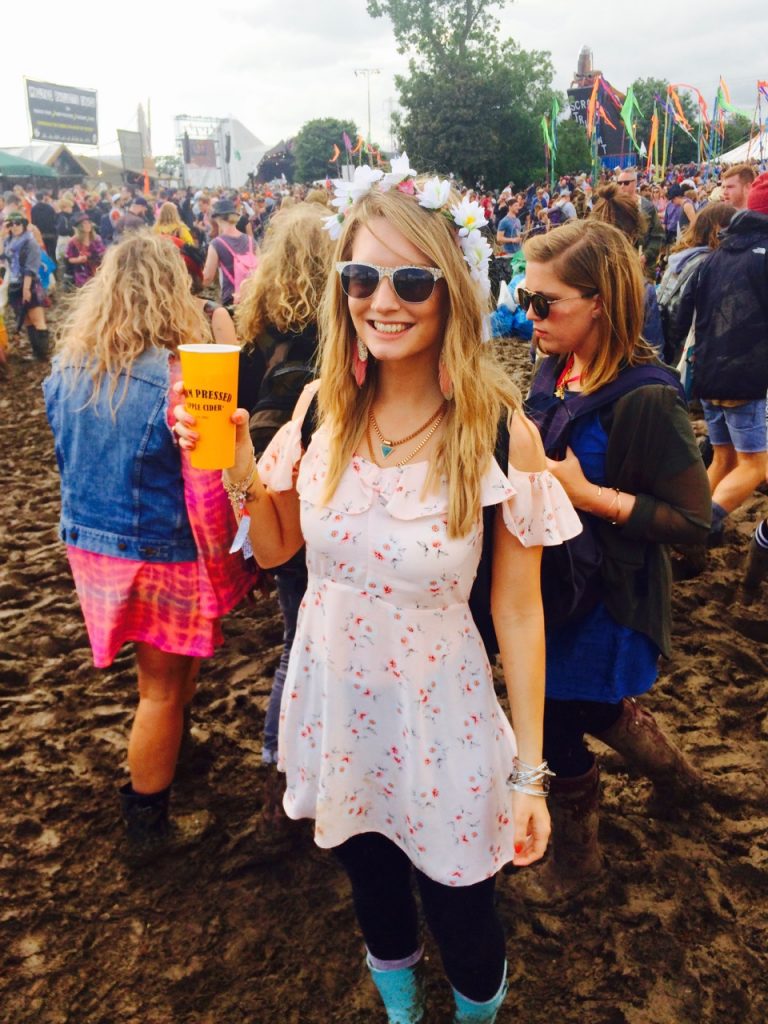 It was a dream to see so many iconic bands live and to discover some new favourites along the way too. Honourable mentions go to Christine And The Queens, Jess Glynn, The 1975, Madness, ELO, Gregory Porter and Bastille.
It was also amazing to step away from the main stages and take in everything else on offer. From circus to comedy, to dancing like a lobster with Lekiddo to interactive cabaret and the building of a giant cardboard tower. You really never did know what weird and wondrous sight (/outfit) you'd find around the corner.
I chose to eat only vegetarian food for the weekend and was not once disappointed or short of choice. From falafel wraps to Mediterranean pizza, vegetable Thali to breakfast baps and the ultimate goats cheese Square Pie. I was a very happy camper. Tom too never went hungry: a definite highlight from him and the crowds being Yorky; a filled Yorkshire pudding which was a festival of carbs and meaty goodness in itself. There are food stalls literally everywhere. We stumbled across the tractor selling Worthy Farm milk in the mornings too which was a nice touch and reminder about who really runs the farm.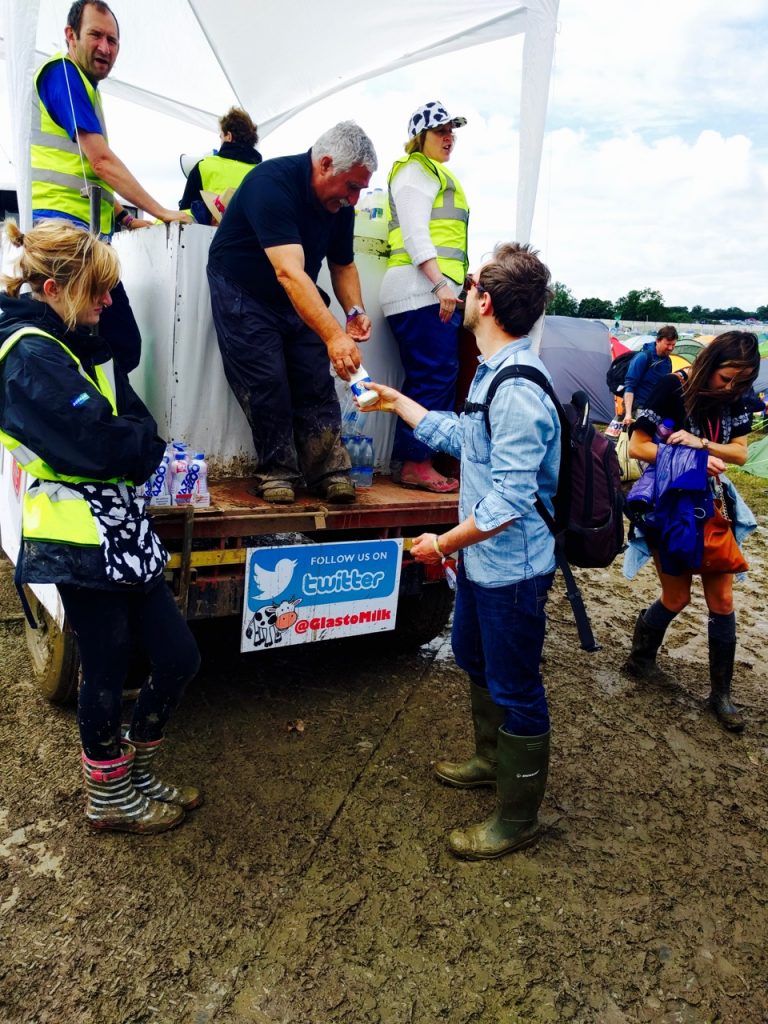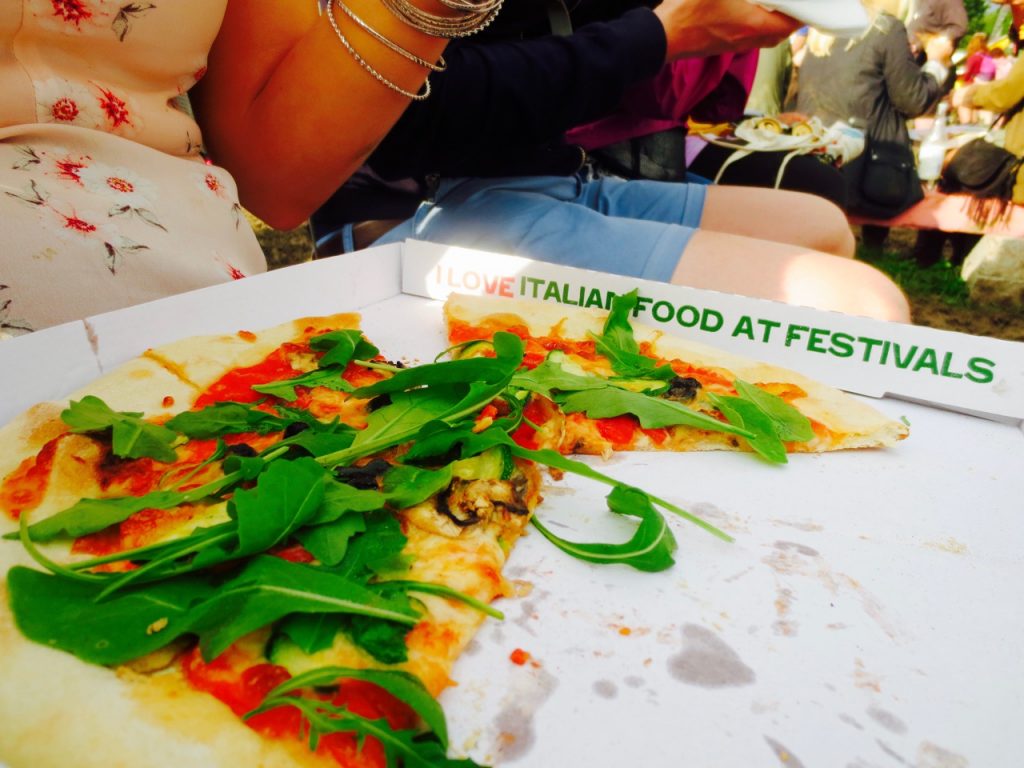 The atmosphere of Glastonbury was, on the whole, one of unity and enjoyment. I have no time for the token idiots who seem to frequent these places for all the wrong reasons but largely where we were they were not. Apart from the guy who enjoyed throwing his drink can across the field while stood in front of us instead of walking a few feet to the bin. That was a mistake when your friendly resident litter warriors are watching. Sadly he didn't care for our questioning of whether he was going to retrieve his rubbish. "Love the farm leave no trace" is plastered everywhere. Everywhere.  It astounds me how some people think being in a field gives them the right to lose all moral compass.
On the flip side though, in amongst the eerie atmosphere of waking up Friday morning to the news about Brexit it was oddly comforting to hear other people feeling just as shocked as we were. As the Glastonbury press printed that day, we were "pretty safe in the knowledge that it's nobody's here fault." The festival bubble and being around people who spoke so passionately about opinions I agree with was the perfect remedy to what was otherwise a very scary and shameful day to be British.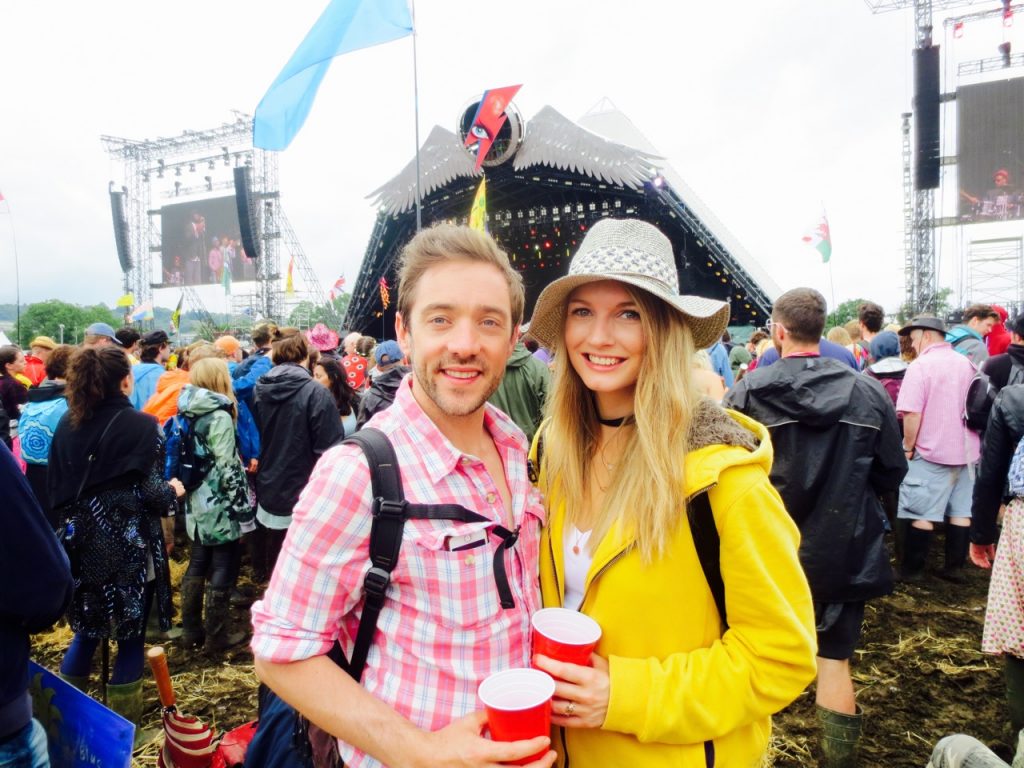 As with any big event, often the best laid plans go awry and this was definitely the case for us, especially when it came to the infamous nightlife we oh so optimistically thought we'd get to experience. We tried to get into the SE corner Saturday night only to be turned away with hundreds of others because it was full. We also didn't make it on Friday because Glastonbury is absolutely exhausting and the thought of walking to the opposite side of the site come 12am was something of a hellscape.  I also set my alarm twice for 10am power ballad yoga but didn't make it because I learned I am not as resilient to early starts in the pouring rain as non festival me hoped I might be. Namaste in bed.
My top tip: forget about it. There are plenty of incredible moments to be had elsewhere, most of which you don't even appreciate having until you're home again. I read a comment somewhere that said how everyone at Glastonbury looks like they're just waiting for something incredible to happen and I have to almost agree. There's so much expectation to have the #besttimeever it's all too easy to keep searching for the promised euphoric moment rather than just enjoy everything that's right in front of you. Looking back now my favourite evening memory was trekking up to the Glastonbury View after watching the mind blowing Arcadia show and taking in the never ending festival lights from above. With a sense of perspective and content it made the sprawling expanse below seem a little more manageable.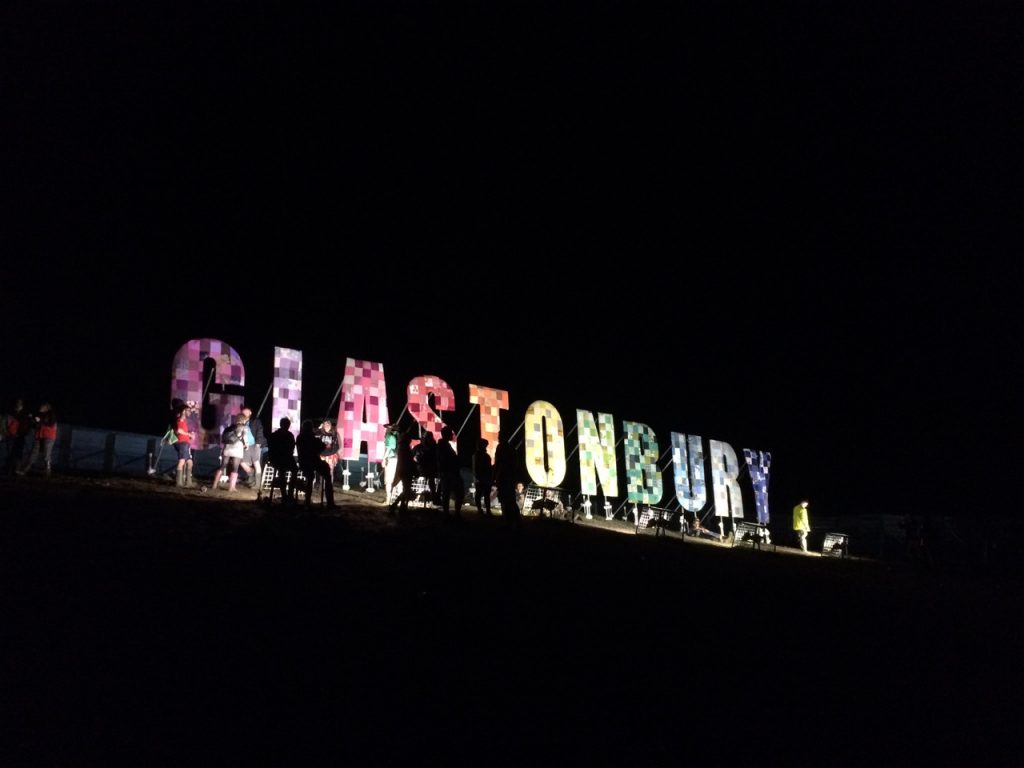 As for euphoria, it doesn't get much better than Coldplay's closing Sunday set on the Pyramid stage which was probably worth the entire ticket price with its incredible production values. While I enjoy Coldplay I wouldn't class myself as a hardcore fan but it was truly one of the best live shows I've ever seen and they deserve all the praise for it that comes their way. Their Viola Beach tribute was beautifully moving and the tears certainly did stream down a field's worth of faces.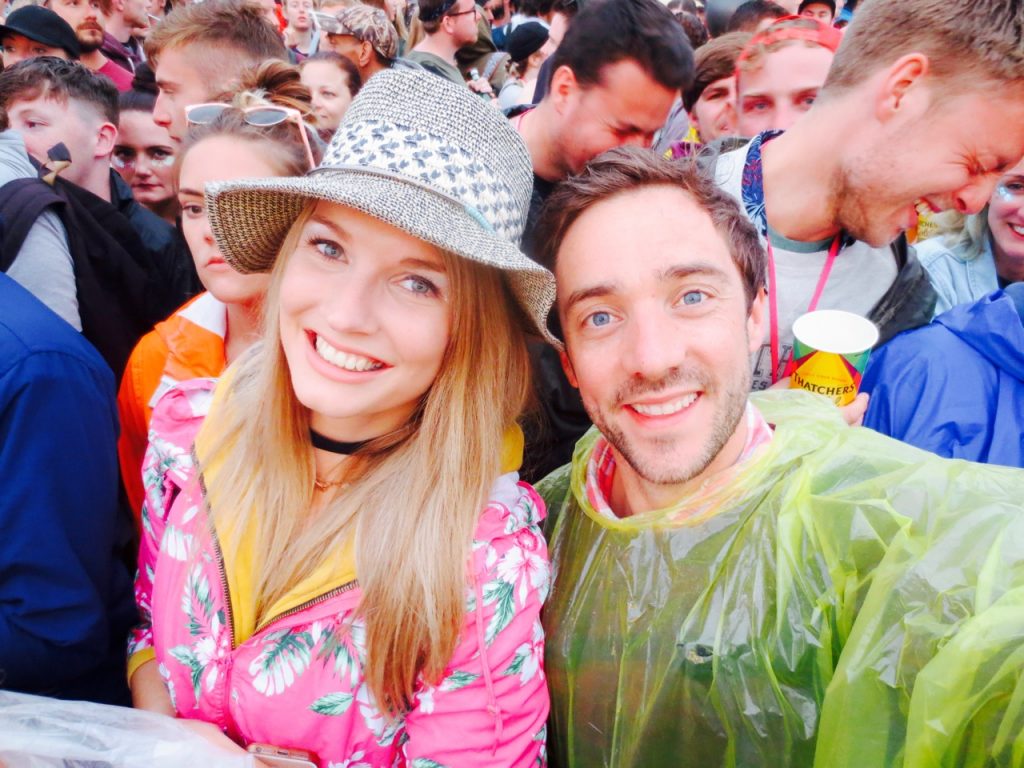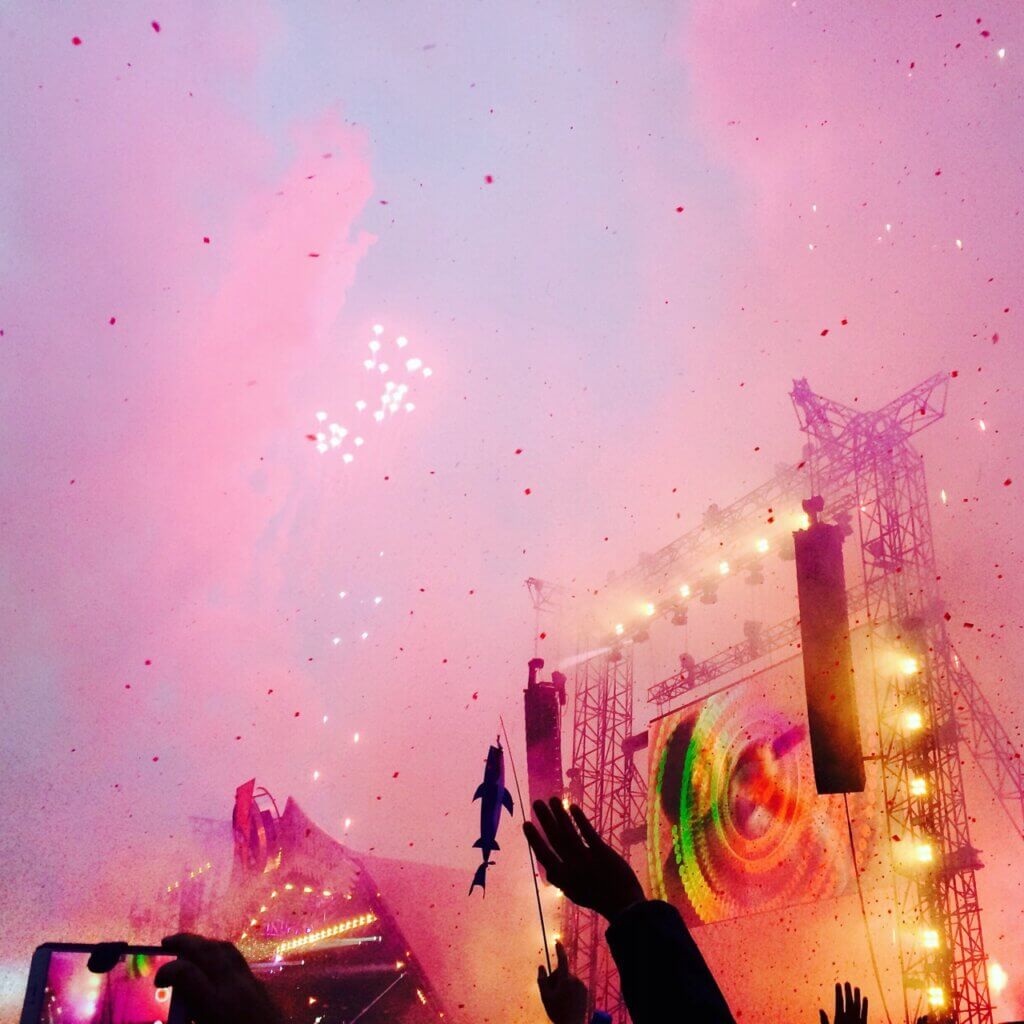 Throughout their set I did however spend a significant amount of time feeling jealous of the small inflatable shark affixed to a giant pole in front of us who was adorning not one but two of the coveted glow up wristbands while my human and appreciative wrists had none. Curse you shark.
A 3.15am wakeup call Monday morning meant that our tent was taken down and we were back on the outward trudge to the carpark by 4am. It's all about the escape tactics. In theory this would have worked really well until we inevitably got stuck in the mud and had to wait for a tractor to save us. Despite eventually not actually leaving the site until 5am we still encountered no other cars and had a very smooth getaway until the joy of the London rush hour once again welcomed us back to reality.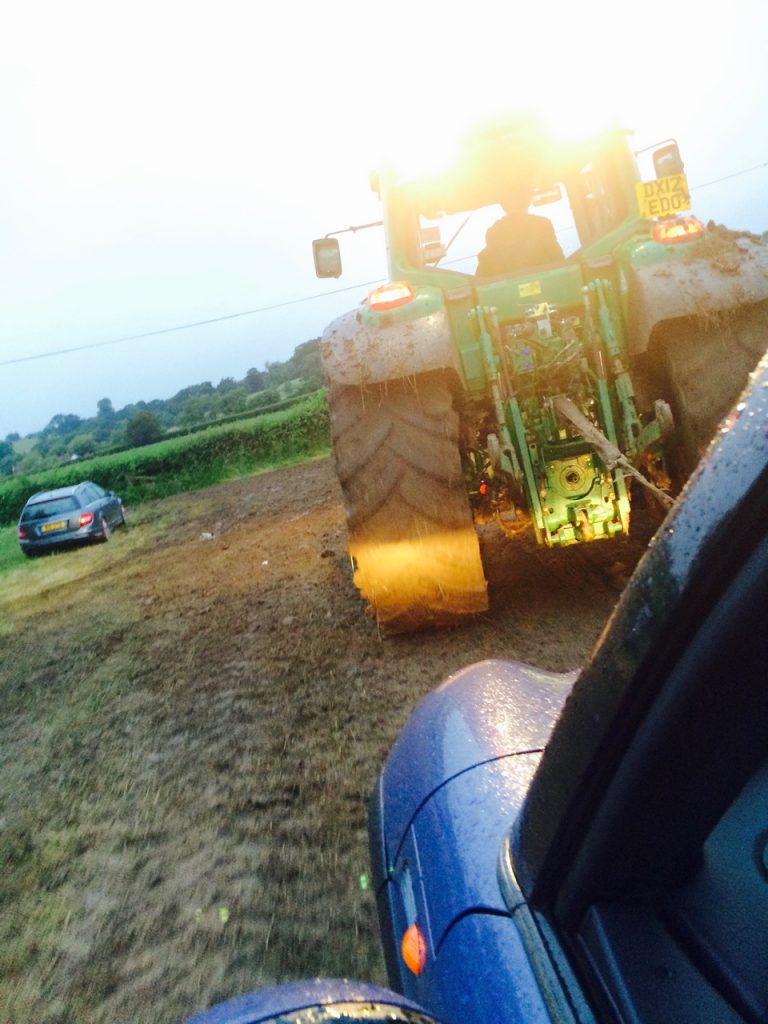 Home again with our souvenir t-shirts and days worth of incredible memories, I could finally gather my thoughts and conclude that yes, despite the challenges, Glastonbury is a wonderful place where magic and music combine to ignite and combine thousands of minds. A place where, despite what the fashion magazines will tell you, no-one cares what you look like. A place where saying yes (while keeping it legal) will get you far and where there's an interesting conversation waiting to be had on every corner. A place where sitting high about the crowds during your favourite 1975 song may be seen as cliche but actually provides you with one of your definite life highlights. A highlight made even better when it's picked up by none other than the BBC.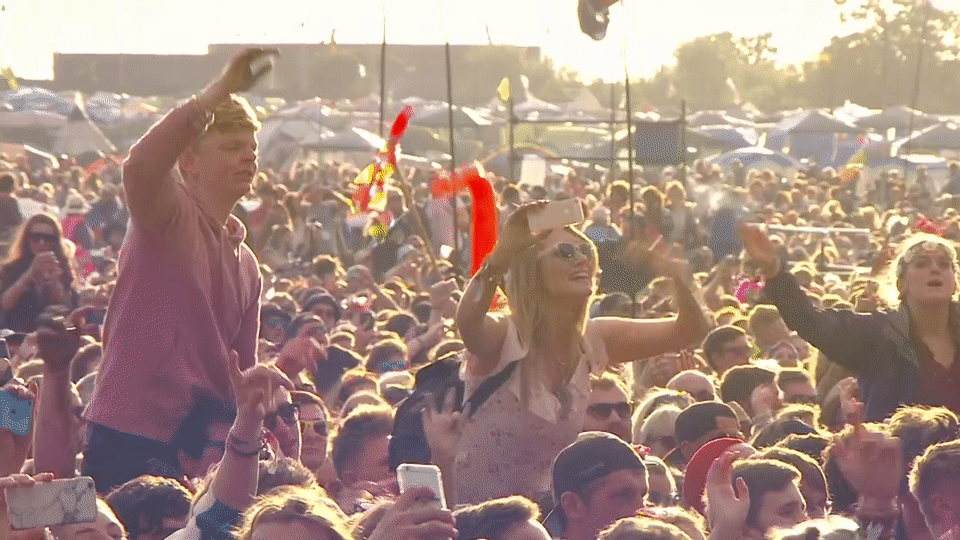 Thank you for having us Worthy Farm. I can't wait to come back.