Just a newlywed, sitting in front of a blank page, hoping this is useful.
A wedding planner I am not. But recently married with a penchant for planning and opinions I am. I know that I wanted to devour all the wedding content I could in the run-up to The Big Day but struggled to find many accounts from #nonspon brides. To the uninitiated, planning a wedding may seem easy. And in many respects, it is. It is but a celebration of love that ultimately only involves two people and a legal certificate. But often it's bigger than that. And with every growing detail comes the anxiety dreams and the unanswered RSVPs. The wanting to talk about every element whilst simultaneously not wanting to think about anything wedding ever again. As Charles Dickens so eloquently said:

"It was the best of times, it was the worst of times"
Don't get me wrong, I loved planning our wedding, but that doesn't mean I was immune to some eye-opening experiences along the way. After a few months of contemplation for the whole process, it seems only right to document. There are so many ways to get married and ours was just one of them. I hope some of these reflections ring true or, at the very least, reassure you that even if everyone isn't talking about it, everyone is going through it. Nothing will ever be perfect, but as my Dad has always said, "perfect planning prevents poor performance" (not quite verbatim).
Here are some of my thoughts from adventures in wedding planning with photos from the moments that unfolded behind the scenes along the way.
On organisation
Being true to yourself never goes out of style
That's right, our queen Elle Woods has set us up for success from day one. Even if you don't know what your style is yet, staying true to yourself, your ideas and your principles will ensure you do your day, your way. Hooray.
First and foremost: get organised. If you've ever worked in theatre, congratulations! You're about to realise another purpose for what is at times a questionable career that you never knew existed. If you haven't, here are some of my principles of planning.
Start early
Book suppliers. Make appointments. Find rings. I had a basic guest list written before we even got engaged because I just love lists. So many of the trivial yet time-consuming details can be done months in advance. Give yourself the gift of free time in the run-up to the wedding day and, if feasible, get everything you can out of the way as soon as possible.
Google Drive
This is your friend and will make everything so much easier. Start by creating a shared folder between the two of you with a catchy name such as "We're Getting Married!" (yes this was ours and yes we could have been more creative here but our priorities swiftly progressed). From here, create parent folders for "Wedding" and "Engagement" with subfolders inside specific to each element: "Venue" "Suppliers" "Guests" "Design" etc. Inside those, add more folders. For example, our "Venue" folder then led into "Aynhoe Park" (our chosen venue that contained all documents, room allocations, contracts etc) "Dining" (for menu and seating plans) "Bar" (for all things drink) and "Decoration" (this housed some horrendously expensive and disregarded quotes and a running list of all decor we had purchased ourselves). Compartmentalising the components of an event makes saving and searching for specific details a breeze. Spreadsheets enable you to keep a running guest list as well as an easy way to quickly monitor expenditure. The fact this is all shared and accessible by multiple devices just enhances the whole process. Thank you internet for Google Drive.
A call sheet may sound a bit much, but it can go a long way in making you feel like you're on top of things (even if you aren't) and is super helpful for everyone else involved. The more information you give people, the fewer questions you have to answer. At least, that's how it works in theory. For me, as soon as we confirmed a supplier, I added their name, business, role, contact number, email and social handle to a spreadsheet. In the age of Instagram, this also goes a long way in helping businesses out with the social side of their job. A month before the wedding I forwarded this on to all involved with a note about who to contact with any queries (i.e. not me). In our own extended version of the call sheet, we also had activation times and when we expected each person to be on/off-site. Because we used a venue that took care of day-of logistics, this became less relevant as we could just hand everyone over and then (blissfully) not have to think any more of it but if you're taking a more hands-on approach, knowing exact timings is essential for whoever's in charge of coordination on the day.
Here's a blank call sheet example. If this or anything else mentioned is helpful, mine's an iced black Americano, please.
Pinterest is fantastic…for those who aren't planning a wedding. Engaged? Intrigued? Bored? Let your curated couture dreams fly, build a board of elaborate blooms and save each and every decadent detail that jumps off the screen. Pin to your heart's content but seriously step away the second you start putting actual plans in place. Comparison is the thief of joy and the majority of those perfect images have come from styled shoots rather than real-life scenarios. Pinterest and Instagram were my go-to places for trying to put together a semblance of something that resembled a wedding mood board and were particularly helpful in trying to narrow down dress potentials. The second I had committed to a dress I unfollowed all but a couple of wedding accounts. As soon as our plans started coming into fruition, my wedding Pinterest board was firmly left to the archives; a virtual memory box that spans years of wedding-based wonderings and what-ifs.
Instagram is also incredibly useful, especially for location-based searches. There are so many good #s to explore and it's obviously great for visuals and getting a sense of wider portfolios of work; it's how I found (and fell in love with) our photographers White Stag Wedding Photography. I personally didn't find it to be all that useful when it came to entertainment research and discovered websites like Freak Music to be more helpful when it came to initially finding live entertainment.
You can start early and have everything in order six months in advance but some things will still not go to plan. Our florist dropped out six weeks before the wedding. There was a moment when thanks to some cancelled flights we weren't sure if a couple of our guests would even make it on the day. The welcome drinks I had been so very insistent on having for evening arrivals weren't served. There were miscommunications. Small things didn't get set up correctly. Did it matter? Not at all. Accept that some thing(s) won't go to plan. Then make like Elsa and let it go.
If, like me, you don't know what your style is at the best of times, trying to piece together the "ultimate party" might seem a bit daunting. Some of my favourite tasks were the somewhat menial ones that were however indicative of us and became the ones that ultimately helped to set the tone. With that in mind, here are a couple of elements that can really come alive with the sound of, well, you:
Food
You may choose your favourite food/drinks but be warned you likely will not get the chance to fully enjoy them. Sad but true. I'm a firm believer that no-one remembers what they eat at weddings and knew that for us personally it was not the time for a fine dining experience. Nonetheless, it was something we wanted to make feel true to us. We asked for vegetarian sharing dishes inspired by many of the places we had travelled to and served them family-style. Now did I eat more than five mouthfuls of this lovingly fabricated food? Of course not. Did I eat more than two pieces of perfectly picked pizza later that evening? Nope. But the thought was firmly there. This also emphasises the delight that is to be found in tastings. Eat all the food at your tasting. And then go forth and create your perfect cocktail hour; speaking from experience that was one thing I definitely managed to consume contentedly.
Music
Playlists are life. As a product of the generation who mastered the art of the mixtape, burned CD, limited iPod mini playlist and now has the world of streaming at our fingertips, playing music supervisor and setting the audible tone was absolutely one of my favourite tasks. From a 90s themed I Do BBQ to a pre-ceremony of film scores, cocktail hour jazz and an all-cover wedding breakfast; the music was always there. A background blend of our favourite things, transitioning with the moods and moments. In theory, if done right this shouldn't have been something that necessarily stood out to those in attendance. Knowing it was there helped set the tone and helped us know that we had left our small musical mark.
On budgeting
Where to spend
Do not spend excessively on anything that will get thrown in the bin or die. Controversial to some, but this mantra is a top way to spend wisely. Gold foiled stationery is gorgeous, but so is being able to buy an extra round of cocktails or supply extra entertainment. Flowers for the day are incredibly lovely, but so is investing that bit more in the photography that will last a lifetime.
If you're paying for a gorgeous venue, why conceal it? This genuinely baffles me. Adding pops of personality, yes. Paying for a unique space only to then transform it into something completely unrecognisable, hard nope. Less applicable to "blank canvas" venues, of course. But if you've fallen in love with something full of character and charm let that shine through. Your work has already been done for you. Embrace the free time.
Once again, remember the photos that you've pinned and saved have likely come from entirely staged photoshoots. No-one needs that many props to get married. Remember that and then remind yourself of it often.
SALES. Black Friday is coming – embrace it. We bought Tom's suit and prepaid for our cake and my flower crown during the Black Friday sale before our wedding. If you already know what you want, this is the perfect opportunity for your organisation to pay off. Look out for discounts on social media (we saved on our DJ thanks to an Instagram offer) and always see if there's a deal to be done. The worst someone can say is no.
DIYes?
I am a firm believer in DIY but I am also a firm believer that a wedding is stressful enough without taking on too many additional tasks. Like everything, this is of course entirely dependent on circumstance but I'd recommend no more than five or so homemade projects and absolutely no more than one thing that is a "day of" task. We constructed our own flower arch but did it months in advance and I absolutely loved getting to put it all together. We also did our own outdoor balloon arch which was more tedious owing to the fact it was time-sensitive and then on the day, the sun seemed to burst half the balloons anyway. I'm still pleased we did it, the balloons look fantastic when inflated and I like the satisfying knowledge that we achieved it ourselves for a mere fraction of what it would have cost us elsewhere. If you have helpful family members, fantastic. Use their enthusiasm! My Mum started her own micro confetti factory for us and had a ball doing so. Drying out hundreds of flower petals is something I did not have the inclination for but I am incredibly thankful and appreciative that others did.
Paper goods were one place where we saved massively by going it alone. We designed our invitation set using a piece of key artwork that we'd had created by a fantastic illustrator called Jessica Woodhouse. We purchased the font that we used throughout the process and then got to work creating the rest. We chose to print and design our own menus which I'd 100% recommend as it's hard to go wrong when listing food. The other thing we spent a lot of time on ourselves was our wedding newspaper which we used as a programme. These elements were all fun and meant we could retain creative control over everything, but ultimately quite time intensive and took over many an evening which doesn't suit everyone. Luckily most could be done over the course of the engagement so nothing felt too frantic, other than having to constantly try to keep up with the ever-changing final guest list and update the newspaper with correct photos accordingly. There are some great free programmes out there to use (such as Canva) but we predominantly did everything from scratch. I'd only recommend this approach if you're already confident with design (and your own proofreading abilities). 
If in doubt, ask yourself will my guests have ££££ more fun? I am confident that no wedding guest has ever considered a living flower wall more enjoyable than two-four extra drinks. As much as the wedding is about the couple, it is also about the people who are using their precious days/nights off and hard-earned money to celebrate with you. It's an absolute given that the people getting married will have the time of their lives – give your guests the kind of party you would dream of attending.
 In my opinion, it absolutely pays to :
 Not have to organise/be in charge on the day 
Keep guests well fed and hydrated 
Have different forms of entertainment throughout the celebration (not everyone is a dancer) 
Have the day photographed in the best way possible  
On the emotional side no-one talks about
The one where you find out who your true friends are whilst simultaneously learning that this was not the time to cut out alcohol
If planning a wedding reaffirmed anything, it was "always expect the unexpected". Turning 30 and getting married within a few months of each other was a great way for me to really assess relationships and evaluate the ones where it transpired that all the "give" had sadly firmly fallen to me. Be aware of people who expect you to rally around when it's all about them but are nowhere to be seen when the tables turn. It's a disappointingly telling time. Such evaluation was probably well overdue, but quite unexpected. On the flip side, your real friends positively shine – embrace their light for all it is worth.
Now again, we're planning a wedding, not saving the world but that doesn't mean all this emotional stress isn't real. If you're anything like me, you may find that everything starts to feel personal. This is coming from a sensitive soul who is simultaneously fiercely resilient and painfully used to rejection. People cancelling, making excuses and generally letting us down with mere weeks to go felt like a personal attack. People's lack of etiquette astounded me. We had cancellations via text, WhatsApp and Facebook. Call me old fashioned, but if you receive a paper invite you send a paper regret. We deliberately kept our guest list small and so it was disheartening when all of the cancellations came from people "I" had invited. I don't really have much advice here and honestly, it was a sad time at what was meant to be the happiest. If anyone reading this is feeling something similar please know that on the day it is 100% quality over quantity and it's true what everyone says, you really won't notice. Use the money saved elsewhere (i.e. on you) and relish in the people who did make the effort.
Three weeks out was, for me, a particularly trying time. You are on a runaway express train to crazy town and there are no emergency stops. Prepare to question every single decision you've made thus far and hate yourself for all them. I found the way to remedy this period of absolute madness was to try on my entire outfit; accessories, shoes, hair and makeup, the full works, and revel in my genius, beauty and the fact that I was pulling this whole thing off. I felt the weight physically drop once I had done that and as much as ballgowns are not made for small London flats with cat-haired floors, it was totally and utterly worth it for the visual reminder that everything was going to be a-ok.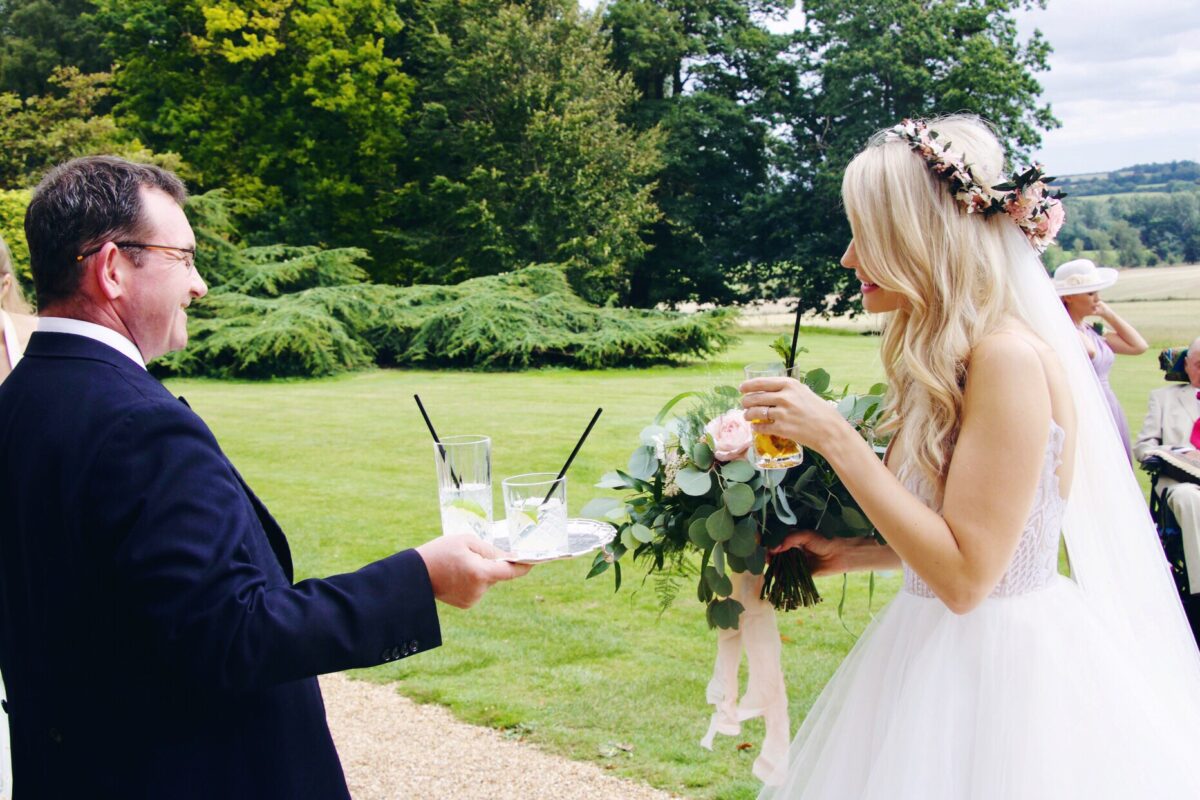 On advice
Just took a DNA test turns out I'm 100% that bride
You don't have to be engaged for regular beauty appointments, but it helps. Schedule hair appointments in advance, working backwards from your wedding date; especially if you want to achieve a certain colour for the wedding day. I got into the habit of booking my next session at the end of each appointment which was a great way to hold myself accountable and actually try to stick to the commitment.
Until I got engaged I had had maybe one manicure in my life but since that fateful day, I have discovered the art of shellac, much to my bank account's dismay. Keeping up with manicures is a nice way for your nails to grow and also to feel slightly more put together than your inner wedding-planning monologue may suggest.
See also: facials. I tried to keep up with microdermabrasion every few months and then had an incredible glow-inducing facial several days before the wedding. Could be a coincidence, but over that year my skin has honestly never been better…I'm using this as a reminder to myself to try and keep this regime up.
Speaking of regimes, keeping up with my regular workout schedule was one of the best things I did to help stay sane and feel fit. I was determined never to skip a yoga class and relished the time spent in circuit training. Now, this is coming from someone who genuinely loves exercise and was working out regularly anyway. If that's not you, that's totally fine too. The notion of losing weight or changing yourself before a wedding is ridiculous, As is the concept of "being careful not to put on weight". Be prepared for people who didn't get the memo to hit you with entirely inappropriate appearance-based remarks at several opportunities. I recommend dealing with this with a slice of cake and glass of gin.
You do not need a hen do to get married, and other potentially controversial millennial opinions
I got married without a hen do or bridal party and the world kept turning. Perhaps not the approach for everyone, but it worked just fine for me. To me, people were using enough of their time to be with us at the wedding and I had used up my annual allowance of friendship tokens to celebrate my 30th Birthday over a weekend in Brighton. Also, Hen/Stag Party culture is possibly the worst thing to grace this generation and there was no way I was going to feed into that machine.
Dress shopping was somewhat underwhelming but also something I was never hugely enamoured by. Maybe because I'm lucky enough get to dress up from time to time anyway and am still secretly more excited about the notion of a future Oscars dress. To me "the wedding dress" wasn't the be-all and end-all. The wedding dress is simply the dress you wear on your wedding day. My experiences ranged from the truly delightful (Grace Loves Lace, Ellie Rose) to the somewhat less charming. I found that out of town shops are more likely to be more old fashioned in their approach which means no photos and a tight reign when it comes to trying on which just wasn't the experience I was looking for. When you're shopping alone and restricted from taking even a subpar mirror photo the process can become tedious. If anything, this approach means I am less likely to buy from you as I simply cannot remember what I tried on as I slowly lose myself in a sea of dresses that have been given aspirational feminine names.
I eventually got my dress from Still White and wholeheartedly recommend the second-hand approach, although arguably there is a lot of luck involved with regards to timing and location. So many dresses take months to make and then are only worn for a few hours – why not give them the full life they deserve? 
If you can do your own hair and makeup, you can do it on your wedding day. Maybe it takes a certain disposition to go through with this but I was very, very happy to go it alone and enjoy a morning of calm. I did practise for literal months in advance and fill up my camera roll with far too many makeup trial selfies that will never see the light of day but it was fun and a great way to learn about what I'd be doing wrong on a daily basis for the last 15 years. Now I probably wouldn't attempt an elaborate up-do solo. But the money saved and benefit of getting to keep lots of glowy Charlotte Tilbury products was a huge advantage and something I'd suggest to consider for anyone who enjoys the process anyway.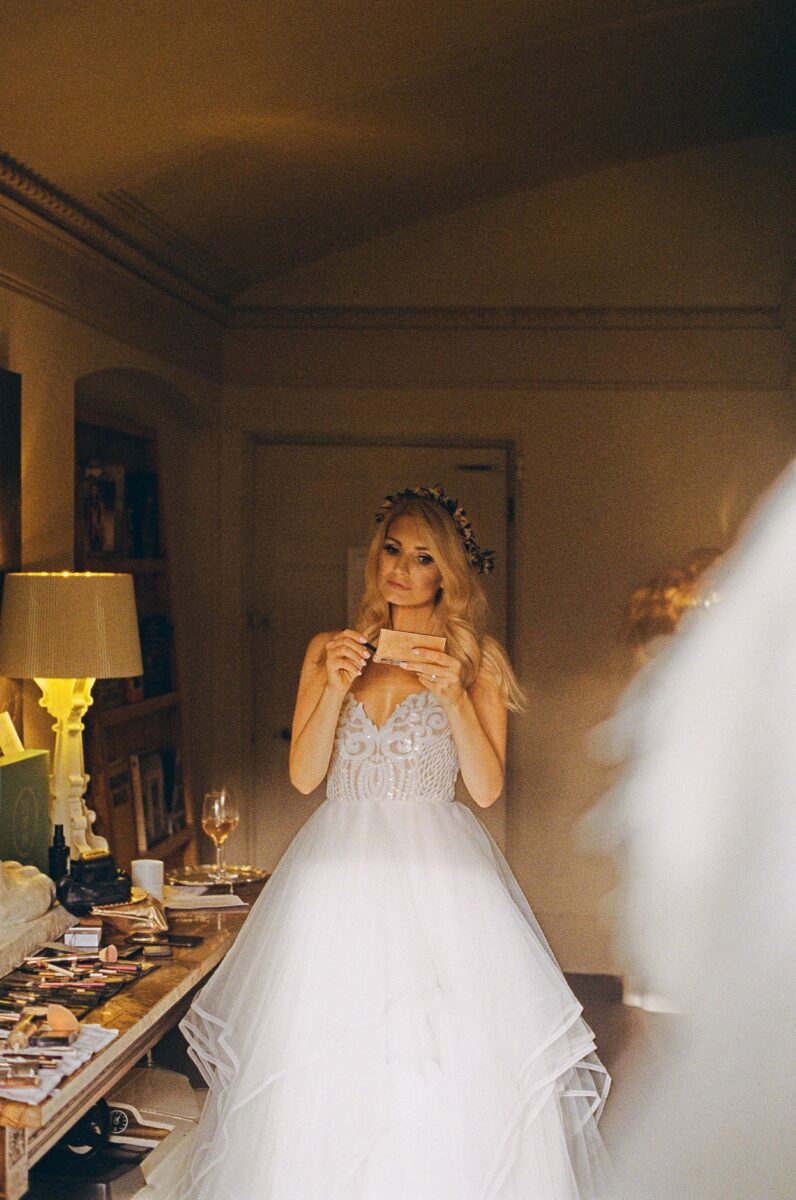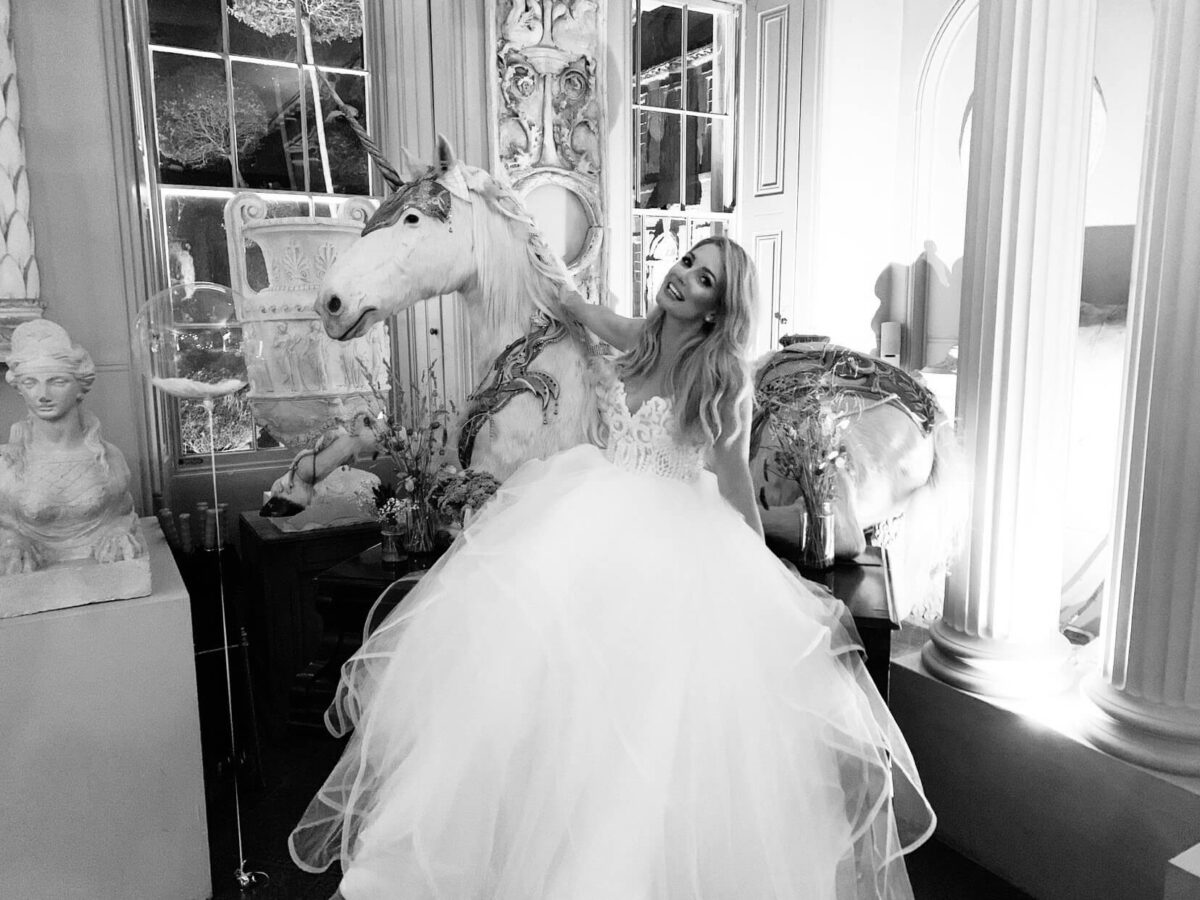 Going unplugged is preferable for increasing numbers of people at weddings but we took the opposite approach and encouraged our guests to, if they felt so inclined, help document our day. Thanks to this we have a wealth of candid video clips, some hilarious moments we would have missed and insight into perspectives that would have been forever lost otherwise. Some of my favourite photos were from the humble camera phone and even, gasp, a disposable camera. In my opinion, you can never have too many photos and videos to look at afterwards. Snap, snap, snap away.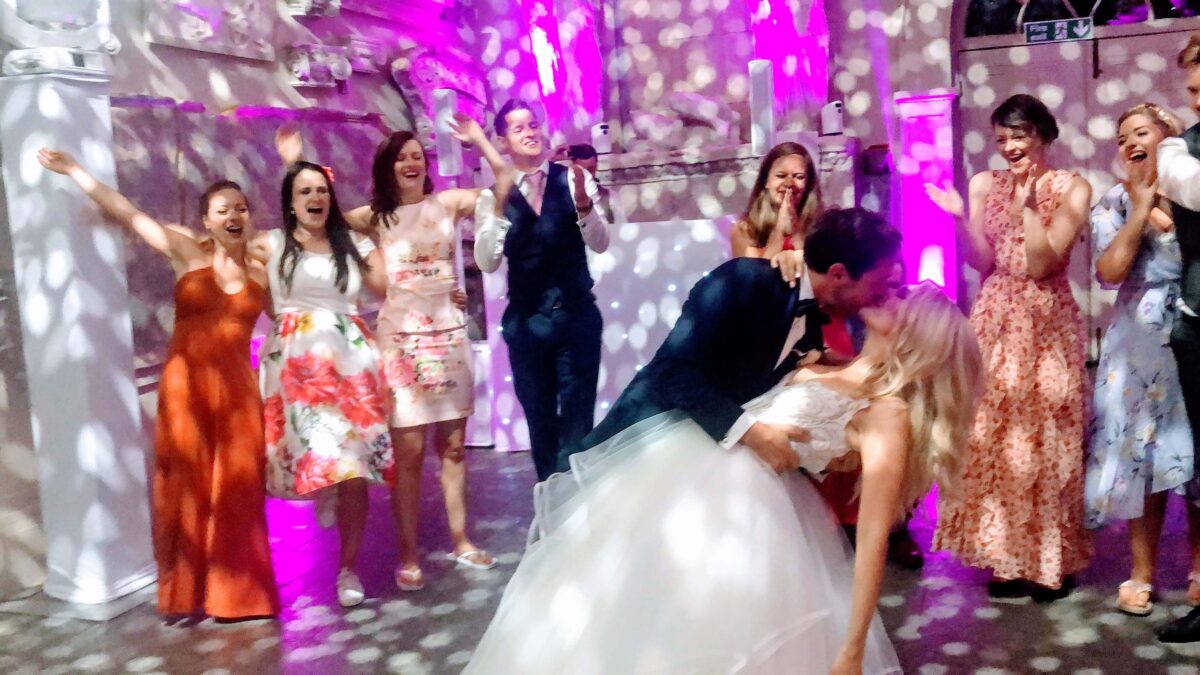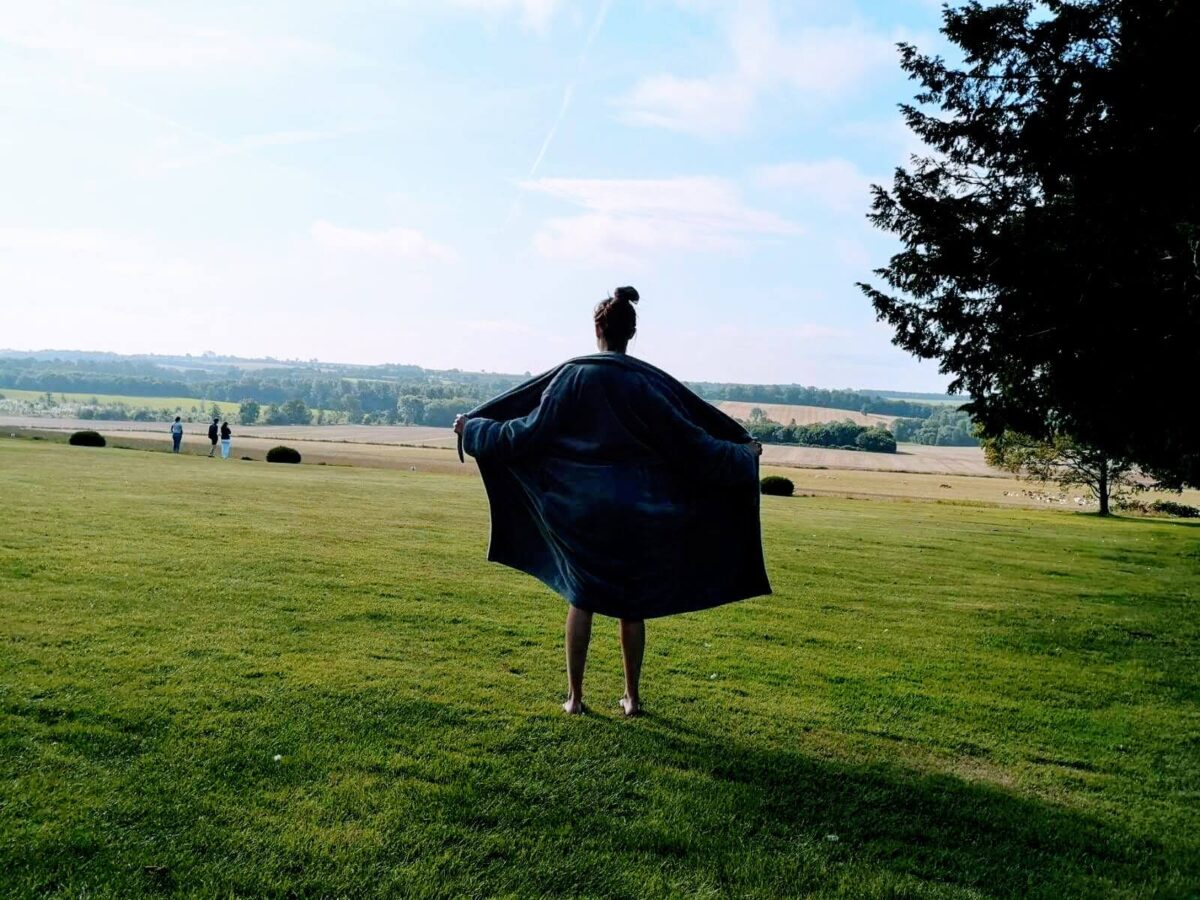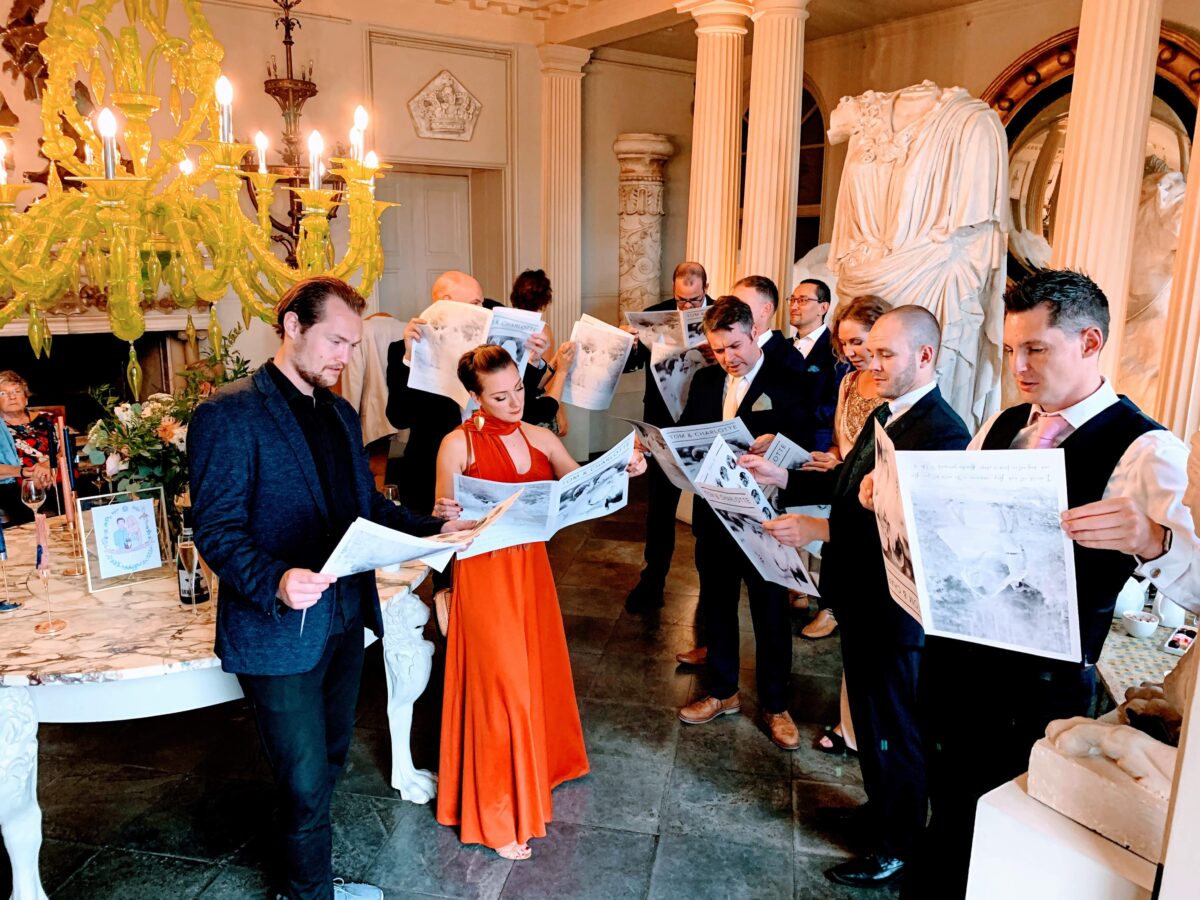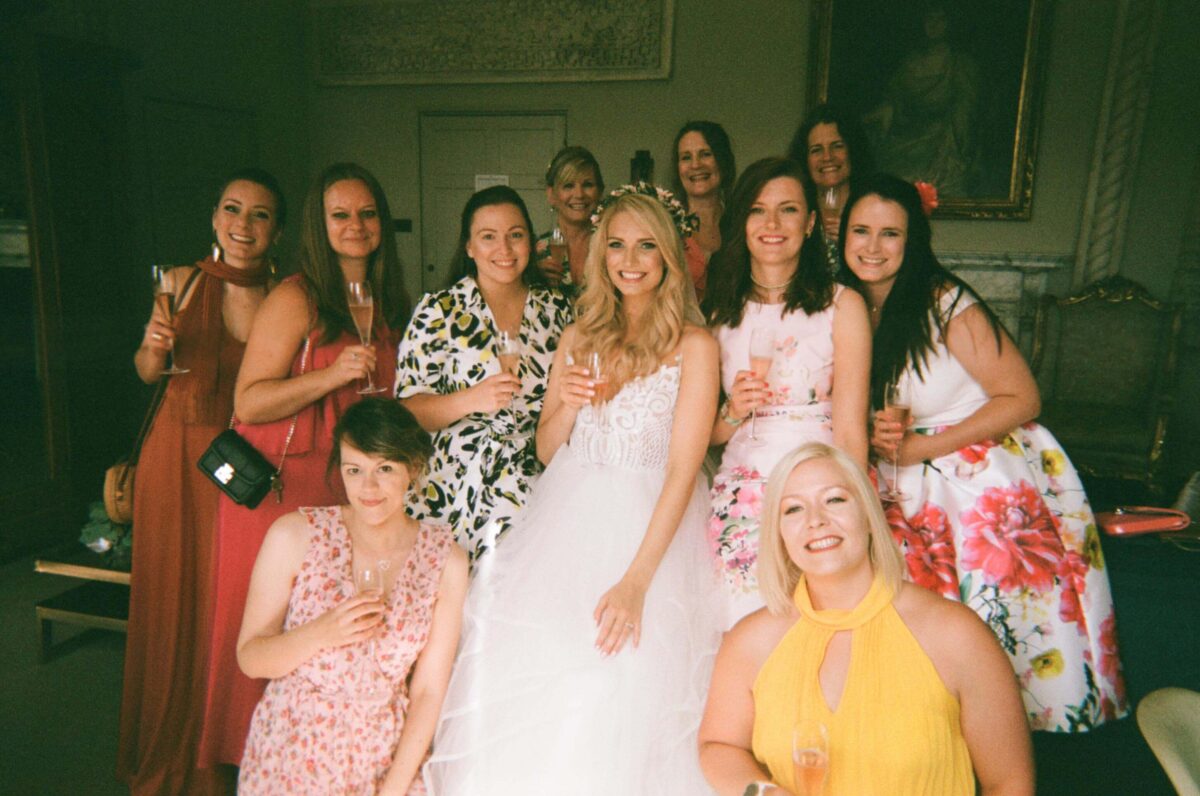 Top tips
 Don't invest in things that will die or get thrown in the bin

 Visit your venue several times if possible. Take all the photos. Film a "walkthrough" so you can identify key areas and mentally piece the flow of the day together.

 Eat when you're hungry. If all you manage is breakfast then at least that's one full meal consumed. Ask for slices of cake to be sent to your room/kept aside for you. We also did this with our evening pizza and honestly, 6 am pre-breakfast in the bath the next day has never tasted so good. 

 No lipgloss before confetti. Take it from this rookie who made that error. 

 Be generous when creating a timeline. Allow extra time for everything. 

 Keep camera phone photo settings on "live"- that way there are even more chances of getting the perfect candid moment and some great animation opportunities. 

 Stay on the dance floor for the first 30 minutes or so to get those dancing shots before your photographers leave.

 Check your hair from behind. Just quickly. 

 Get people to grab you for a photo. You will not have the time to think about getting informal pictures with everyone but will afterwards wish that you had. 

 Acnecide: banish blemishes before they even appear. 

 Embrace the internet. Reddit is full of cautionary tales and top tips. I found r/weddingplanning and  r/makeupaddiction especially helpful. YouTube can also be great; I loved Jamie Wolfer's practical advice for all things planning and Wayne Goss & Sam and Nic Chapman for classic and achievable makeup tutorials. 

 Savour your engaged friends. Despite not living within close proximity, knowing my other brides-to-be were only a WhatsApp or Instagram message away made everything feel so much more manageable. You are not the only one scouring eBay for decor you don't need or looking at Instagram to try and find the perfect hairstyle at 1 am. Know that. 

 A growing trend that I fully recommend is a pre-ceremony first look. Ours was 100% worth it and if anything made the actual walking down the aisle even more enjoyable. See also: time together immediately after the ceremony.  Even if it's just five minutes, get someone to hand you a drink and find a room with a door. Sit down. Take a photo. Squeal. Savour the magical "what just happened?!" moments. 

 At the end of the day, you will not care what you look like. Sure getting dressed up is fun but have you ever spent the day surrounded by all your favourite people who are, for a very brief period of time, all in one place and there to celebrate Y.O.U? 
Which brings me on to my final point: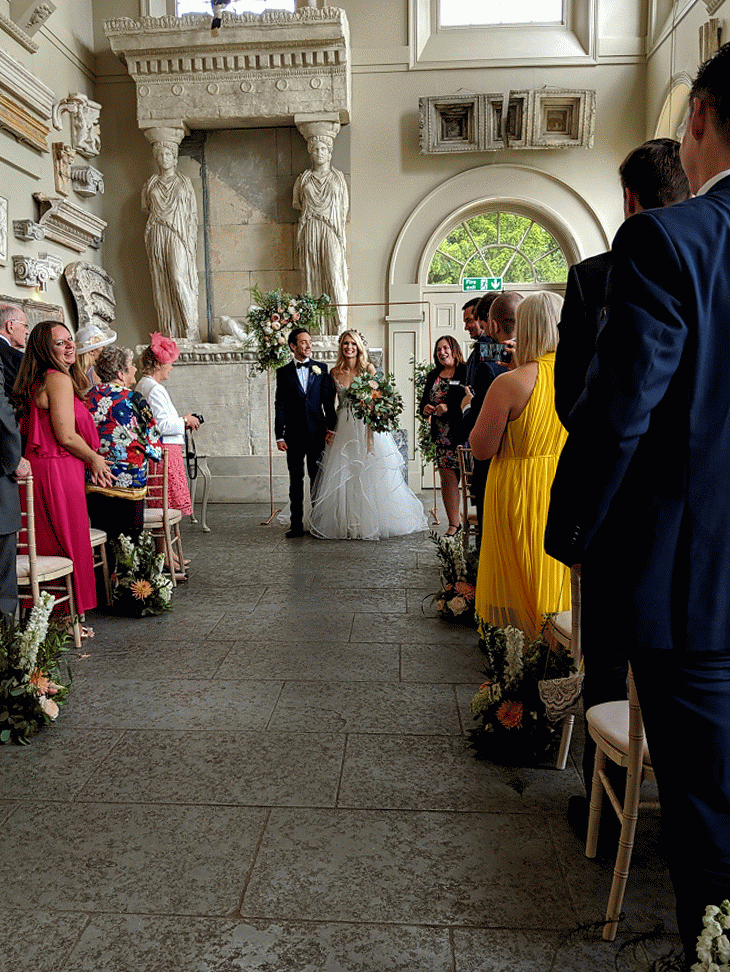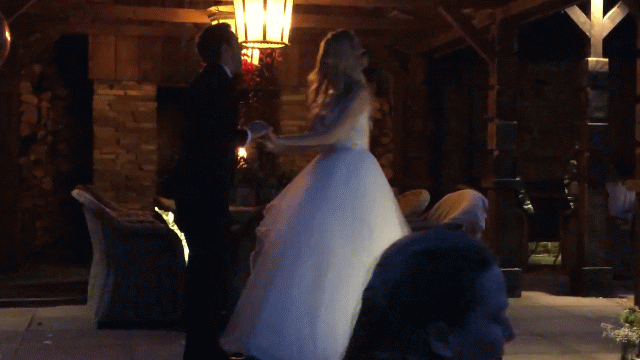 On not caring
You will not care.
You could get married in a bin bag with no makeup and you would have not only the best day but also some fantastic photos. Your nail length doesn't matter. The perfect curls don't matter. If you're attempting winged eyeliner you're insane but guess what, the precision of that won't matter either.
No-one told me how much fun it would be.
Living the moments you've seen being played out so many times before is a magical thing. The feeling of floating that follows on from being elevated with so much love is one of the most incredible experiences.
Take all the photos.
Embrace every second.
The best is yet to come.