Travelled December 2019
This year's Christmas expedition in pursuit of markets and mulled wine took us back to beloved Scandinavia. What Sweden is lacking in winter daylight hours it makes up for in fairy lights and I can confirm that Stockholm may well be the twinkliest of all festive trips thus far. This was a particularly fun dose of December decadence as it was a full family affair. Six go mad in Stockholm! Or something along those lines. Tom and I flew out a day before everyone else to maximise the long in long weekend and then we all spent three days on a meatball eating, Mamma Mia-singing mission to explore the Swedish capital.
After taking the incredibly convenient Arlanda Express train from the airport, we checked in to the Nordic Light Hotel which could not be in a more perfect location for a city break. Steps away from the train station and right on the edge of the Old Town and main shopping streets of the city centre, it's a big hotel that provides an ideal base for exploration. Unsurprisingly, the decor oozes Scandi cool in a relaxed and pared-back way. The rooms had all the essentials and came with the bonus of the world's best-looking kettle. Sadly not for keeping, but pleasing enough to spend three days gazing at nonetheless. There's a bar area with that kind of perpetual early-evening buzz that only ever seems to come with hotel bars. The included breakfast buffet was a 10/10 affair. Dark breads. Cool pickles. Fresh vegetables. Hot porridge. Wellness shots and strong coffee. You really couldn't ask for a better start to the day. Plus, the salt and pepper shakers were just as aesthetic as the in-room kettles. Apparently, this is exactly what it takes to get me excited about somewhere in my 30s.
We arrived on Thursday afternoon and after walking to find food (aka the best way to get new bearings) we headed to the Centralbadet Spa for a pre-booked evening of swimming and spa-time at the most perfectly art deco water-filled establishment I've ever been to. Previous contenders for my favourite swimming pool would have been my old local The Oasis in Swindon closely followed by the highlight of Bracknell, The Coral Reef, however, they are now but distance droplets in my mind. Centralbadet is one big accidentally Wes Anderson film set. A conservatory of palms. Dolphin showers. Perfect pool lighting. Hammocks. There were hot tubs and saunas with the main pool on the floor above. I had booked in for a massage — something I can only assume is no longer referred to as a "Swedish massage" when in actual Sweden — which happened in one of the treatment rooms above the pool. Whilst this was happening I left Tom in one of the aforementioned hammocks which he proceeded to get too relaxed in and fall out of.
Following such rigorous activity, we set up camp at a neighbourhood burger bar across the street from the hotel. Many burgers were sampled and then many room snacks were purchased from the local 7-11 all in the name of sampling foreign foods. Turns out the seasonal offerings from Sweden were incredibly strong. Gingerbread Twix! What a pairing. Spa, food, fun Swedish snacks; an ideal evening, if ever there was one.
After eating my weight in breakfast pickles (I truly love Scandinavia) we spent our Friday day time around town. Stockholm is a dream for thrift and home furnishing stores so it's safe to say I was very happily occupied. Thanks to its scale, Stockholm is less walkable than some places yet incredibly well-connected thanks to the city's comprehensive subway system. We headed south to the Sodermalm region which is full of delightfully hipster stores (see: Grandpa) and cool coffee shops in amongst the stark streets.
The best part of the subway system is not only the respite it provides from the winter chill and rain but also the fact it acts as your very own ideal wet weather sightseeing activity. For the cost of a travel card, you can plan your own subway tour which in Stockholm, also comes with an insight into an underground art world you'd never know existed from the streets above.
Several of the stations along the main lines have been adorned with everything from paint, plants, sculpture and seriously impressive lighting to make them stand out for not only the rush-hour crowd but for travellers and trainspotters alike. This is the kind of fun activity I'm sure the locals tire of very quickly but for a visitor permanently in pursuit of a picture opportunity, taking in these immersive subway scenes made for a unique activity as well as practically enabling us to navigate our way around the city. 
Here's a great guide to planning your own subway art tour complete with the useful information I have omitted. We didn't get the chance to see as many as we would have liked (apparently Stockholm is just as fun above ground too) but some of our favourites were T Centtralen (the frozen-esque ice cave), Solna Centurm (Simply red. Floor is lava. Etc), Stadion (Somewhere over/under the rainbow), Tekniska Högskolan (The blue one with the hanging structure) and Kungsträdgården (which comes complete with stripes, its own underground garden and what look like archaeological remnants). Simply put, London Bridge could never. Our humble Underground has been put to shame.
Once the whole family team had assembled Friday night we spent our days out and about and our nights in with gin. The Abba Museum was top of everyone's most people's lists and let me assure you that a morning here will leave you feeling like a Dancing Queen. Much Abba. Many pieces of memorabilia.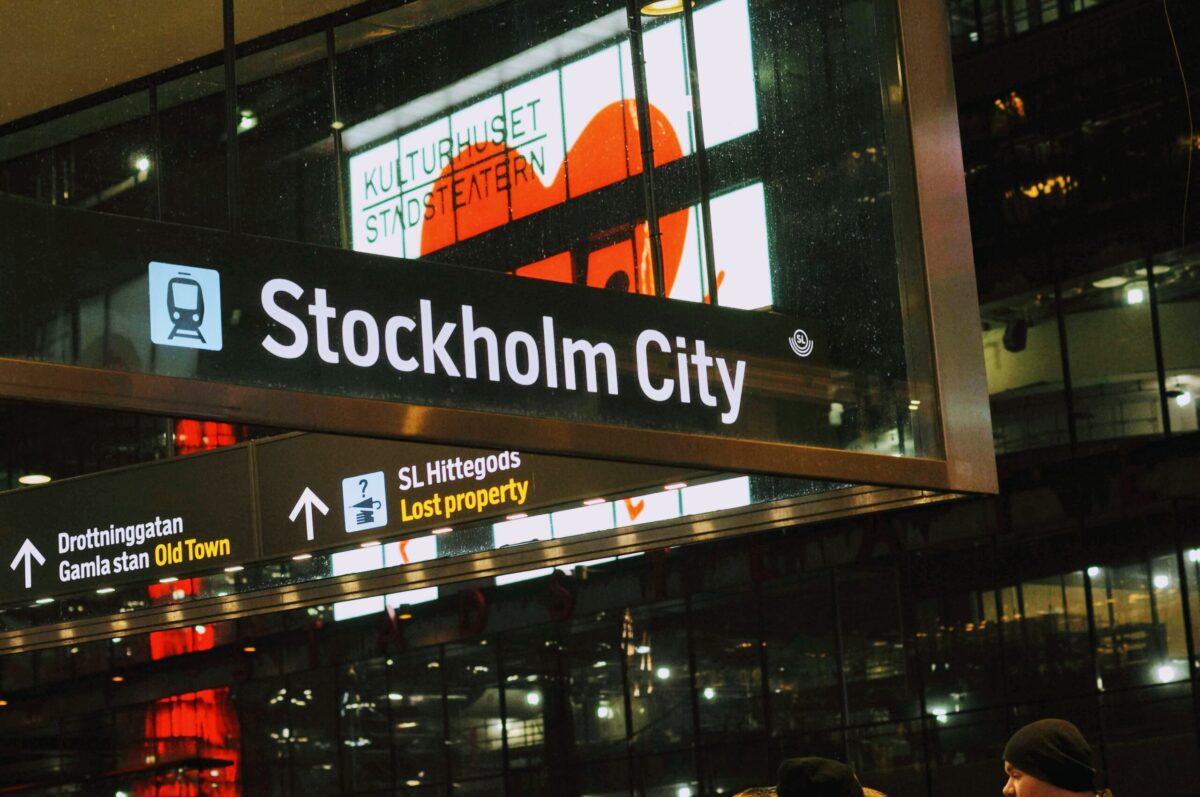 The main Christmas market was situated in the Old Town Square but could have benefited from a site at least twice the size. The weather wasn't on our side so there was a lot of bustling with umbrellas trying to glimpse the stall offerings whilst simultaneously trying to protect very precious mulled wine cargo. I took everyone on an expedition to see the world's smallest and probably most adorable statue, Järnpojke. People like to leave offerings with him in return for good fortune. Looking at that day's catch, I hope he likes jelly beans.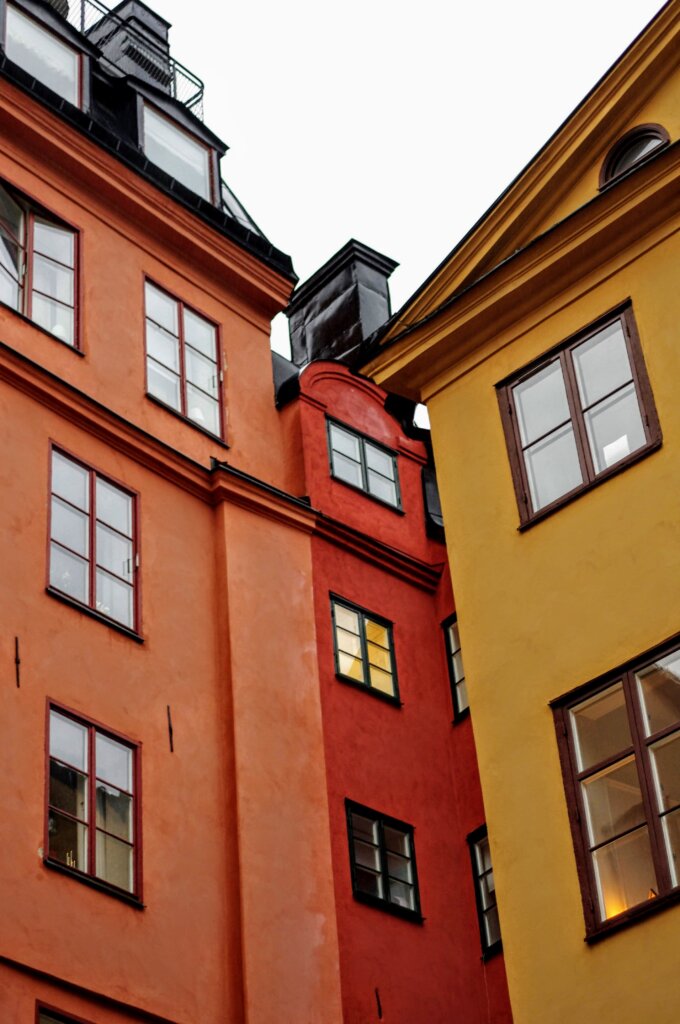 The biggest mistake I made when travelling to Sweden was not bringing a spare, empty suitcase. Home store after dreamy home store beckoned and whilst I successfully managed to transport a few (although nowhere near enough) choice items, a return trip is at this point basically deemed essential to acquire further furnishings. The little coffee-mugs-come-bistro-wine-cups that I picked up for a bargain price in what is the token Swedish department store, Ahlens, remain some of my most treasured possessions. The vintage shopping scene was also outstanding, especially in and around Sodermalm, plus there's an enviable array of high street stores.
As you'd expect, there are plenty of restaurants to choose from and finding a suitable option is considerably easier than purchasing in-room alcohol for all essential pre-drinks. Sweden has implemented USA style restrictions when it comes to the purchase of drinks over 3% which means locating the resident liquor shop Systembolaget (and getting there before closing time) is advised on arrival. Some of the best places we found to eat at included Pom & Flora for cosy all-day brunch, Kaferang for excellent soup/salad/sandwich situations, Gretas (and the surrounding hotel) for art deco cafe chic, Vigarda for casual yet noteworthy burgers and Alskade traditioner for quirky interiors and Waffle. Sandwiches. Sandwiches made of waffles. Waffles with sandwich fillings.
Truly inspiring. Take me back.
The culinary winner on this trip however was undoubtedly Meatballs For The People; a Scandi-cool, elevated take on the country's classic dish. With vegan options as well as a variety of meat-based balls, this is a perfect location for a group dinner that's relaxed whilst being refined.
I cannot wait to one day see more of Sweden and Stockholm felt like the ideal introduction. Come for the meatballs and the people. Stay for the design. The shopping. And the waffle sandwiches.
Places mentioned: