2020. What a time. Of all the things I didn't expect to be doing, living through a global pandemic was one of them. Renovating our flat during said time was another. Our London loft conversion had been a three-year work in progress. Initial architect drawings. Many, many hours spent researching design. Tedious planning denials, tedious planning appeals, tedious, tedious planning. More drawings. More time on Pinterest. More tedious planning. And then, in October 2019 we finally got the email we had been waiting for. Approval! Just as we were able to get moving, the world began to shut down. With every day in those first months of 2020 came another cancelled job, plan and ounce of positivity. We did wonder if this project would ever actually materialise.
How it started:
How it's going:
No one feels more fortunate than we do that after the darkest of years, we finally got a bright ending. Floor to ceiling windows will do that. We started our loft conversion at the end of July and we waved the last of the builders out on the 19th of December. Not that we were counting or anything. The plan for our one-bedroom Victorian flat was a loft conversion complete with en-suite, a remodel of the hallway space and general update/redecoration of the living room and existing bedroom that would now become a guest room/office (with more emphasis on office rather than guest room than we had ever envisaged). We knew we were losing a lot of storage thanks to the removal of the loft so after we had completed The Great Cull, we knew maximising creative storage spaces in the design was crucial. People may (and will) tell you otherwise but I'm here to declare that no space is too small to be a hidden cupboard.
In July we were finally allowed overnight stays elsewhere so we swiftly packed several bags and moved all of our belongings (other than the kitchen contents) into storage. For the first three weeks, we had to move out whilst the existing ceilings of our one-bedroom flat were taken down to make enough room for the required head height above. For two months we had two usable rooms to live, cook, eat and clean in and a single mattress on the floor to act as a bedroom. That bedroom didn't get a ceiling until September. Remember the storms in August? Yes me too.
I, an occasional runner, ran over 80km during that September just to have a reason to be out of the house. Persephone the cat claimed the bathroom as her own and spent her days in there. Waiting. Judging. As the months progressed as did the virus and once again we were locked down in London, although this time we had nowhere to hide. Every morning at 8 am that day's workforce would enter and we would try our very best to live/work around them whilst no doubt all losing our collective remaining sanity that hadn't already been stripped by the rest of the year.
There were of course delays. There are always delays. And then there are the global pandemic-induced delays on top. Windows for the loft took months to arrive. The key element of "stairs" that had been due in August didn't turn up until December. A friend told us that the first day of building school must consist of the lesson "over promise and under deliver." It brought us a bit of comfort to know that it's an industry-wide trait. As the project went on phone calls went unanswered. Just as we thought we might be finished, another wall had to be built. A time was had. I think I'm still trying to block out October-December 2020. A particular kind of self-inflicted suffering that you know will all be worthwhile but still warrants the woe.
Top Tips
If, like us, you are forced to pack up your lives throughout a renovation keep back a couple of home comforts to make your building site feel more like home. Scented candles were a particular source of enjoyment. As were the small collection of spa slippers I have hoarded over the years which came in very helpful when walking through the dust bowl.
You cannot be too detailed when it comes to planning. We had many 3D drawings and plenty of images to demonstrate our visions for every aspect of the build. You never know who you might be working with that day so plenty of visuals go a long way in making sure everyone is sticking to the same brief.
Wine
Order fixtures, fittings and general furnishings ahead of time. Larger items are naturally trickier to store but it helps to get as much physically with you as possible to avoid any delays.
Keep a photo album of progress pictures to remind yourself how far you've come.
To-do lists. Make them. Keep them. Check-in with them regularly.
Fed and watered people are happy people. Or something like that. We stocked up on an array of beverages and snacks to give to people throughout the day. To me, this sounds like basic common sense but a lot of the tradespeople we spoke to said how often they don't even get offered a drink. That makes me sad. A little tea goes a long way!
More wine
And then, finally, it all started coming together. The protective floor could be ripped up to reveal our much-missed floorboards. The smell of setting plaster started to fade. The plans we had stared at on paper had materialised around us. The paint samples, single tiles and tiny testers of the floor suddenly all came together as a perfectly synced ensemble. Slowly but surely we could move things back in. Brushing ourselves off and piecing our lives back together bit by tiny bit, until finally, it was complete.
I hope this photo diary provides an insight into the loft conversion process for both the already committed and the curious. It was one of the most trying first-world problems I've ever experienced. Remember when I said I found wedding planning easy? Well, this was my punishment. I'm saying this so that anyone reading this who also lives in a flat goes into the process better prepared for the invasion than I was. Of course, the final product is worth it. We feel so grateful that we were even able to do this work. Our home 2.0 feels perfectly us, now. A blend of inspiration drawn from the places we've been and those we long to go to. A style I can't even begin to put a label on but that I hope other people like looking at as much as I do. A few of our favourite things combined with some selected new ones. Second-hand furniture and eBay finds mixed with some upgrades and a perfect brand new bed that makes getting up feel impossible. In a year that felt relentless, we couldn't be happier with our long-awaited reward.
The construction
The finished product
The living room
The biggest change here is the addition of the fireplace. We had originally planned for it to be centred but upon breaking into the wall we discovered the chimney for the flat downstairs and so to avoid any potential problems there, our asymmetrical fireplace was born. The happiest of accidents.
Samsung Frame TV, Armchair, Lamp, Fireplace mantel, Dining table, Dining chairs, Cushions, Bookshelf Speakers, Awaken Candle, Coasters, Paint: Little Greene Flint (walls), Mylands Hoxton Grey (behind shelves & doors)
The office/guest room
This is evidently what happens when you try to create an aesthetic for a room that's part self-tape studio, part travel-writer workshop and currently mostly Tom's theatre marketing workspace. I was watching eBay for months trying to find a suitable G-Plan desk and we couldn't have been luckier with this one which came with the matching stool as well. This wallpaper is gorgeous and makes me happy every time I stare lovingly into its cheetah-filled eyes. The Cold Picnic rug brings a slice of Brooklyn into the home and the shelves were made out of reclaimed wood from our local Peckham reclamation yard.
Wallpaper, Sofa Bed, Similar GPlan Desk, Curtains, Cold Picnic Rug,
The hallway
These cupboards make me happier than is probably acceptable to admit. They house everything from our fridge-freezer, coats and washer/dryer to all our pantry goods and home bar. The pull-out drawer under the bench is where we store (some) shoes and gives us a small yet suitable landing point when we come in. The ceilings came down here and a skylight was put in which transformed the space; it is the perfect use of what used to be a dark and under-utilised hallway. There's a gallery wall as you enter and Dave the antelope sits at the top of the new stairs; a reminder of our Tanzanian honeymoon times.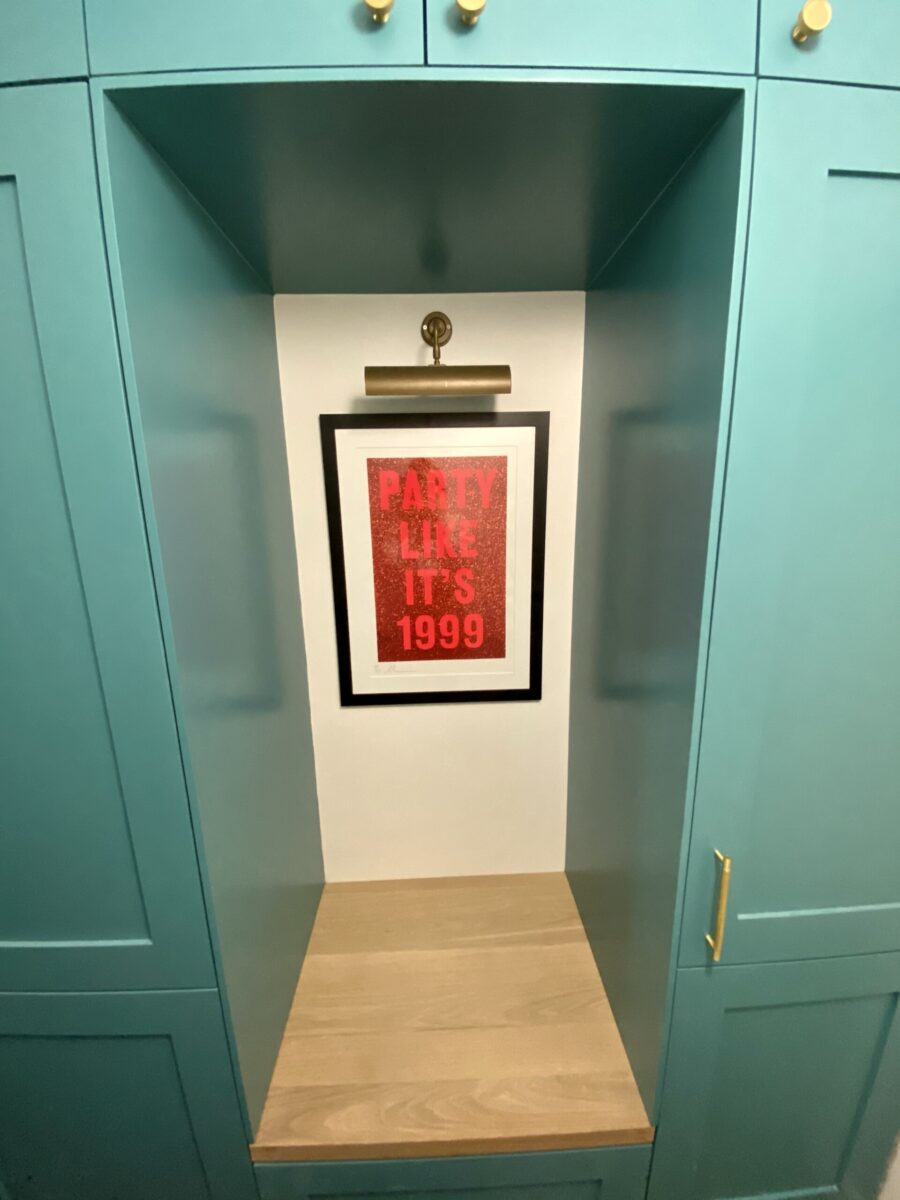 Reeded Lamps, Cat Art, Paint: Little Greene Canton
The loft
I still can't quite believe this space used to house all our boxes of accumulated clutter. From a dark and dingy attic to a golden sun-soaked living space. We get to watch the sun rise and set from up here and as we learned on New Year's Eve, have unintentionally created the ideal firework vantage point.
We wanted to keep the room light and airy whilst still feeling warm and inviting. The blend of vintage and mid-century finds combined with a touch of Hollywood regency makes for a space that, luckily for life in 2020/21, feels impossible to leave. The glass lamp on the dressing table came from my Grandparents house (and sits alongside my favourite photo of my much-missed Nan) and I found the lampshade on eBay; it reminded me of coastal California, one of my favourite places. The dressing table itself was another eBay find and the sideboard was from local mid-century gem Vintique. We got two of the Sternzeit Design armchairs and they are two of my favourite things. Storage-wise, we have the eaves (concealed by sideboard), a small wardrobe behind the door and a big pull out cupboard that we designed with the builders. This was the best use of the awkward sloping space and worked out so much better than our original plan of wardrobes against the bathroom wall.
The entire colour scheme for the home was based on the bathroom floor tiles; from the blues and greens on the cupboards to the nude/pink and off-white on the walls. The Microcement shower was definitely an indulgence but creating the perfect colour for the walls that are also, so far, incredibly low maintenance definitely makes it one of our best decisions. Initially, the builders wanted to put glass in the shower but that proved impossible owing to how small it is (800cm). I fought for a shower curtain and I'm so happy I stuck to it and found the perfect linen blend one in Zara. It softens the space whilst simultaneously bringing all the elements together. We were planning to have a small cupboard under the sink but changed our minds at the last minute; another good decision. There's a hidden cupboard above the toilet that houses all our products and the small space feels much bigger without the extra furniture.
As the trees are beginning to bloom again we feel like we're up in amongst them. A lot of writing has been done in front of the Juliet balcony doors, surveying the squirrels and seed-seeking birds. Come summertime, it will be the perfect spot for sundowners and by then maybe, hopefully, we'll be able to share it with other people too.
Bed, Armchair, Wooden floor, Dressing table stool, Tiles, Shower, Sink, Light Pull, Oak hooks, Acqua Di Parma, Waffle towels, Vintage sideboard, Vase, Paint: Claybrook Powder Puff