To our delight, the train departs on time and soon enough we are weaving our way along the greenest of mountains and bluest of rivers. No-one seems to talk about the side of Bosnia that rivals Austria or Slovenia vista wise and yet they really should. The journey from Sarajevo to Mostar is stunning.
Relishing in the cheapness of the taxis (circa £1 a journey), we enlist one to take us from the station to our next bed at City Hotel. It's a huge, contemporary establishment and our room is maybe the biggest I've ever stayed in. It feels like positive luxury compared to some of our recent stop overs and I've never appreciated the real joy a rainfall shower can bring more.
Fresh (albeit temporarily) and ready to go we walk from the hotel along the very average suburban streets until we reach the old town which feels like we've entered a different place altogether. Cobbled and lined with restaurants, the paths snake round to Stari Most- the infamous old bridge that was destroyed in the war and later rebuilt. It's arguably the city's main attraction and you can see why; it's a very impressive, albeit crowded, feature.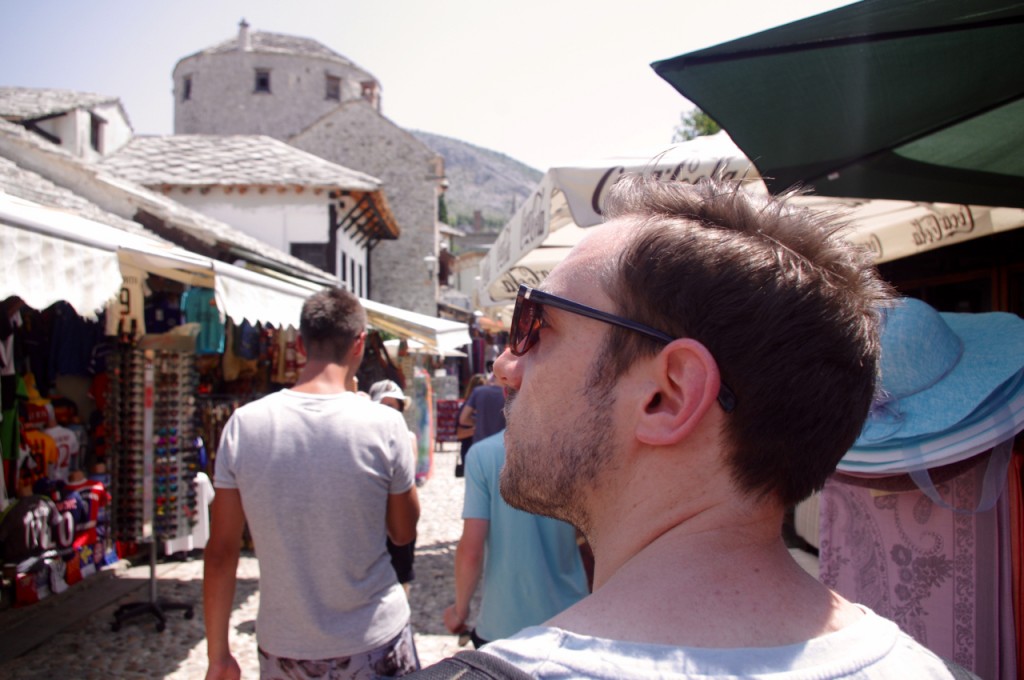 Boys in speedos dive from the top once they've collected enough money from encouraging spectators. The views are great. And the Mostar scenery isn't bad either.
After a quick lunch stop at an eatery overlooking the river we head down to the rocky shore to paddle with the fish and cool off. It's a mild 41 degrees and I want nothing more than to submerge myself in the water fully clothed, however impractical it may be in a white t-shirt. I think this ends up being the hottest day we experience on the trip and I'd say it's just about at the end of my ability-to-operate-as-a-rational-human scale.
Leaving our riverside retreat we cross the bridge and walk alongside bullet torn buildings and bombed out remnants. We take a trip up some steps that seem to overlook the city without really going anywhere. On the way back down we pass through a cemetery. Pristine white gravestones read the same year of death- 1993. From the photos adorning the majority of them it's clear to identify one binding factor; they're all male.
Alone on a bench sits a woman crying and if there was ever a sobering moment this is it. It's a far cry from the Old Town a mere 400m away where tourists on coach trips swarm through the market to marvel at Mostar's sights. The real Mostar is here, still damaged from 20 years ago and lying just above them uphill with the real sights that make it so painfully memorable for those who have to live here day by day.
After walking some more we decide it really is very hot. Probably too hot. The only logical solution is ice cream which, as it transpires, actually melts quicker than you can consume it. After taking in some more of the city we walk back to the hotel (any excuse for another shower) and make an effort to look presentable for an evening meal. Again, the prices here are too good not to be taking advantage of and we're very aware the cost of our daily living will only be going up the further north we get.
Tom finds the perfect spot in Konoba Taurus which is right under the crooked bridge. Somewhat short of meat free options I create my own Bosnian tapas consisting of a mixed vegetable platter, bean soup and the by now classic feta salad. Bosnian wine turns out to be pleasing both in terms of taste and price and the evening draws to a close with the sound of the Call To Prayer echoing the streets.
We both agree we've probably had enough time in Mostar- it's a definite day trip to see the main sights and one I'd encourage anyone in the vicinity to take.
Some stories just have to be seen to be believed and the all too recent tale of Bosnia is precisely one of them.