Our fourth and final day in Barcelona allowed plenty of time for exploration before catching a 7pm flight home that evening. Luggage left and the final plate of herby and perfect hotel tomatoes consumed it was onwards to Parc Guell- one of the city's finest Gaudi sites.
The walk up is steep and after ten or so minutes from the Metro the outdoor escalators proved to be a welcome form of relief on the legs, especially after our Montserrat hike the day before. We were't the only ones secretly thrilled to be off the walking hook- just look at this little face. This is the face of someone only too happy to be carried.
The views, as you would expect from such an incline, are pretty impressive. We followed the crowds up to a peak which had some panoramas just made for an iPhone. Unfortunately this was the one cloudy (ish) morning we had but nonetheless, it was good to look across at the city from another perspective.
The park itself is tranquil with street musicians providing the soundtrack for a peaceful stroll around. Unfortunately my research skills failed me and we didn't realise you needed tickets to get into the central monumental zone. Oh well, there's always next time. We still got our Gaudi fix though by walking around the edge and admiring the architecture from afar. And by buying a mosaic lizard fridge magnet from a shop just outside.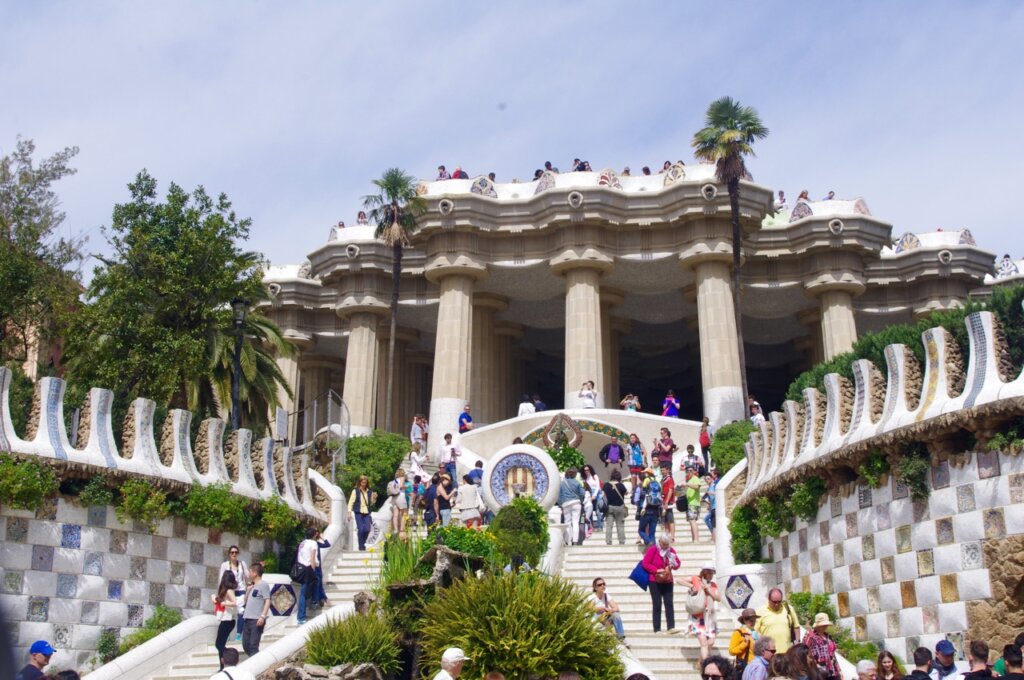 As well as the obvious beauty of the place one of my weird highlights from Parc Guell was the public toilets that were very much situated inside a cave. I'm not sure what this says about me other than a possible bizarre affiliation with bats but nonetheless, it was a memorable moment. (No there is not a photo…yes I did try).
From the park it was a metro back to the Gothic Quarter for a very eagerly anticipated lunch trip to El Xampanyet and a further wonder around the historic, narrow streets. This moose below may be my favourite house pet/piece of balcony art to date.
We had tried and promptly failed to schedule in El Xampanyet on the two days of a week they're closed (Sunday evening and Monday, fyi) so we knew we had to make it to the infamous tapas and cava spot before we left. Situated just past the Picasso museum it's an unassuming entrance that's full of atmosphere once you're inside the door. The place is busy- full of hustle, bustle and plates of tapas flying by your eyes at impressive pace. Every so often a bell is rung as the waiters continue to pour yet another glass of cava and diners converse loudly in a variety of languages. Just like many Spanish eateries, it is a sensory explosion.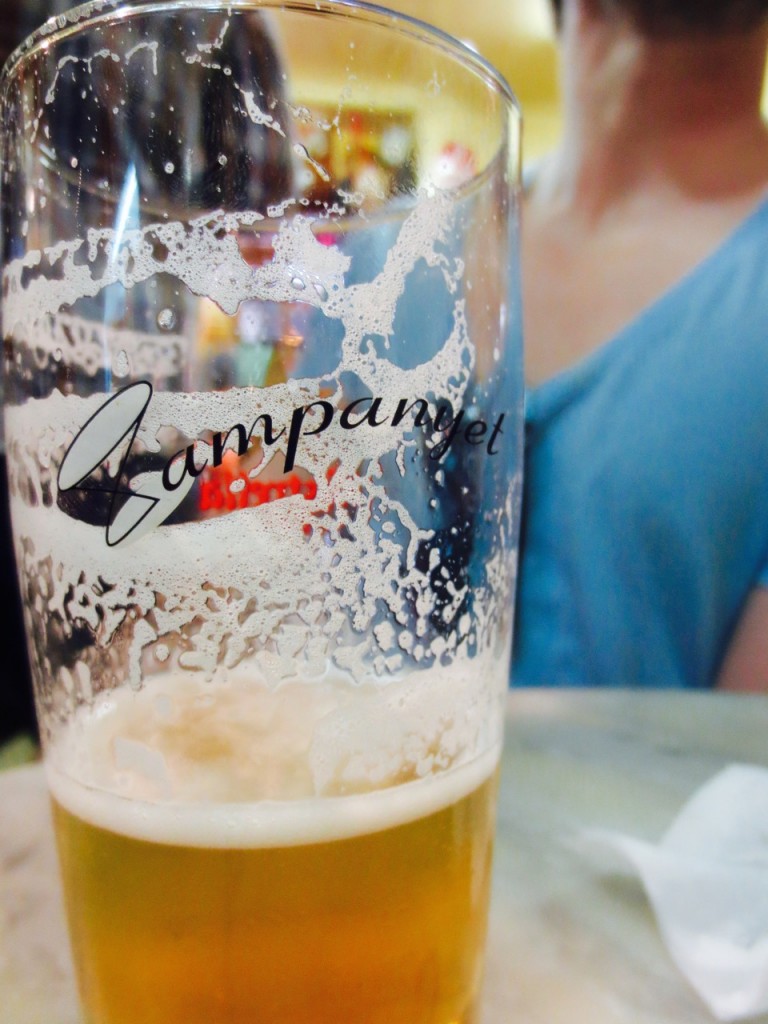 We waited at the bar and just as soon as we had walked in we found ourselves with two drinks in front of us. Great service. We then waited for a table while trying to resist eating all the tapas situated on the bar in front of us. Once a table had been cleared our menu was taken away and we were left very confused about what to do next. We tried ordering at the bar and then got told someone would be over. In true laid back Mediterranean style someone did eventually come to take our order… but we still ordered couple of plates at the bar because our pointing skills on this occasion outweighed our Spanish translation ones. The things we did order of the menu were outstanding- a chickpea and cod concoction and a simple tomato and rocket salad were two of my favourites. The tuna and roasted pepper crostini from the bar was also excellent and…oh it was all great. Let's just let the photos talk.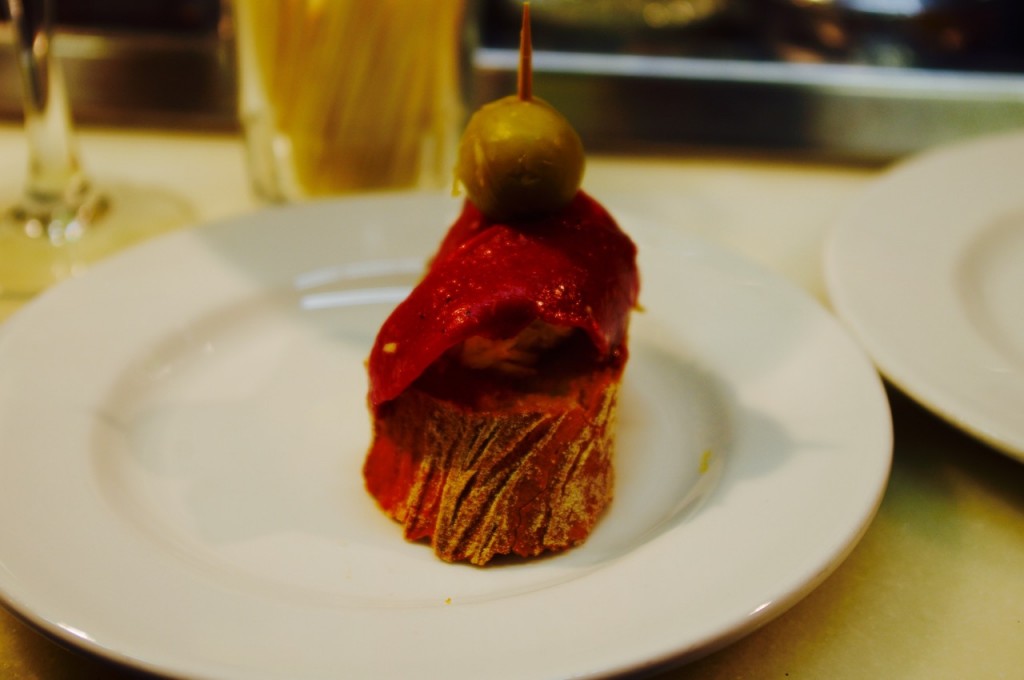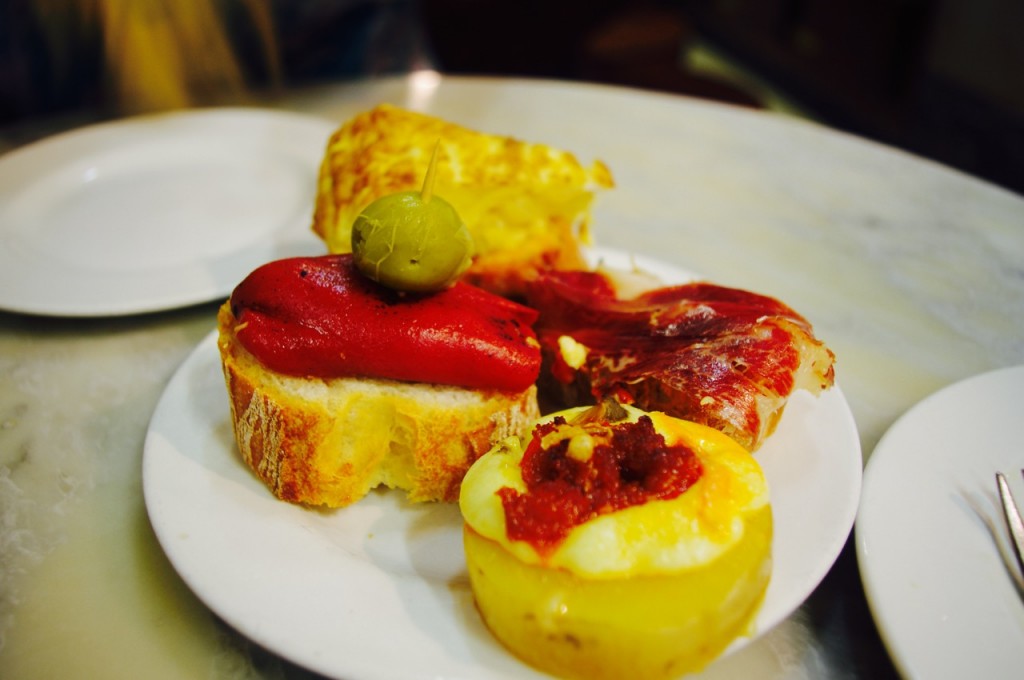 We certainly went out on a tapas (and cava) high. It made for a perfect last afternoon.
There was a London style train fail as we were on our way back to the hotel which meant some of the lines we needed seemed to just stop running. It's hard enough understanding why this happens when it's in your own city, let alone a foreign one. Deciding to play it safe we jumped in taxi to take us to the airport where I later successfully had a conversation in Spanish all about gin with a very nice duty free salesman. Pay attention AQA- that's a useful conversation subject right there that I'm pretty sure is currently omitted in schools.
One impressively quick flight (90 minutes!) later and we were back in the UK…where it then promptly took us longer to leave Gatwick thanks to some really major train fails than it did to fly home from Spain. Excellente.