One of many culinary highlights from the Barcelona trip was a visit to contemporary cuisine centric Santa Gula– a small establishment making a big name for itself amongst locals and food oriented tourists alike.
Situated off the main streets it's not somewhere you'd walk by and reservations would be advised due to the intimate nature of the setting but it's most definitely worth a visit. Some quintessential Spanish tapas options are scattered across the menu along with Asian fused dishes and classic restaurant staples done exceptionally well.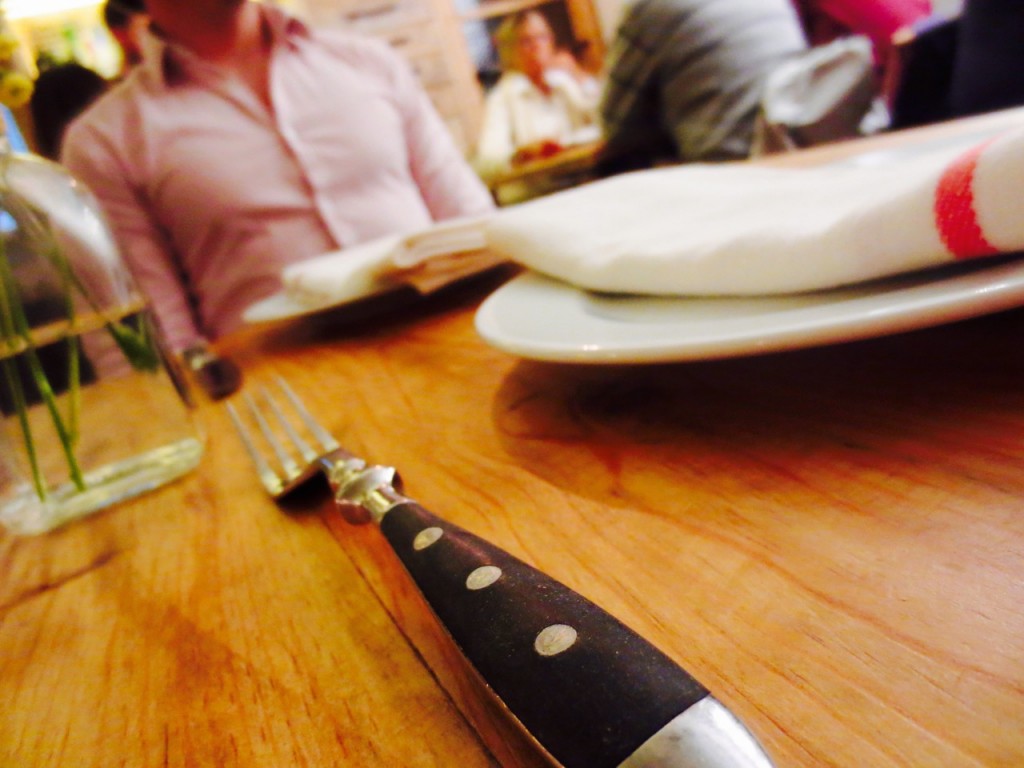 We shared Pan con tomate to start with as suggested by the waiter. My intention had been to go bread free after quite the binge since our arrival but some things are just too good to be missed. We also had Patatas Bravas (again) because hi Spain. Our waiter was delightful and friendly and did his best to match my basic Spanish with his basic English. While neither of us will be winning any linguistic awards anytime soon at least it made for fun language fused conversations.
The interior of Santa Gula was beautiful. We all know how much I love a marquee light so that along with the Scandi style furniture and cute wild flowers in vases made for one happy visual.
The main courses were cooked to perfection. I had their green curry scallop dish which I am aiming to recreate with the help of a plastic bag very shortly. Tom opted for the pork belly and assures me it met all pig based expectations.
It's not often we go for dessert but their options here at Santa Gula just seemed too good to miss. We had been continuously meerkating everyone else's table arrivals and after the third cheesecake went by we knew it had to make an appearance in front of us too. Along with that we also ordered a "Textures Of Chocolate" pot because one does simply not pass up the option of chocolate in a pot…especially when it is textured.
If you're looking for some great food in Barcelona that isn't all tapas and paella you really can't go wrong with Santa Gula.
Another find that I feel compelled to quickly mention before wrapping up the Barcelona posts was an amazing gin bar called Ultramarinos that was situated just behind our hotel on Parallel. More varieties of gin than you could, erm, squeeze a lemon at and one very knowledgable bar man who makes some pretty wonderful drinks. I discovered a new favourite in the form of Brooklyn Gin (you can take the girl out of Brooklyn…) drank a gin and tonic in a glass bigger than my head and decided it was the perfect place to see in 26. Gin fans seek it out!