The only thing more satisfying than eating out at a swanky restaurant is eating out at a swanky restaurant at a bargain price.
The OXO Tower Restaurant was the pinnacle of places to be seen in London in the late 90s. Soon after its opening in 1996, it established a name for itself among city dwellers and food critics alike. The prime riverside location paired with fine cooked food was cause for a strong attraction and on the night I visited it was clear to see the draw has remained; almost 20 years later OXO seemed as alive and buzzing as I imagine it to have been in its first months of opening. No mean feat, considering Londoners are now spoilt with an array of impressive restaurants situated well above the city streets.
Six of us had booked in for an evening on the Southbank and although OXO doesn't look so impressive from the outside, once you're whisked up in the lifts to the Brasserie the modern interior is enticing and sophisticated while remaining welcoming. We were promptly shown to a table in the window and enjoyed the perfect view of the Thames and its history lined banks as the sun set below the skyline.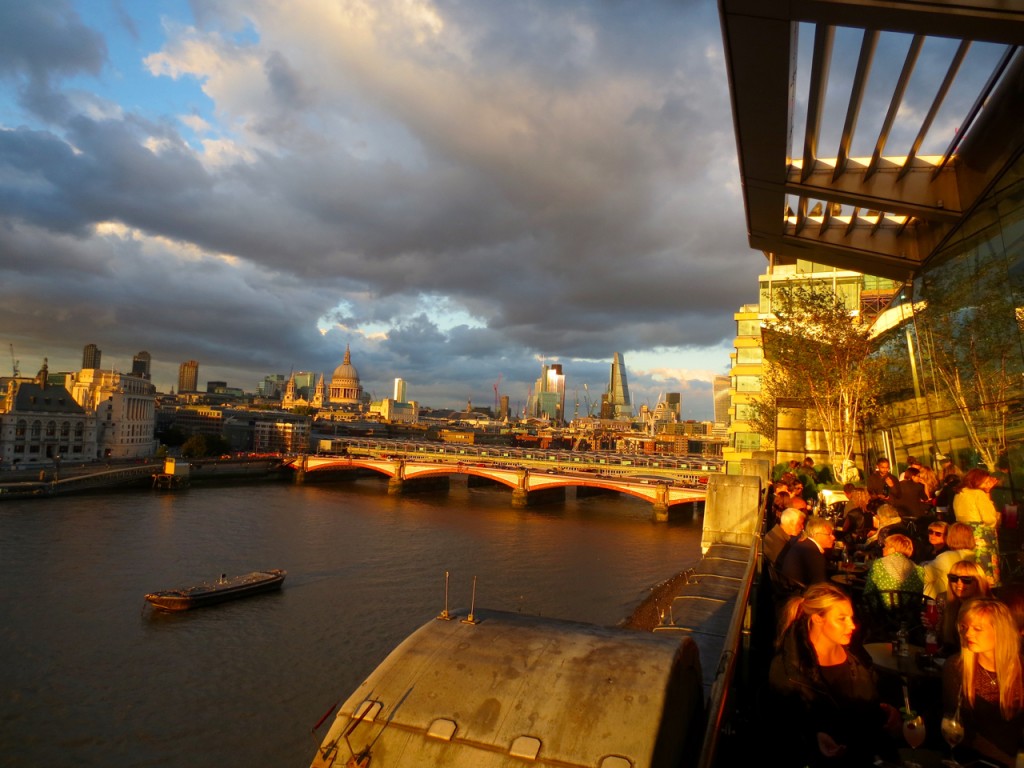 There is often a set menu on offer and we enjoyed three courses and a welcome drink for £29.50 which I thought, all things taken into consideration, was an absolute bargain. Especially considering cocktails alone at such venues are usually £10+.
Now of course the food also had to live up to expectations to further deem the price worthwhile and I'm thrilled to report it did. Between the six of us we managed to sample most of the dishes on offer which is always a benefit when coming to give a fair review- especially from someone who won't ever order the red meat dishes.
I opted for the Grilled Mackerel as a starter followed by the Goats Cheese Tart. Both were one of the best varieties of the dish I've ever tried (and, as a partial vegetarian who has been to my fair share of weddings, I've tried a lot of Goats Cheese Tarts). Cooked to perfection and innovative enough while remaining true to the classic flavour pairings you would expect. Just delicious.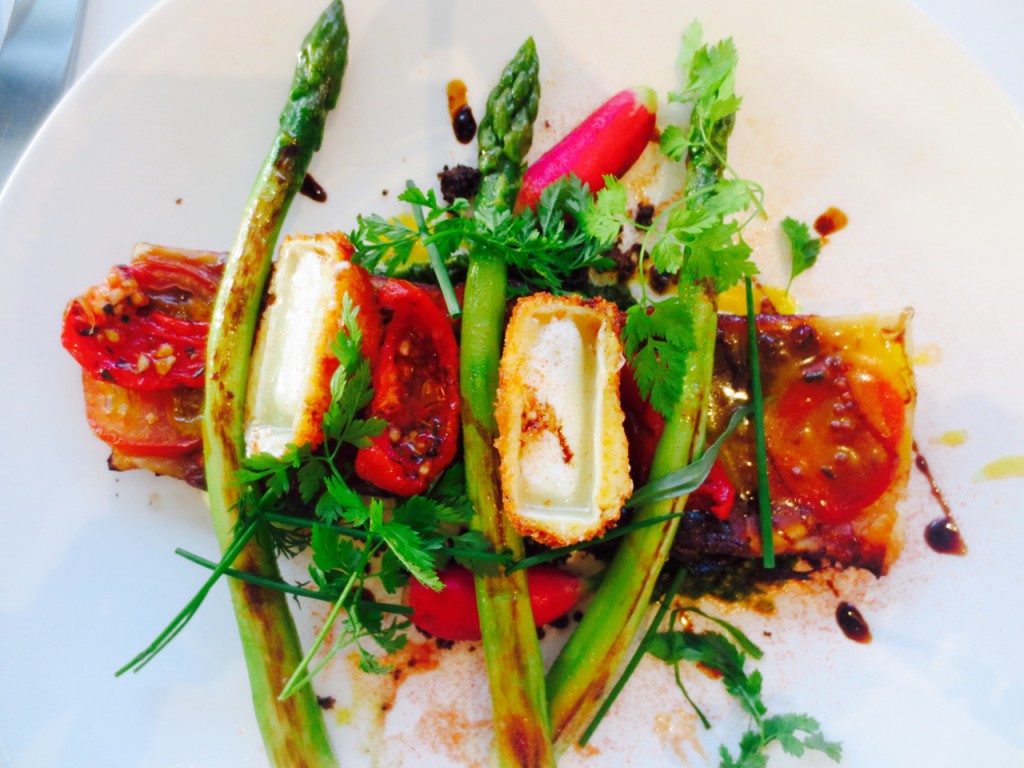 Other standouts included the Soutzouki Sausage and Yellow Duck Leg Curry, both of which went down very well with their consumers indeed.
I didn't need a dessert but it's a set menu so obviously I wasn't going to let it go to waste. Is there anything sadder than a wasted dessert? Probably but I wasn't going to risk it and find out. Ruling out two options based on my inability to tolerate cream I chose the Blueberry Bakewell Tart which wasn't as memorable as the savoury courses but did come with yogurt sorbet which was a much nicer alternative to the usual overly sweet ice cream, especially when served alongside the sugary bakewell. The Creme Brûlée also went down particularly well and certainly had that oh so coveted perfect crack we've all come to know and love from Bake Off.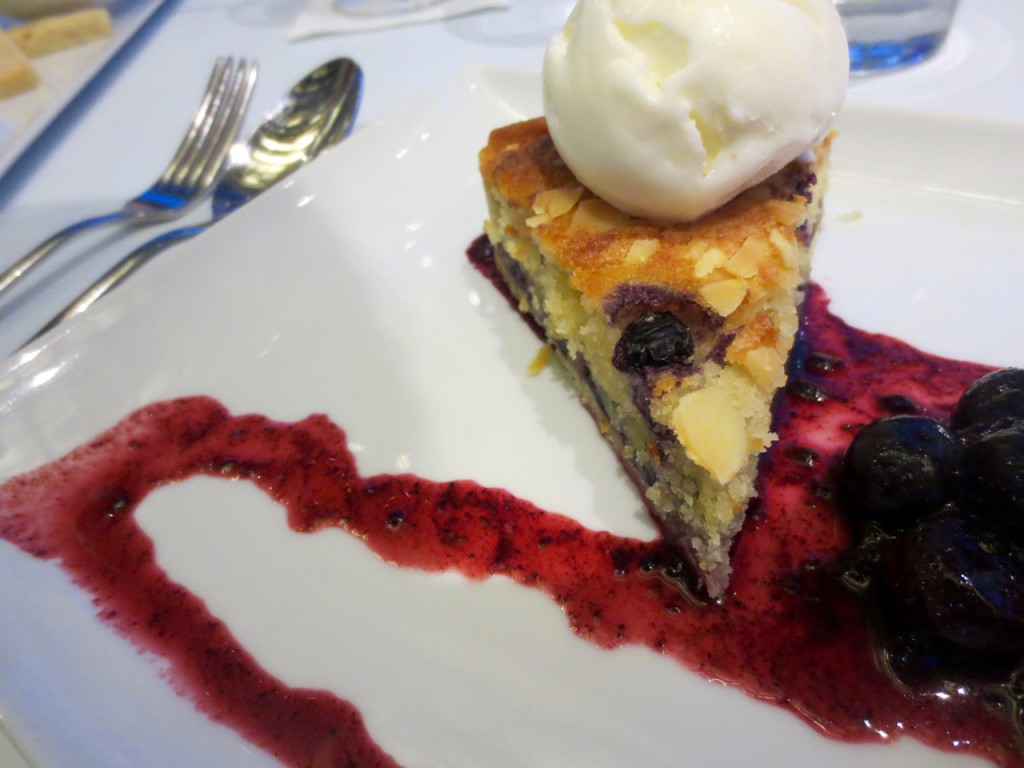 Feeling overly satisfied and impeccably looked after from the attentive and helpful staff, we moved to a table in the bar for a couple more drinks before calling it a night. I'm so pleased that OXO not only lived up to my expectations but exceeded them. I'd love to go back and try their Restaurant menu although this comes at more of a cost than the Brasserie option.
Perfectly situated and within easy walking distance from several main London stations I'd certainly recommend OXO to locals and visitors alike. The views, the food, the charm- it's fine British dining with just the right amount of cosmopolitan European influence thrown in for good measure.
Seek out the bargains and go- I'm sure you'll have an oxo-llent time.