Upon hearing a new branch of London brunch hot spot The Breakfast Club was opening with a 50% off soft launch this month I was quick to book us a spot. Because obviously the only thing better than brunch is half price brunch.
Situated along the canal in Hackney Wick is The Breakfast Club's newest addition. If you're not going shopping at Westfield or for a walk around the Olympic Park, Hackney Wick is a bit of a forgotten part of London. Urban parks and industrial estates are plentiful but it now seems like a rejuvenation is well under way with a new selection of restaurants and bars popping up just a short walk from the overground station.
Renowned for its 80s American vibe and feel good food, The Breakfast Club is always a good idea. The more central London ones often spout a queue to get in and I'm sure in due course the Hackney addition will be equally popular. Although we had booked a table we still had to wait 20 minutes to be seated but with space at the bar it wasn't too inconvenient. It's not huge inside but with a great outdoor area with deckchairs overlooking the water it's bound to be a popular summer haunt.
We decided to try a fair selection of savoury dishes on the menu. Because research. And food. And because 50% off. The discount was to account for the new opening soft launch which I like to think of in theatre terms as the preview period. You pay less because despite everyone's best efforts things might, and probably will, go wrong. And as a customer you absolutely take this into account and allow the odd thing to slip. The staff were certainly learning the ropes when we visited and weren't quite as attentive as perhaps they could have been. Some of our dishes too weren't quite up to the usual standard we'd expect.
Let's start with the average. The vegetarian breakfast was definitely lacking in vegetables or moisture and it's only now when I've gone back to check the menu I've realised that it was in fact missing the promised bean component. Sad. The single sausage however was excellent.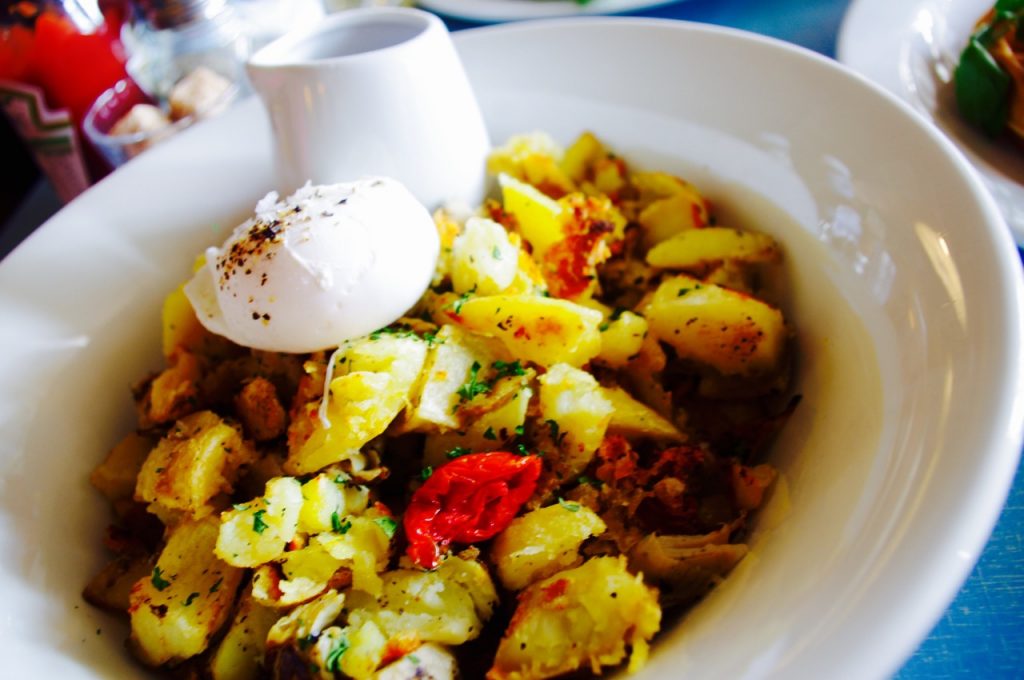 We wanted to try the artichoke and sun blush tomato hash which sounded promising and was topped with a poached egg. The egg was overcooked and the artichokes and sun blush tomatoes were lost within the mound of potatoes. However when they did make a welcome appearance they were glorious. Less potato, more tomato and it would have been excellent.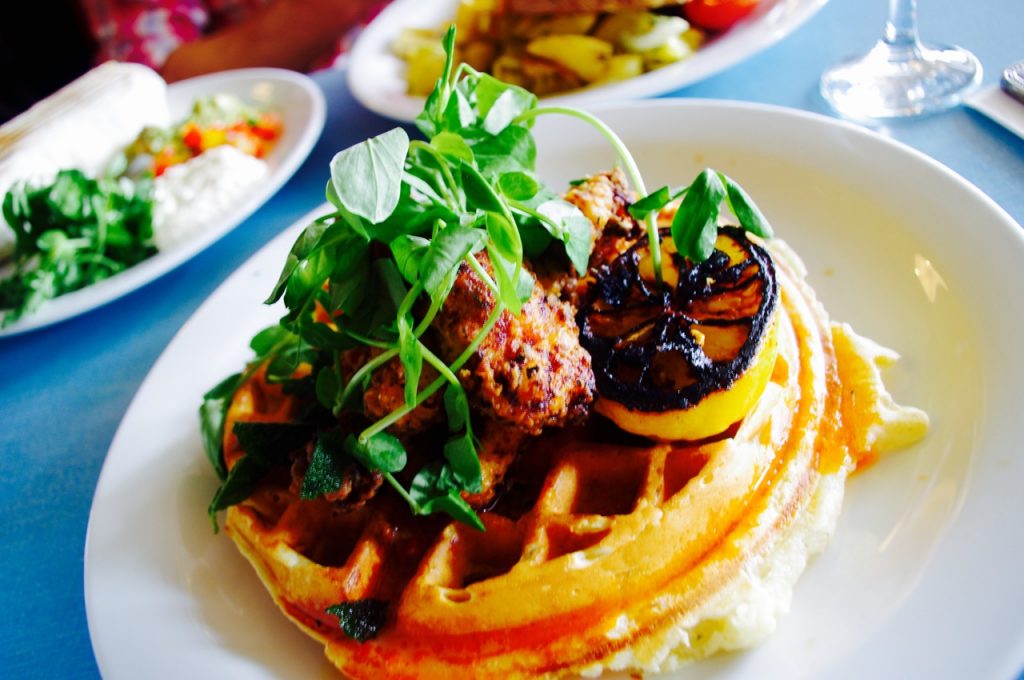 Anyway, onto the winners. The fried chicken waffle which was an absolute novelty and, disclaimer, not something I'd usually eat. I only had 1/4 but the chicken was cooked to perfection and the unusual sounding combination of waffle with sage, grilled lemon and gravy was incredible. If you're looking to treat yourself, cheat yourself or just enjoy a really delicious plate of food I'd definitely recommend it. I also have it on good authority that the breakfast burrito (which I didn't try) was delicious. It came with generous servings of sauce accompaniments and was full of flavour. Tick, tick, tick.
The half price offer also extended to drinks so obviously cue the bucks fizz. We also had one of these cold brew coffees from Minor Figures and although we were sceptical upon seeing a carton presented to us it was SO good. I cannot implore you enough to seek these out and try one (/ten) immediately. It's a local product made in Hackney so bonus points for that too.
At the end we did mention some of our concerns about the service and our experience to one nice and organised member of staff who kindly addressed them. I'm sure over the coming weeks and months the teething problems will be ironed out and the service provided will be in keeping with the usual Breakfast Club standard.
The location lends itself to a post brunch walk around the Olympic Park which was in full bloom with wild flowers and brings back wonderful memories from that amazing summer 4 (!) years ago.
It was a lovely way to spend the afternoon and I know I'll certainly be back to The Breakfast Club when the sun's out to claim a deckchair by the water; complete with cold brew coffee in one hand a a plate of chicken and waffle in the other.