Easter is just around the corner which means it's the perfect time to indulge in some seasonal baking. What better way to see in Spring than with these adorable Easter Chick Cake Pops? Practically perfect in every way they're certain to stand out on any tea table this April.
To create your very own chicken army follow a lemon cream cheese cake pop recipe and make the cake balls as instructed. However when it comes to topping with chocolate here's what we did slightly differently…
As a disclaimer, in my opinion all good baking discoveries come in that sheer moment of terror circa 6 hours in around 11pm when you realise you may have single handedly destroyed a day's work. In our case last year said nightmare occured when we went to add yellow food colouring to melted white chocolate and the mixture promptly solidified right before our eyes. Suffice to say, that wasn't part of the plan and lo and behold  it turns out adding liquid colouring to white chocolate is harder than it looks. Who knew. One desperate trawl through the cupboards later and we appeared to only have one option. The only yellow ingredient we could find. Turmeric. In a frantic bid to save our chicken creations we cautiously added a small amount to some newly melted chocolate and with hopeful hearts tasted the mixture. Miraculously, it worked- a perfect shade of yellow and there wasn't a hint of curry flavoured cake in sight. Success!
The cake pops were swiftly covered in chocolate as per instructions and we then proceeded to 'chickify' them using black writing icing and these oh-so-versatile edible star decorations. Feet, beaks and the occasional tuft of hair (technical term) were added and finally the chicks took shape. We used car wash sponges to mount them in which worked wonderfully and then later added grass for a true touch of nature/ to conceal the fact the cakes were protruding from a car wash sponge.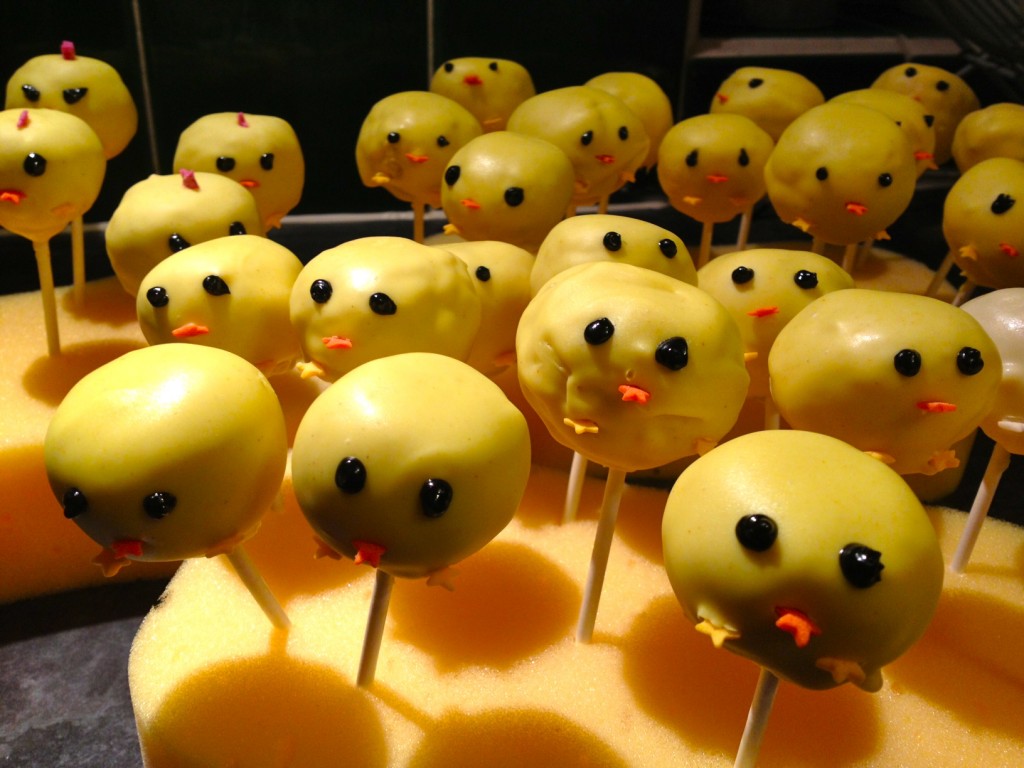 And there you have it, an alternative way to make some deliciously yellow lemon Easter chick cake pops- this season's essential accompaniment to a cup of tea/post Easter Egg hunt reward. Enjoy!