After an ironically sleepless night on the sleeper train (which, evidently, is the loudest mode of transport in existence) and the most beautiful 4.30am sunrise over Berlin we arrive in sunny Prague backpacked and ready to go. We successfully navigate the journey from the station to the Old Town and even more successfully manage to walk past our hostel no fewer than three times before discovering it is merely an entrance hole in the wall. We later learn that its location in the historic district means it is too expensive to get a real sign for the exterior. Of course. The Charles Bridge Economic Hostel is perfectly situated and a really great find (literally- the elation you feel upon discovery is like no other.) We had the 3 bed room for 2 of us which was large in size and right next door the the shared bathroom which was incredibly modern, clean and always seemed to be empty. There are complimentary hot drinks and water and the staff were some of the friendliest we met on our travels.
After a warm welcome, free coffee and stroke of WiFi the hostel cat (!) we leave our bags and head off across the incredible statue lined Charles Bridge into the architectural wonder that is the Old Town where each building is as grand as the next yet individual in its own way. A lunch stop amazes us with the prices of absolutely everything and leaves us questioning whether it can really be true. 45 czk for beer? They must have got the prices wrong. That must mean 45000 czk. It's going to be so expensive. Why did we order beer without checking? How much is the food? Maybe we should just have beer? Such exchanges went on for a while before we eventually figured out that no, our eyes did not deceive us and everything really is that cheap. Cue the midday party where we were swiftly joined by "Hugo"- my favourite prosecco and elderflower cocktail which in the glorious Czech Republic costs less that £1. You go Czech Republic.
Following this wondrous discovery we don our alter Russian Spy egos as we enter Trap- the real life puzzle game where you have to work as a team to escape locked rooms in under 60 minutes. It's every bit as tricky as it sounds at first but impressive fun once you finally realise no clues are coming your way (/listen to your male team mate) and start to figure them out for yourself. I won't give anything away but we eventually completed the task in 51 minutes which seemed pretty average amongst the other victors times that adorned the walls outside.
The weather was (finally) incredible so we walked across to Letna Park on the other side of the river where we sat in maybe the best situated beer garden sampling local offerings and admiring the city views. After a walk along the cobbled streets back to the hotel we got ready and then headed out for a four year "anniversary" dinner at Coda. Neither food, nor company nor view disappointed. It was the perfect evening in amongst the sunset and skyline of the castle district. The restaurant service was second to none and at the end of the meal we were presented with an adorable box of chocolates to congratulate us on our anniversary. We thanked them profusely as I swiftly made sure my left non wedded, ringless hand was out of sight. Following dinner we headed for drinks at the infamous Hemingway Bar which felt as authentic as it did trendy and the cocktails were the perfect fusion of real flavour and theatrical flair. Tom had a marshmallow set alight at the table- all in the name of garnishing dahlings.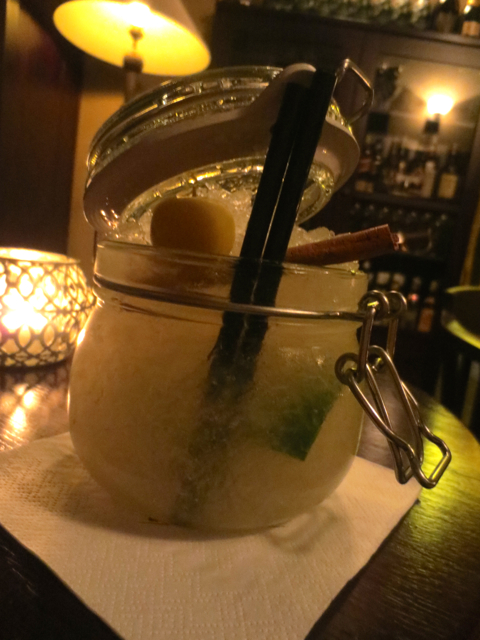 We had booked an impromptu Segway tour for the next morning as they were all over the city and well who doesn't want to try a Segway? We ended up on a private tour with Marek who was the perfect guide. The Segways were impossibly fun yet utterly terrifying when it came to going downhill. We saw all the historic sites and weaved our way in and out of rose gardens in the park. A microbrewery stop made for a fabulous mid morning snack, albeit a liquid one, and the tour flew by despite the fact we have managed to stay out 30 minutes longer than planned. We took Marek's advice and took a tram to Prague's original (and less touristy) castle Vysehrad which was situated as expected at a peak providing optimum city views. Strolling back through the New Town we lunched in an off street covered garden before taking on the cobbles once more just in time to see the Astronomical Clock which has most likely been luring in and promptly disappointing tourists since its arrival. Short but sweet the display was met with a (sympathetic?) cheer from the crowds and it's hard to be truly disappointed when surrounded by a square of such magnificence. We purchased a price pleasing bottle of wine from a store opposite the hostel for terrace consumption and headed out for a traditional Czech meal which *AT THE TIME* seemed delightful. Oh retrospect. Having watched the end of the football game that saw England tumble out of the world cup in a magical fashion and retired home in a heated rain shower under the stars.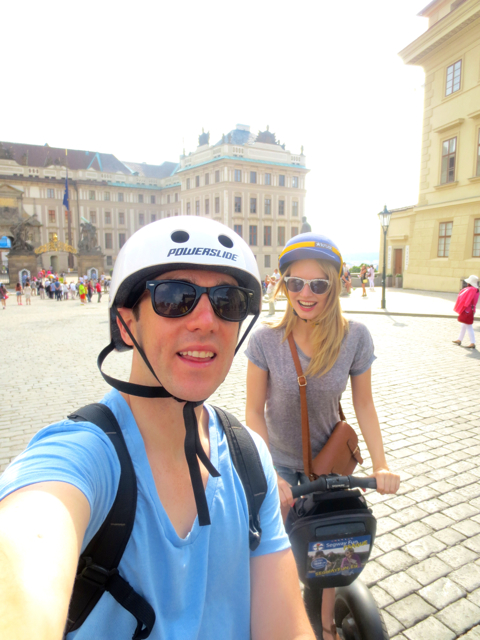 ***
Prague was akin to a living fairytale – an unpretentious historic spectacle with twists and turns aplenty. Terracotta rooftops interspersed with the bluest of skies and inhabited by the friendliest of people. When can I come back?
Places of note
Where we stayed- Charles Bridge Economic Hostel
Where we ate- Coda
Where we drank- Hemingway, Letna Beer Garden