The train journey from Lake Bled to Venice included a short couple of hours layover in Villach, Austria which turned out to be a beautifully quaint alpine town probably visited by most as a intersection between journeys. The first person I saw upon arrival into the train station was in fact a Nun which satisfied my inner Sound Of Music fan beyond belief. As we had time we wandered the high street, stocked up on Milka (travel essential) and generally embraced the laid back atmosphere and pastel perfect streets Villach had to offer.
Aboard the next train to Italy we made the impromptu and ultimately very good decision not to check into our hotel (situated in Mestre) upon arrival so instead checked our bags into left luggage at Santa Lucia which, unsurprisingly,  was much less cost effective than its Amsterdam and Munich counterparts. We had a gondola rowing lesson booked for 4pm so used the time in between to walk across the city, immediately struck by the sheer humidity of the place. As previously advised by the Italians we met in Amsterdam which found an al fresco spot and promptly ordered two spritzes which consequently happened to be one of the strongest drinks I've ever consumed circa midday- perfect pre physical activity.
The "Row Venice" meeting point was on the outskirts of the city but easy to find and we were soon introduced to our two instructors Anna and Leno who acted as tour guides as well as a comedy duo. The lesson lasts 90 minutes and in that time you cover the basics of Gondoliering and row your way along canals in true Venetian fashion. Or at least that's the plan. What really happens are moments of hysteria inflicted from the hilarity of the situation and then sheer panic as you realise you are entirely incapable of doing something that is made to look so easy. Suffice to say I will not be making a career out of being a gondolier any time soon but with a bit more training Tom may just be able to go pro and ferry me about which, let's be honest, was essentially the purpose of the afternoon anyway.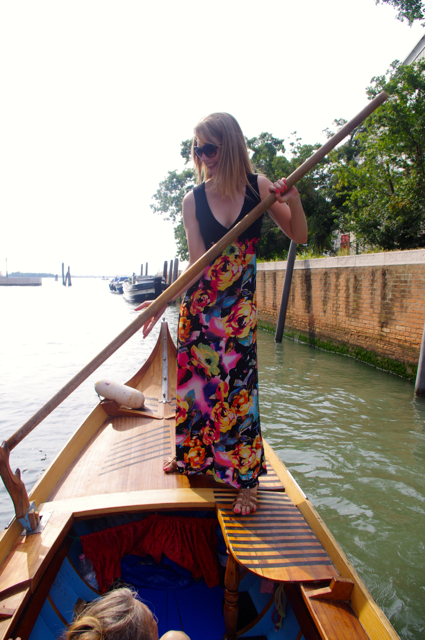 Difficulty aside the 90 minutes flew by and an exuberant time was had by all. I would completely recommend this as an alternative (and cheaper) gondola ride to those wishing to have an authentic and fun Venetian experience.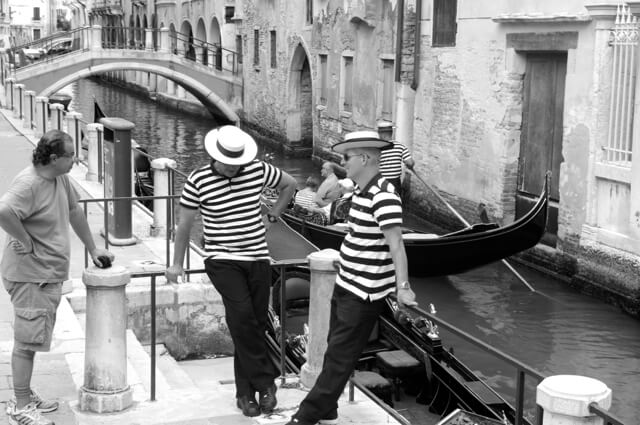 Arms aching we strolled across the most picturesque of bridges and hidden of walkways to marvel at St Mark's Square which was grand yet largely vast and pigeon filled. On a pursuit of some Trip Advisor recommended pasta we ventured down backstreets and alleyways until we found in the infamous Alfredo's – a minuscule hole in the wall eatery with a huge reputation. The menu is kept largely secret until you arrive and photos are forbidden but there is a wonderful selection of both pasta and sauces on offer. The pasta is served in boxes and is hot, fresh, entirely budget friendly and completely delicious. The best I've ever eaten. We joined the other foodie enthusiasts (there were many of them) on the steps of a nearby bridge to devour the cuisine before walking some more and enjoying a Prosecco watching the tide come in alongside the grand canal.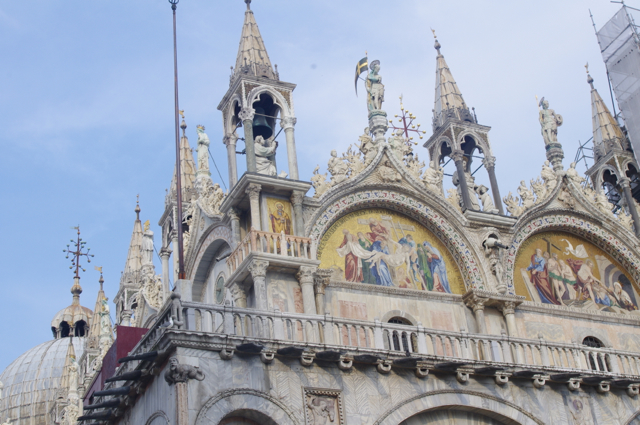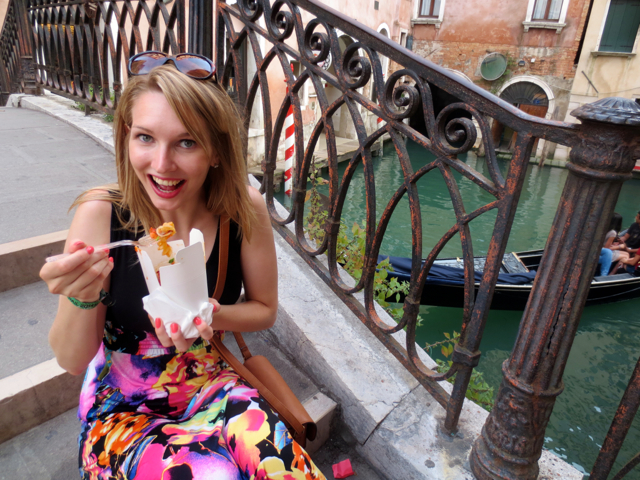 As day turned to night we attempted to navigate ourselves back to the train station failing horrendously along the way. Venice is a maze and the government should reward everyone who makes it out with a medal or at the very least a weighted certificate. Eventually free of the dark side streets and back into the train station we boarded a service that called at Mestre where a taxi took us to the adorably homely hotel Ca Nova. Here we were greeted with incredible warmth and shown to our cosy room complete with sizeable balcony and drinks from the bar. It was here I connected to the WiFi (a novelty) and saw the notifications telling me I had in fact won the InterRailing Eu Instagram competition with one of my pictures from Prague. AMAZING. This meant one shiny InterRail pass would be mine free of charge for next summer when the European adventures will continue to unfold. Talk about making an already perfect trip that bit better.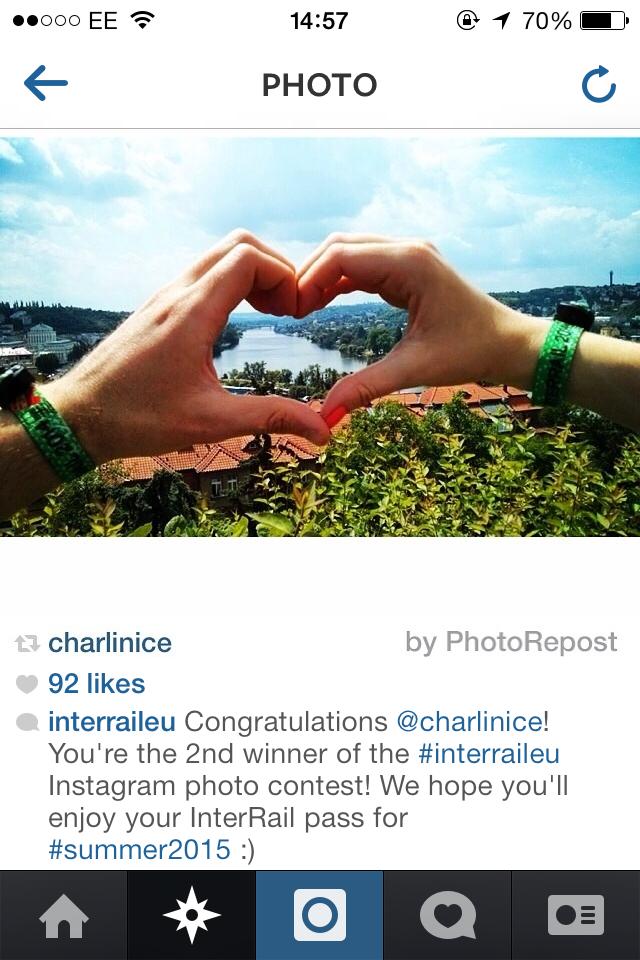 One blissful night's sleep and continental breakfast later and we were back at Mestre courtesy of the hotel who chauffeured us for free. All aboard the high speed train and we were en route to our next and much anticipated sixth stop of the trip- Rome. Viva Italia!
Places of note
Where we stayed – Hotel Ca Nova

Where we ate- Alfredo's
What we did- Row Venice