Opso: An ancient Greek word for a delectable morsel of food, a delicacy.
I was treated to exactly that upon my visit to Opso London; a contemporary eatery situated in elegant Marylebone where the focus is on modern Greek food. It may have been cold outside but the atmosphere beyond the doors was, true to Greek form, warm and inviting. Decor tinged with copper and rustic effects resided alongside efficient, friendly service and the cocktails and conversation soon began to flow.
I was kindly invited to Opso along with my fellow Cosmo Blog Award travel nominees for a pre awards dinner. The new Christmas menu was about to be launched and so of course we were all more than willing to lend our taste buds (and interest in excessive photography) for the night.
The evening took the form of a tasting menu with each dish being carefully presented and explained as we went along.  There were certainly festive flourishes along the way but this was by no means a novelty, seasonal affair. Each plate was innovative with nods to both Greek and local favourites.
Eggnog in an egg was the perfect way to start our meal. It's every bit as wonderful as it sounds. And this is from a girl who doesn't even like eggs. In fact, at first glance of the menu my non red meat eating, mushroom or egg enjoying self did wonder how the evening would pan out. However, much to my delight, I was soon an egg/mushroom convert and there were more than enough plates sans meat to try. The Mushroom Macchiato was a perfectly formed soup shaped like a coffee, even served with a crouton "sugar cube" for good measure.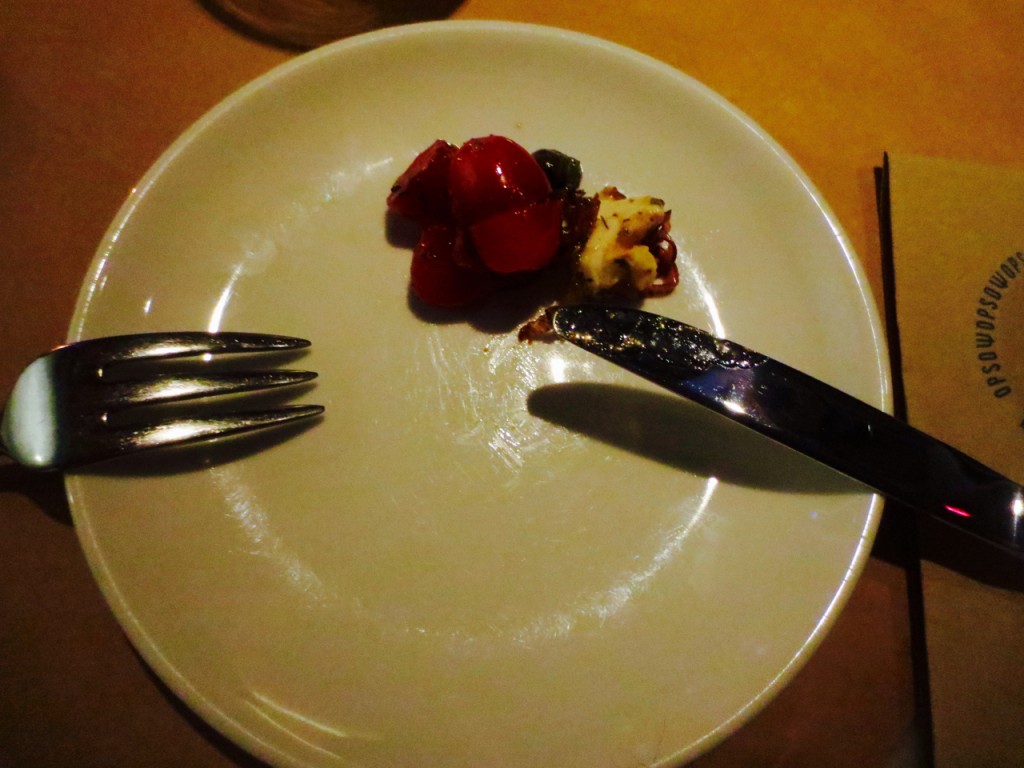 My favourites from the evening were the Dakos salad which contained some perfectly seasoned tomatoes cosying up alongside the creamiest of feta and the fried smoked metsovone cheese which was served with home made rhubarb jam. I could have eaten 10 whole fried smoked cheeses to myself with minimal regret. It was that good.
The ox cheek proved to be a surprise hit among my fellow diners and the Soutzoukaki hot dog and rosemary chips also went down very well- tiny sausages served on a toasted, brioche bun. I enjoyed sampling the latter aspect of that concoction very much indeed. Because bread.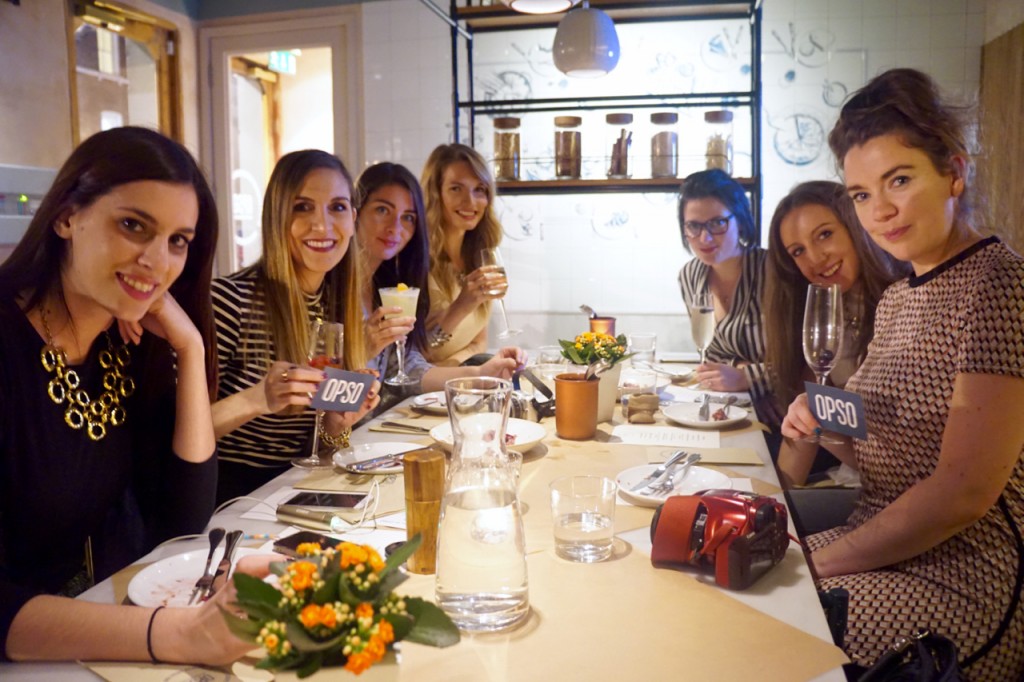 The cocktails along the way were also excellent with the prosecco, rose and blueberry based Bubbles and Roses being the favourite for many around the table.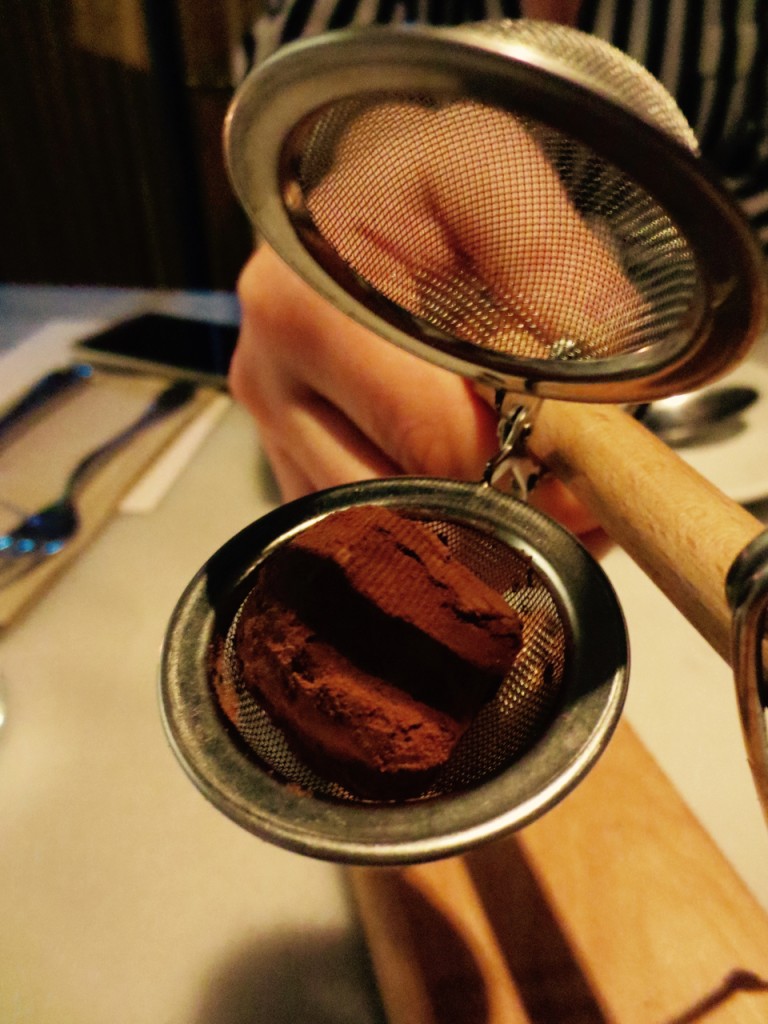 Dessert came out and of course the second dessert stomach stepped up accordingly so we could sample the snowy cheesecake, earl grey chocolate truffles and traditional Greek Christmas cake Melomakarona. The cheesecake looked incredible and was served with a berry ice cream which, in my opinion, could have been a bit fruitier to balance out the sweetness. The earl grey truffles were creatively served and truly delectable; the perfect hit of earl grey rounding off a melt in the mouth chocolate experience.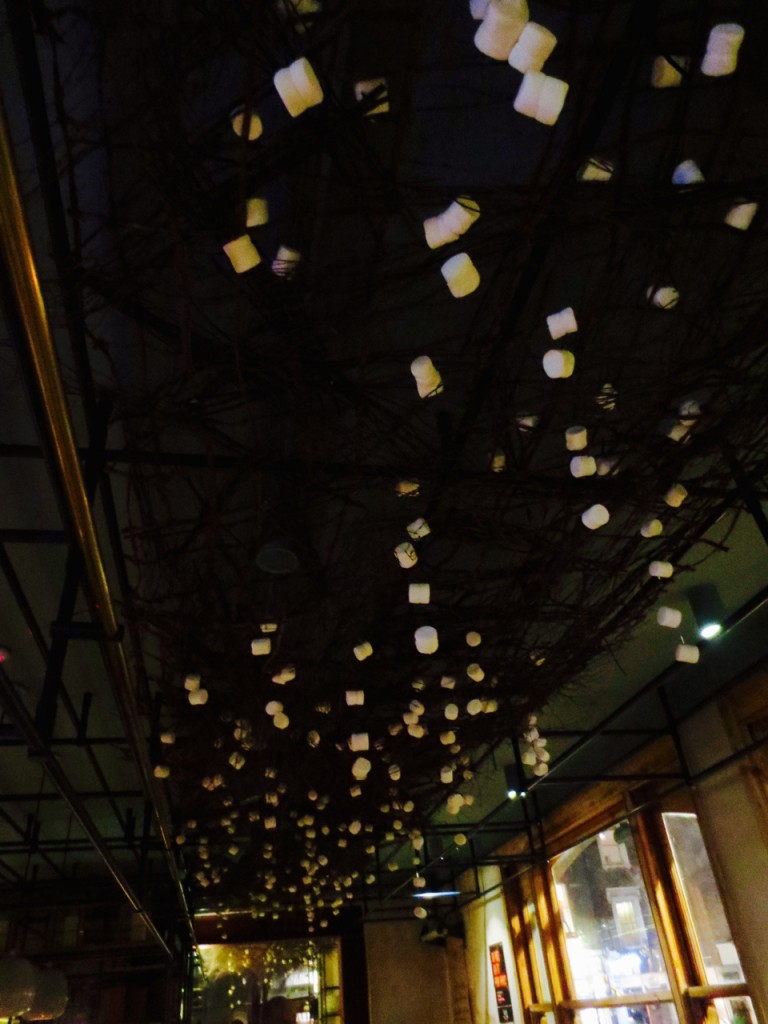 Feeling entirely satisfied (read- very full) we headed out into the brisk London night leaving the ceiling of marshmallows (no, really) and the ambience of a Greek Taverna behind. I would certainly recommend Opso for a wonderful dining experience in London. I'll definitely be returning to try their regular menu in the future. And maybe ten just one more of those smoked cheeses.
Thank you to Opso London for having us and to Mary of Mary Hop for organising and the additional photos!