"Where you going?"

"Barcelona"

"Oh"

"Don't get up"

– Stephen Sondheim, Company
Now any post that opens with a show tune is my favourite kind of post but if that's not your thing then fear not as musical mentions are over and making way for a few more of my favourite things (oops) – travel, tapas and too many photos.
YAY.
Last week Tom and I went on a short trip to arguably one of the greatest Spanish cities to explore, eat and drink our way around the streets and soak up some much needed sun. Three (and a bit) days in Barcelona with one Birthday thrown in for good measure. Interested? Excellent because I've got a week's worth of posts to come yet.
For ease, I thought I'd break each blog up by day. Except we arrived on a Sunday afternoon so technically this isn't quite a full day…more like day 1/2 which doesn't quite have the same ring to it…let's call it creative license, pretend it was four days and move swiftly on.
First things first, let's take a second to discuss Norwegian Air who, until last week, were alien to me and today might just well be my favourite budget airline. Now with 5'10 worth of person to my name I love nothing more than a bit of leg room and Norwegian had me at "my knees aren't even close to the seat in front!" Seriously. Not only this but the staff were incredibly friendly, there's free WiFi, the in flight brochure was full of Scandi beauty and it was just an all round great experience. HIGHLY Recommend. Now onwards.
Arriving into the airport we headed to the train station (just getting back on track, literally, for the summer) where we nearly bought the wrong type of 10 journey ticket before luckily the attendant spotted our obviously common mistake. The type of ticket we wanted (and eventually got) was called a T10 and allowed for 10 journeys to be made for €9.95; you can also share this between multiple people so worked really well for us. After what can only be described as sheer luck we choose the perfect exit from the Parallel Metro station so that when we exited we were face to face with our hotel- Barcelona Universal. Large, modern and well situated it was a great base but the absolute selling point here is its rooftop pool, bar and solarium with the most perfect city views. And cheap drinks. It also transpired that breakfast (included) was quite the feast with some particularly amazing slow cooked tomatoes on offer alongside all the other hot/cold options daily.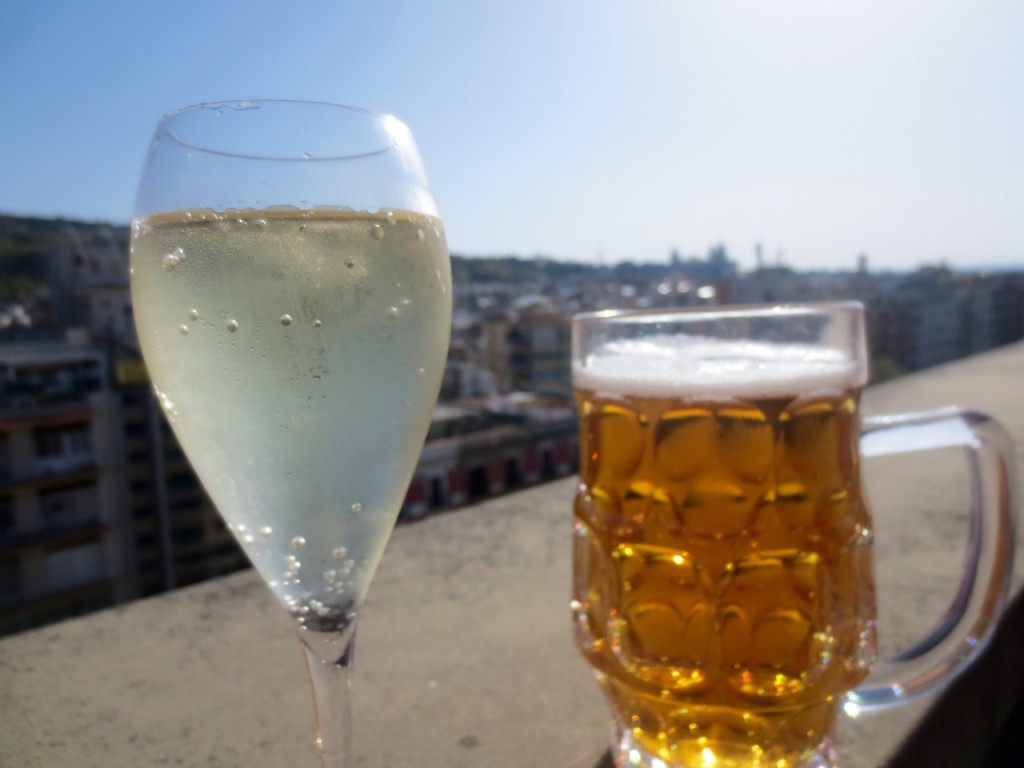 After some rooftop time the rest of the first evening was spent walking the streets in amongst the  graffitied shutters, sunset dog walkers and skateboarders to our evening's tapas stop- Centric Canalla. A seat in the window with a view of the passers by and accompanied by some broken Spanish (on my part) and some excellent tapas (on their part) it felt like the true taste of Catalonia we were after. Their chicken croquettes and padron peppers were excellent but the patatas bravas were ridiculously good and the real winners of the evening. Crispy and garlicky with a smooth tomato sauce and generous in portion size. Probably my favourite to date. And I really am on a one woman mission to try as many varieties as possible.
Back along La Rambla we walked past these bizarre trees that look like they came straight out of a Pixar film and along the grungier side streets where I found this ode to my other geographical love.
Day two was set to involve walking, walking and more walking so it was soon time retire back to the hotel where alarms were set for that prime sightseeing wake up time of 7.30am and dreams of waking up being as proficient in Spanish as my 16year old GCSE taking self quickly ensued.
Adios por ahora!