Our journey to the European 2015 adventure starts late aboard a night flight to Athens. This seemed like a great, efficient idea at the time but when arriving sleep deprived at 4AM in Greece the scheduling seems questionable, to say the least. The 95 bus from the airport takes us into the centre and as we speed along the ever lightening roads, completing the advertised 70 minute journey in 35, it appears there is a perk to early morning travel after all.
We're deposited in Syntagma Square- the central square in Athens that will soon be recognised worldwide as news crews and broadcasters both local and international descend upon it to document the ever worsening financial crisis. Suffice to say at this time is it fairly deserted apart from an abundance of stray dogs (prevalent city wide) who obviously lead a less than desirable life under the summer sun. I'm told travel pets are off the cards and so we make our way along some prominent shopping streets and revel in Athens awakening. The bakeries are fragrant enough to induce an appetite regardless of what time our body clocks are currently reading (circa 3AM) which bodes well for when we finally arrive to our hotel and are offered breakfast after an hour of waiting in the foyer. I consume no fewer than my fifth meal in 24 hours and we're joyously granted an early check in which leads to an even more joyous couple of hours of sleep.
Feeling refreshed it's out the door and to Mount Lycabettus- our first port of call. Passing through the University we're met with desperate scenes of open drug use and general deprivation. It wasn't until we stumbled upon Pure Juice after half an hour or so of walking that the city started to look up. A refreshingly contemporary juice and whole foods bar where, chatting to the owner, the impact of Greece's current situation starts to become clear. "It's like a bomb's dropped" he told us when we asked whether the city was always so quiet on a Saturday. He goes on to explain that he's worried and we go on to purchase a variety of items in a bid to keep cash flowing. Green juice firmly in hand (and feeling oh so LA) we hike up the many steps to the Lycabettus peak and are greeted with exceptional vistas of the city and beyond.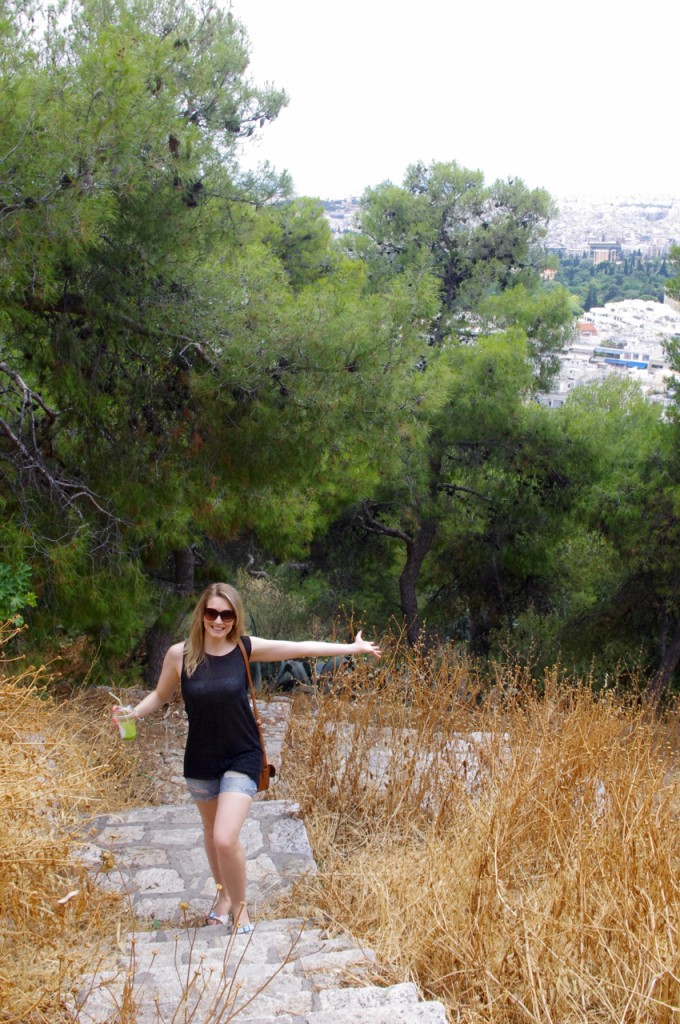 Back down and through the leafy National Garden we find the Temple Of Zeus and purchase our €12 ticket that will grant us entry to most key historical sites over the next few days. It's not quite the Olympia version but it evokes suitable Hercules-based sentiments nonetheless. And a photo shoot. There's always room for a photo shoot.
The Evripedes hotel boasts an impressive rooftop space with perfect Acropolis views where we sample local beer before walking 5 minutes to streets that houses an array of wonderful restaurants and bars. We eat Greek Salad and Dolma at Nikitas under a blanket of wine and stars. A wedding is happening round the corner and the streets are full of life. It's all perfectly Grecian to me.
As the sun rises on Sunday and another Greek breakfast (read-all the yogurt) is consumed we're set and ready for a day of sights. First up- Monastiriki Flea market where the meat section is plentiful but the outer shops selling trinkets and jewellery are much more appealing.  After much deliberation a new ring makes it onto my finger (no, not that one) and it's onwards to the Acropolis. I am thrilled to honour the thespians of years gone by at the Dionysos Theatre and pleasingly the ruins of the Parthenon and Acropolis are just as impressive up close as they are from the city streets. Yes there is one too many selfie stick around but the history really overrides everything here and for a few moments it's nice to wander in amongst the Greek Mythology of years gone by.
Descending down the hill we head to the Acropolis Museum which is an absolute steal at €5 each for entry. It's immaculate inside with artefacts and mixed media aplenty. It's well worth visiting to complete the whole experience- look out for the Lego Acropolis; it's almost as impressive as the real thing. The next place to see is the original Panathenaic Stadium which is well worth the photo op but maybe not so much the walk in the sun. After learning bus tickets can be purchased from the newsstand kiosks we treat ourselves to a ride part of the way home.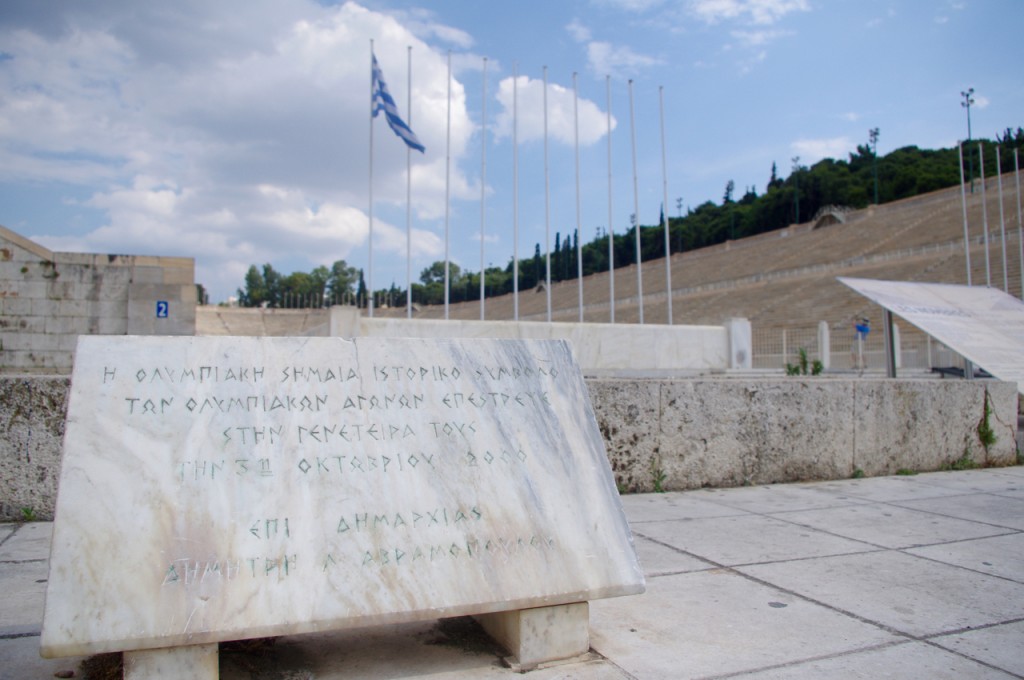 The next morning sees a trip out of the city to the coast which is a relatively short bus ride away. I had heard good things about Port Faliro but other than some impressive yachts and a scenic spot to enjoy our new favourite Freddo coffees, the area seemed lacking. Never fear, one tram and a few stops later and we were happily situated on Alimos Beach. A few hours of sun- perfect! Until the rain came. And the thunder. And then the closure of the bar. It was (relatively) tragic all round. We finally had "lunch" at 5pm and overly salty beach side pizza never tasted so good.
Back on the Evripedes rooftop we watched the sun descend beyond the mountains (incredible) before walking the short distance to A For Athens– a cocktail bar situated on the top floor of the hotel. Access to the bar is through the lift at the back of the lobby and it's well worth a visit. The moonlights hides a multitude of Athens' flaws and under the light of its illuminated monuments it really does a resemble a picture perfect city. We stop for a late night snack at Karamanlidika– a meat restaurant we had been trying to go to since our arrival but kept timing with that inconvenient thing called closure. I've never seen someone so happy as Tom as he consumed his beef & dill concoction whilst I looked politely on at the backdrop of hanging cold cuts and carcasses over my cheese salad.
We were up early Tuesday to leave the Evripedes and their vintage lifts behind us as we caught our first train of the trip to Thessaloniki. We only spent a few hours here but it struck me as being vastly overrated and even more run down than Athens. The harbour side certainly saw more ambience and an influx of young Europeans but from our time there I couldn't see why (other than good PR) it features on so many "to see" lists.
After an essential Carrefour stop for train snacks it was back to the station and onwards to Skopje. The police presence at the station should have alluded us to the fact the journey might be unsavoury but it wasn't until we reached the Greece/Macedonia border that the real extent of the dismal situation transpired. En route we had passed groups of men walking the tracks and loosely wondered if they were trying to cross a border. Our suspicions were confirmed as the train slowed to a stop and we were met with sights of make shift tented homes, children playing on train tracks, men sneaking onto freight trains and shoeless refugees rushing to the windows to ask passengers how much a ticket would cost. We soon learnt that those on the other side of the glass had made it this far from Syria, Cameroon and beyond. Left on Greek Islands they travel using whatever means they can until they are stopped. In such desperate times their dreams of a European life is ironically the only thing keeping them alive and yet it must fade with every passing train and police guard in their way. One man shows Tom the bracelet he got at the first Greek island he arrived on- a souvenir of a journey that encompasses equal parts hope and desperation. He and his friend wish to go to Sweden "there's money there", he says. A polite smile seems like the worst, painfully British, yet only response to this. Our western privilege has never felt so prevalent and it's a sobering few hours watching the scenes unfold from the comfort of the train.
To us, journeying through Europe is an adventure- a thrill. To all those seeking refuge across the tracks the biggest thrill would be being allowed to make the journey in the first place. We're only separated by a sheet of glass and yet we feel entire worlds apart.