The first thing that happens upon arrival into Skopje station is taking out Macedonian Denar (which you can't get before entering the country) from an ATM. The second thing that happens is being accosted by an overly eager taxi driver who I of course immediately deem to be a killer in disguise and politely yet firmly refuse his business. It makes for one spectacular walk of shame when, after realising you've gone the wrong way to the taxi rank, you have to walk back to him no less than five minutes later and accept he is in fact genuine after all. Genuine (smug) and also a pretty useful guide who points out many of Skopje's monuments as we drive along in a style we soon become accustomed to but wouldn't come anywhere close to passing a UK driving test. The immediate stand out is a giant cross towering over the city atop of a mountain. We learn this is the Millennium Cross, built in 2002 and a feat of architure Macedonians and tourists alike flock to see. 30 minutes or so out of Skopje we arrive at our Lake Matka destination where a pleasantly well designed/lit path takes us the final 200m to the Canyon Matka hotel. The room we are shown to is perfectly lakeside and wonderful as we assume the view to be too. A midnight jacuzzi in the fancy spa bath seems like the obvious way to settle in until sensibility is lost somewhere to euphoria and one button press too many results in an unfortunate bathroom flooding. It's an excellent start.
The morning light confirms previous suspicions of outstanding views and we are presented with our own personal cheese/meat platters for maybe the most scenic breakfast to date. Despite the clouds the beauty of the canyon shines through and we soon board a boat eager to explore the Vrelo Cave nearby. The passengers consist of us and a chain smoking Albanian who seems intent on ruining the otherwise fresh air for all around. Our boat driver is a Matka local who points out various objects of interest including an eagle- a prominent species on the lake. The whole area, as it transpires, is nature rich and renowned for having over 70 species of butterflies. Unlike places like Lake Bled, Matka still feels authentic. It's near enough untouched and its rustic charm is captivating.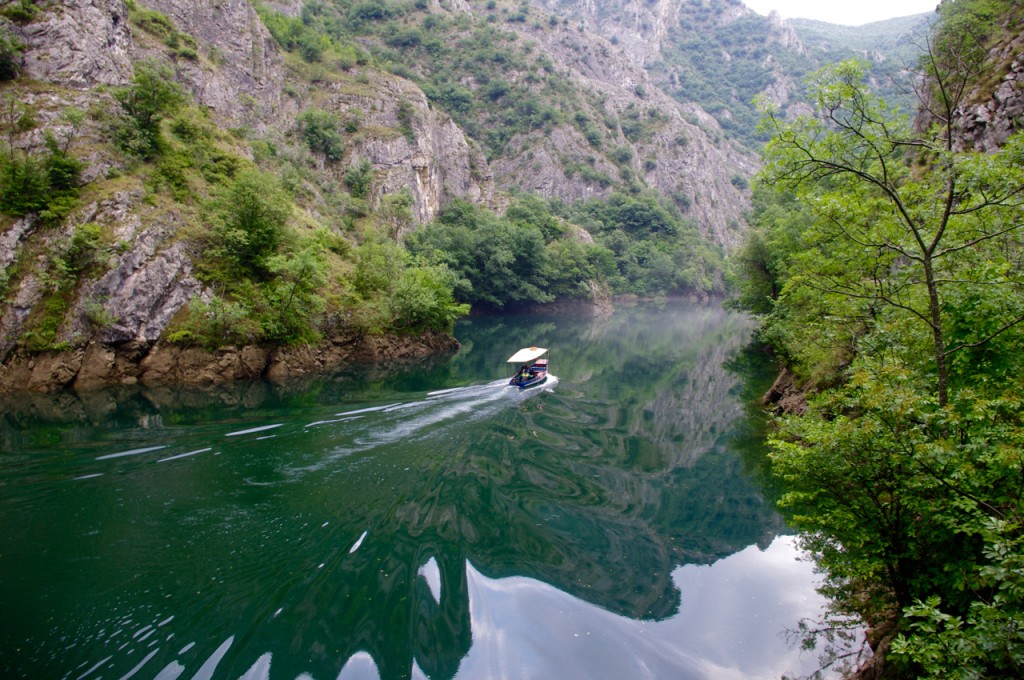 The lights for the cave are powered by a generator and once illuminated show off impressive rock formations and an even more impressive colony of bats. It's thought the cave could be one of the deepest in the world but no-one's reached the bottom yet to confirm this. We explore at our own pace before re-boarding the boat. At 400 denar (£4.50) each it's an excellent excursion.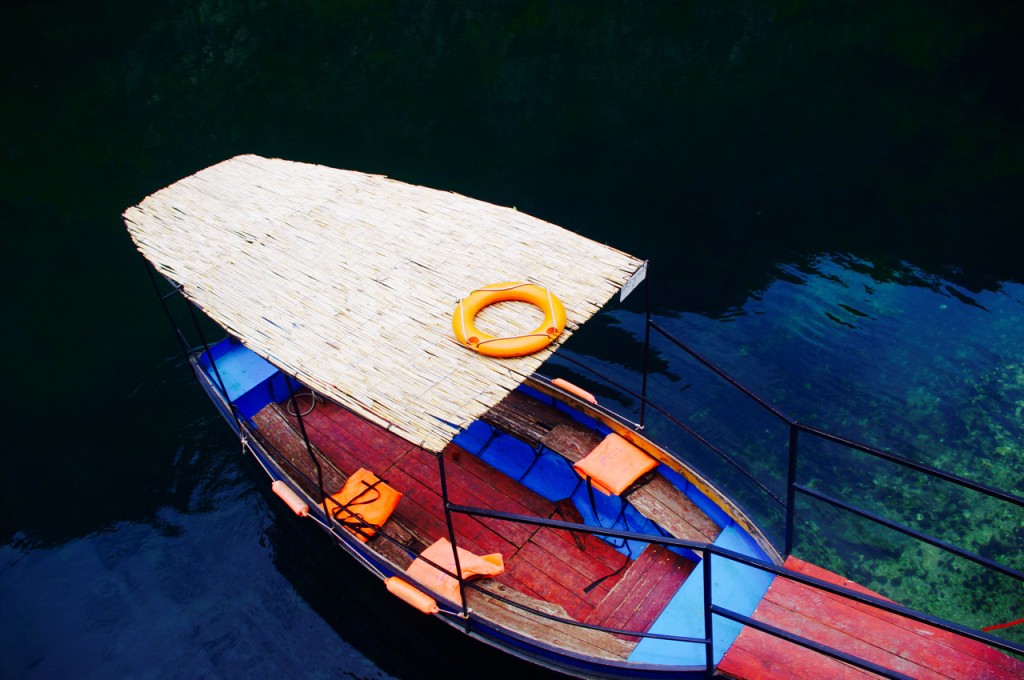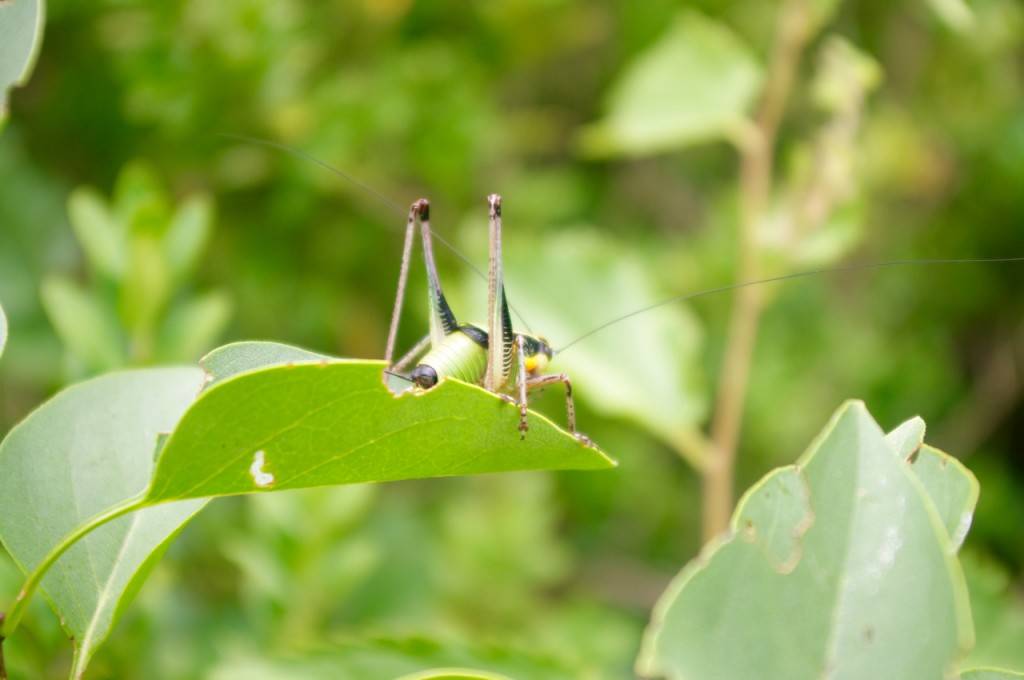 Back at lake HQ we decide to try a hiking trail up to a monastery. There are plenty to choose from and this one seems like a good length so we set off. Along the way we pass a sign advertising local nature. Like snakes. Hike=immediately ruined yet we persevere because I'm certainly not going admit out loud that the thought of encountering this reptile is enough to make me want to turn around and hide. We soon pass a tortoise, another Matka native, which is up there with my coolest wildlife encounters to date. Apparently they're to Macedonia what hedgehogs are to the UK and at constant risk of getting squashed in RTAs. We leave our new friend to walk the pavement and bid him a safe, happy onwards journey.
Heading uphill we pass a British couple and ask if they've come from the elusive monastery. Their "no and we've been walking for three hours. We don't even know where we are" response should have been a sign and yet nope. Onwards we go. An hour or so later we realise the 45 minute guide time to the top maybe means we didn't quite nail the trail, as it were, so after quick pause for a photo at "the top" the the downhill trek ensues. Luckily for all involved it was Tom who encountered the snake slithering in front of us and not me.
The next day we take the number 60 bus (a 10 minute walk from the hotel) into Skopje so we can visit Mount Vodno and The Millennium Cross. We ride the entire route to the bus station where we change onto the designated "M" bus that then takes us straight to where the cable car is situated on the mountain. The whole area is immaculate and resembles an alpine ski lodge which maybe isn't so surprising considering it was built by the Austrians. The views at the top over Skopje and beyond are incredible and the site itself has plenty of picnic spots and tranquil spaces. There's a 4hr trail that can take you straight back to Lake Matka but we pass on that and opt for our easy cable car/bus route back instead. Mount Vodno is a definite highlight of the area and one I'd certainly recommend making the time to see.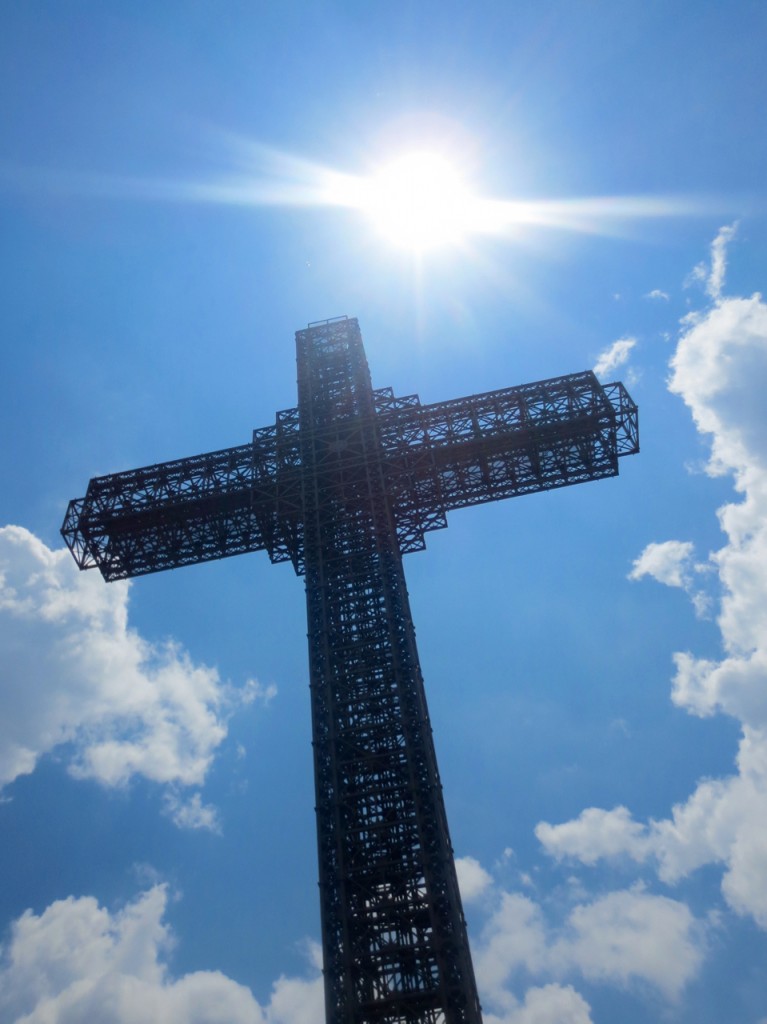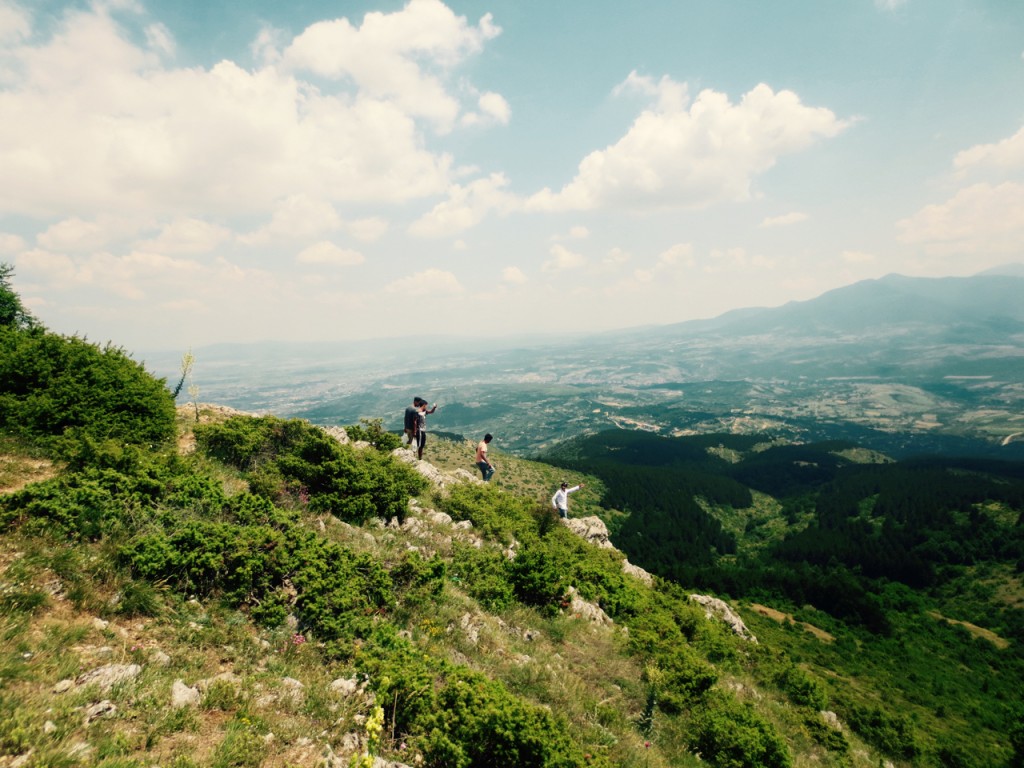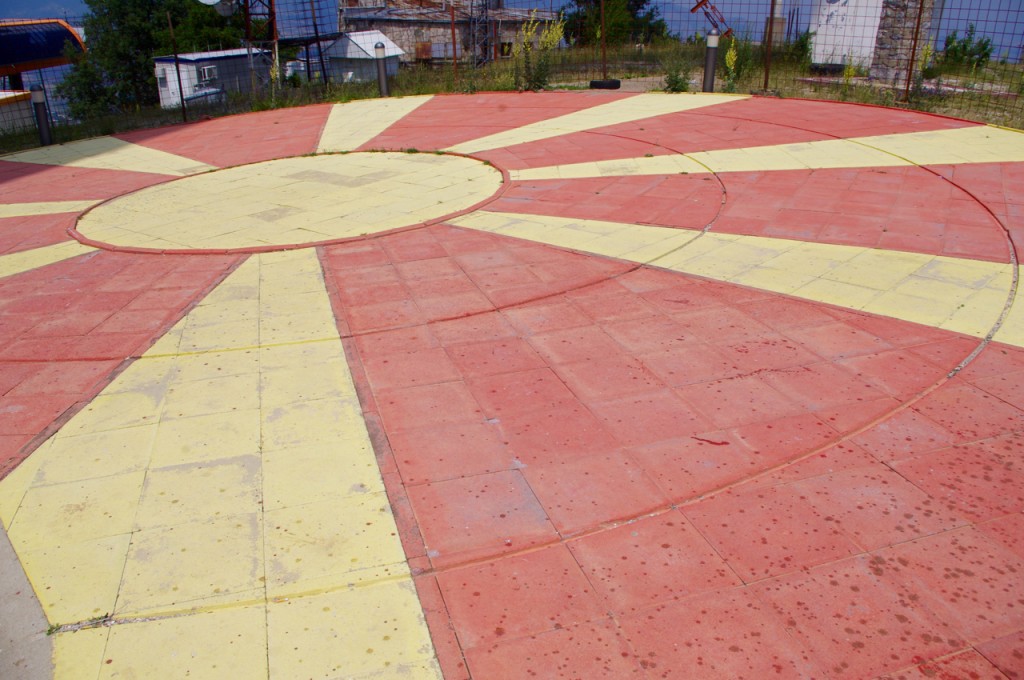 Canyon Matka hotel is not only ridiculously cheap at circa £28 (!) a night including breakfast (!!) but also has a beautiful bar/restaurant area to dine in. We enjoy a wonderful evening sampling their drinks menu, befriending cats and eating yet another incarnation of a cheese salad. It's tough being (practically) a vegetarian in this part of the world but I'm impressed that here they at least have the addition of quinoa to accompany my usual cheese, tomato and cucumber suspects.
Our final Macedonian morning is kick started with an hour long canoeing trip along the lake which I'm pretty sure should be the government recommended way to start every day. We enjoy one last Freddo cappuccino and then armed with our backpack shells leave the nature of Matka behind us. Suffice to say I am sadder to see the back of our tortoise friend than I am that of our slithering acquaintances. Once back in Skopje our luggage is swiftly deposited at the station and we head off with several hours to spare before our night train to Serbia.
The City Centre has just undergone a huge renovation and so it's much more developed than we had imagined. There are statues everywhere celebrating many of the country's key artistic figures and the architecture appears to be an homage to a variety of classical styles. It's certainly pristine and makes for a lovely walk around. The fountains offer a spray that takes the edge off the heat and are again plentiful en route to the Old Bazaar.
Lines of shops selling glistening jewellery and extravagant dresses sit alongside traditional baklava selling bakeries. There's haberdashery aplenty and a bustling food market that's full of life and colour. There are bars and cafes dotted around and after cooling off with a not so traditional frozen coconut daiquiri we walk across town in pursuit of Skopsi Merak– a well reviewed restaurant we were eager to experience.
The food and clientele are predominantly local and between us we try several dishes. The stuffed/baked aubergine with tomatoes is my new found favourite thing and the traditional Macedonian pizza also goes down well with our favourite Slovenian beer from last year, Lasko, that we're delighted to have re discovered.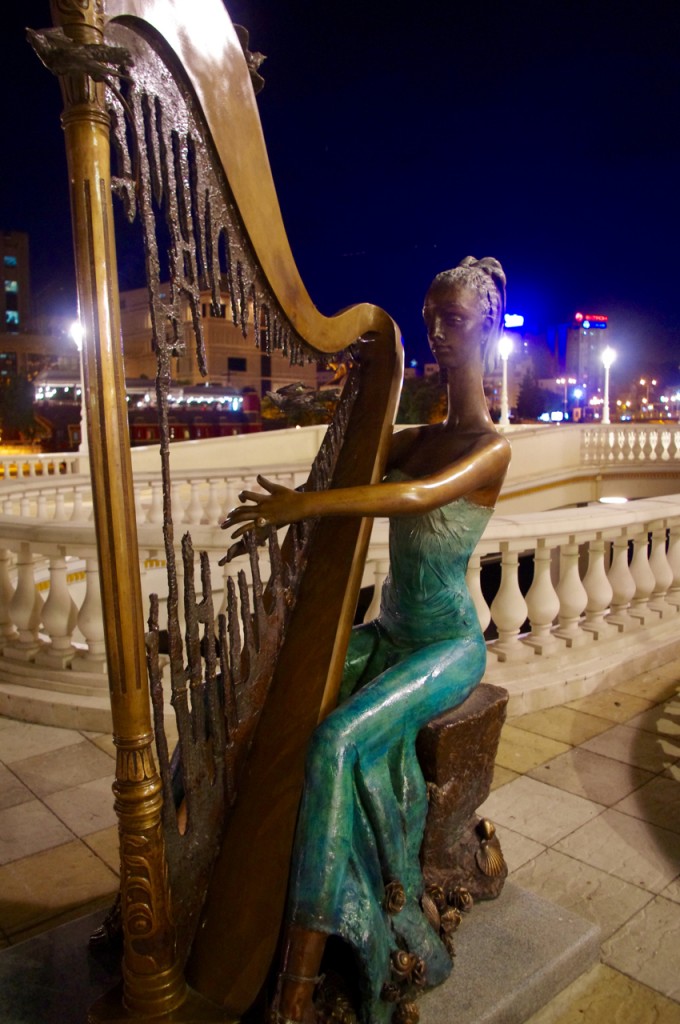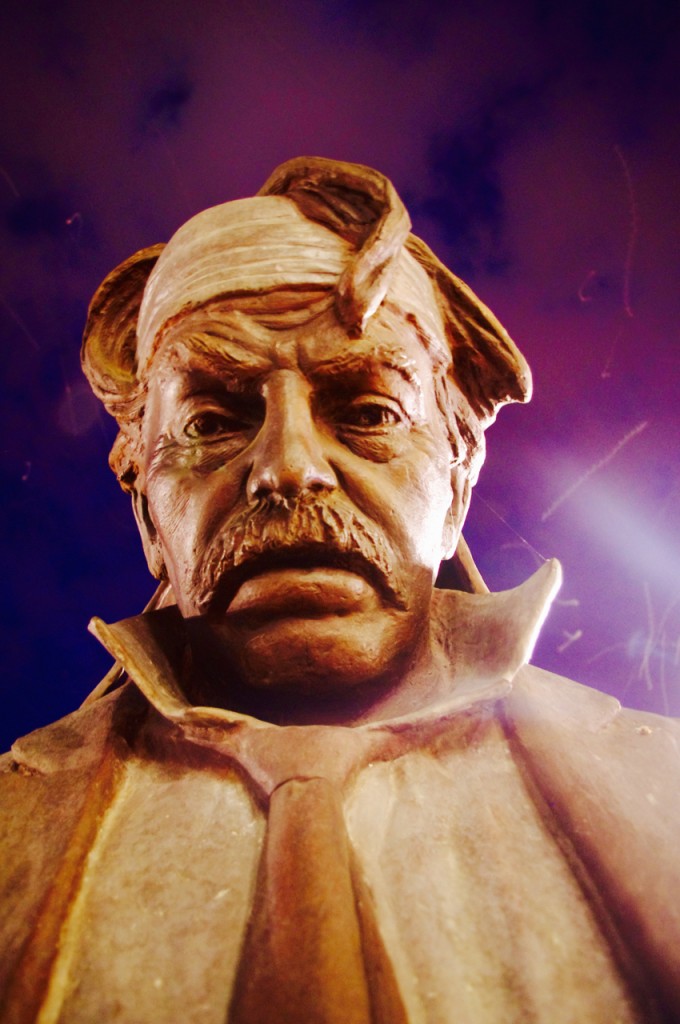 Skopje at night is almost more impressive than Skopje at day and it's clear a significant part of their makeover budget has gone into uplighting. We retrieve our bags and make our way to the platform where our train is due to shortly arrive. An hour later- still no train. There's no signage and certainly no chance of an explanation. We wait with several others who look as confused as we do. Finally a train arrives and we all pile on. As I'm observing the evident lack of sleeper carriages a voice from the outside shouts the magic words 'Belgrade? NO!" and we all pile off with more noticeable haste than we had boarded a few moments ago. Communication isn't a strong point around here and we all return to our confused state although at least now a bit more bonded in solidarity. 45 minutes later our train arrives, on a different platform no less, and along with a couple of other English speaking counterparts we eventually find our reserved compartment. Friendly/helpful the staff are not. Clean/fresh the train is not. Memories of the Canyon Matka jacuzzi bath disappear with every passing track and around 2am we are finally granted a prized pillow and blanket.

It's a far cry from our last sleeper train experience in Amsterdam, that's for sure, and probably not one I would overly recommend if you enjoy things like, oh I don't know, running water and unblocked toilets. Nonetheless it's home for the foreseeable hours and taking us ever closer to our next destination- Belgrade.