We're staying in the southern hemisphere this week with a guest contribution from someone who lives in what I deem to be one of the most beautiful countries in the world. From sky scraping mountains to sandy beaches and an enviable food scene, New Zealand inspires and entices locals and travellers alike. It won't take much to convince me why it's nicer than, well, just about anywhere but in the interest of keeping things fair let's explore exactly what a local thinks we should be doing in the largest city the country has to offer- Auckland.
We're handing over to one of my favourite New Zealand natives Ryan Christensen- National Wine Ambassador for Lion. He's originally from Rotorua but has since studied in Wellington and lived in Christchurch and by the beach in Mt Maunganui. "I swore I would never live in Auckland" says Ryan, "but after a brief stint living in New York, small cities just wouldn't cut it for me and I now love this city for everything it's got. Auckland is the biggest city in New Zealand, 1.5million people, over a quarter of our small island's population in one place. This means there is no shortage of great food, great drinks and amazing things to see and do."
Unsurprisingly, New York and Wine heavily influence his choices below.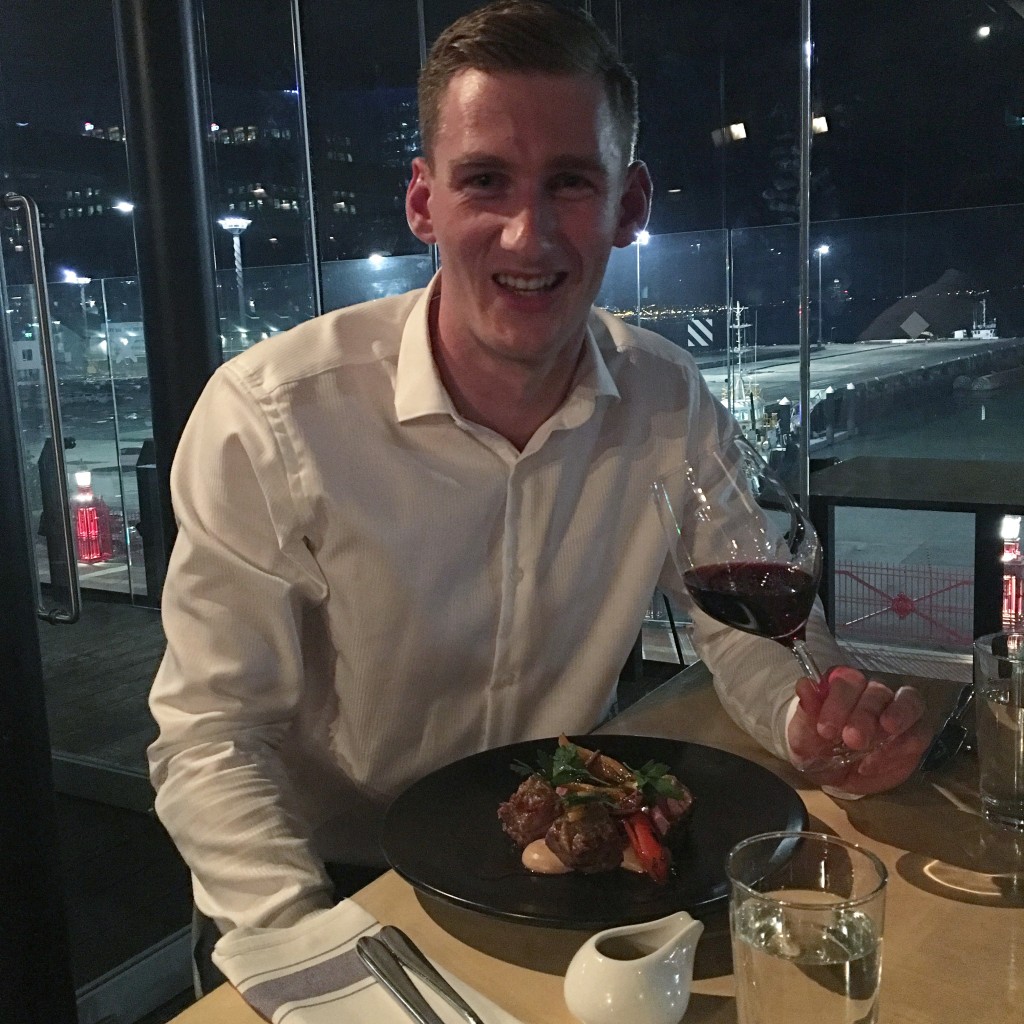 Best for Brunch
Situated on Jervois road in Herne Bay, everyone knows that their breakfast game is strong. My favourite is Waffles with bacon, mascarpone and maple syrup, $18NZD, if you are feeling extra naughty this can be upgraded with 3 scoops of ice cream. Other favourites are Best Ugly Bagels, New York style bagels with delicious toppings, all about flavour not presentation, $15NZD, or the vegetarians among us, Portobello mushroom and potato rosti stack is amazing, $19NZD. Another great thing about this café is the coffee is amazing, well worth the possible 30min wait next to the Ponsonby locals in their active wear.
Best for Dinner
Quite upmarket, feel of a New York style loft restaurant and bar. Mind blowing Wine and Food for reasonable prices. I'd start with a dozen Bluff Oysters, $25NZD, matched with a glass of Te Whare Ra Toru, $15NZD. Main of Lamb Rump, $40NZD, matched with Mt Difficulty Bannockburn Pinot Noir, $20NZD. And to finish a New Zealand Cheese Board and The Ned Noble Sauvignon Blanc, $40NZD.
Blue Breeze Inn- Ponsonby Central
Asian fusion with tropical style tiki rum goodness cocktails. Lots of small sharing plates, everything is good but going past the steamed buns with pork belly and pickled cucumber, $10NZD each, would be a mistake.
Burger Burger- Ponsonby Central
Surprisingly enough they do amazing burgers. This is the most casual of the three, with delicious craft burgers. My favourite is Chicken, surcharged with Bacon and Pickles, $15NZD. Great to share beers and chat with your mates. Low key casual burger eating fun.
Best for drinks 
It would be a miss of me not to mention the number of great bars we have in Auckland. Bedford Soda and Liquor– The team will create amazing cocktails for you, The Gin Room– A Gin Speakeasy that will change your mind on how amazing Gin can be, Revelry– if you want to dance to old school bangers whilst drinking perfectly made Daiquiri's.
A typical Friday night 
My favourite Friday evening activity is Silo Park, during summer they project classic movies on to the sides of silos in a park. Take a blanket, picnic and a bottle of wine, your Friday night is set. If you forgot to pack a picnic, then there are some amazing food stalls with cheap yummy street food on offer. This week is "The Life Aquatic", one of my favourites.
A perfect weekend activity
If you only have a weekend to spend in Auckland, you NEED to visit Waiheke Island, voted the fifth best region in the world by Lonely Planet. Think Vineyards, white sand beaches, amazing restaurants, markets, friendly people and only a 30min Ferry ride from Auckland CBD.
After Brunch, head down and catch the 11am Ferry to Waiheke, by 12pm you'll be sunning yourself on the beautiful Onetangi Beach and heading to Charley Farley's for Fish and Chips and a Steinlager Beer for Lunch, $27NZD. Get back on the bus and head to two vineyards, the island has about 30 but my pick if you are only there for the afternoon is Mudbrick and Cable Bay. Head to Mudbrick for a Rose and enjoy the view back towards Auckland City, wander down the road to Cable Bay for a Syrah on a bean bag looking over the most stunning views. These two are both close to where the Ferry drops you off, so when you feel like you've absorbed enough beauty, head back to the Ferry and Auckland CBD.
A hidden gem 
After all your eating and drinking, Sunday is made for adventures. Drive out to the black sand beach of Piha and here you will find the Kitekite track. About an hour into the walk you come across an amazing waterfall where you can swim in the bottom. It really is an awesome place and well worth the walk in.
***
Thank you to Ryan for these amazing tips and also to him and my Mum for all the images used. If you like looking at pictures of fine wine and beaches as much as I do why not follow Ryan on Instagram? Until I can finally make the trip to the other side of the world he acts as a very nice, vicarious way to live out the New Zealand dream.
Do you think it's nicer where you live? If so and you're interested in featuring in an upcoming post why not send me an email- hello@adventuresofanicegirl.co.uk