This week we're taking a trip to the other side of the world where Ally is ready and waiting to tell you exactly why it's Nicer in Hobart.
Ally is one of my Australian cousins (we're going to go with "cousin" because the actual family relation is a lot more confused and doesn't have quite the same ring to it) who lives and has grown up in Hobart, Tasmania. She spent last year on the most incredible European travel adventure but now she's back on home soil I knew she'd be the perfect choice to introduce us to one of Australia's lesser known cities.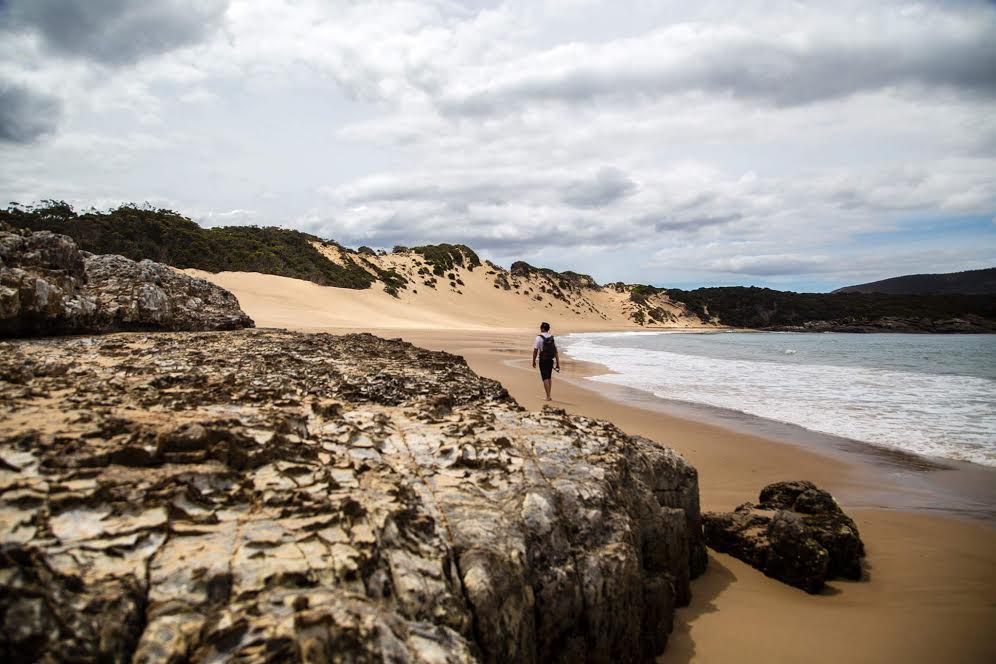 Best for brunch 
Machine Laundry Cafe in a corner of the historic Salamanca Square. With ample indoor and outdoor colourful seating, you can eat while watching people play giant chess, admire the ex-quarry walls, occasionally see live choral performances in the square, and even sneak a look at cricket games on the big screen. And as the name suggests, there are a number of laundry machines in an offshoot of the cafe so you could sit and do your washing while you eat. I just come here to eat.
Machine Cafe is a great budget cafe, most items sit at around $14 (£7.50). Menu items range from $9 (£4.80) porridge with poached pear, vanilla, rhubarb and natural yogurt (perfect on a winters day, I'm yet to finish the generous serve), to a max of $17 (£9) for a lunch-style wrap or burger with chicken, bacon and all the rest. It's really hard to choose a favourite, Machine is my go-to when I'm not sure what I fancy. It's frequented by young professionals for a pre-work breakfast, families letting their kids run around in the square, and plenty of hipsters to make you feel like you're in an approved brunch location. I'd be scorned not to mention that Machine offers a Maximum Machine Latte – basically a bowl of coffee, but unlike typical large coffees, this latte comes out as a perfectly dimensioned latte that ticks all your 7am coffee needs. Choosing a favourite dish form Machine is like choosing a favourite pet…so I'll name two:
Hotcakes: big fat ricotta hotcakes, with candied walnuts & butterscotch sauce, topped with double cream ($14, £7.50).
The Old New Egg Dish: eggs scrambled with garlic sourdough with beetroot relish & wild rocket ($13.50, £7.20), and I always add the optional crispy pancetta ($17, £9).
Machine offers half serves which I take full advantage of as I'm yet to finish a meal from their generous menu.
Best for dinner 
T42 ('Tavern 42 degrees South'). It sticks out along the Hobart wharf so grab an outdoor table and admire the yachts while you eat including the beautiful wooden Lady Nelson or the modern MONA ferry. The restaurant is modern and large with a great bar, and popular for after work dinners and ladies catch-ups. A little more pricey than other places, but you pay for the quality. The menu boasts fresh Tasmanian seafood and the best Tasmanian wine. If you're after something less sophisticated I struggle to go past the Salt and Pepper Squid – a massive bowl of freshly caught and cooked squid in the lightest spiced batter with shoestring fries ($16, £8.50). My favourite light meal is the Grain salad with sweet potato, goat's feta and baby beets ($19, £10), or for something more substantial get the Lamb Rump with soft polenta, spiced roasted cauliflower (yum!) and dukkah ($35, £18).
Don't forget to try 42 Degrees South Sparking ($11, £6) or Tasmanian Moo Brew beer on tap.
Or skip the sophistication and get the best curry in Hobart at Annapurna (North Hobart restaurant is at one end of the restaurant strip, in a lovely authentic indian styled room). Get the cheese and mushroom naan. Always get the cheese and mushroom naan.
Best for drinks 
For mid-week drinks (come on, you know you want to)  The New Sydney Hotel  is laid back and often has live music. You can choose from a huge range of beers on tap at reasonable prices and top notch food as well. For something a little more classy, Salamanca has a line of bars for to choose from – favourites are Bar Celona for great cocktails, Cargo for great food, or Grape for great wine. All have an upbeat vibe, delicious drinks and you can always find great company if you venture out alone.
A typical Friday night 
The thing about Fridays in little ol' Hobart is there's always something different on. This Friday was Spiegeltent – a dutch-style Mirror Tent housing 3 weeks of music, comedy, cabaret & circus, headlined by the international award-winning circus spectacle Limbo.
Over summer my favourite Friday nights were spent at the Hobart Twilight Market on the grassy hills beside Sandy Bay Beach, listening to live music, eating vegan desserts and drinking locally brewed beer with my pup.
A perfect weekend activity
In Tasmania it's possible to visit national parks, beaches, go hiking, do a little shopping and taste beautiful produce all in one day. Drive out of the city for an hour to Tessellated Pavements (grab a coffee from Cube at the lookout first) and enjoy the naturally shaped rocky shore and the beautiful ocean. Continue south beside the Tasman National Park, drive-by Port Arthur for a quick view of convict history but skip the museum and stop instead at the Lavender Farm for lavender ice-cream. Continue down the Tasman Peninsula to Remarkable Cave. Put your hiking boots and bathers on and walk along the picturesque coast for 1 hour to get to a secluded crescent-shaped beach (Crescent Bay) backed by the whitest sand dunes you can find beside beautiful Tasmanian forest. Take a dip in the icey water flowing up from the Southern Ocean that is perfectly clear and the bluest blue. There is colourful seaweed, a few shells and it's more than likely you'll be the only person on the whole beach. When you leave continue around the Tasman Peninsula. You can get to Remarkable cave in 1.5 hours from Hobart CBD, and out to the beach in an hours walk. Have you booked your flight yet?
A hidden gem 
Longley Water Hole. 20 minutes south of Hobart CBD (by car) is the Longley River and Water Hole. For the brave you can start a walk to the top of Cathedral Rock from here, for those that prefer to relax the water hole is surrounded by large flat river-bed rocks and the hole is deep enough to jump into to get a quick thrill. The water is clear, cool and the locals love it. 5 minutes in either direction is a pub that does Sunday night live local music and a bakery with killer pies.
***
Feeling inspired? Yes me too. Take a look at Ally's blog of her European adventure (wanderlust guaranteed) for more travel-spiration. A huge thank you to PEKOE photo for all the stunning images featured in this post- make sure you have a look at their Facebook page for even more highlights from Hobart.