Travelled in December 2018
December isn't complete without a long weekend in a European city soaking in all things festive. From mulled wine at markets to walks around winding streets, it's the most wonderful time of the year to wrap up and get down to the very important business of all things pre-Christmas activities. We spent five days in December exploring the Christmas Markets in Poland; the hustle and history of Krakow and the mountains of Zakopane complete with private skiing lessons and a day trip into the black mountains of Slovakia. The ideal combination of city, country and all the good bits in between. 
Krakow
Our accommodation in Krakow was a simple yet stylish and conveniently located AirBnB which was initially tricky to find owing to the small fact there were zero (0) visible clues as to a door number. We also did several entirely stress-free laps of the surrounding streets looking for an elusive parking spot ("plenty of on-street parking!" they said) only to eventually take the one the host was waiting in. Love nothing more than arriving to a new place. Once finally inside, the apartment was lovely, situated right around the corner from a vegan kebab shop (!!) and served as the ideal base for our time in the city. Everything we needed was within walking distance; a huge plus for a short stay. 
Krakow is a gothically brutal city, rich in sombre history and traditions from centuries gone by. The Old Town is a UNESCO heritage site and a natural first port of call for many visitors to the area, regardless of the time of year. For the weeks in December, the Rynek Główny main square is full of traders selling everything from Polish pottery to Christmas crafts. Food is all around with the local hot, smoked Oszczypek cheese being a particular speciality and the steaming soup stall drawing a queue as impressive as the number of broths on offer. Hot sandwiches are also popular and dessert options are plentiful. The market is spacious enough to allow for browsing but come nightfall the crowds increase bringing with them exactly the kind of jovial pre-Christmas buzz you'd hope for. For more of the same on a slightly smaller scale, the market adjacent to the impressively huge Galeria Krakowska mall is also worth exploring. Hot cheese with cold jam. Shopping snack goals.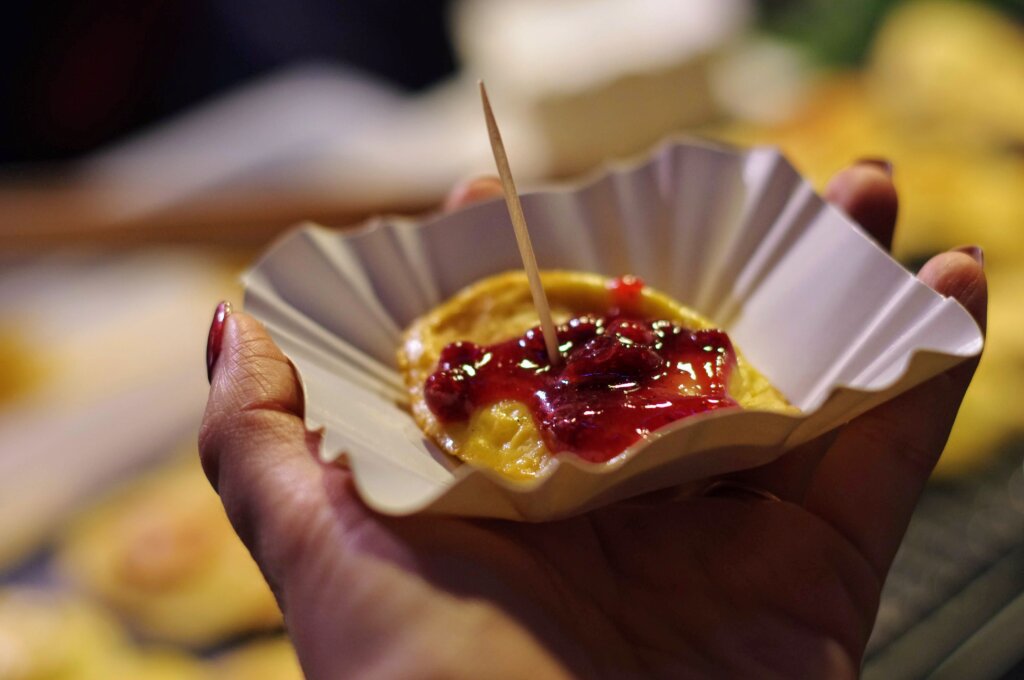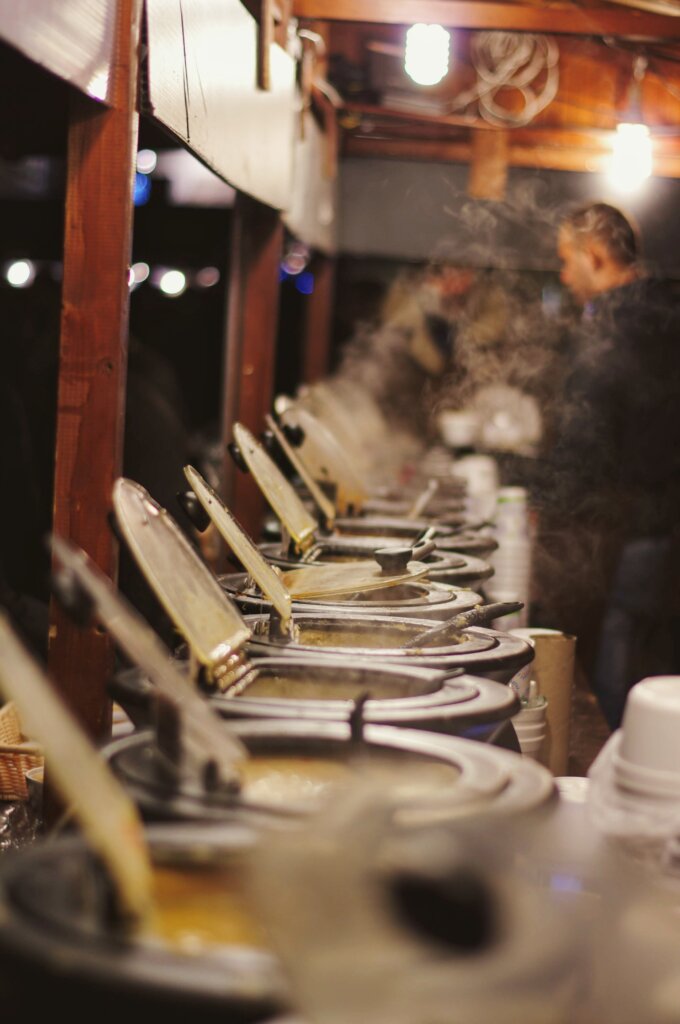 It's easy to walk around the streets of Krakow taking in the sights along the way. Set on the banks of the Vistula River, the well-trodden streets are home to places of local speciality as well as up-and-coming establishments. After following in royal footsteps at Wawel Hill, we tried some token Polish fare at Chłopskie Jadło before heading to warehouse bar Weźże Krafta for mulled wine and local craft beer.
After dark is when the allure of the old city comes alive. The dimly lit, often hidden, bars offer beacons of light, warmth and vodka to those who seek them out. Comfort before fashion is very much the way here and evenings can happily be spent nestling into the corner of a candlelit table where the surrounding charm comes from peeling walls adorned with remnants of days gone by, rather than the designs of the future. A couple of our favourites out of the bars we tried included Sababa (curated cocktail cool) and Eszeweria (boho bar for beer and shots). Thanks to some stellar research, I can now confirm that Krakow also has the perfect food for the post-vodka journey home. These baguette pizzas, more commonly known as zapiekanka are as long as my (pretty long) arm and come with any combination of topping imaginable. Hot, tasty, crispy-edged yet soft-centred baguette, pizza. Better late-night food does not exist.
As you'd expect, there are plenty of historical tours available and we decided to join one of the guided walking ones that started in the Old Town Square and took us on a comprehensive tour of the Jewish Quarter. I'd say this is an absolute must when in Krakow. It doesn't make for happy listening, but seeing the places from history textbooks come alive in-person sets the horrific scenes in a very real way. Day trips to Aushwichitz are also easily achievable from Krakow and something I'd definitely set aside time for on a future trip.
Away from the markets and walking tours are many other Polish gems including Hummus Amamamusi which may well serve some of the best hummus in the world. Thoroughly recommend the jalapeno variety. The compact restaurant offers both eat-in and takeaway options and a seat in the window here to reflect on the city and the world going by is the perfect dose of lunchtime respite.
Three days feels like a good amount of time to scratch the surface of Krakow. The cold and bitter winter days seem apt for the atmosphere of such a historically dark city place and I'd be intrigued to see how a summer visit compares. As long as there's still hot cheese, that is. Snack-size hot cheese is now my only pre-requisite for visiting new places.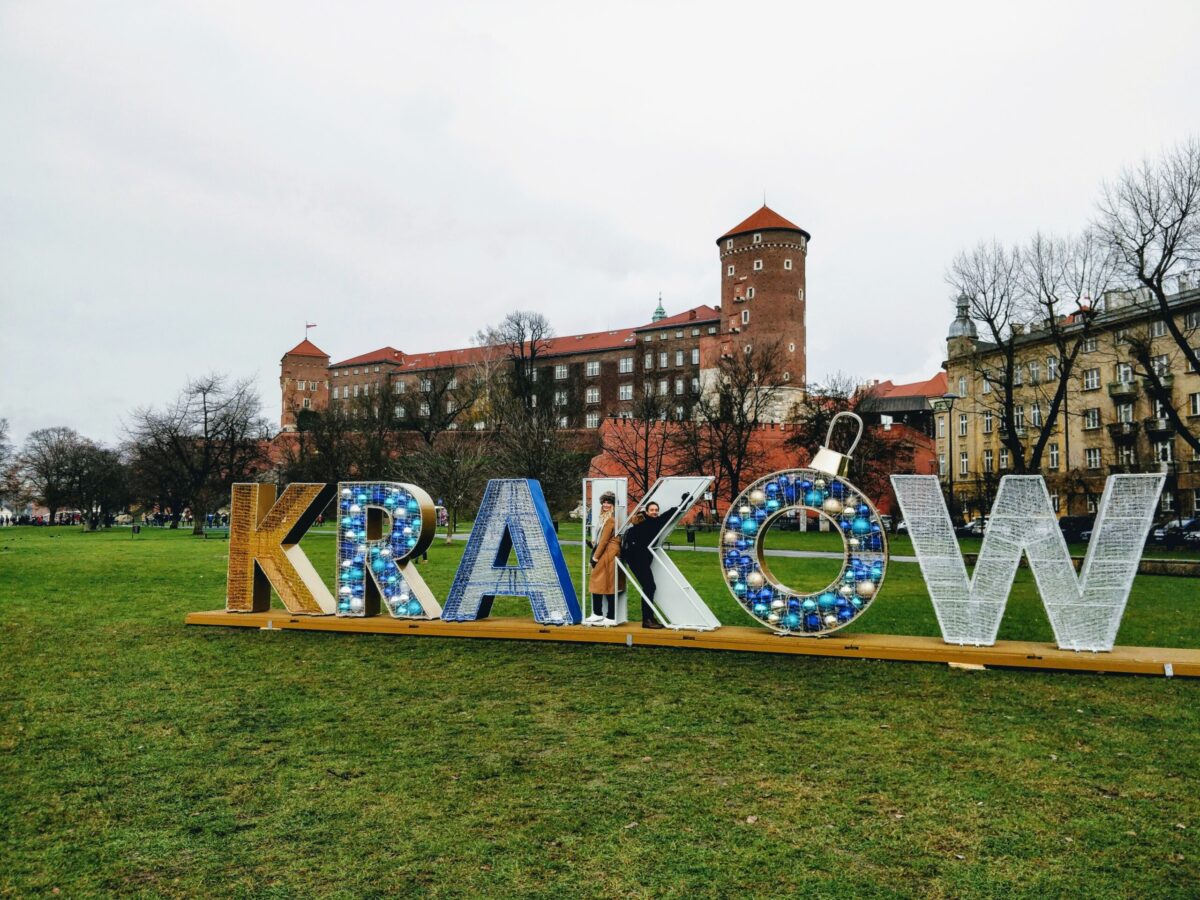 Zakopane
We drove south from Krakow to Zakopane, a journey that takes around 2 hours if you don't hit traffic on the mainly single-lane roads. Zakopane is a small, southern mountain town; a gateway to the hills high above. The buildings look like they've come out of a Disney movie and the snow dusting the ground just adds to the all-around picturesque Polish scene.
Our home for two nights was Willa Jarosta, an apart-hotel with the added benefit of a bookable hot tub room. During our time in Zakopane, we explored the main street and claimed Scandi cool STRH as our late afternoon hang out. Food. Drinks. Music. Cosy chairs with an ideal birds-eye view of the snowy streets (/dogs) below. All boxes ticked. We ate at Karczma Goralska Pasja which was an underground hideaway largely catering to the tourist crowd but serving cosy plates of food nonetheless. I feel like Zakopane has so much potential but just needs some creative direction and love poured into it. It would be so easy to market as a destination if only there was more in the way of unique shops and desirable hangouts. What the main street was lacking in artisan places it made up for in whole stalls designated to the selling of our new favourite oscypek cheese. A victory, if ever there was one.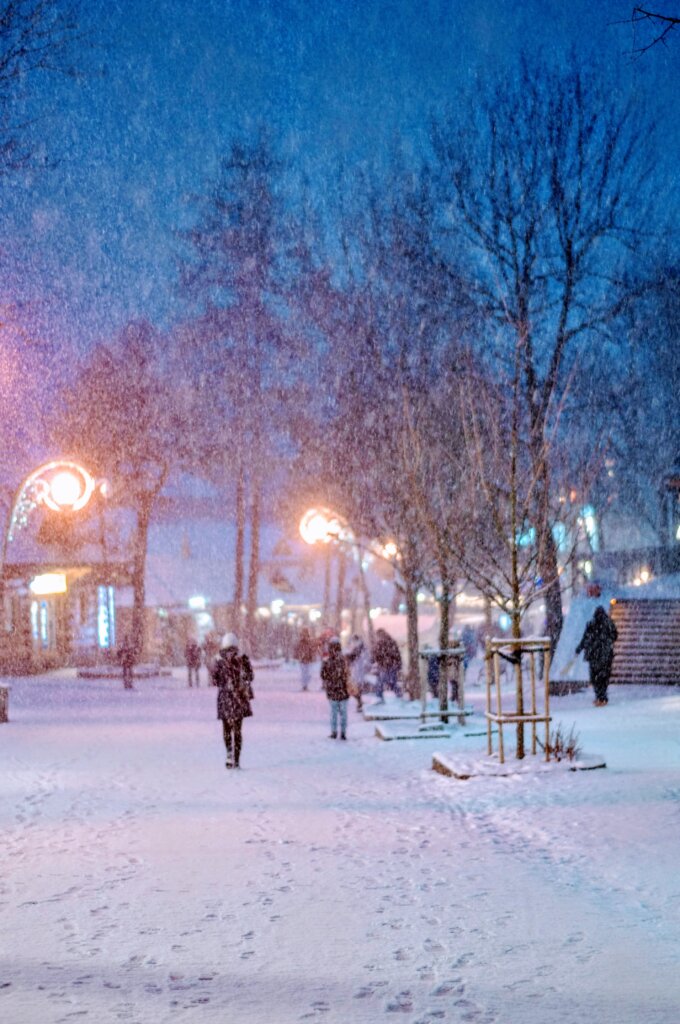 Our main purpose in Zakopane was skiing. Yes really. Poland and skiing may not be a typical association but in reality, the slopes here are just as bountiful as many of their better known European counterparts. Especially if, like us, you are a.) not frequent skiers and b.) looking for a bargain. We booked a morning of private ski lessons with local company Go Ski Zakopane for around £50 including gear hire and lift passes. £50. This is perfect for novices with some experience looking to get a little better ready for the next time they get to ski again in circa seven years. We had the practice slope to ourselves so I could really work on perfecting that below-average technique. Once we had proven ourselves we were able to do several runs of the main slope where a handful of locals and token annoyingly-skilled children were also out making the most of a Tuesday afternoon in the mountains. It was a rustic experience that made you realise how lucky all these people were to have this available to them. Would absolutely recommend Go Ski Zakopane for an affordable foray into Polish pistes.
Our final mountain day took us out of Poland and into Slovakia for some winter walking in the Tatra Mountains. We made it to Stary Smokovec and parked there before buying tickets to head up to Hrebienok and hike onwards. We had grand plans to make it up to Slavkovsky Stit but underestimated the weather and the small fact the trail was closed. After a couple of hours of walking without seeing another person, I had also convinced myself that wolves were likely surrounding us — a tasty hot snack — so we got as far as Slavkovská vyhliadka, something of a halfway point, which still felt like an accomplishment; especially in the heavy snow.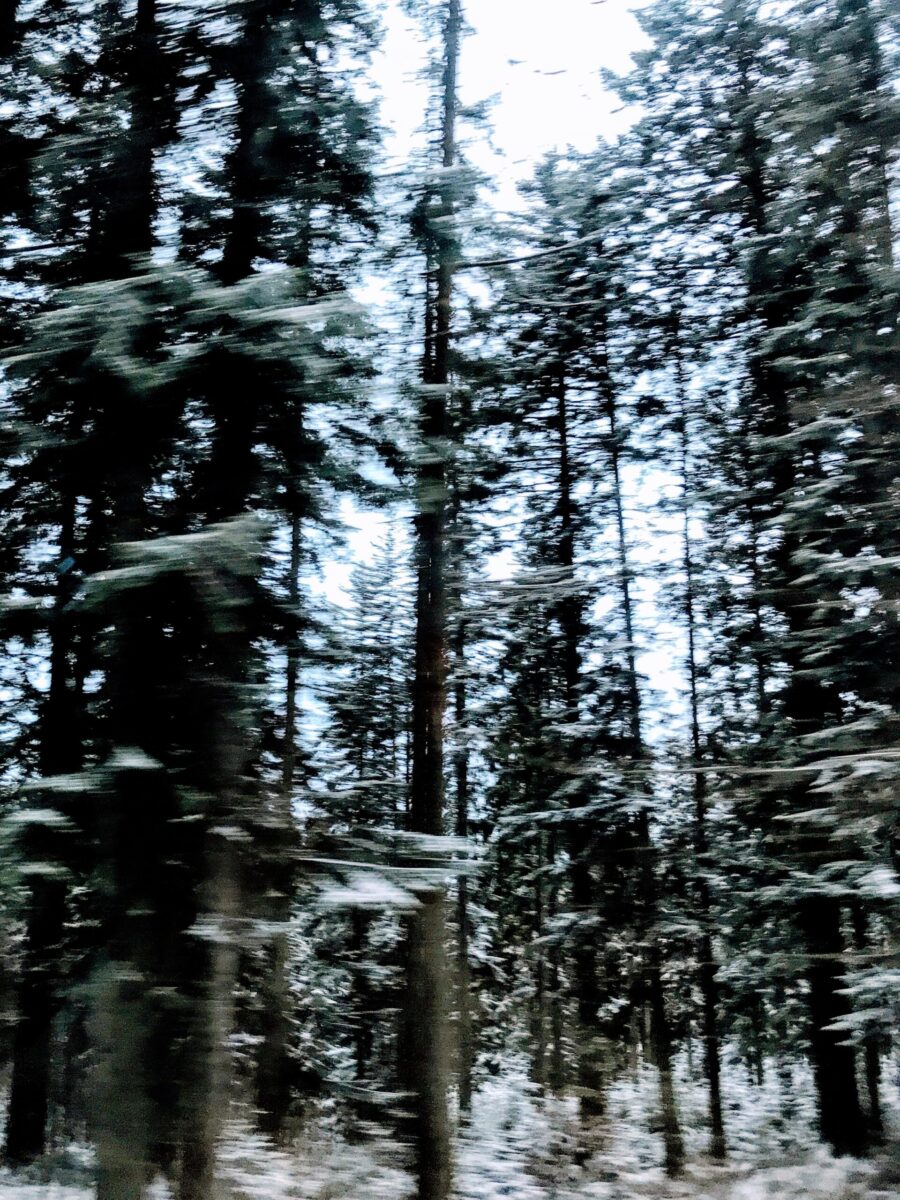 This was the ideal location to explore and would be definitely one to go back to with more time to really take in the trails. The mountain views were textbook and the snow made it even majestic. The entire area felt like a hidden gem…arguably because most people know to wait for the summer months.
The unsuspecting cable car station at Hrebienok was home to the world's best hot chocolate. Yes this is a fact and no I will not be accepting questions nor other contenders from the more likely regions of Belgium, Switzerland or literally anywhere else in the world. Who would have guessed that the quietest of cable car cafes in the middle of the Slovakian mountains is home to taps of liquid chocolate gold? What a pot to find.
This Polish/Slovakian trip was the ideal long weekend and although we very much made the most of seasonal offerings, I confidently suspect it would be a rewarding excursion regardless of the time of year. We're so lucky to be able to explore mainland Europe like this and combining historic cities with world-class mountains may well be my new favourite type of getaway.
Now if you need me, I'll be preparing our own 3 ft long zapiekanka with a side of hot cheese and icy vodka. Na zdrowie!
Places mentioned: