If Bangkok was our Thai starter, Phuket was the perfect main course. An easy and picturesque flight away from the capital city, as the descent from the clouds begins rugged islands emerge from the water and the coastline seems endlessly tipped with golden shores. This southern island has long been famed as a paradise of white sands and crystal waters; home to warm afternoons in tranquil locations and moonlit parties that transcend from night to day. After the horrific 2004 tsunami, it's a part of Thailand that had to rebuild itself. And rebuild itself it continues to do. A wealth of discovery awaits in Phuket – we couldn't wait to get started.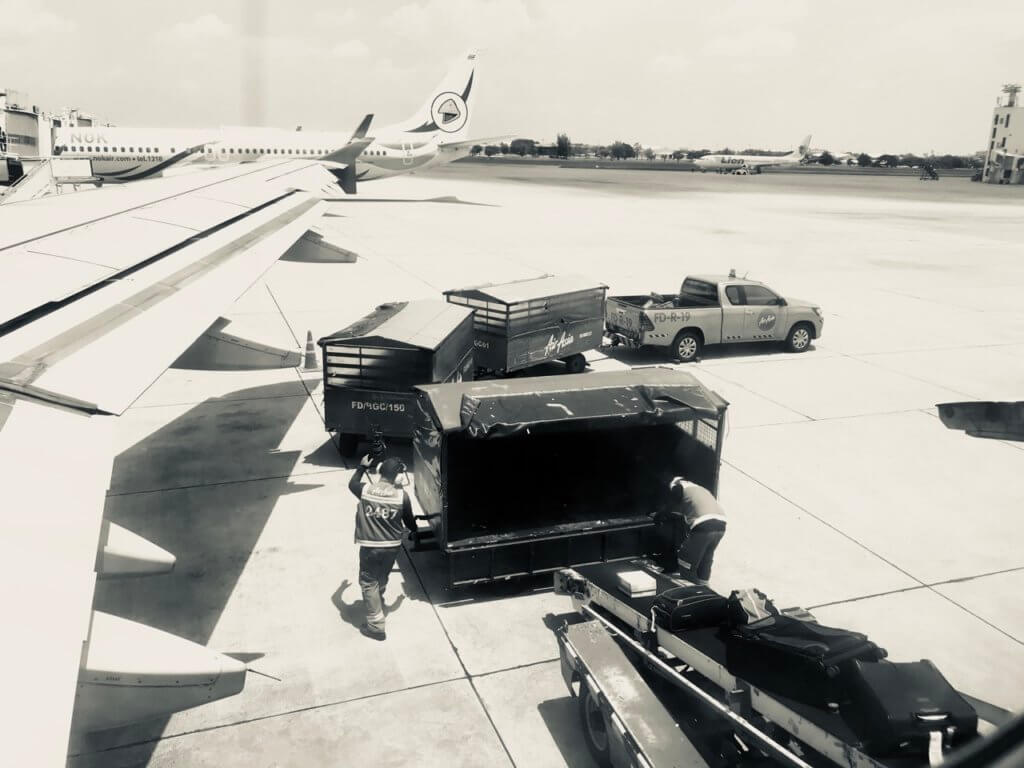 Ao Yon Beach 
Knowing full well that moonlit parties were not going to be a fixture on this particular Thai menu, I scouted out a side of Phuket that seemed far enough away from any mass commercial activity and instead allowed us to feel somewhat immersed in traditional Thai life. Ao Yon Beach was the perfect location. At the southern end of Cape Panwa lies this hidden cove, home to locals, a handful of holiday lettings and several restaurants. It's safe to say that as a Londoner I am not accustomed to having a house with a private beach, but thanks to our Airbnb experience in Ao Yon I can now say I've dipped my toes in that Big Little Lies style life. We maybe saw ten other people on the beach throughout our week there. It was incredible. We stayed at this Airbnb for a steal of a price. It's not fancy, but the location is unbelievable and it comes with free cats, hot tub, beach BBQ and kayaks. There is nothing not to love about this.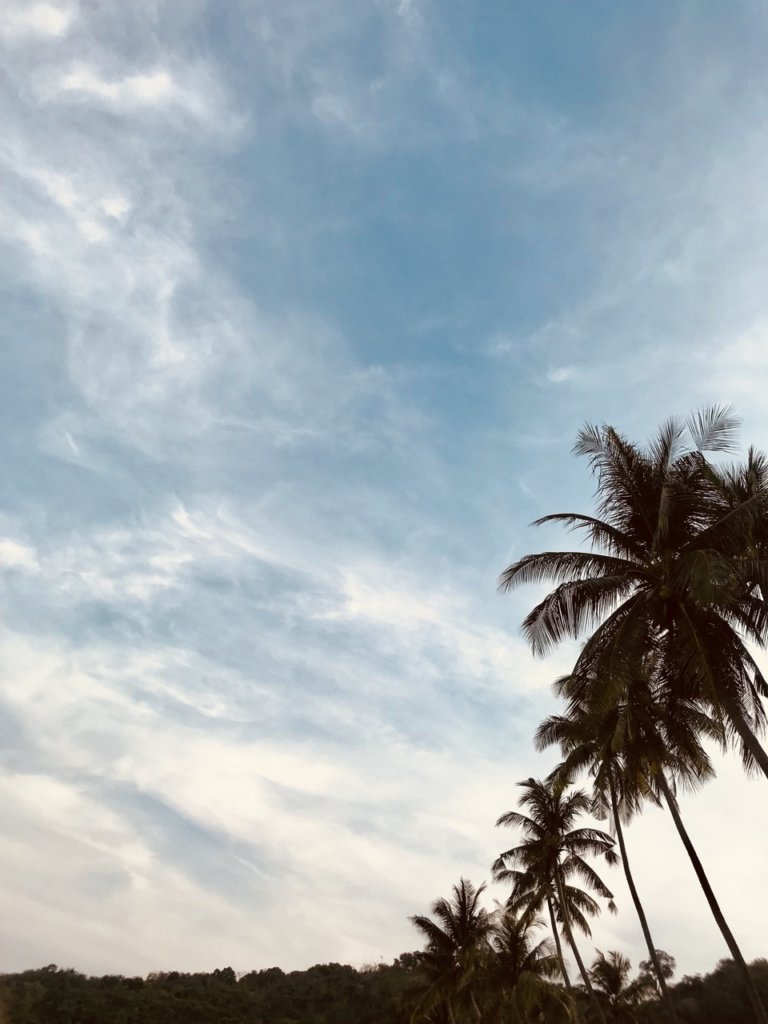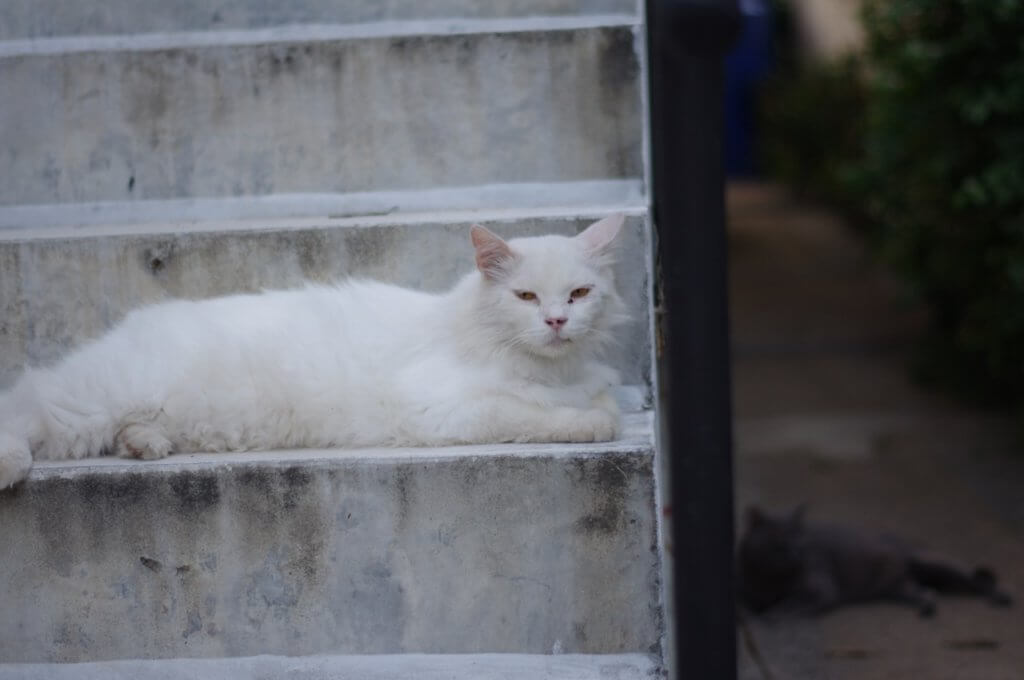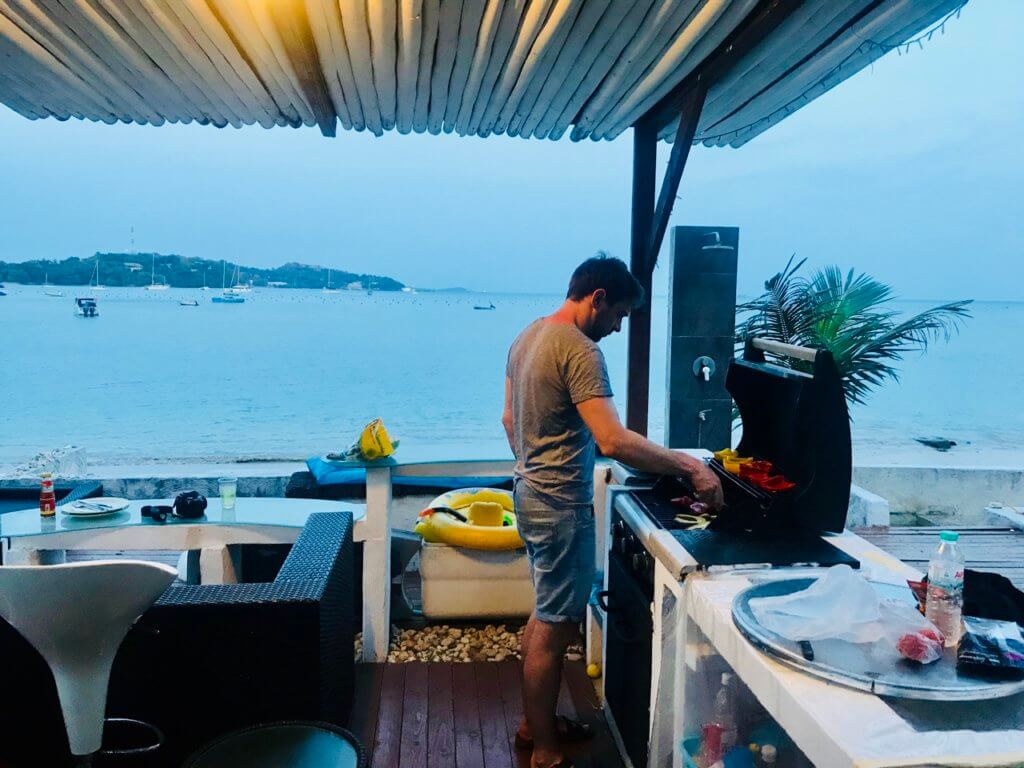 We had pre-arranged for the resident driver to pick us up from the airport and stop at a bigger supermarket en route so we could stock up on supplies (noodles and varieties of dairy-free matcha flavour milk) for the week. Along with such essentials, we also made a beeline for the wine aisle. Because no good beach house is complete without wine/beer/local spirits that looked too intriguing not to try. Unless you try to purchase them before 5 pm. Here's a fun rule the guidebooks forget to mention (/I just forgot to read), you can't purchase alcohol in stores between 2-5pm in case you're actually an escaped school child who has decided to swap maths for margaritas that day. Trying to decipher this rule at the checkout with a language barrier took a hot minute. I wondered if we had, in a super embarrassingly British way, decided to try and buy too many bottles which is why they wouldn't serve us but alas no. Not too much, just too early for acceptable drinking. Tragic.
Ao Yon itself is a rustic area, full of traditional Thai beach charm. The main beach is small in size (you could walk from end to end in maybe 10 minutes) with yachts harbouring in the bay and a working shrimp farm in the distance that a single rickety boat journeys to and from. Other beaches are in easy walking/kayaking distance and around the cove there are a handful of beachfront bars and restaurants to choose from. We particularly liked The Beach Bar for cocktails right on the sand and the Au Yon Seaside restaurant which we sheltered from the rain in one evening and ate some of the best food of our whole trip.  The whole area still feels relatively untouched from mass tourism but the building work along the road and addition of boutique looking hotels suggested that perhaps this might be about to change. With a local supermarket for essentials and a good choice of places to wine and dine, Ao Yon is the ideal base for exploring Phuket while still being able to return home, take a step back and breathe it all in.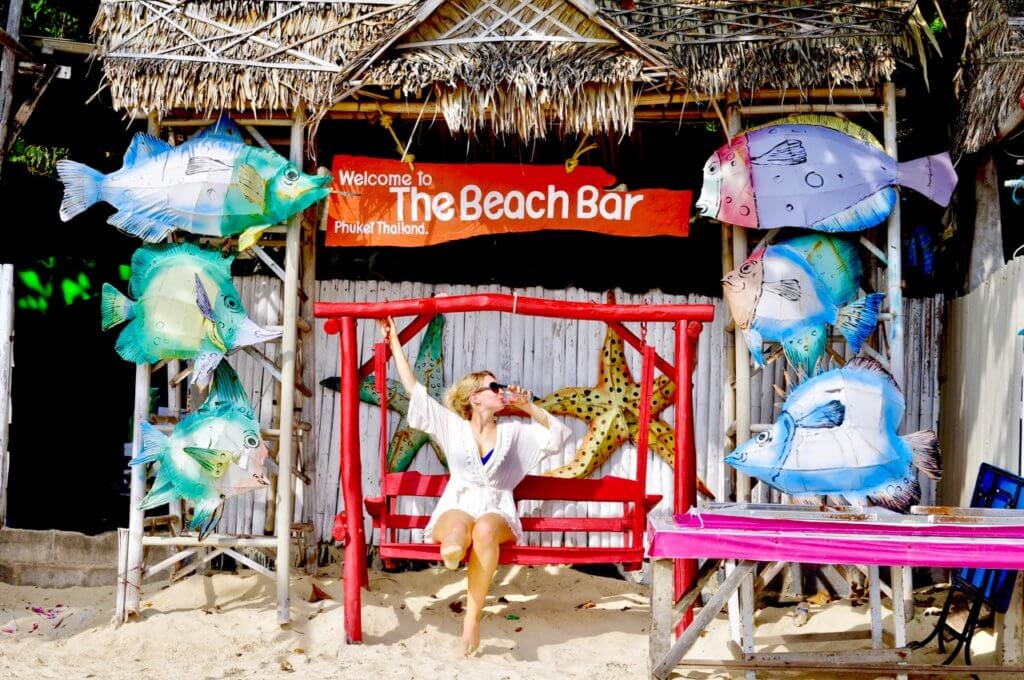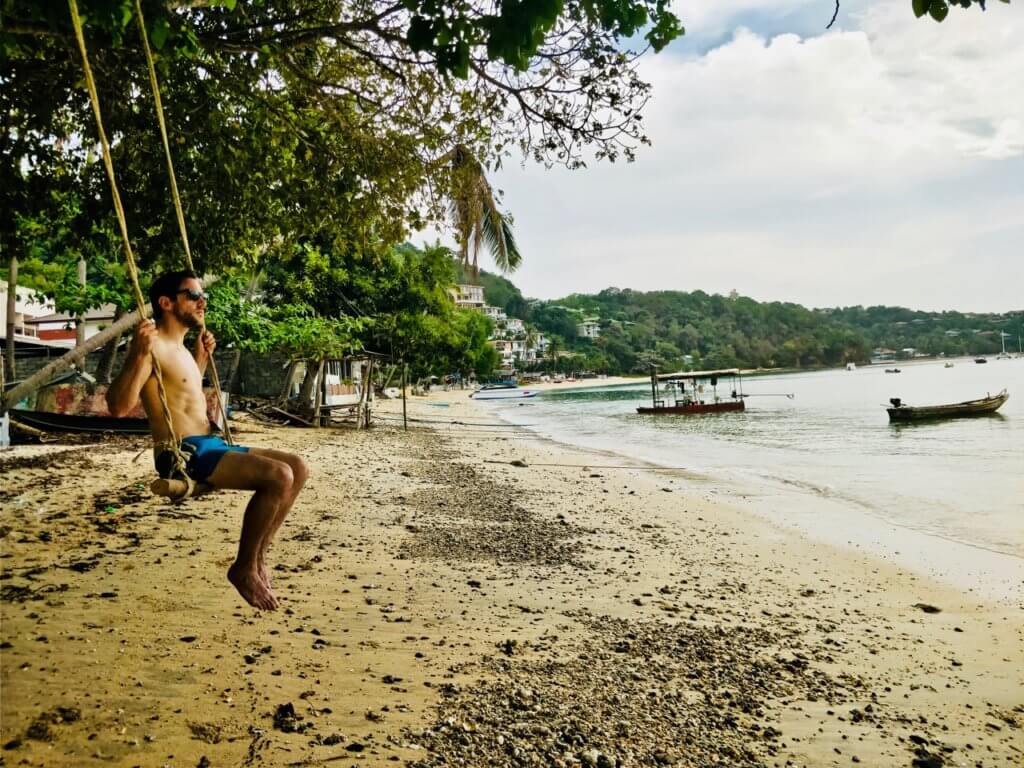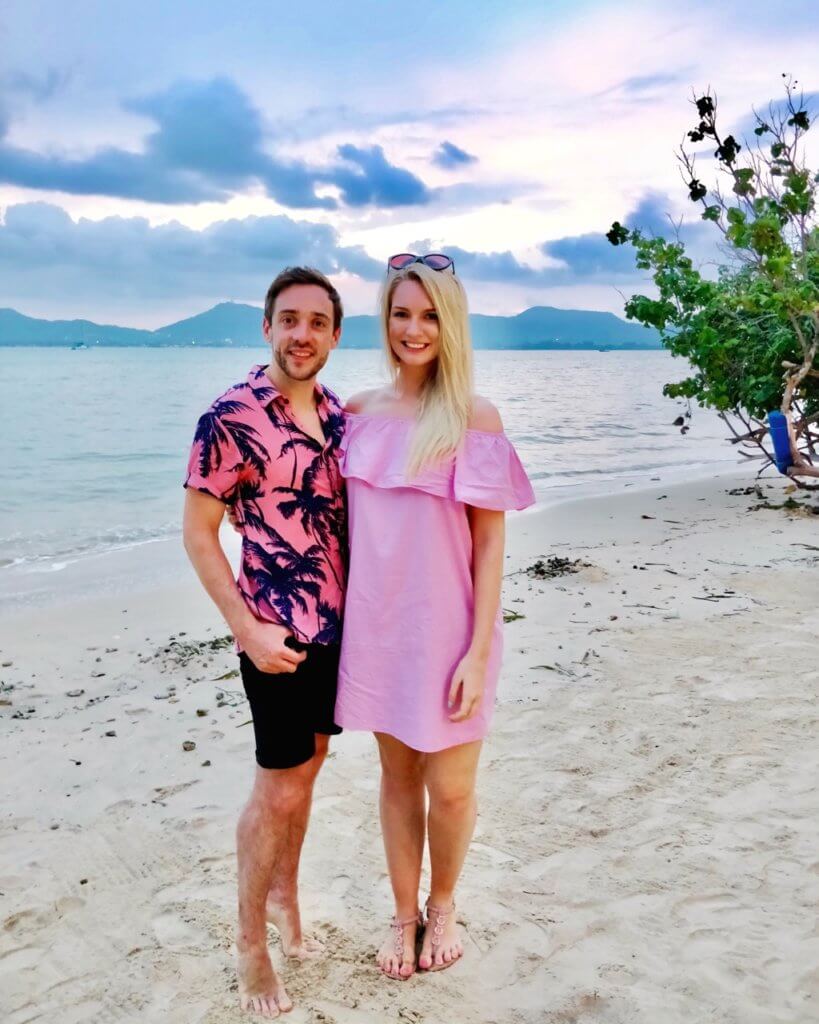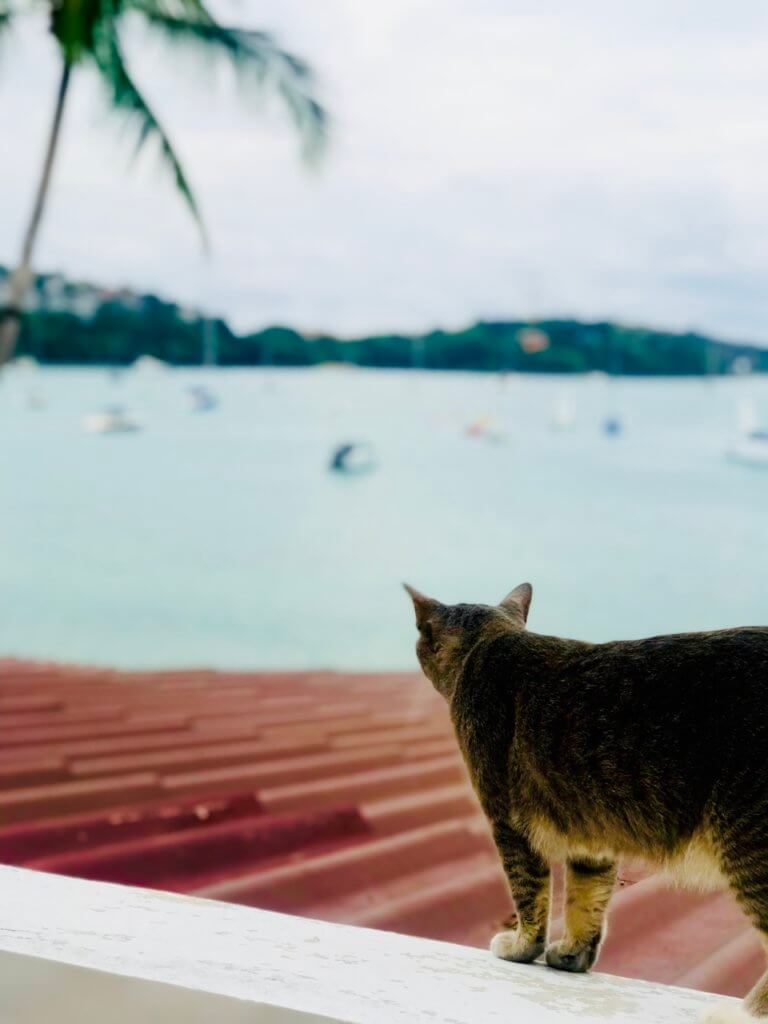 Oh and the sunrises aren't bad either.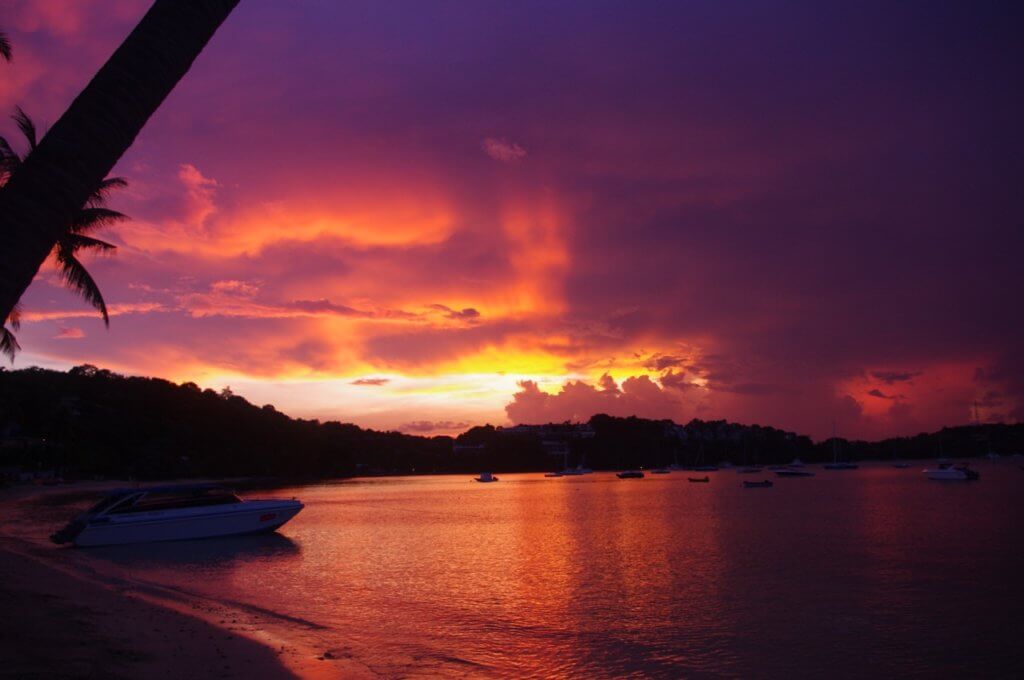 Phi Phi Islands
We pre-booked two day trips for our stay, both with Simba Sea Trips who were exceptional and masters of the planned excursion. Our first involved an early pickup and even earlier wakeup call but who really minds when a Phi Phi sunrise tour awaits. Not being able to island hop fully on this trip, shorter day tours seemed like the next best alternative and I'm not exaggerating when I say that the two separate days spent with Simba Sea Trips were two of my favourite ever. We were taken to Phuket harbour where we were swiftly caffeinated and introduced to our guide for the day, Momo. We admired an array of shiny boats as the sky began to shed its darkness and a burning glow coated the horizon. This was our cue to board and along with a small group of 10 others (the max group size will always be 16 on Simba trips) we sped off into the ocean pausing maybe twenty minutes in to witness this.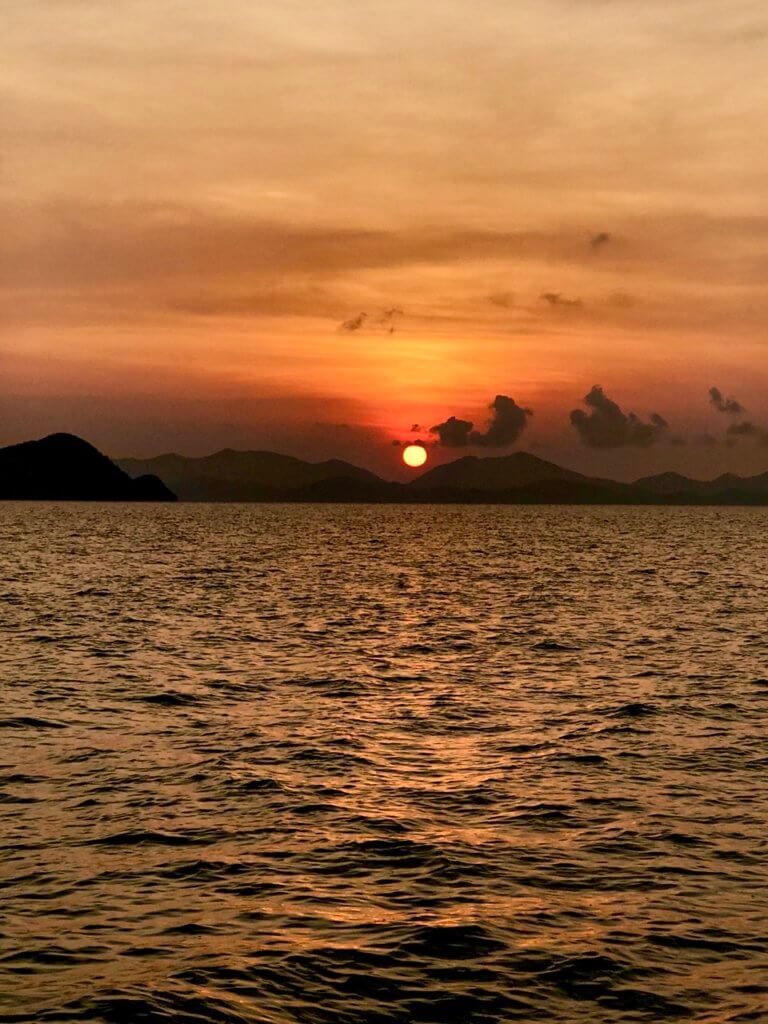 The trip organisers must be thrilled when the weather is this perfect. It was the most amazing sight and set the tone for the rest of the day's activities. The early start is so the boat can beat the crowds and beat the crowds we did. We enjoyed breakfast on Maya Bay (of The Beach fame) in all its glory before the traffic soon descended upon the shoreline. I'd actually not seen The Beach at this point so could take it all in with entirely new eyes. Tourism and the destruction it causes aside (Maya Bay now closes for several months a year to recover from the impact), it is definitely one of the most beautiful places I've seen. The actor in me can only dream of a location that blissful to work at. Actual job goals.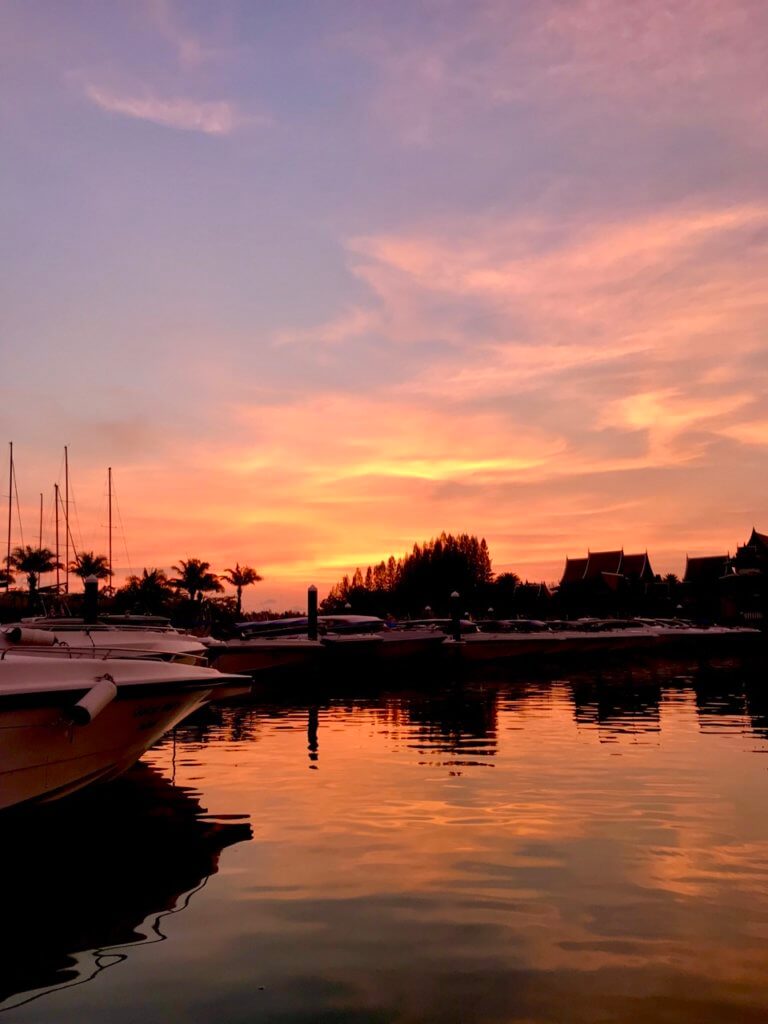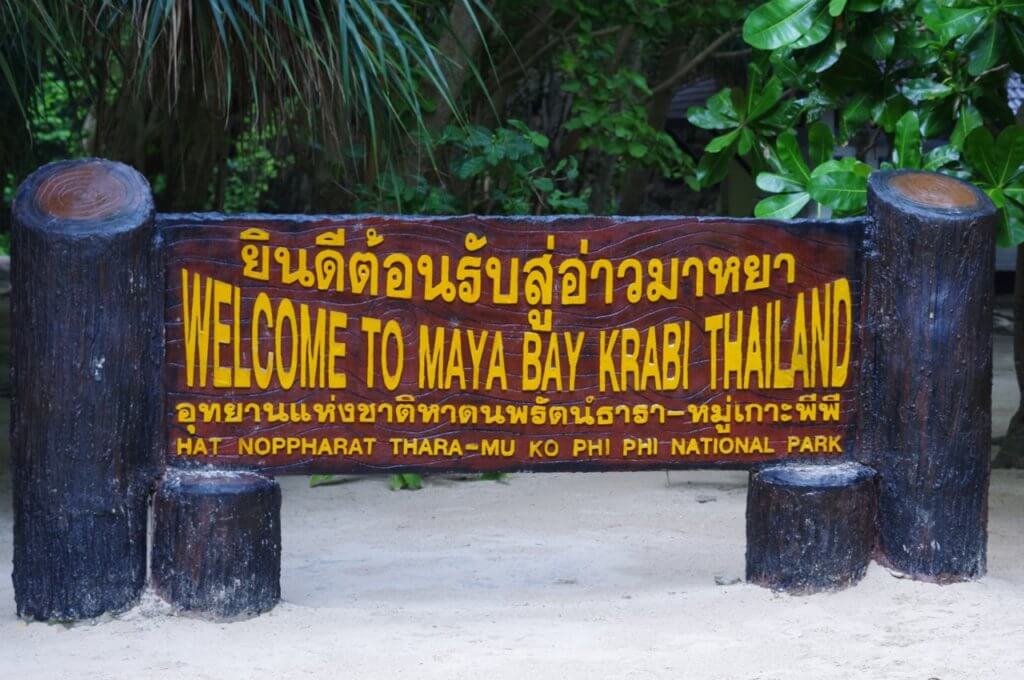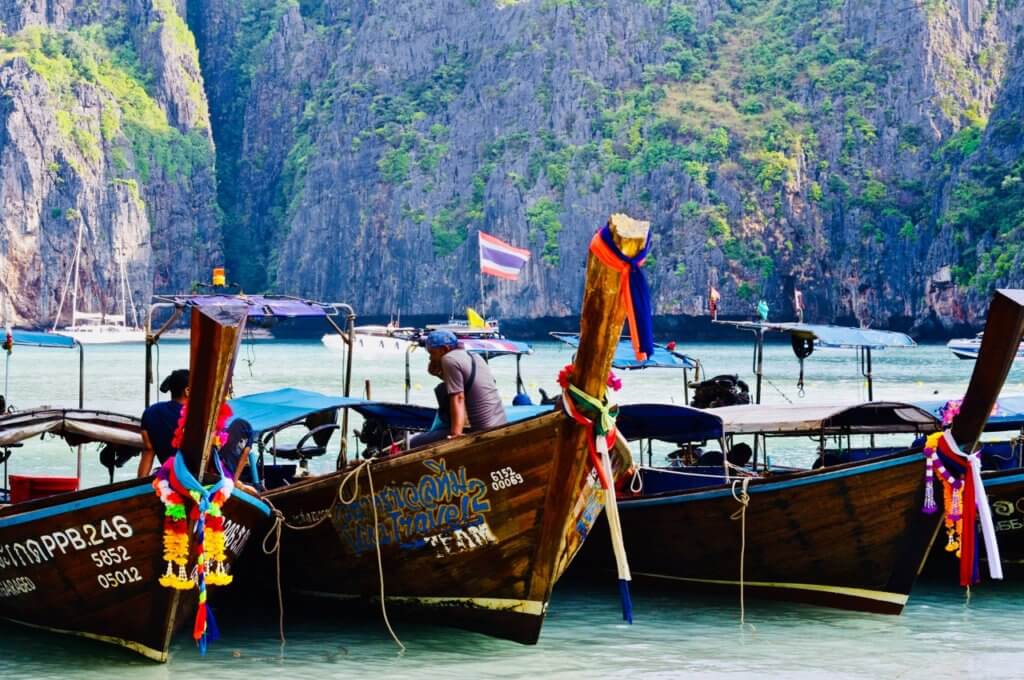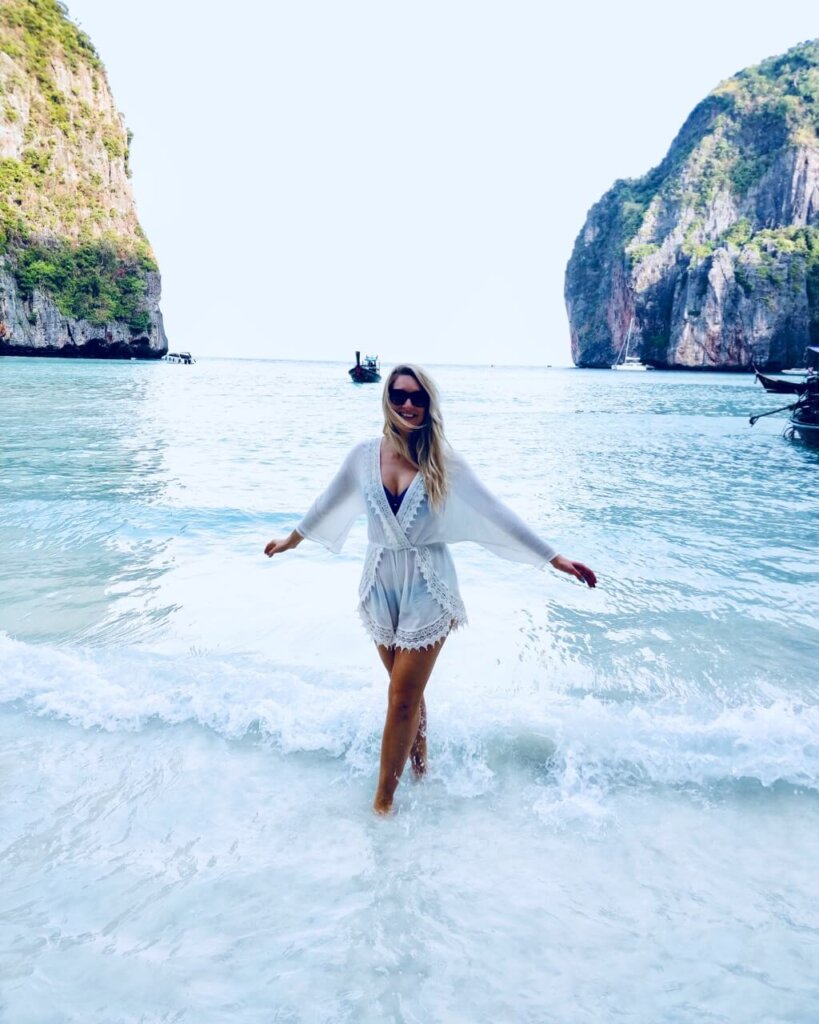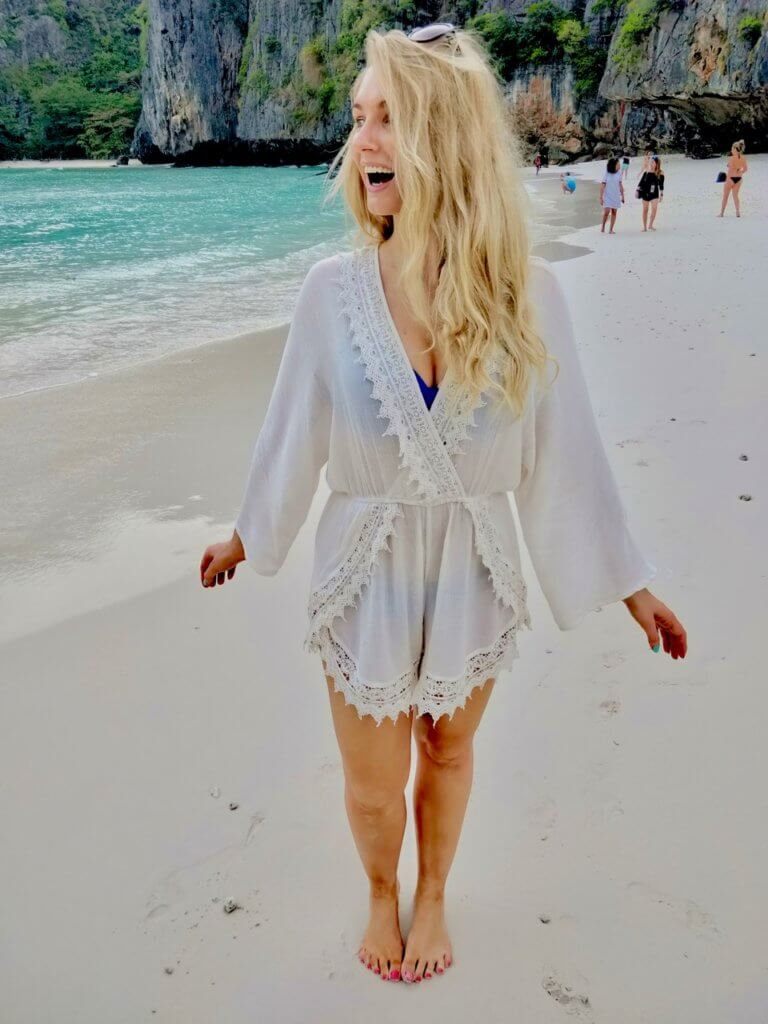 We snorkelled and swam in emerald waters, admired monkeys and questioned the behaviour humans who seemed intent on losing a small limb in the quest for a photo. Small monkeys are lovely, but our time getting to know all shapes and sizes in Bali last year was enough of an education in when to just be content in observing from a safe distance. Super cute. Super vicious.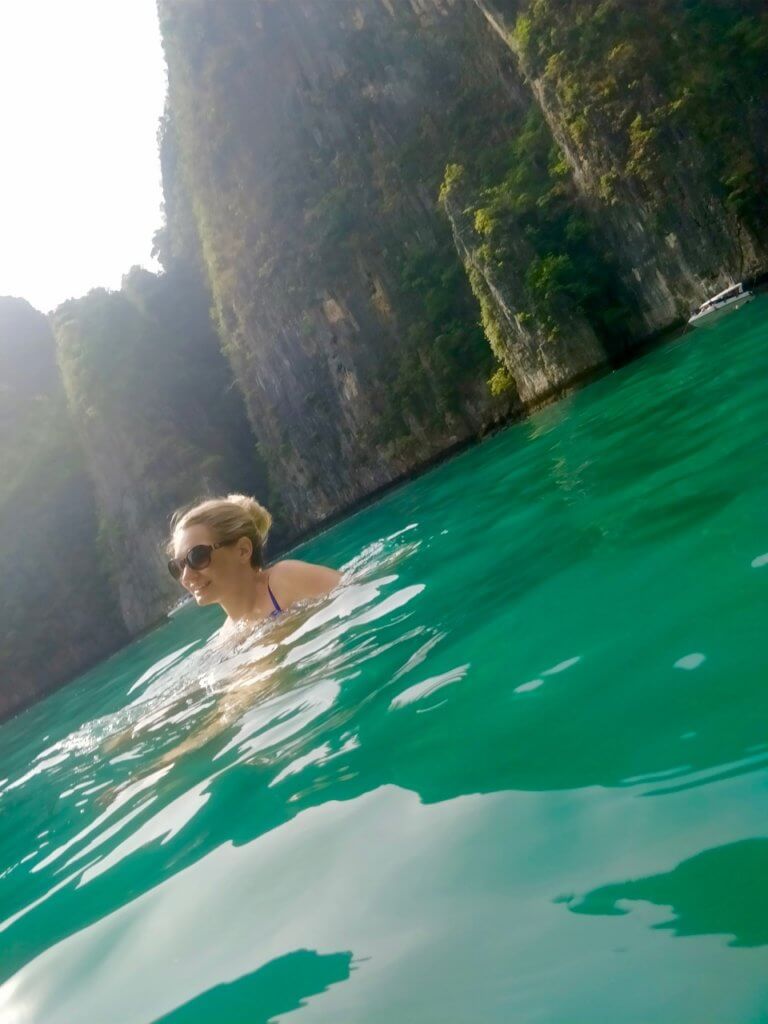 One of my favourite places we visited was Bamboo island which is essentially something right out of a stock photo. I've dreamed of visiting this side of tropical Thailand for years and it was every bit as wonderful as I wanted it to be. We were served lunch by the boat staff and enjoyed it right on the sand overlooking the sea which is how I feel I should now be consuming all my meals.
We ended the day windswept and full of wondrous memories. At this point, I was ready to pack my backpack and get straight back on an island-bound boat the next morning to live out all my island hopping dreams but alas, another early start awaited us and this time, we were jungle bound.
Khao Sok National Park
Out of the sea and into the national park, our second trip with Simba Sea Trips just so happened to be the very next day. Another day another outrageous sunrise, this time instead of a shiny boat we boarded a very shiny car which took us north and out of Phuket and into Khao Sok National Park. There were only four of us on this trip which essentially meant the staff outnumbered us and we could all fully recline on our luxury bus which was definitely designed for around 20 people, not 7. Living the transportation dream, our guide M was charming and characterful and we learned so much listening to him talk about his way of life in the village where he lives. A passionate environmentalist as well as an all-round lovely person, we could all do with being a bit more M and he really made our day an incredible one.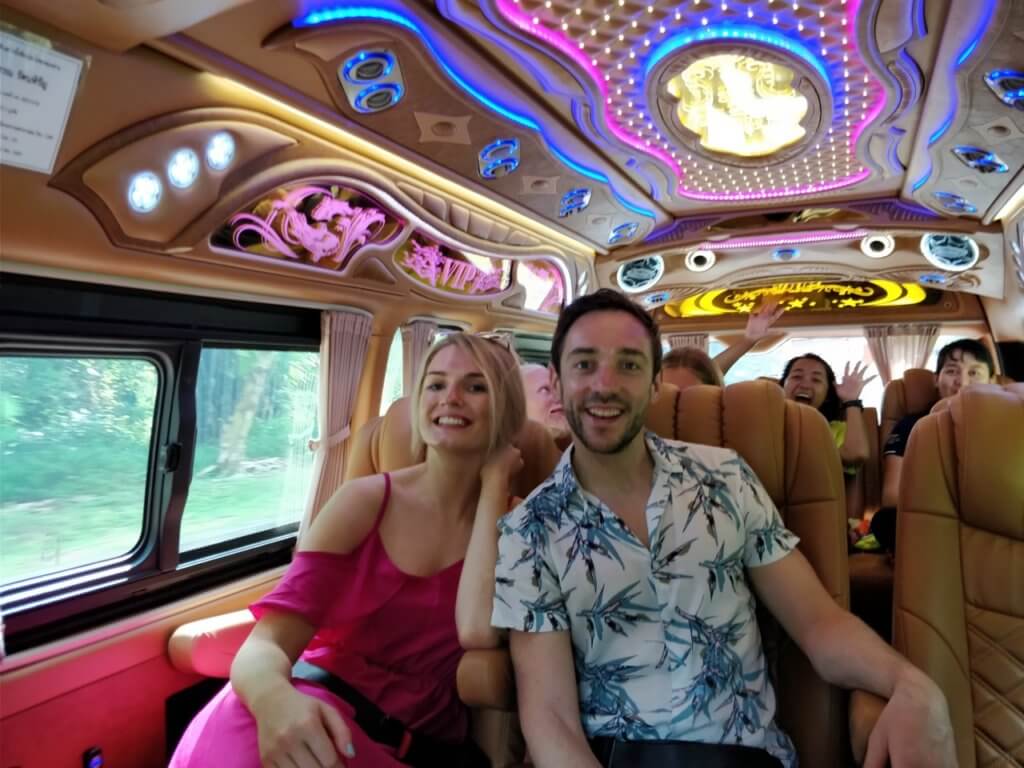 We visited monkeys (my favourite monkey experience to date, probably because there weren't hundreds of other people around all trying to get to them) and temples. It's always a good sign when you walk into a dark temple and a snake slithers by. Also, you cannot style out even being marginally not ok with this when you're surrounded by people who literally grew up in a rain forest and treat these things like pigeons. Fear repressed, the torch swiftly went on. Sandals suddenly seemed like a terrible idea.
Simba seem to really excel at serving meals with a view and the Khao Sok trip did not disappoint with the dining vistas. Breakfast at the foot of the hidden jungle Bang Riang Temple overlooking the forest below was particularly spectacular. It was so nice to be able to explore a temple in the way Buddhists had no doubt intended (i.e. serenely and not minutes away from heat exhaustion) and actually take in all the impressive and elaborate details that go into creating them.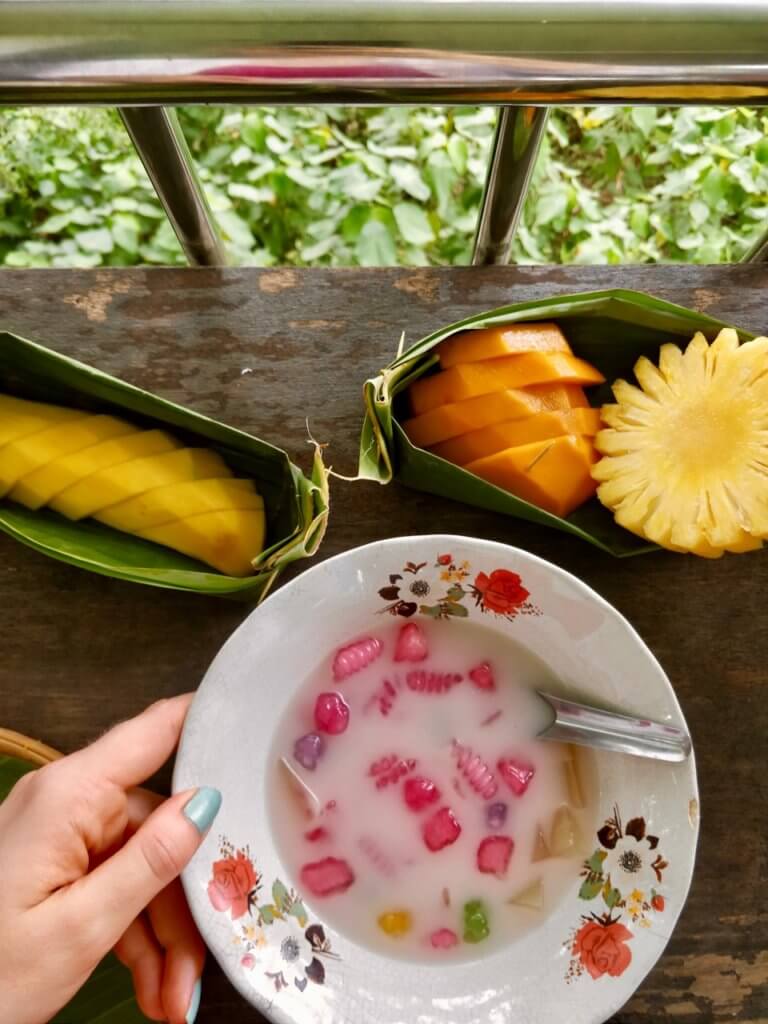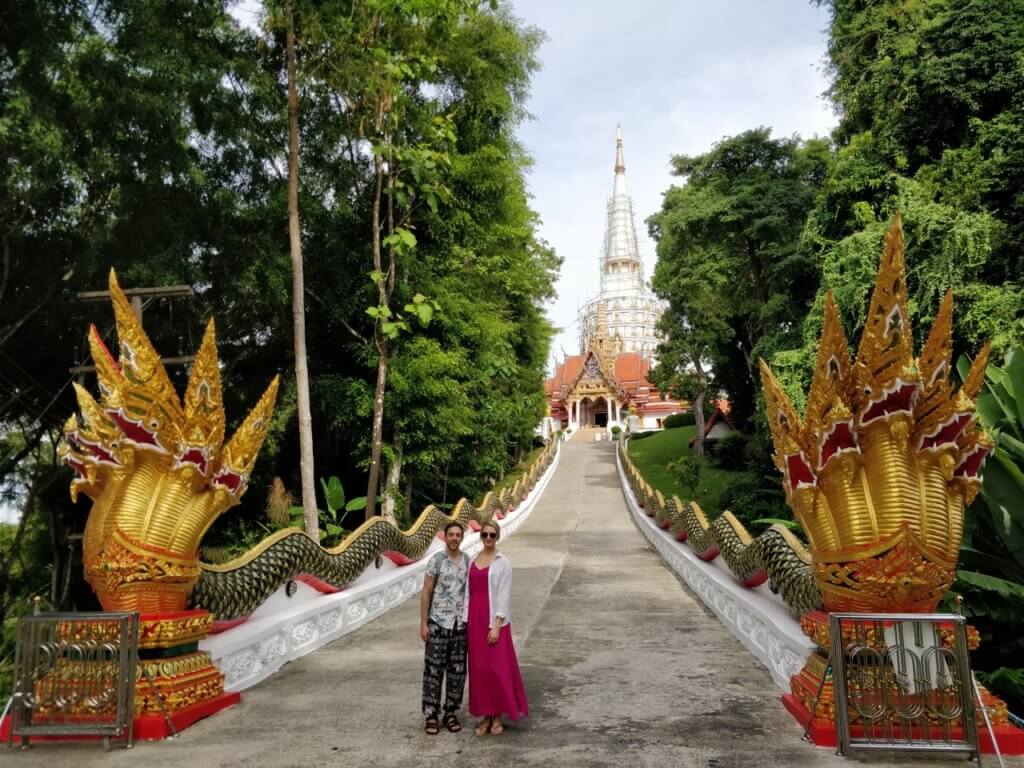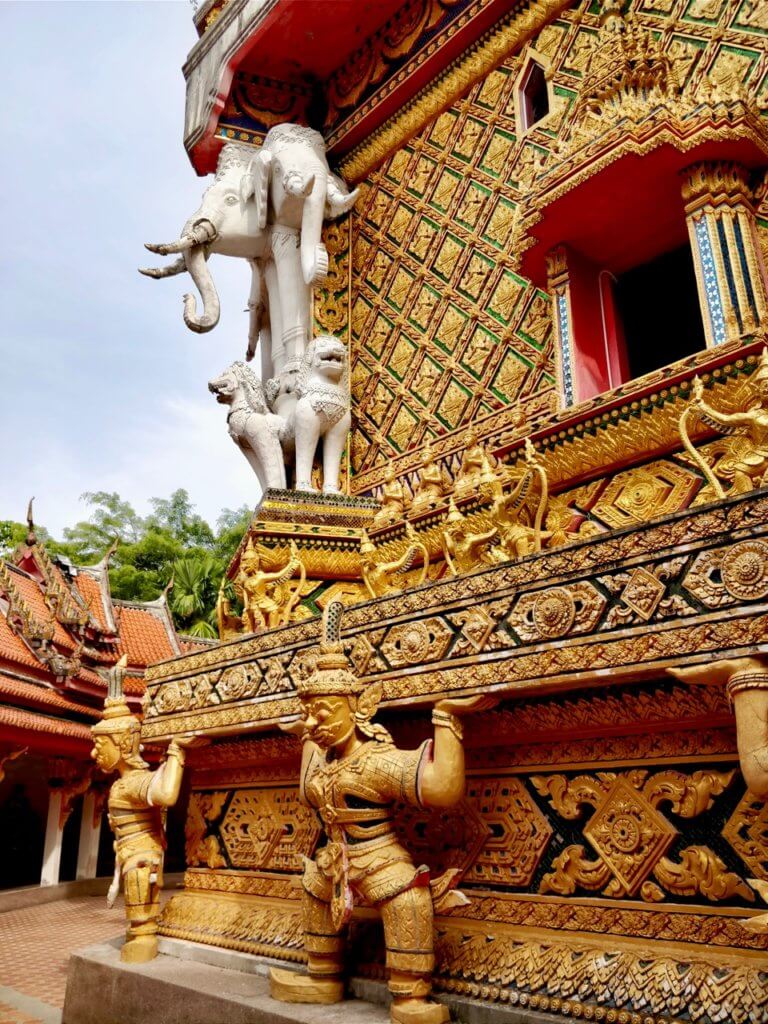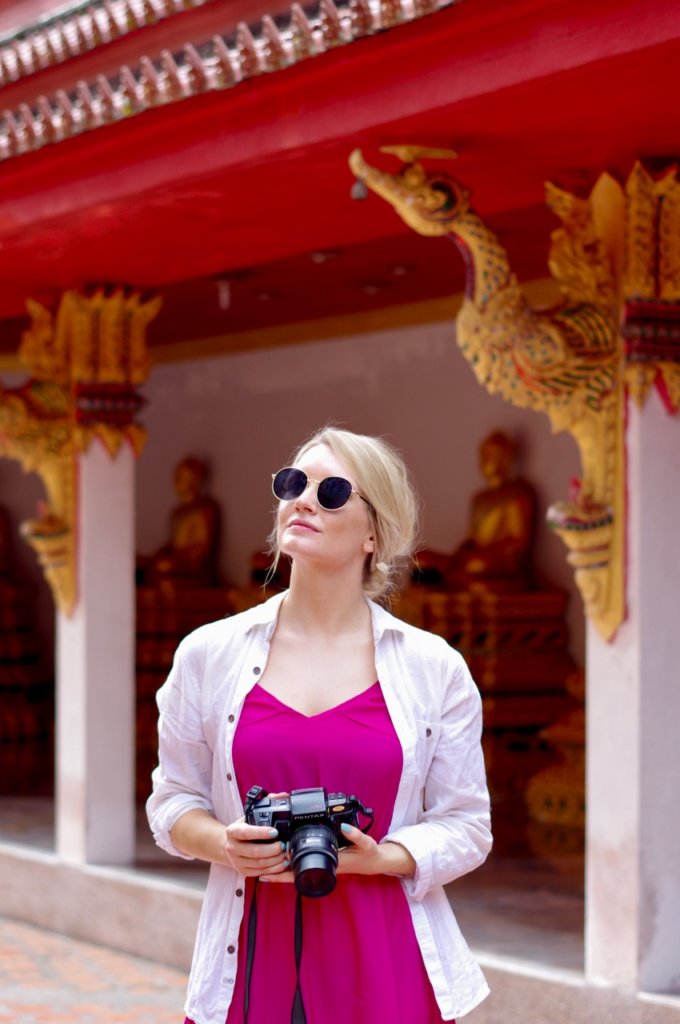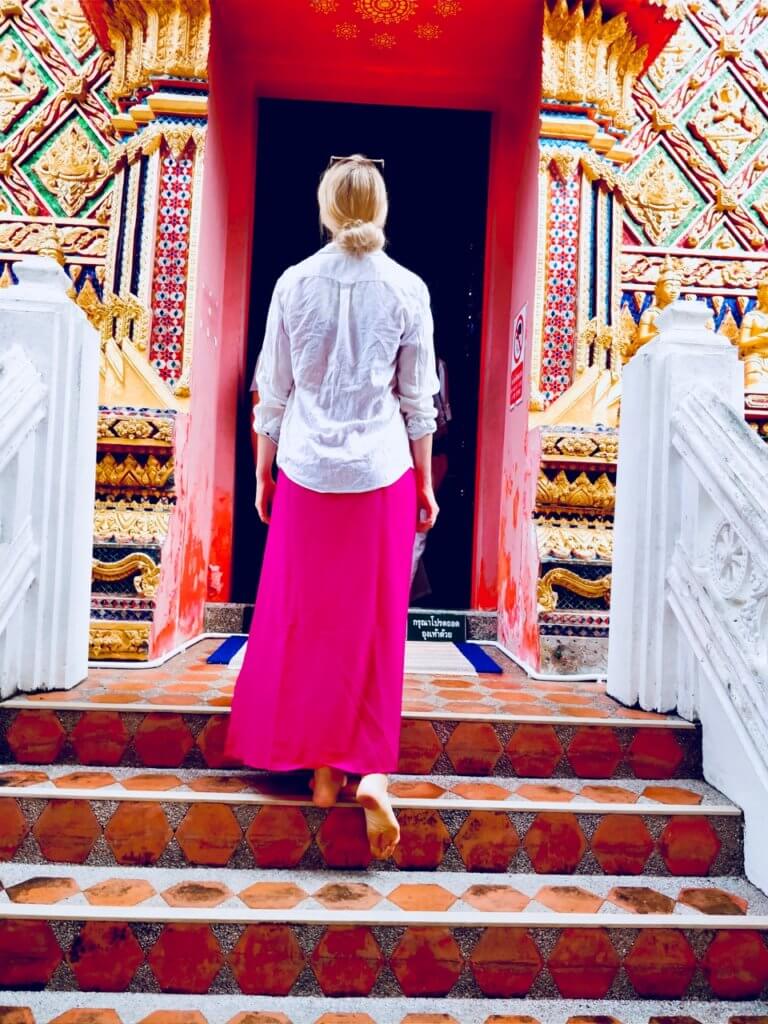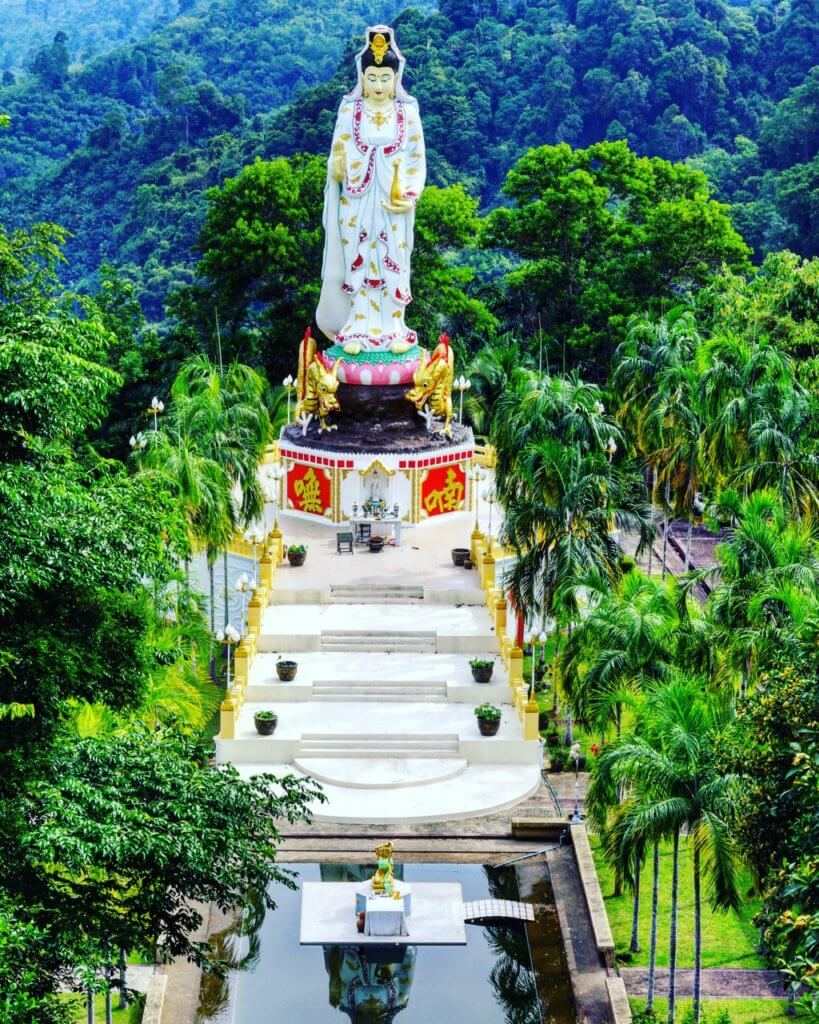 From the jungle, we headed to Cheow Lan Lake which is up there when it comes to impressive lakes of the world. We sailed on a local longtail boat alongside the majestic scenery of rugged rocks and limestone karsts bursting out of tranquil water. While the rainforest of Khao Sok is thought to be one of the oldest in the world, the lake itself is actually manmade and is connected to a dam that provides electricity. Not too dissimilar from Halong Bay in Vietnam (more on there later), the mind-blowing thing to me about Cheow Lan is how quiet it was. We saw maybe two other boats on the water and had only encountered a few other people when we turned a corner after a long time of nothingness and saw this.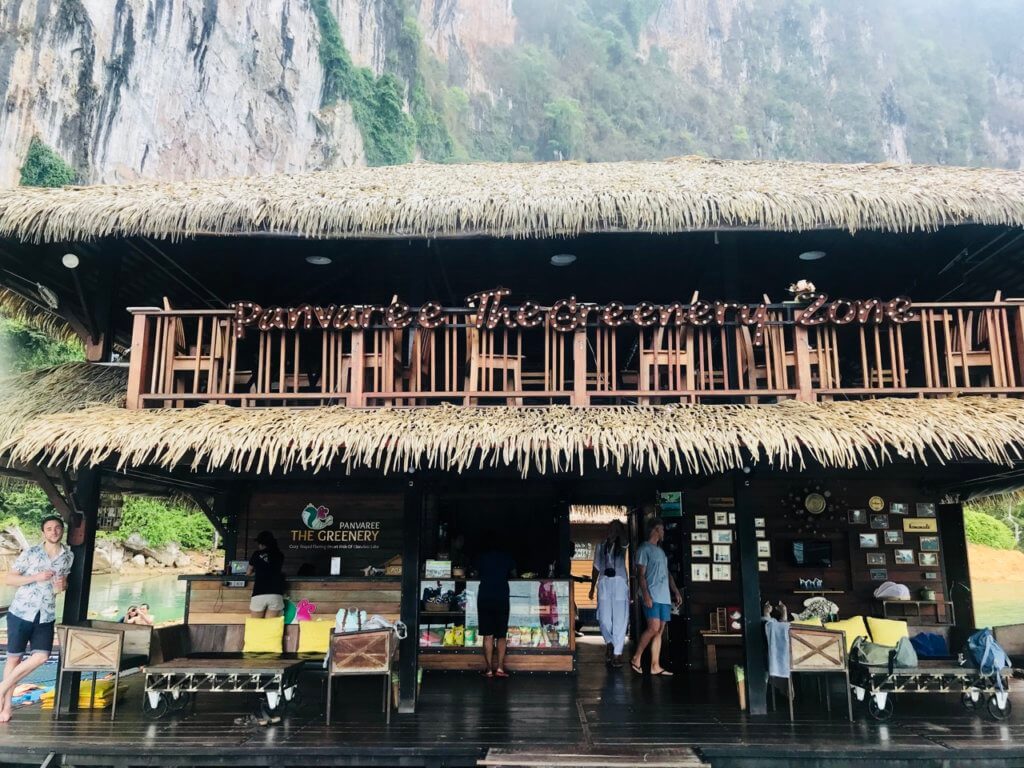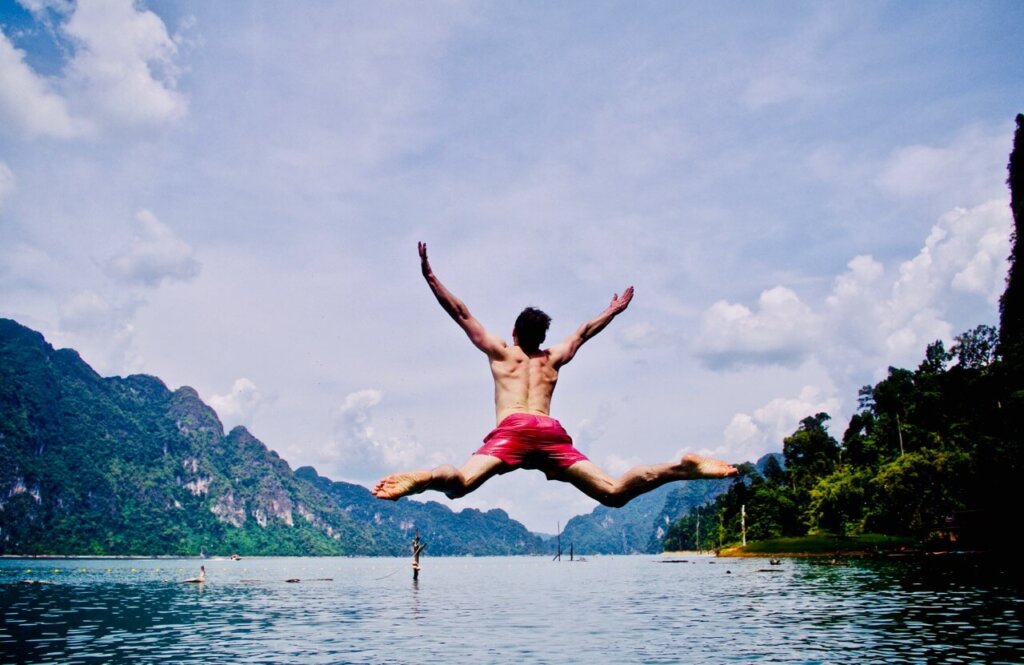 An actual floating restaurant/hotel/paradise on earth. Panvaree the Greenery is one of those unforgettable places that I already wanted to check in to and not leave the second we arrived. The surrounding water was as warm as a bath. The food they served was delicious. And the people were wonderful. Truly in the middle of nowhere, I can only imagine what the sky must be like at night. The afternoon we spent there was magical and I honestly hope that I can one day return and find it in just as peaceful a state as when we left.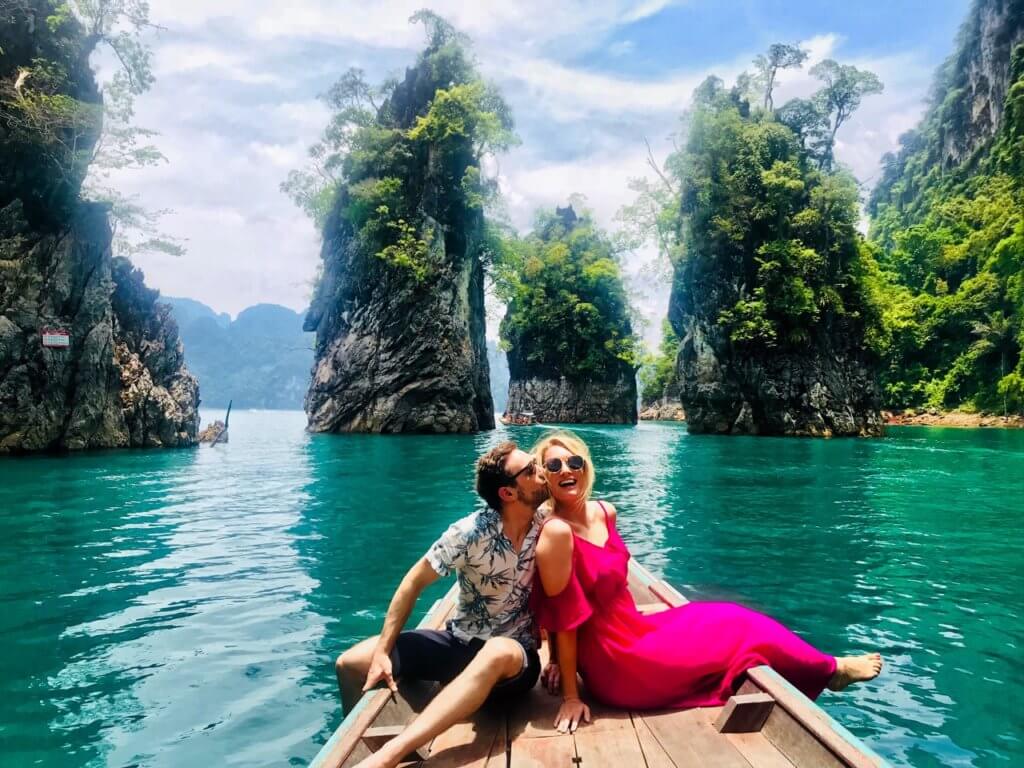 I cannot recommend Simba Sea trips enough. Their prices are higher than a lot of alternatives but you really do get a first class experience with knowledgeable and friendly staff who can't do enough for you. Their passenger safety is also their priority which is obviously a huge consideration, especially when travelling by boat. I'm so thankful we got to explore more of Phuket and Thailand with them.
Kata
After four days based in Ao Yon, we moved to Kata on the other side of Phuket. Namely, because we couldn't get the full five days in our Airbnb but also because we thought it might be interesting to see another side to the island. Literally and figuratively.  Turns out it was an interesting experience and one I don't have a strong desire to recreate in the future. Kata beach is nice enough but crowded. After days immersed in nature and coming into contact with minimal people, the bright lights of souvenir shops and bars were a little bit of a shock to the system. Nonetheless, life is never truly bad when you're in Thailand so we went to a surf bar, drank some good cocktails and watched people attempt to surf on a simulator which is actually much better dinner entertainment that it sounds.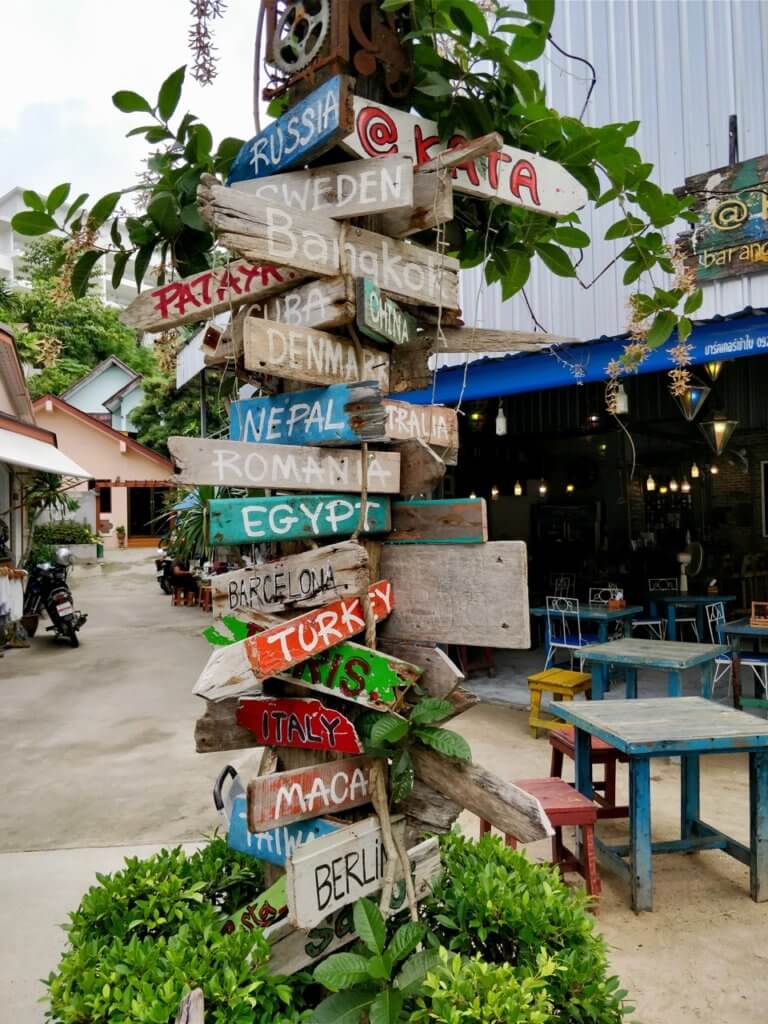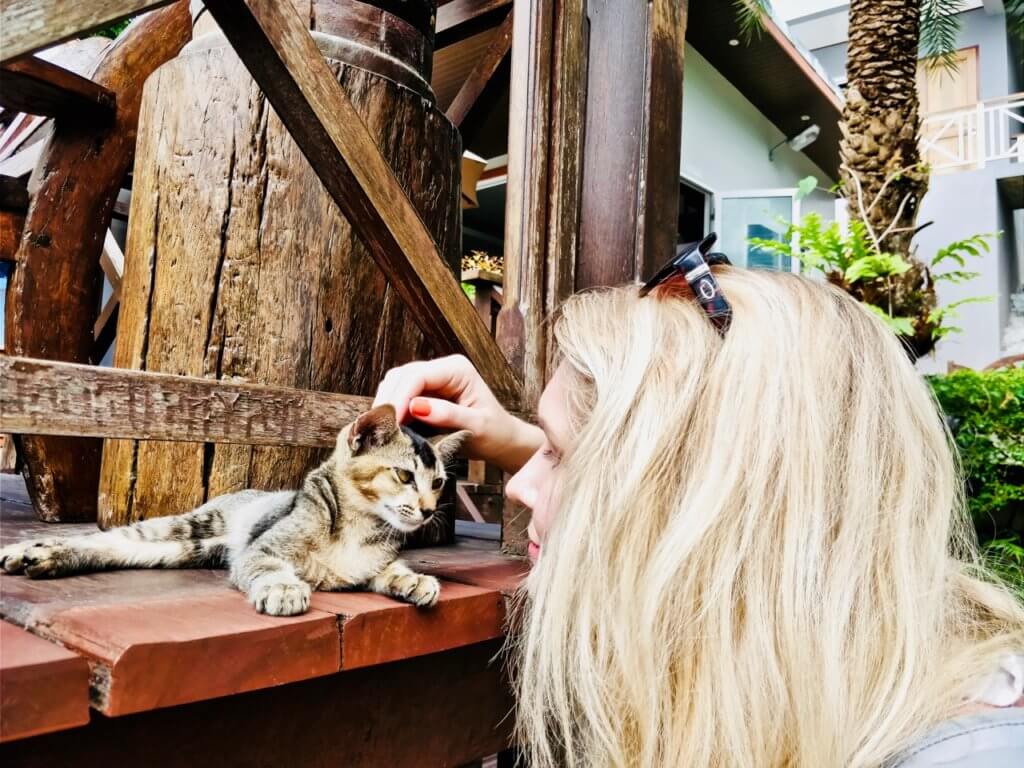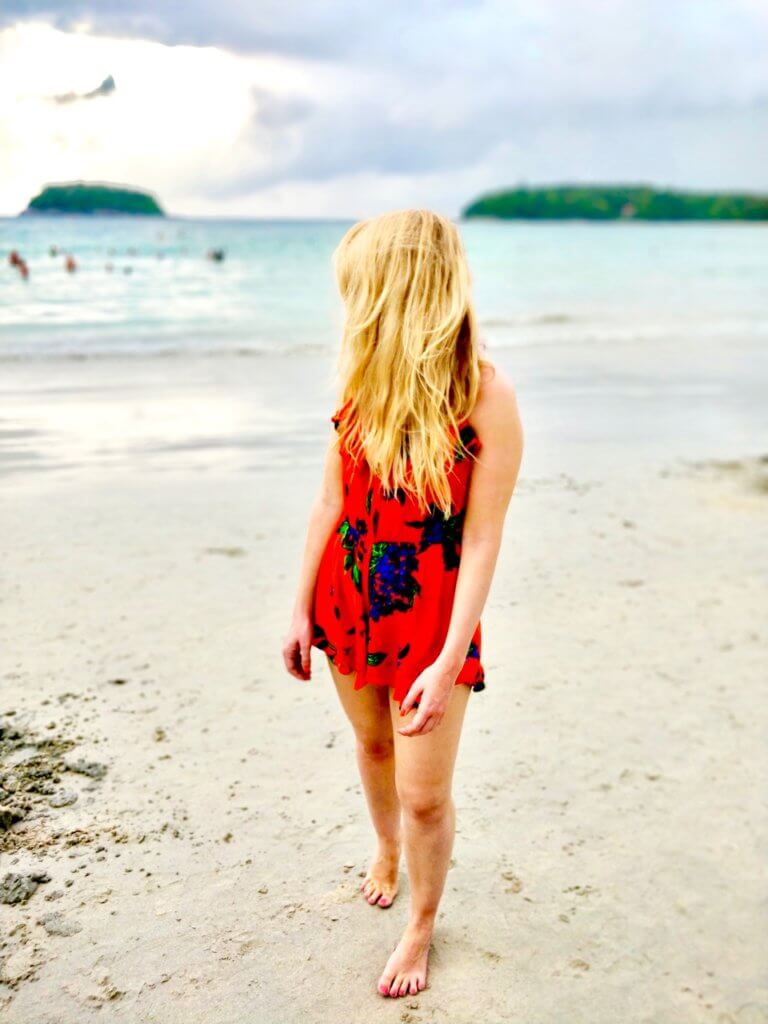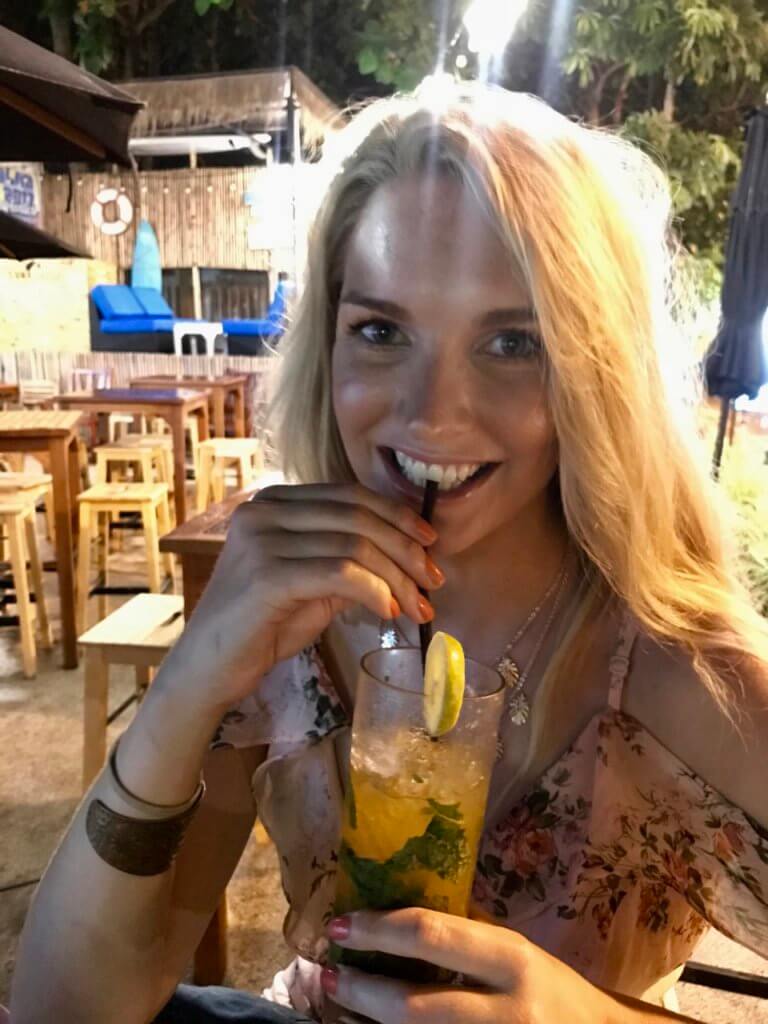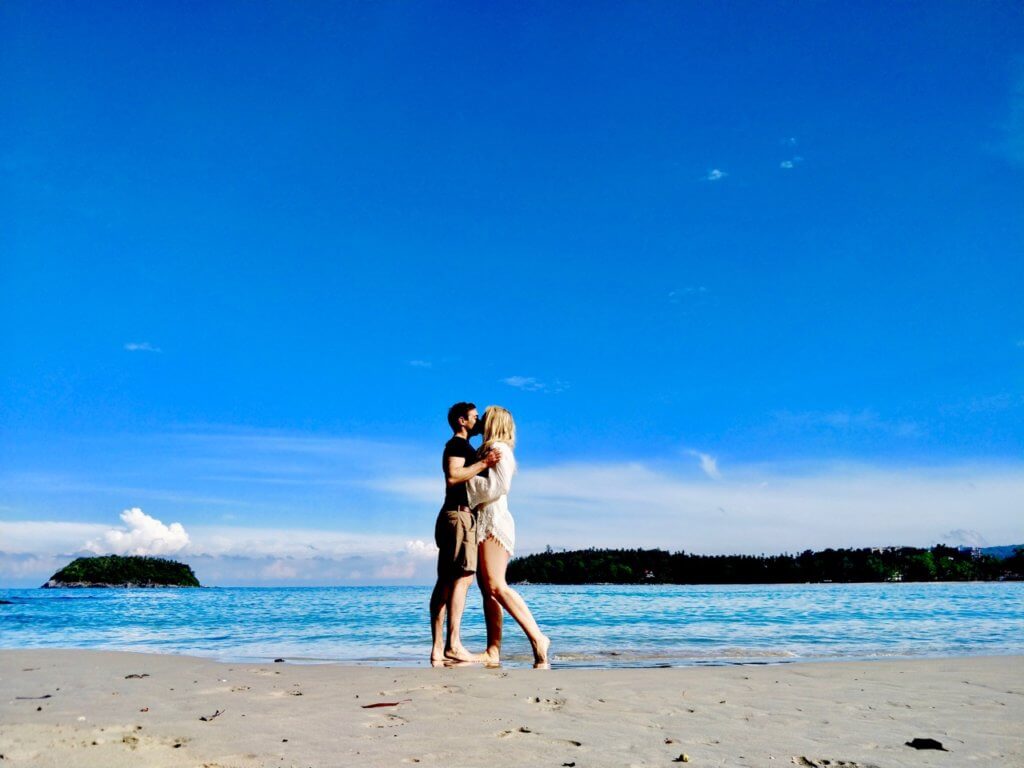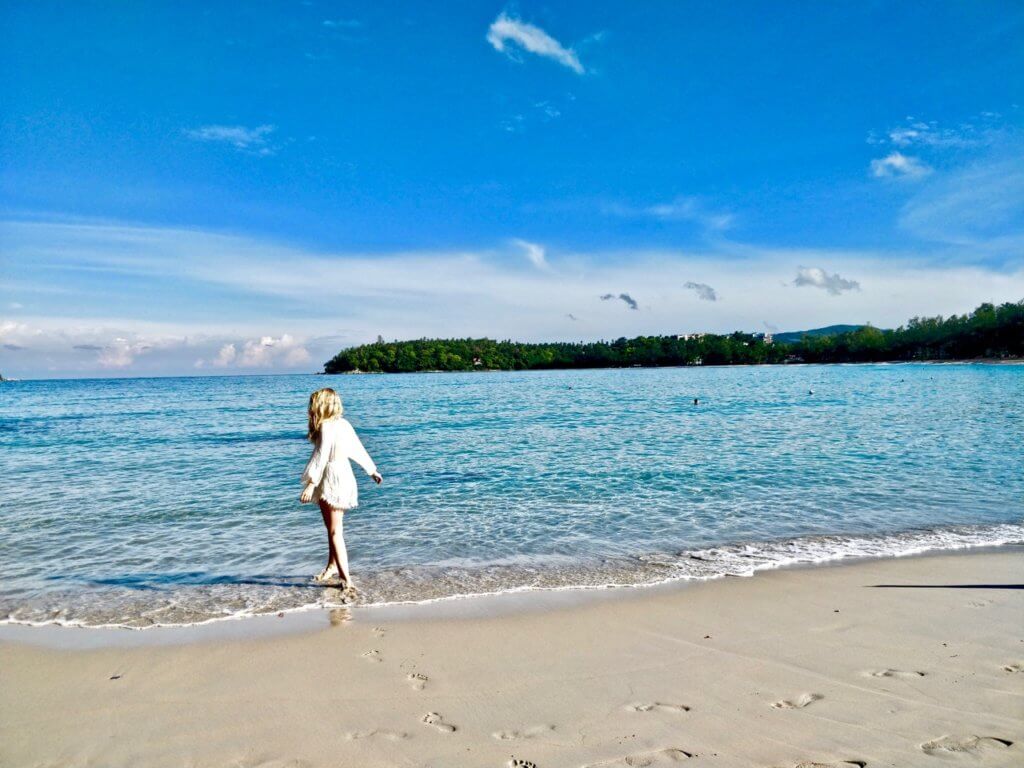 The next day we were airport bound once more and this time the call of tropical chic Chiang Mai was waiting for us on the other side.
Phuket is synonymous with Thailand and for good reason. There's plenty to explore both on land and at sea and the islands waiting to be discovered are a picture of paradise. Stay away from the tourist traps and in off season you can feel like you have parts of the place all to yourself. I loved how much we got to explore over our five days there and I know it's somewhere I definitely want to return to in the future. If anyone's ready to make the next The Beach, I volunteer as tribute…