Travelled in May/June 2019
The South. The Low Country. A broad way to describe the selection of states where sky meets sea, Spanish moss hugs trees and old fashioned charm is upheld in a luncheon or a cool glass of iced tea. Maybe it's the rose-tinted Nicholas Sparks impact, but there's no denying the South conjures an image of romance, of beauty, of simple pleasures. A place where time moves slower and the sun shines brighter. Pastel buildings and perfectly manicured main streets, cities built to facilitate so many ideals and yet as is the way with so many idyllic facades, the truth of the groundwork is less than beautiful.
The South is a region built upon slavery and behind the picturesque passageways are ugly stories of how they came to be. I believe these are some of the most beautiful places in the USA and deserve to be visited and enjoyed; as long as that enjoyment comes with an understanding. Separating the past from the present is only helpful if simultaneously we can acknowledge the presence of the surrounding promenades and pastures and how the green we now view, was never realised by those who they were initially promised to. By continuing to collectively learn, I sincerely hope we can ensure the future world will never see a repeat of the slave trade. There are so many resources out there for further reading from people who are far more knowledgeable than I am. Here's a good starting point from SCIWAY. 
We had four days to make it to Amelia Island in Florida for the wedding of our friends Steph and Matt. The birthday California road trip had been planned for some time and then in a wonderful twist of fate, we were able to push back the dates so it could coincide with my other dream mini trip to explore some of the south and make it to the wedding. It's these kinds of borderline-chaotic but wholly joyful weeks that really make you feel alive…Which is what I repeated to myself as we hugely underestimated LA traffic, missed our flight at LAX, un-missed it, and then sat waiting out the delays in an airport lounge that I'd truly hoped would have been much more glamorous and off-duty-actor-filled than it actually was. Less sweet dreams of LAX and more bitter reality of American Airlines. 
Our southern road trip eventually began at Raleigh airport where we arrived so late thanks to flight delays and then left later still thanks to hire-car delays. We picked Raleigh out of necessity rather than choice; I thought flying from LA to North Carolina would have been easy but the logistics weren't as simple as I would have liked and this was the closest we could get to our first stop: Wilmington.
Wilmington
Where we stayed:
Burris-Bunn house which sadly now seems to be closed.
We arrived horrifically late and were so thankful for the absolute graciousness of our hosts who stayed up to let us in. They were mid 1 am dog walk when we arrived to heat that felt like it was 1 in the afternoon. We had really been looking forward to an evening in and around Wilmington but as that had long disappeared along with any remaining sanity or sense of what time it was, we set our sights on getting up to make the most of the morning the following day.
It is painful for me to interject here that Wilmington is truly thriving right now when it comes to all things craft gastronomy. Our grand plans for embracing this may have been lost somewhere during our circa 4-hour wait at LAX but I hope anyone reading this has better luck than us and gets to indulge in the ways we did not. Beer festivals. Pleasing plates of gourmet junk food. Brewery tours. Coastal cuisine. Southern fare. Ale trails. It's all there in Wilmington if you have time to enjoy it. May the flight odds be ever in your favour.
Pleasingly, day time Wilmington was the ideal antidote to the stressful late night arrival. Our guest house was a shade of sunshine yellow and the only thing more pleasing than the real-life porch was the resident ginger cat. We had arrived into the kind of heatwave that the locals dread and only tourists embrace which could be why we hardly saw anyone during our hours there. I was deeply satisfied that the One Tree Hill presence could still be felt, even after all these years, and that Wilmington itself was as pretty as the screen had made it out to be. The peace of the riverwalk led us to the gentle hum of the old market where we sampled pecans and purchased hot sauce. Sipping on iced coffee we took in the largely empty streets, still really trying to push all longing thoughts about all the aforementioned missed food and drink aside. I documented many a mansion, for future reference, and delighted in the sheer charm of it all.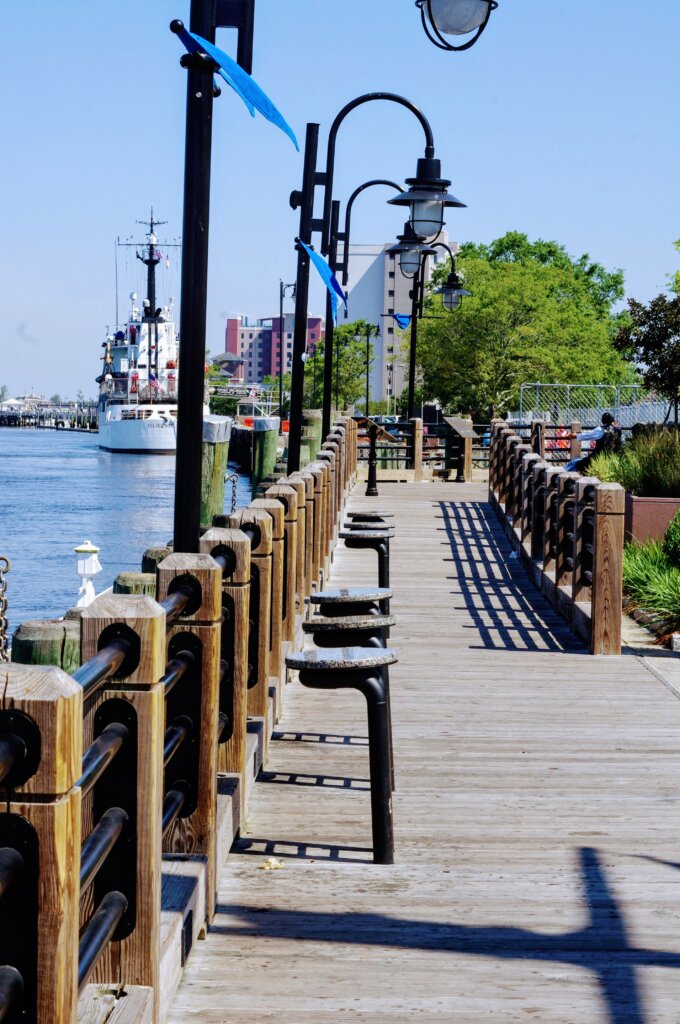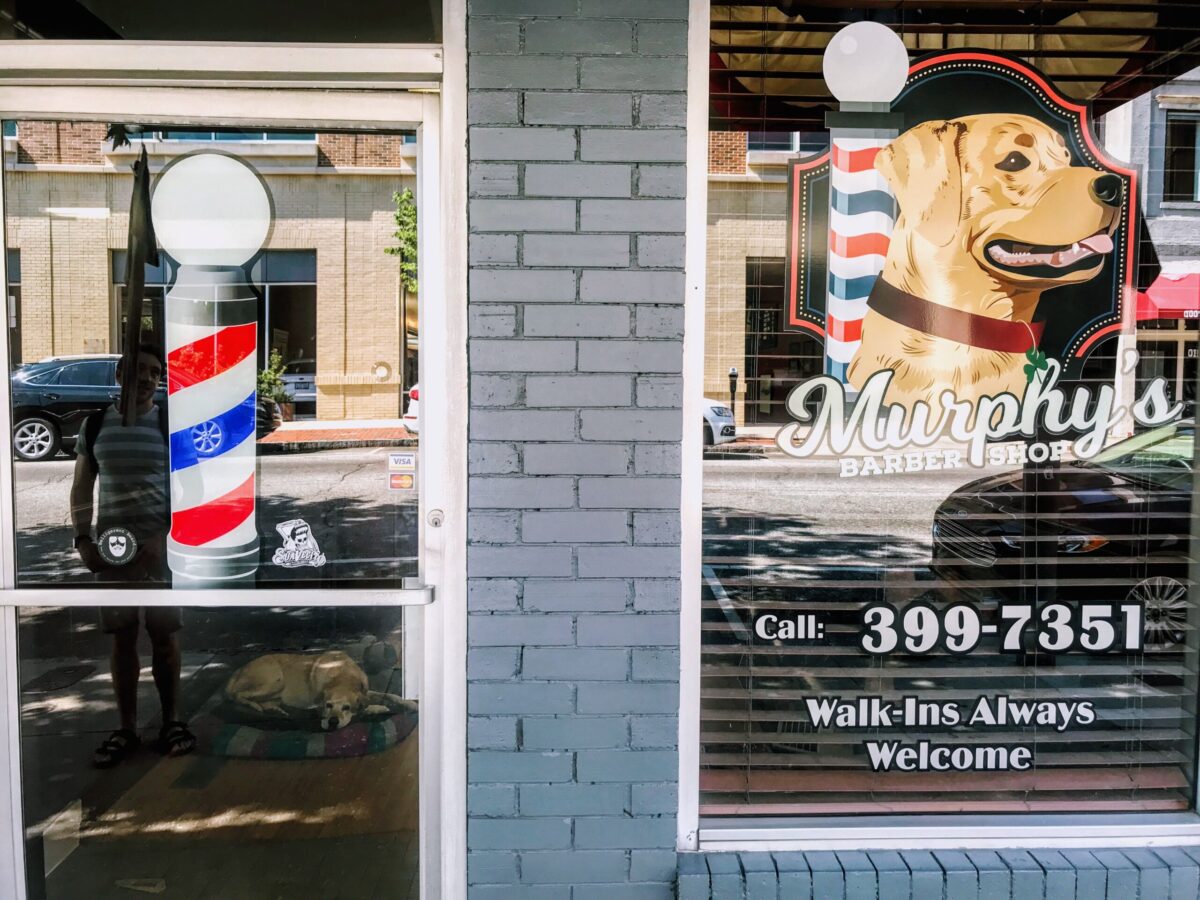 The route south from Wilmington runs alongside many of the country's best beach resorts and offers plenty of places to stop off either briefly or for a longer respite if time is on your side. If you can get beyond the endless array of colourful signage advertising bizarre attractions in a collection of loud fonts, Myrtle Beach has been a key tourist destination for many years; boasting a boardwalk and a plethora of activities. The actual seafront itself is a real white sand, blue water kind of affair, perfect for a picnic lunch in the almost 40-degree heat. Picnic is a generous way to describe our unintentionally reheated leftover plane food and the crushed remnants from our last Trader Joe's trip but with one eye firmly on the car that had the shortest amount of metred parking time owing to us having the smallest amount of change, it was a short but sweet stop. I am still to this day intrigued by the heavily advertised Dinopark. Maybe next time.
Places mentioned:
https://cheekymonkeycoffee.com
Charleston
Where we stayed: Charleston Days Inn Historic District
I was in love with Charleston before we had even arrived and I was looking to see exactly how I could secure a house/job/visa before we left. Stepping into Charleston was like stepping into a world I've never lived in before yet immediately wanted to embrace. A city full of uniquely elegant charm enveloped by the allure of the South Carolina coast. With limited time, we but scratched the soft-hued surface. Armed with a list of key places to visit and top contenders to eat at, we began our brief tour of this new favourite location.
Mount Pleasant is just outside of the city centre and somewhere I wanted to stop by because yes I am a fan of The Notebook and no I was not about to pass up maybe my only opportunity to live out all my Rachel McAdams fantasies. Pitt Street is a location that looks like it's been preserved from the 50s and so when we arrived to what can only be described as sheer destruction, we were a little confused. Trees collapsed in the road. Debris littered across the streets. Police cars stopping traffic. We wondered if a huge tropical storm had preceded the dry yet humidity-filled heatwave we were currently living in. And then I noticed the chairs. And the walkie-talkies. And then we heard "cut". There's nothing quite like coming to try and reenact scenes from your favourite film and inadvertently crashing the set of another. We may not have been able to fully appreciate Pitt St in all its glory, but we embraced the fake hurricane-filled streets for all they were worth regardless.
Hotels in Charleston are more "mini investment" than "mini-break" so we opted for a very average offering in a very nice area. I often believe this to be the best method, especially when a pressing agenda of non-hotel-based exploration awaits. The Days Inn does have a pool and they offered us free cheese (!) but after briefly exploring both of these options we swiftly moved on. The sky feels pinker in Charleston. The warm evening, calm buzz and glowy light were enchanting. We stopped for cocktails at tropical-chic Doar Bros before dinner at healthy-yet-hip Basic Kitchen. There are just enough people around to remind you you're in a city and an ideal ratio of boutiques to big-name stores. It may be a city, yet everything in Charleston just feels calmer. That sweet spot between going places and finding the ideal pace of life. 
There's a reason updos are synonymous with the south and that's surely because come summertime it is too darn hot to have even a single strand of hair coming into contact with your neck. The glossy pages of Southern Living did not prepare me for the shine that would be illuminating every inch of my skin within minutes of outdoor exposure. Suddenly scenes of fancy umbrellas, ornate fans, and picnic lunches under huge trees make a lot more sense.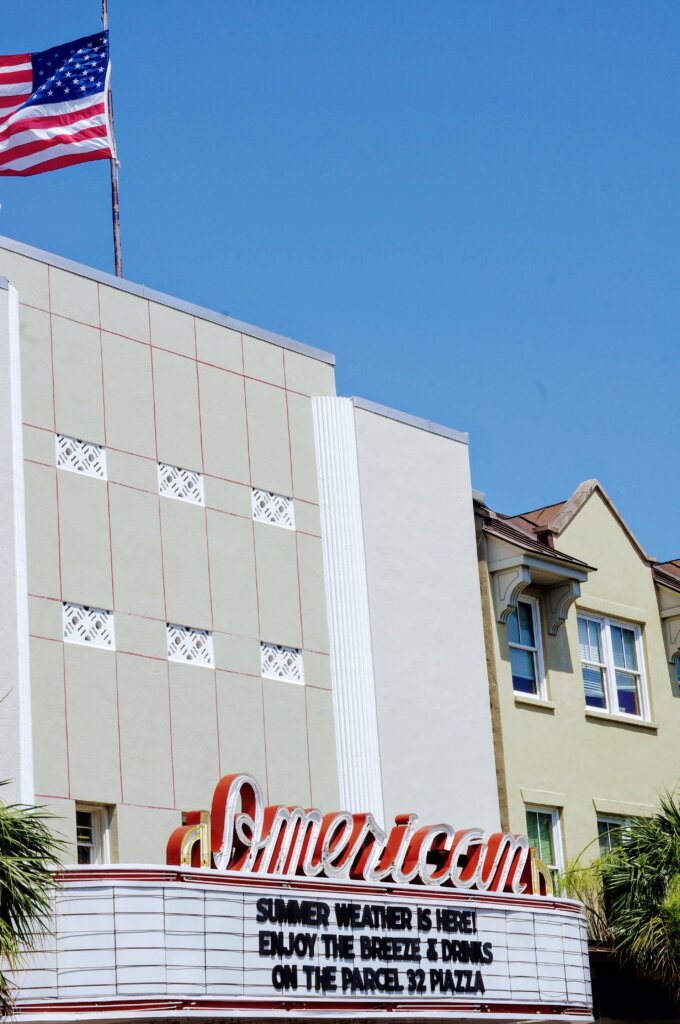 Visiting a plantation may not be on everyone's agenda, but for reasons of both historical interest and more of the aforementioned The Notebook love, I had wanted to visit Boone Hall for years. The drive out was both scenic and a stark reminder of darker days gone by. Sweetgrass basket stalls are dotted along the road, an art that was brought to Charleston by African slaves. The oak-lined driveway to the house is striking. It's painfully hot. The kind of unforgiving, wet heat that feels impossible to find relief from. As we constantly seek shade, it's unthinkable to imagine what life must have been like working here in the relentless sun. There are tours to go and talks to listen to. Walking around "Slave Street" is horrific. Seeing the names of everyone who had been subjected to this life is awful. Boone Hall is well aware of its roots and although I don't agree with glamorising plantations, I do believe this is an architecturally beautiful building that's home to a piece of history and lifestyle that's now, thankfully, almost impossible to imagine. 
We stopped at Butcher & Bee for lunch which is a great find full of of foods that would always be my menu go-to's. Vegan/Vegetarian food seems harder to find the further south you get in America, but I was pleasantly surprised by how much Charleston had to offer. Butcher & Bee is the kind of spot where lunch could easily turn into sundowners, their outdoor patio making it ideal for group gatherings that linger into the evening.
Back in downtown Charleston, we took to the streets. I was tentatively looking out for the ideal "little white dress" and couldn't shake my romantic fantasy of finding the ideal one in this most "little white dress" of cities. The shopping in Charleston was seriously noteworthy. We weren't exactly rich on time (nor spending money, for that matter) but it would be easy to spend days exploring everything that's on offer. We loved The Cannonburgh collective for adorable local gifts and struck gold in Model Bride where I found my dream not-so-little white dress. I actually found several dream dresses and still regret not purchasing all of them to wear to all the dream fancy lunches that I am very much not going to. There was about an hour where I had to face my buyer's indecisiveness head-on. This was the second wedding-based dress I was going to buy within a year and I'm pleased to report I was equally bad at making a decision to invest the second time around. Knowing time truly wasn't on our side, we retreated into Jenni's for some perfect ice cream that was eaten with a mixture of stress and true delight as I frantically messaged my Mum hoping that she was a) awake and b) able to offer reassurance that this dress was the right one. She was. It was. We all lived very happily ever after.
Before having to move on we made a visit to the waterfront and the iconic Pineapple Fountain (now my official favourite fountain) and surrounding rainbow streets. I really can't think of a better description than dreamy. That's truly what it is.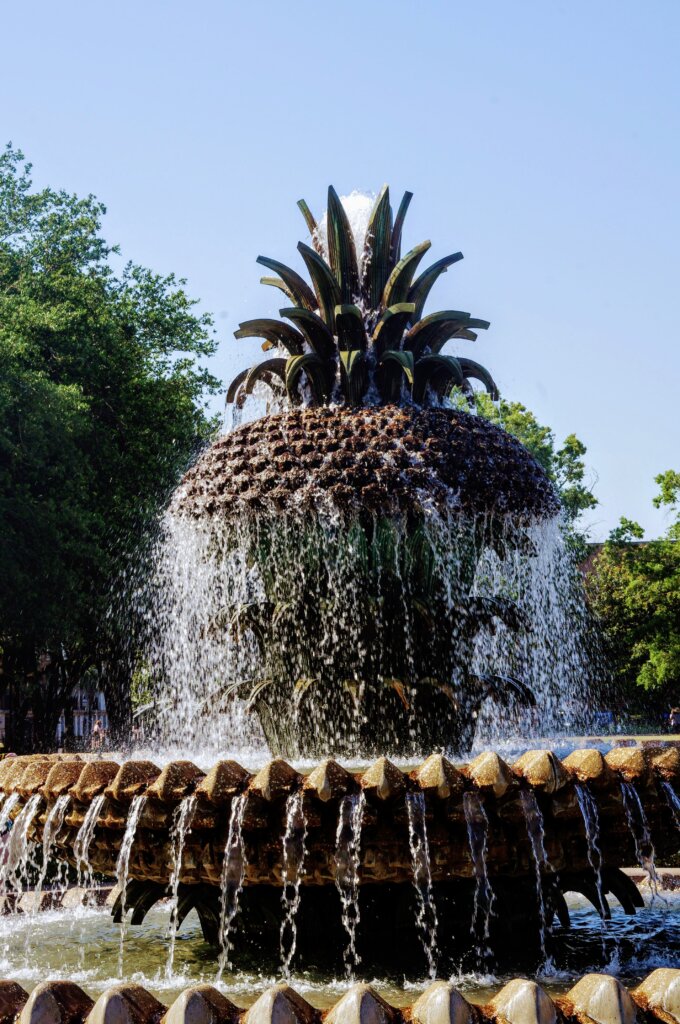 The architecture is a dreamscape that blends rainbow art deco with classic romance. Nods to eras gone by with facades renovated yet still distinctly recognisable. Charleston is the kind of city that evokes a nostalgia for a time you were never part of yet still long to experience. The cocktail bars feel glamorous and the restaurants approachable yet chic. The shopping is fantastic and the climate warm. We didn't even make it to the beaches but I have it on good authority that they're outstanding too. I could go on. I won't. If you need me I'll be dreaming of ways to make my own porch-wrapped, white-shuttered, perfectly pastel Charleston summer home a reality.
Places mentioned:
https://cannonboroughcollective.com
https://www.boonehallplantation.com
https://jenis.com/scoop-shops/jenis-king-street/
Carolina Cherry Company
Wouldn't usually dedicate a section to what is essentially a shop but The Carolina Cherry Company has my whole heart and therefore deserves a fraction of the page. This was one of those completely unexpected finds at the side of the road that turned out to be one of our most memorable stops. A cafe/gift store/all-around ideal situation for those of us who love nothing more than perusing products and hunting out hot sauce, this unassuming shack is so much more thrilling than your average service station. Inside, photos ops are as plentiful as the local produce. Alligator Jerky, all things peach, cider, coffee; if you're looking for gifts and/or snacks this is the place to go. A tiny dreamland to break up the monotonous motorway. Thoroughly recommend. 
https://www.carolinaciderco.com/store-one
Savannah
Where we stayed: Savannah Thunderbird Inn
True to form, we had grand plans for our evening arrival into Savannah that included at least one speakeasy bar but once we sat down it appeared that we did not get up again and so here we are adding Savannah to our ever-growing list of places to return to (see also: Rome, Paris), rested, to experience the nightlife.
It was another fleeting stop as we approached our final Floridian destination and our home for the night was the pleasingly affordable and enjoyably retro-themed Thunderbird Inn. Aesthetic signage. Free doughnuts. Token retro touches in the rooms. A great location and ideal for a short Savannah stay.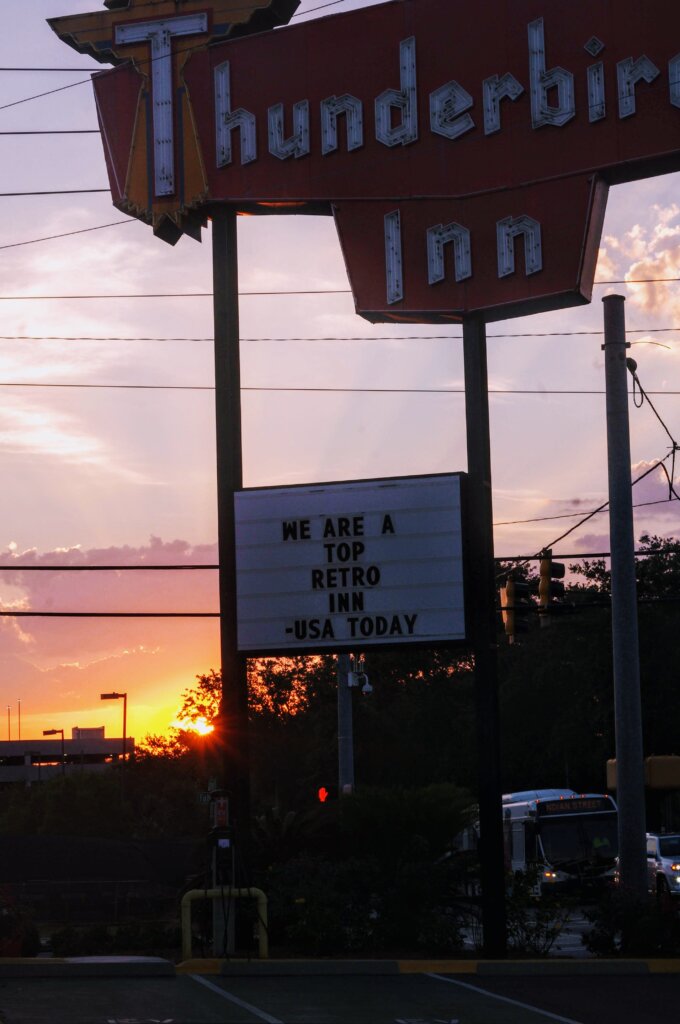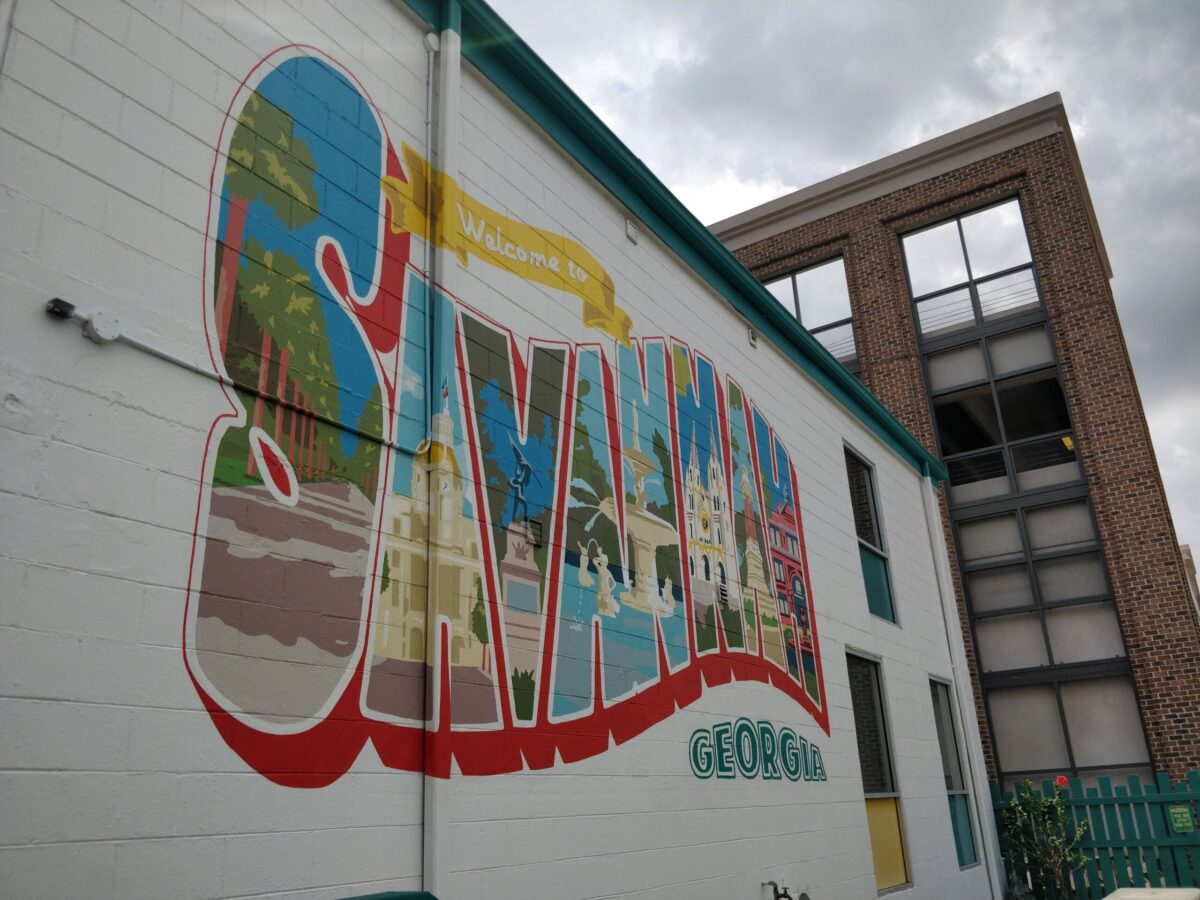 Our hours here took us around Forsyth Park to admire more of my favourite moss and soak (literally) in that summer heat. We walked the manicured streets of downtown, stopping into anywhere that caught our eye. One of those peaceful travel mornings with no agenda. Two guys told us that "we looked great" as they walked past us so I now rate the people of Savannah as highly as their moss trees.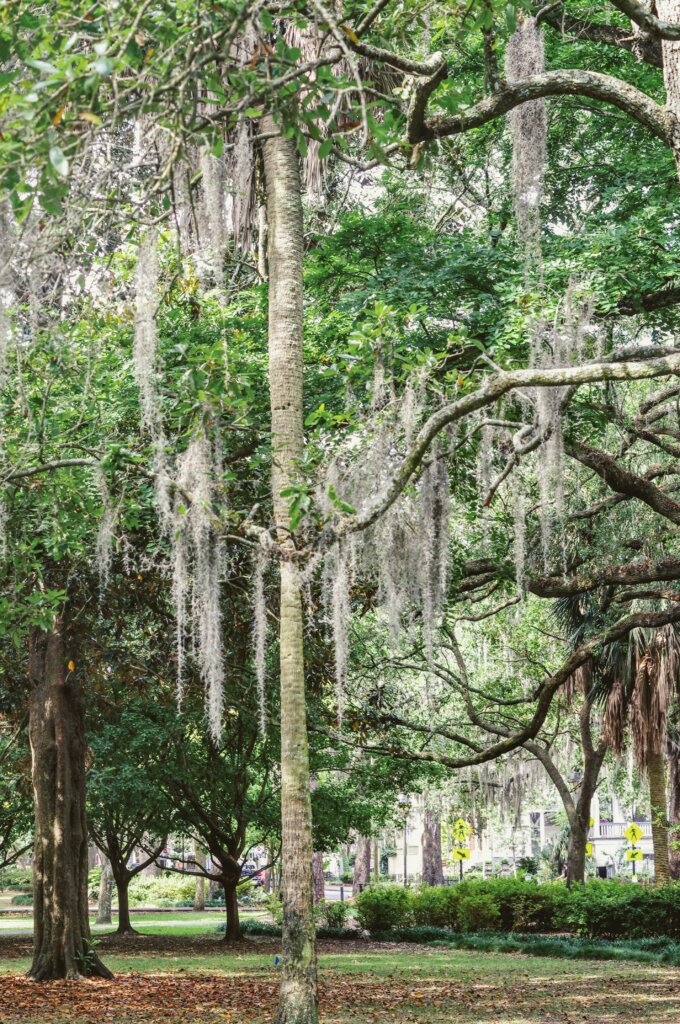 We managed to coincide our time there with the college graduation so there was a definite buzz around town as proud parents took their gowned children out for celebratory lunches. We got an outdoor table at Treylor Park where our meals were diametrically opposed but equally delicious. Trying to find the best of good southern food for Tom to experience and also finding vegan option(s) on the same menu was more of a challenge in Savannah. Research since tells me there are designated plant-based options out there, for those who are seeking them, with or without non-plant-based companions. It was very easy to feel relaxed in Savannah and I can see how afternoons soon slip into evenings that eventually too disappear and give way to morning. Time goes slower in the south. A slower, yet sweeter existence.
Now I really have very little to go on but from first impressions alone, Savannah felt like the less aspirational but still charming, smaller sister of Charleston. Perhaps a little more quaint and down to earth than its vibrant northern counterpart, to me it seemed like a fine destination for a weekend, but maybe not much longer. Charleston holds so much allure and has the added draw of an abundance of pristine beaches which would make it my winner if I had to choose. This being said, maybe it's unfair to go down the route of naturally comparing the two and instead let them both claim their own slice of the hypothetical glory (and probably peach-flavoured) pie.
We left in one of the most impressive rainstorms I've ever seen with Why Georgia playing loud and the water, excitement of our impending reunion and trip finale almost deafening.
Places mentioned:
https://treylorpark.com/savannah
Amelia Island
Amelia Island is the most northern part of Florida and so quite literally feels very far removed from some of the more notorious elements of the sunshine state. A beach town with charm and history, this is such a gem of a location it's almost a shame to draw attention to it. Years ago Steph wrote this piece on Fernandina Beach for me which I would direct you to for a resident's insight.
As a mere visitor, I can do little more than sing its praises, lament about the scale and sheer emptiness of the beaches, marvel at the wildlife encounters, dream of more days cycling along the greenway and exploring the state park and long for nights of live music with drinks and table tennis under the stars.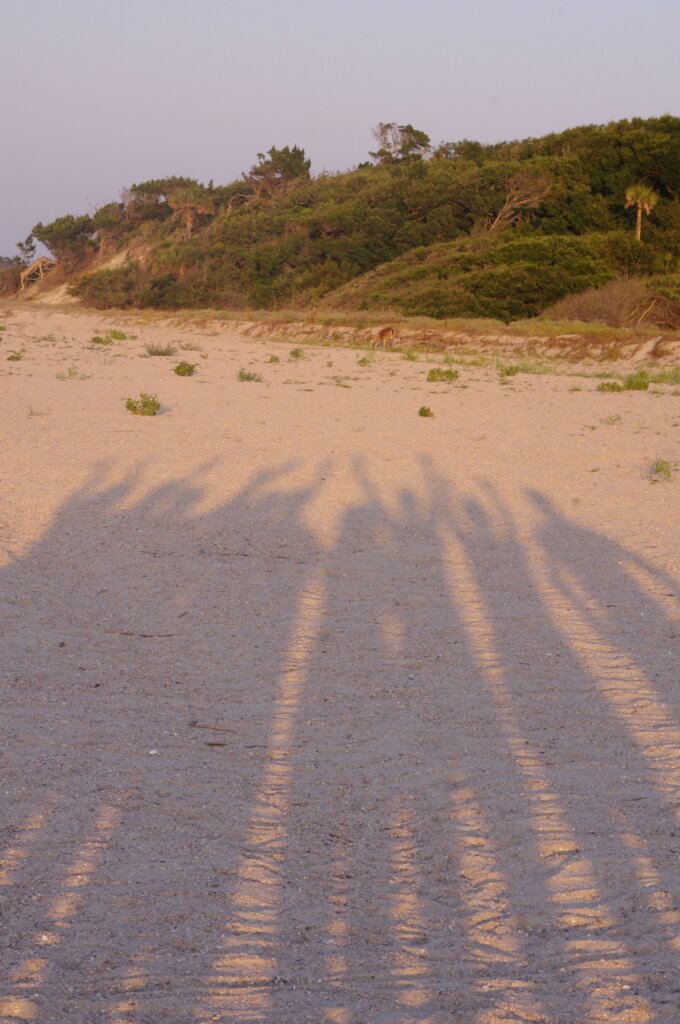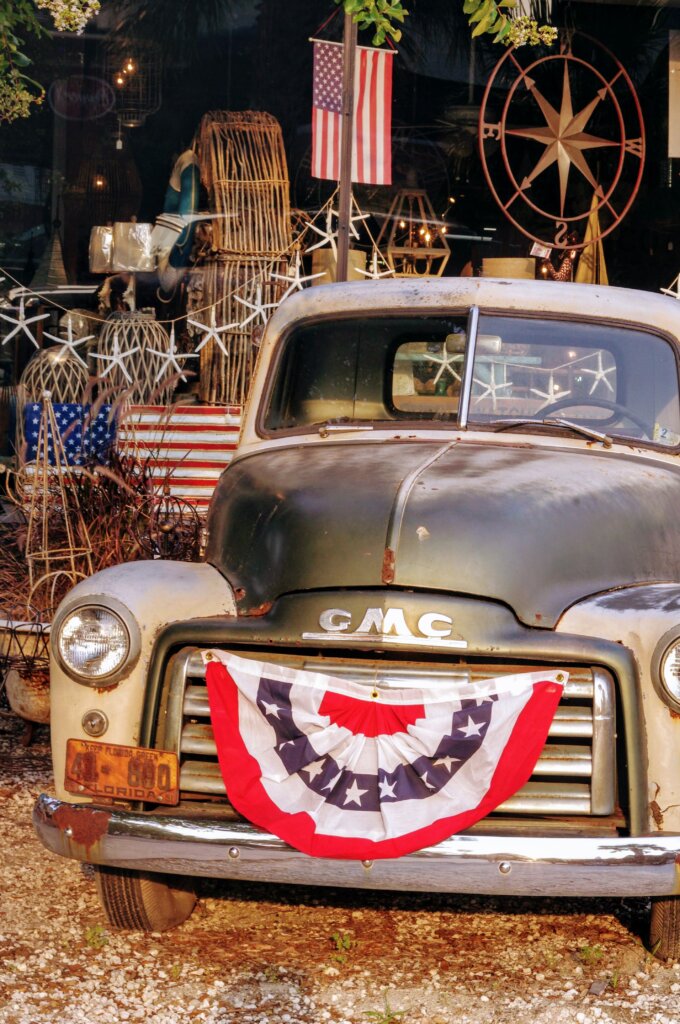 These days were so lovely and personal but it would be amiss of me not to mention a little about the wedding here because it was outstanding. A ceremony on a boat. An appearance by an alligator. A reception on a dock with local food and the funkiest New-Orleans style music. A sunset as vibrant as the group of people we danced into the night with. The kind of moments you want to bottle and sip from forever. We were so thankful to have been there.
We enjoyed our time here so much and I am very happy that we have friends with beautiful guest rooms who were able to not only host us during their wedding but also help us experience the gorgeous place they call home. A special thank you needs to be added for introducing me to fried pickles. Southern brunch featuring fried pickles. Name a better post-wedding morning.
Places mentioned:
http://www.floridahouseinn.com/menu/february2016_brunch_menu.pdf
http://www.greenturtletavern.com
Rock Springs Kayaks
After several days living our best Fernandina Beach lives, it was time for our final journey to Orlando where our evening flight home was waiting for us. However, there's always time for one final pre-flight activity, especially when that activity involves clear kayaks and crystal rivers.
We had pre-booked our Rock Springs trip with Get Up And Go Kayaking. If you're in the Orlando area please do this. I have the fondest memories from so many eventful trips to this state in the past and if I learned anything from the time I briefly lived at UF with my summer camp friends age 20, it's that there's so much more to Florida than first meets the eye. I still think of that time we went tubing down the Ichetucknee river all those years ago so was intent on finding a similar experience for Tom. I promise it's just as fun as the theme parks. Why go on Space Mountain when you could come face to face with a snake in a tree? The excitement! The thrill! Snakes On A Kayak was not a scenario I was looking to create but coming up close and personal to some of the incredible wildlife Florida has to offer is the kind of situation every visitor should find themselves in.
The ideal final moments to round off the ideal American adventure.
Places mentioned: